If you've ever been in Costco you know why I'm obsessed! I love a good deal and saving money while on the 21 Day Fix is easier than ever thanks to Costco. Here is what to buy from Costco for the 21 Day Fix.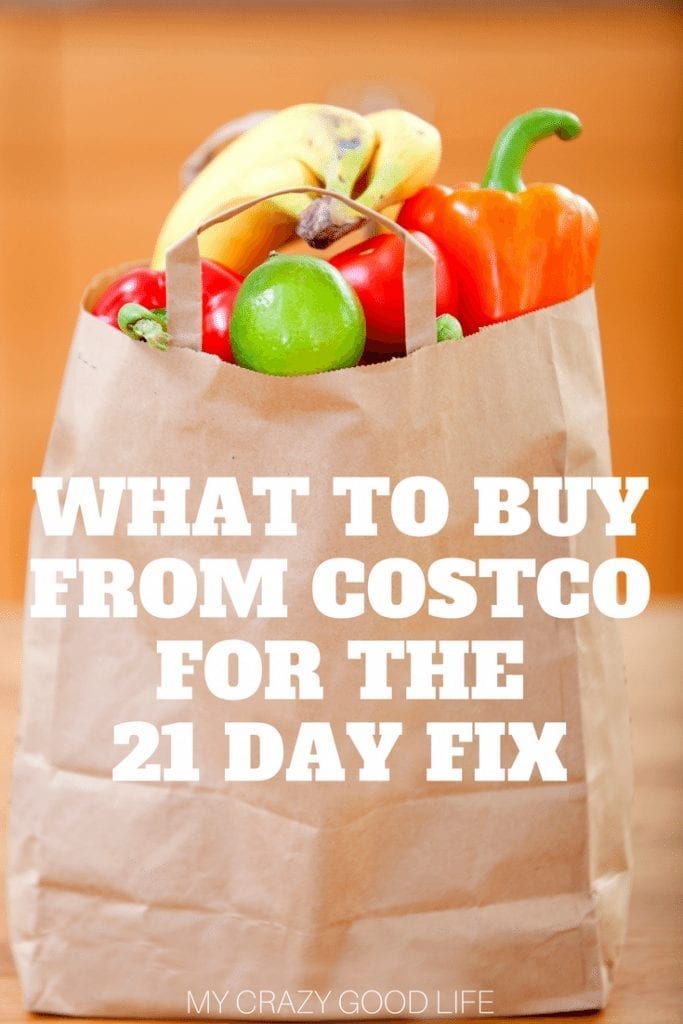 You don't have to buy everything on your shopping list from Costco in order to save money. In fact, if you pick and choose the items wisely, you'll save more money!
The 21 Day Fix does require some items that are a bit more pricey than their less healthy alternatives. If you want to stock up and save on your Fix items, use this list as a guide for what to buy from Costco for the 21 Day Fix.
These are all items that I purchase regularly so I can complete my meal prep for the Fix. I've included some recipes that you can make with these great items as well.
What To Buy From Costco For The 21 Day Fix
Brown Rice
I use brown rice in a lot of recipes. You can stock up on dried and sometimes frozen brown rice at Costco so that you can make these delicious recipes:
Instant Pot Spanish Rice with Chicken
Pulled Rotisserie Chicken Meat
When you are shopping for things at Costco for the 21 Day Fix, you have to check out their selection of pulled rotisserie chicken meat! It's an awesome thing to be able to buy this meat cooked and ready to go. If you are short on time, need a healthy option for salads, or you just don't want to cook and pull the meat yourself this is an awesome option.
I often top if with some Frank's hot sauce and slice some raw veggies for a quick lunch.
You can add pulled rotisserie chicken to these recipes instead of making the chicken:
Milk
Buying milk at Costco is a no brainer for me. Organic milk is cheaper at Costco than at the grocery store, and I love that they sell almond milk in multi-packs! Costco has a great selection of milk as well, so you'll be able to get your favorite brand or type right there.
Eggs
We eat a lot of eggs. They're an awesome source of lean protein and they're a great option for the 21 Day Fix program–I hard boil them, make deviled eggs as snacks, and make egg salad often. Check out all these awesome recipes that you can make using eggs:
Starbucks Copycat Sous Vide Eggs
Perfect & Simple Hard Boiled Eggs
Easy 21 Day Fix Egg Muffin Cups
Salsa
Salsa is probably one of my favorite condiments! It's great for a light and healthy snack and it can enhance a lot of recipes. I use it on everything from scrambled eggs to spicy chicken and soup recipes.
When you are shopping at Costco, look at their fresh salsa! I love to. stock up and freeze some for last minute guests!
Guacamole
There's a reason guacamole is extra whenever you eat out…it's expensive to make. Avocados can be pricey and they're hit or miss since we don't know what they'll look like until they're open!
Instead of trying to make guacamole at home I like to just buy it pre-made so it's ready to go for whatever recipes, snacks, or salads I want to include it in–Costco always has small individually packaged guacamole at reasonable prices. I love dipping my raw veggies in it!
Fish
Fish is a healthy protein that you can eat on the 21 Day Fix. Both fresh and frozen fish are great to purchase from Costco!
Chicken
We all know that chicken is kind of "king" when it comes to lean animal proteins. Stocking up on all kinds of chicken at Costco is a must for me. We use a lot of ground chicken, boneless skinless chicken breasts, and drumsticks. I especially love the Kirkland brand frozen individually wrapped chicken. Check out some of these great recipes you can make for the 21 Day Fix with all that chicken you buy!
Instant Pot Spanish Rice with Chicken
Ground Turkey
The same goes for turkey. It's getting much easier to lay your hands on turkey that is ground and prepared much like chicken. You can substitute turkey for chicken in a lot of recipes for equally delicious results. I often buy bulk and freeze what I won't use within the first few days!
Ground Beef and Steak
Buying beef at the supermarket can be pricey. Save yourself some money and shop for your lean beef at Costco…then you can use it in these tasty recipes for the 21 Day Fix!
Chicken Sausage
If you are shopping at Costco for the 21 Day Fix you should grab some chicken sausage. We love it for grilling out in the summer months but I also really like it for use in this healthy one pan casserole. Look for low sodium uncooked chicken sausage.
Protein Powder
You can shop for protein powder in a lot of places. Sometimes it's easier to get a specific kind online, etc. If you like to use protein powder as part of your 21 Day Fix routine you should check out the selection at Costco. I've found both Vega and Orgain protein powders at Costco, and they're so reasonable!
Whole Grain Bread
I find a killer deal on Dave's Killer Bread at Costco. You can get a great deal on these types of super breads that contain few ingredients and have high fiber and protein.
100 Calorie English Muffins
It can be tough to find the 100 calorie options in sandwich thins and English muffins at some grocery stores. If you are looking for these delicious choices because they're perfect for the 21 Day Fix, Costco is the place to be. They're a great deal and you can get them all in one place with your other grocery necessities. I prefer Thomas' Whole Grain English Muffins, and they're 100 calories each.
Exercise Equipment
Yoga mats, weights, and even more complex systems and home gym equipment are available at Costco. If you are just starting out with the 21 Day Fix you have to check out this section.
It's a great idea to add exercise equipment to your list of things to buy from Costco for the 21 Day Fix. Save some cash on the items that you'll need to get your workout routine on track.