This post is sponsored by Pyrex.
It's winter.
I want chili.
Casserole.
Lasagna.
Unhealthy stuff. I want unhealthy stuff.
Because who wants a salad in the middle of winter?
I decided that this year is the year I substitute.
Turkey and black beans with the chili.
Zucchini lasagna instead of with noodles.
And casserole without the heavy soups and creams.

Pyrex sent me a baking dish that's perfect for a healthy casserole. Their 3-quart baking dish comes with a lid and carry bag. There's even a hot/cold pack and a dish for your leftovers. The carry container has easy to grip handles and a secure zipper, and the handles on the baking dish make it easy to put into and take out of the carry case. I love this set.
I put my Pyrex dish to the test with our healthy casserole last night.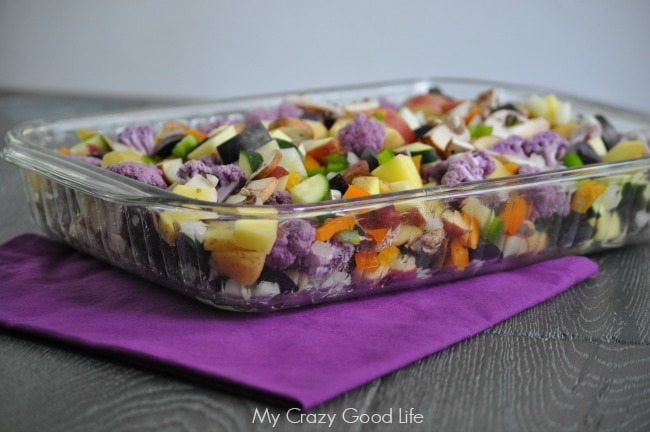 Healthy Casserole Recipe
This recipe can be used with any vegetables and meat you have in your refrigerator, which makes it so easy. I'll tell you how we made ours, but know that everything can be changed!
Ingredients:
1C fresh mushrooms
2 peppers, I used one green and one orange
1/2 head of purple cauliflower
1/2 onion
1 zucchini
5 mini-potatoes: purple, yellow, and red
2 packages of chicken sausage: Italian and red pepper and garlic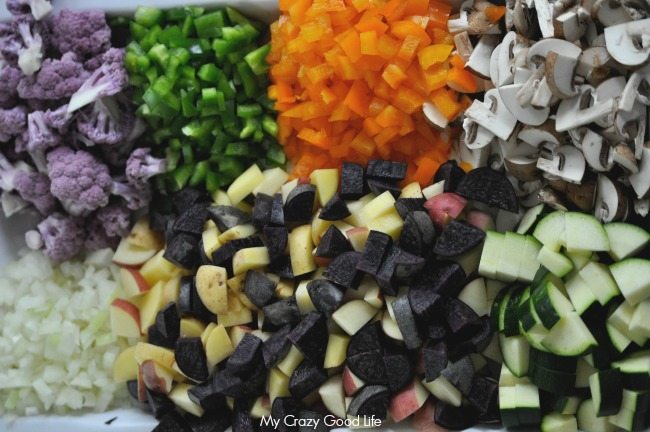 Chop all of your veggies up small. Small is the key to even cooking, especially for the potatoes! Spray olive oil in the bottom of your baking dish and set your oven to 375*. Check your veggies after 20 minutes, and every 5 minutes after that until they're done. I used a fork to see how soft the potatoes and cauliflower were before pulling them out of the oven.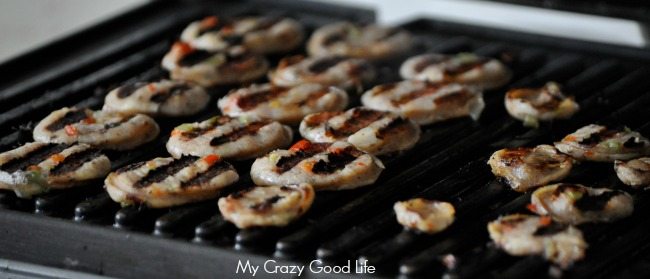 For your sausage, you could add it to the baking dish if you're cooking a smaller batch of vegetables. We were feeding four, so I cooked the sausage on the grill (which is our favorite, anyway). When the sausage was done, I added it to the top of the vegetables.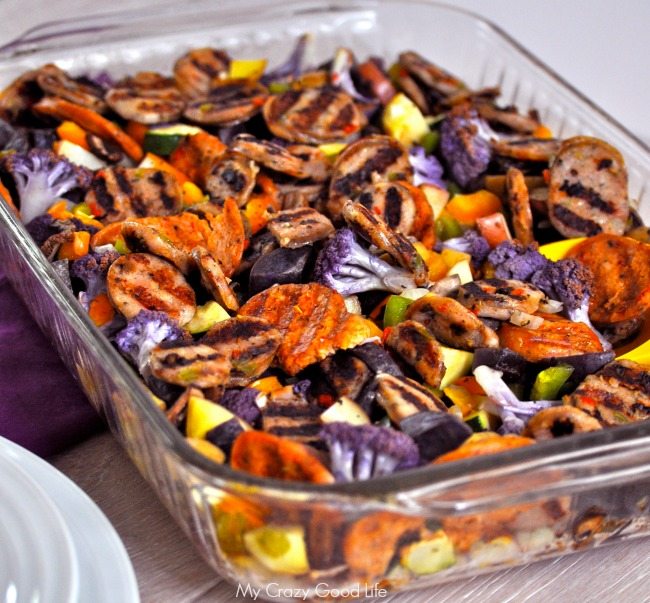 Yum. Seriously. No creamy soups needed.
21 Day Fix Container Counts: Super easy–fill your containers with what you need to finish up the day, this recipe is easy to separate into your containers as you need.
This post was originally published as a giveaway.