This site contains affiliate links. Please see Policies for more information.
Recently I learned how to make rotisserie-style chicken without a rotisserie and realized how easy it is! I've decided that from here on out, it's homemade rotisserie chicken for us.
Homemade rotisserie chicken has less sodium, better taste, and it's so easy to make. I've made five whole chickens five different ways: crock pot, oven, grill, Instant Pot, and Ninja Foodi–I'm sharing links to recipes, seasonings, and thoughts about each method below.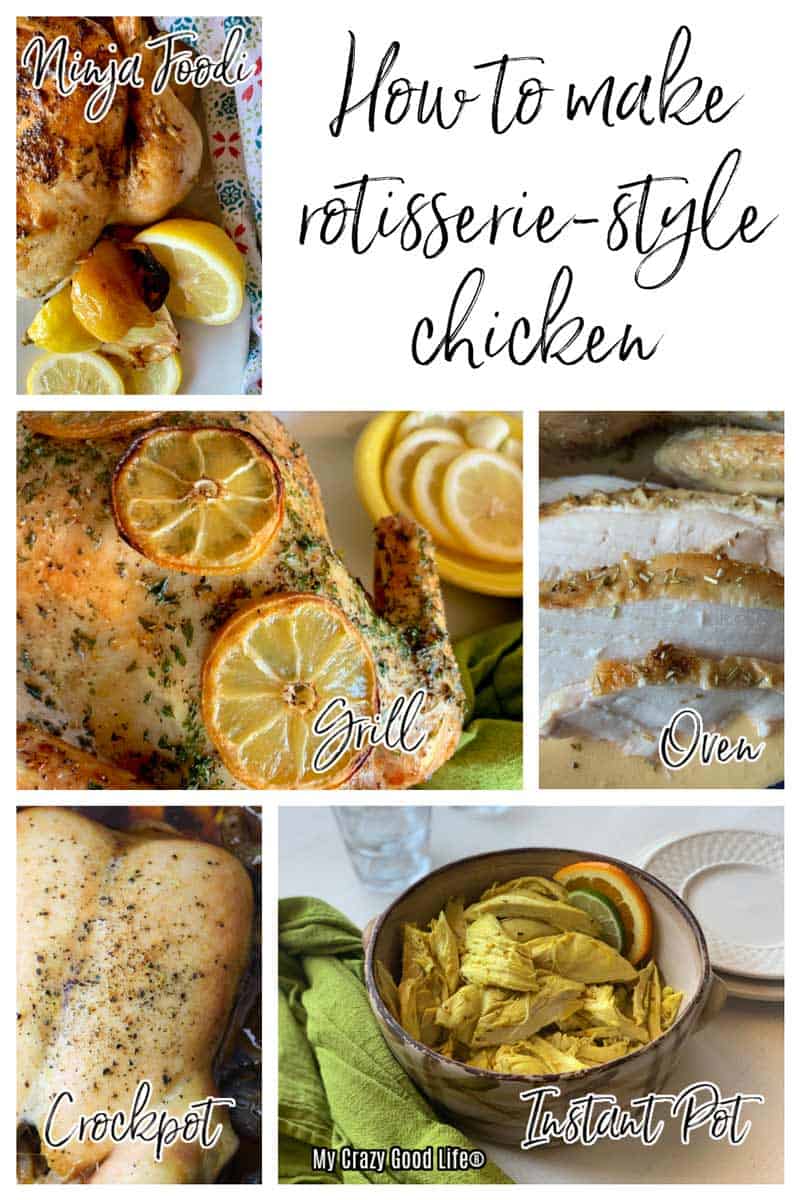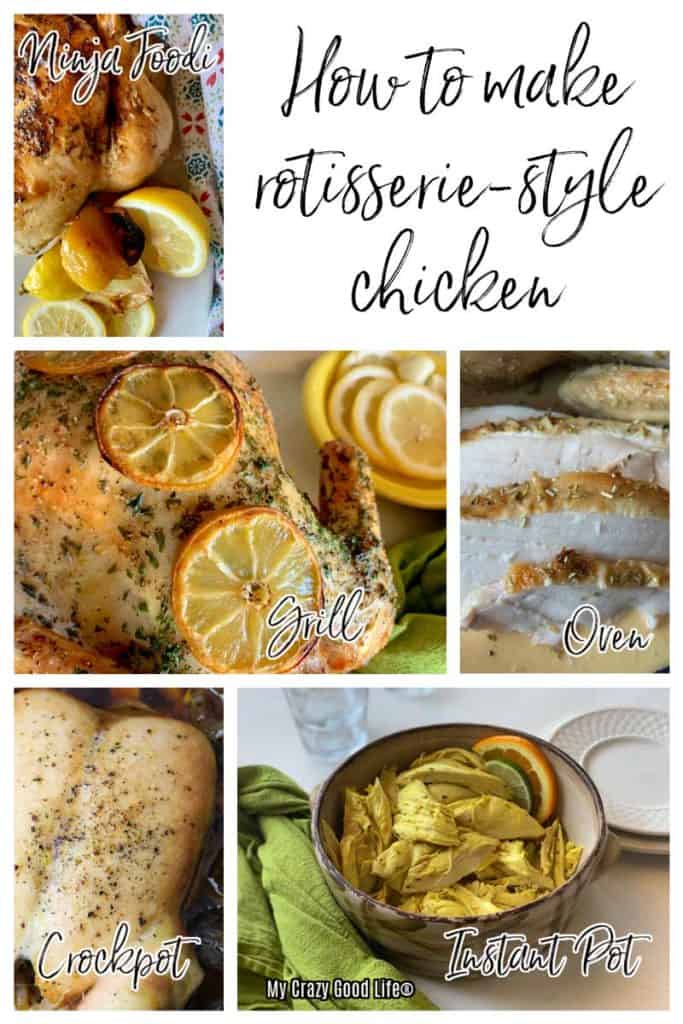 Is store bought rotisserie chicken healthy?
It's healthier than other prepackaged foods, but by no means would I call it healthy. Each grocery store varies a bit, but on average you're getting 20% of your daily sodium intake from one 3 oz. serving of a store bought rotisserie chicken. Many also contain sugars and artificial sugars.
What are the ingredients in store bought rotisserie chicken?
Costco Rotisserie Chicken, for example, lists these ingredients on their chickens: whole chicken, water and seasonings (salt, sodium phosphate, modified food starch, potato dextrin, carrageenan, sugar, dextrose, spice extractives). Sam's Club Rotisserie Chicken contains whole chicken, water, sodium phosphate, salt, yeast extract, maltodextrin, natural flavors, chicken fat and chicken broth, seasoning ingredients: corn flour, salt, spices (including paprika), garlic, sugar, citric acid, onion, cornstarch, paprika oleoresin (for color), and natural flavors.

Both of these popular rotisserie chickens have many more ingredients than any of the five recipes you'll find here. I recommend making your own rotisserie chicken at home because it's a set it and forget it process with most cooking methods. It takes an average of an hour to make a whole chicken and I think they are so much juicier when made at home.
How to make a rotisserie chicken:
It's so easy to make a rotisserie chicken without the actual rotisserie. I think when people say "rotisserie chicken" these days what they mean is a whole chicken–one that you can use for many purposes and eat for a few days. Here's how to prep your whole chicken for any recipe.
After you purchase a whole chicken, keep it refrigerated until you're ready to cook it. When you're ready to make the chicken, remove the chicken from the fridge and carefully unwrap it over the sink –there will be a lot of liquid that comes out of the package and it's best to contain it and reduce the splashing as much as you can.
Do I need to rinse or wash my whole chicken?
Nope! I always want to rinse my chicken, but I don't. You can spread more germs by rinsing the chicken and it's just not necessary.
You'll want to pat your chicken dry with a few paper towels, and then place it on a large platter so you can season it.
What temperature should cooked chicken be?
For any chicken, you're going to want to cook until the internal temperature of the chicken reaches 165 degrees. When I cook a whole chicken, I like to take the temperature of the chicken in 2-3 different places since it can vary a bit when you get near the bones.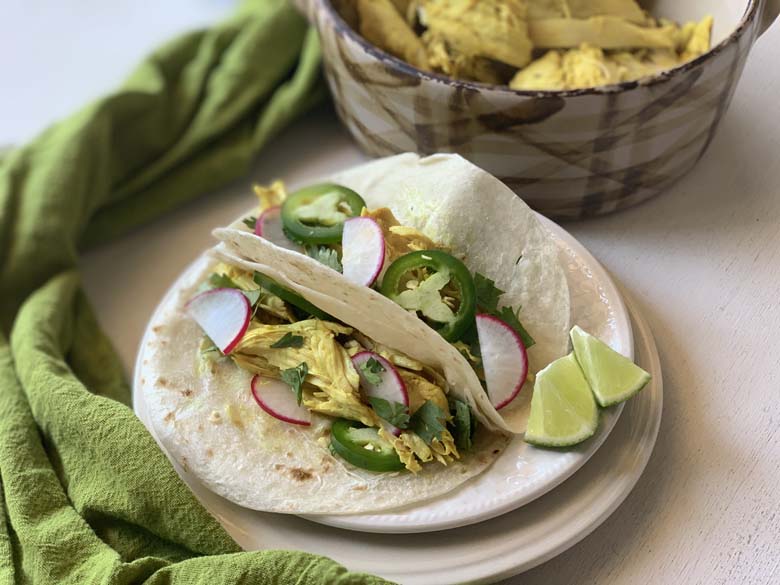 How long does rotisserie chicken stay good for?
Different people feel comfortable with different times when it comes to leftovers, but I will serve shredded chicken from these recipes for 5 days after cooking it. Here are some great recipes for using leftover rotisserie chicken:
Five Ways to Make Rotisserie-Style Chicken without a Rotisserie
These rotisserie chicken recipes are great to mix and match–take the seasonings you like best and pair it with the cooking method that works best for you.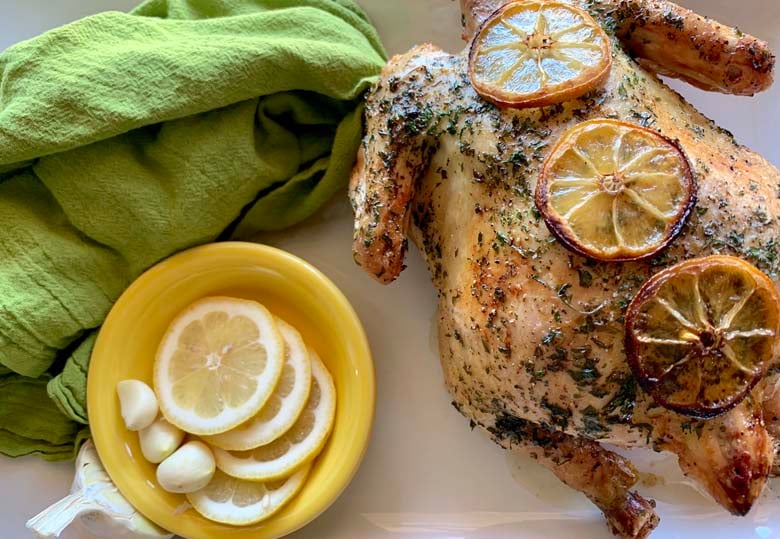 Grilling rotisserie-style chicken is my favorite way to make it. Rotisserie Chicken on the Grill produces a flavorful and tender chicken that is perfect for dinner. It's a healthy whole chicken recipe that's better than store bought because there are no added sugars and sodium. I love adding them lemon to this grilled whole chicken because it tastes delicious and the lemons are edible!
Ingredients in this Rotisserie Chicken Seasoning:
Outside the chicken (make sure to read the directions before doing this step), make a spice rub in a small bowl:
4 tablespoons olive oil
3 lemons. You'll need the zest and juice of 2 lemons, then 3-4 slices of the third lemon)
2 tablespoons dried parsley
1 tsp salt
1 tsp pepper
Inside the Chicken (adding ingredients to the inside of the chicken can help flavor the meat):
one half bulb of garlic
1 tablespoon dried parsley
The rinds from the lemons used in the oil mixture. If you want to add extra quartered lemons into the chicken, I highly encourage that!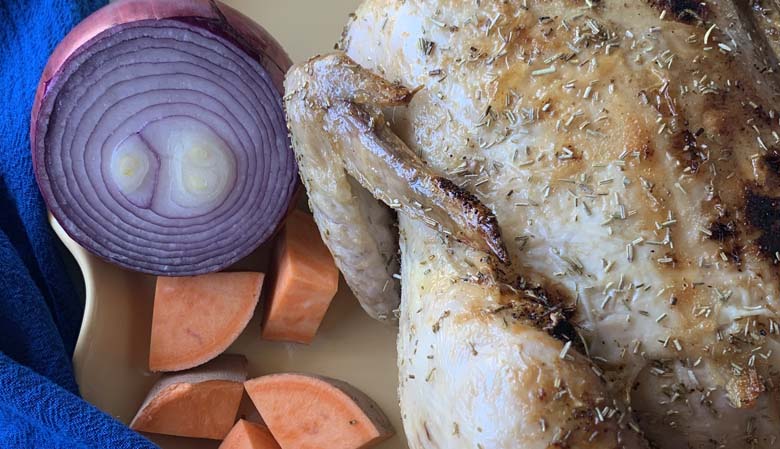 Ingredients in this Rotisserie Chicken Seasoning:
2-3 cloves of fresh garlic, minced. If you're stuck you can use garlic powder.
2 tablespoons dried rosemary
4 tablespoons olive oil
While this chicken is cooking, use a turkey baster to move drippings from the bottom of the roasting pan to the top of the chicken.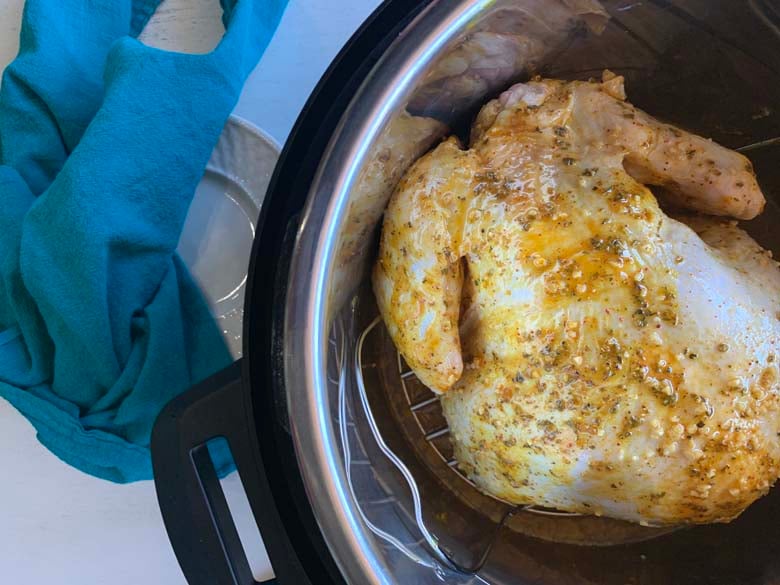 Ingredients for this Mexican Chicken Marinade:
4 ounces orange juice
2 fresh limes, squeezed
1 tablespoon vinegar (I prefer white)
4 tablespoons olive oil
4 cloves of minced garlic
3 teaspoons Mexican oregano
2 teaspoons turmeric
1 teaspoon of chili powder (more if you like spice, less if you don't)
That beautiful yellow color that you see is the turmeric, which has some amazing anti-inflammatory properties. It also has a very distinct (but not very powerful) taste, and it's one of our favorites in chicken. This recipe produces shredded rotisserie chicken that's perfect for tacos and burritos.
Ingredients for this Chicken Seasoning:
salt & pepper, to taste
2 tablespoons olive oil or butter
1 cup chicken broth
2 whole sweet potatoes, cut into chunks
2 whole yellow onions, chopped
3 whole carrots, chopped
2 stalks of celery, chopped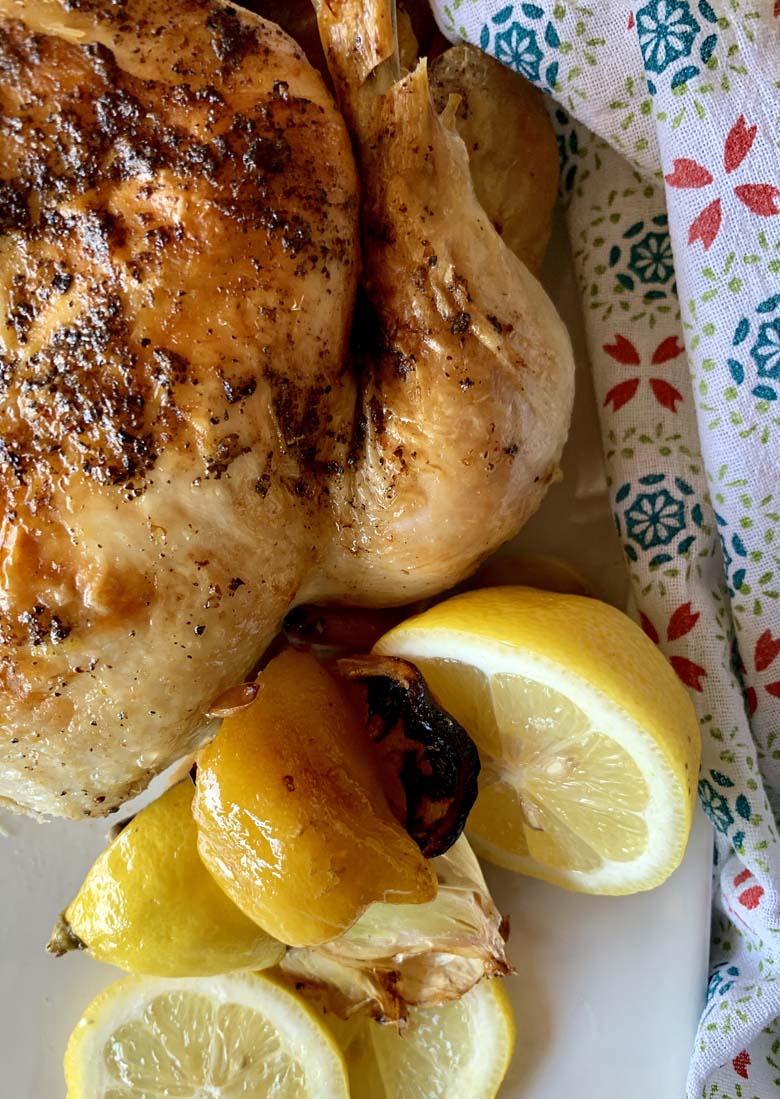 Ingredients in this Rotisserie Chicken Seasoning:
Inside the Chicken:
one red onion, quartered (you don't want onion powder for this–use real onions)
one half bulb of garlic
1-2 quartered lemons
Outside the chicken (make sure to read the directions before doing this step), make a seasoning mix:
4 tablespoons olive oil
juice of 1 lemon
zest of one lemon
1 tsp salt
1 tsp pepper
More healthy comfort food recipes: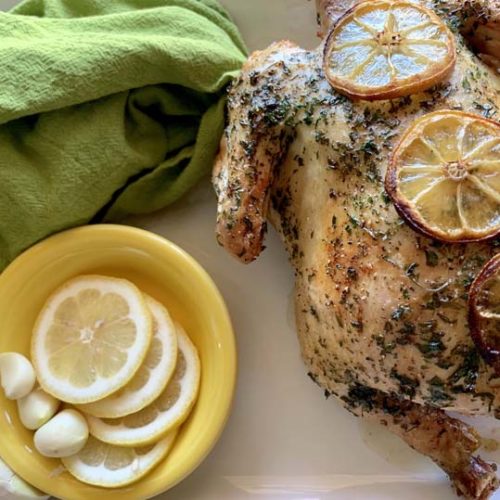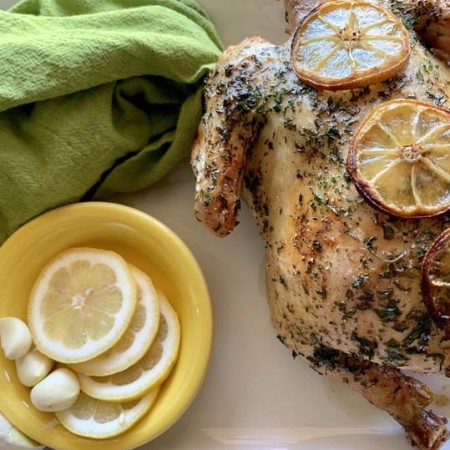 click the stars to rate!
How to Make a Rotisserie-Style Chicken
Approximate Serving Size: 1/2 cup meat
Servings 6 servings
How to make Rotisserie-Style Chicken without a rotisserie oven. Cook rotisserie chicken in the oven, on the grill, or using a crock pot, Instant Pot, or Ninja Foodi. Healthier and less expensive than store bought rotisserie chicken.
Equipment
Ninja Foodi

Crockpot

Instant Pot 6 qt
Instructions
Preheat your cooking appliance, if necessary.

Prepare the chicken by unwrapping it, removing the giblets, and patting it dry. Place chicken on a clean platter or surface while you prepare the seasoning. 1 whole chicken

Prepare the seasoning and place it in and outside of the raw chicken.

Cook your chicken until the internal temperature reaches 165 degrees.

Remove your chicken from the cooking appliance and slice.
Notes
To see each recipe, please click the links or pictures in the article above. 
Nutrition
Calories: 273kcal | Protein: 24g | Fat: 19g | Saturated Fat: 5g | Polyunsaturated Fat: 4g | Monounsaturated Fat: 8g | Trans Fat: 1g | Cholesterol: 95mg | Sodium: 89mg | Potassium: 240mg | Vitamin A: 178IU | Vitamin C: 2mg | Calcium: 14mg | Iron: 1mg