This site contains affiliate links. Please see Policies for more information.
Starting a round of the 21 Day Fix can be intimidating. There are rules about which foods you can eat, how much you eat, and though 21 days can seem like a short amount of time to be on a healthy eating plan, it also limits you (mentally) a bit because if you cheat or deviate for a day or two it's very easy to quit the Fix and start over.
But here's the deal–you control when you quit and start over.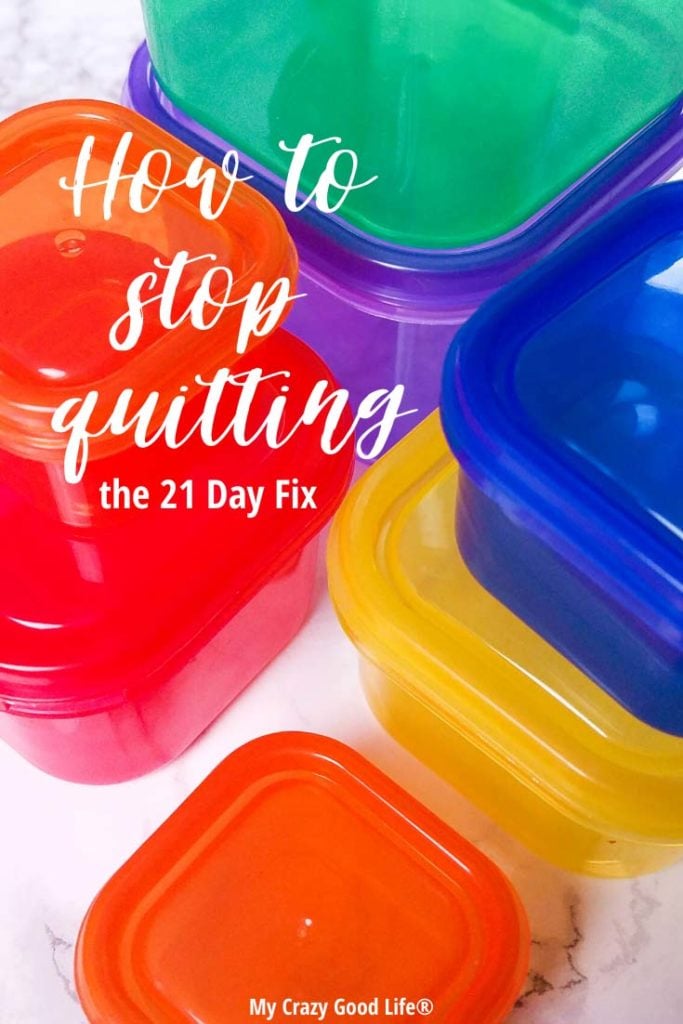 How to stop quitting the 21 Day Fix
There are two tips–secrets if you will–that I share with my friends and readers who begin the Fix. These two things have helped hundreds of people finish the 21 Day Fix in the past few years. These tips have helped people stop quitting the 21 Day Fix. Possibly more important than finishing the Fix–they've learned how to make healthier choices and fit these choices into their lifestyle.
Never stop counting.
Have a good round (21 days is a round) where you stay on track all 21 days or have a bad round where you're on track for 3 days, but either way, finish that round. Never stop counting your days.
Have you heard that old saying from Earl Nightingale?
Never give up on a dream because of the time it takes to accomplish it. The time will pass anyway.
This. is. life.
If you begin the Fix on Jan 1 and quit on the 7th, you're still on day 8 on January 8th. And on day 21 on January 21st. Why stop counting?
The first time I tried the 21 Day Fix, I stayed on plan for 4 days–two at the beginning, one in the middle, and day 21. I didn't stop counting though–so that four days wasn't a failure. It was part of a bad round, for sure. But I finished it. This brings us to our next important tip.
Do better today than you did yesterday. 
By following this tip, you're succeeding a little more every day. Don't allow yourself to become overwhelmed with the 21 days. Focus on today being better than yesterday. The first of this month being better than the first of last month. This holiday season being better than last holiday season. This round being better than the last round.
By allowing yourself a bit of grace, you're allowing yourself to grow and change as a person. Not to feel restricted on a diet, but to evolve and learn how to eat better.

Why the 21 Day Fix is not all or nothing
I think we all have it in our mind that if we start Day 1 of the Fix, our eating will be perfect and we'll only succeed that way. In reality, our eating habits should change slowly over time as we learn and understand why these changes have a positive impact on our diet and lifestyle.
Think about all of the important things you have learned in your life–how to ride a bike, how to read, how to drive. You learned these things in stages, over time. Nobody set out to ride a bike one day, learned the next, and never made a mistake.
Why do we think we can change years of eating habits overnight? The 21 Day Fix isn't all or nothing–it gives you a goal–to eat a certain way for 21 days. But you don't arrive at the goal on day 1.
That's all. No magic potions, supplements, or shakes to buy. No need to fill your pantry with new food, make separate meals for everyone, and definitely no need to make a huge lifestyle change overnight.
How to finish the 21 Day Fix
I'm serious about this–following the two tips above will allow you to finish the 21 Day Fix without quitting. Finishing a round–even a "bad" round–is key. You finished, you completed something, you did it. Now for the next round, do it better.
Were you on track for 4 days of the round? Next time shoot for more. Do better the next time, because it's all that you can ask of yourself.
Keep your mind open while you're on the Fix. Open to new foods, new recipes, and new ways of thinking (like how you don't need something sweet after dinner every night).
Important resources to help you start (and complete) Beachbody's 21 Day Fix:
Everything you need to know about the 21 Day Fix How to calculate your bracket and lose weight on the Fix! This talks about the rules of the 21 Day Fix program, where to find 21 Day Fix recipes, and how to achieve long term success on the Fix.
How to start the 21 Day Fix Looking for a kickstart to your weight loss? Using the color coded containers from Beachbody can help you get a handle on your eating habits and portion control!
Updated 21 Day Fix food list What are your options for the orange container for seeds and dressings? How about the yellow container that holds carbs? All of the answers are here!
21 Day Fix Treat Swaps Wondering how to count a glass of wine? Dried fruit?
21 Day Fix recipes by Container Color Most of these recipes can be made in less than 30 minutes, and they're family friendly too!
21 Day Fix Meal Plans Looking for meal plans? I have some for every bracket on the 21 Day Fix.