There are new updates for the 21 Day Fix all the time! Autumn is always making videos on her YouTube Channel, and Facebook page, and there were new updates to the 21 Day Fix food list released in 2017.
I've created a few downloads for your phone about all of the unpublished changes, and work hard to keep track of them for you so that there is ONE place for you to find all of the most current information about the 21 Day Fix guidelines.
This 21 Day Fix food list has been updated last in January 2019.
Is this an official Beachbody Food List?
There is nothing official about this list, but I do give you the resources that I used to create it. This 2019 21 Day Food List is my frequently updated list of unpublished updates to the Fix.
Unpublished means that Beachbody hasn't printed these updates anywhere yet–I update it when Autumn gives a container count for something not on the official list, or when there is an update from Beachbody that hasn't made it to print yet.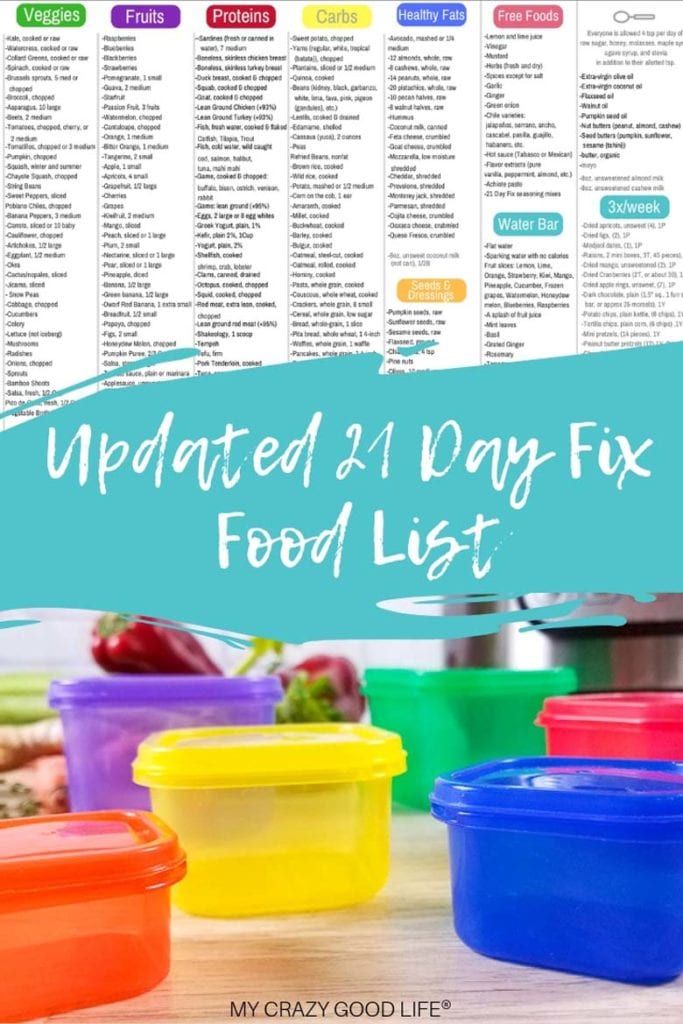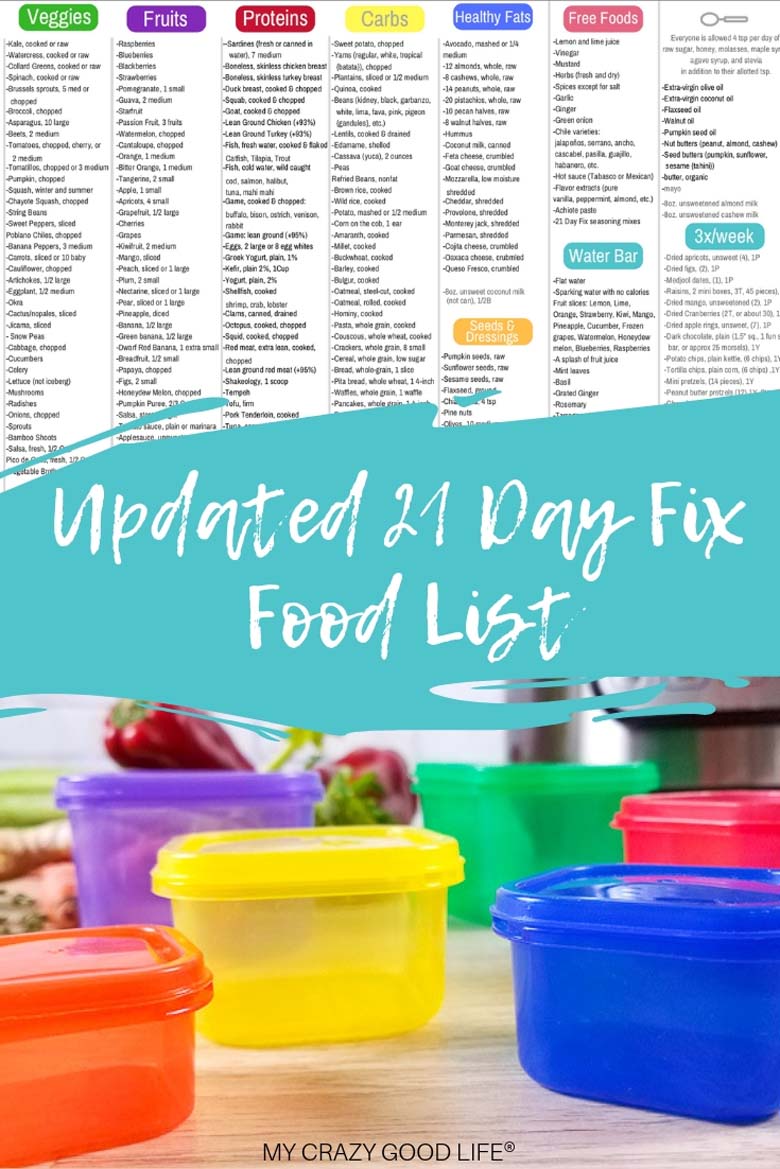 Why is this the newest 21 Day Fix Food List?
Instead of referencing several books, websites, and pages, I decided that enough is enough and I wanted one place where all of the information can be found. This is my solution.
Again, this is not an official Beachbody food list. This is what I have compiled from several sources on the web. The items that I have added (from sources referenced in this post) are in gray, so you can see clearly what has been added. Anything black was in the original food list from Beachbody–the one that came in the 21 Day Fix package.
Is there an order to the updated 21 Day Fix Food List?
Yes!! I know a lot of people are frustrated that the list isn't in alphabetical order, but the items are listed in order from most healthy to least healthy. You should know that all of the items are healthy–whole foods, nutritious foods, and the best foods you can choose. The way the list is organized is so you can quickly reference the best choices available.
Here is my updated food list for 2019. As someone who uses the 21 Day Fix as a guide to eating–I'm always looking for ways to keep an updated food list hand! You can print them for your fridge, purse, or even your desk at work. It's always helpful to have a copy handy.
Reusable 21 Day Fix Food List
I don't love scribbling all over my food list when changes pop up (like when almond milk went from a yellow treat swap to a tsp!) so I decided to create an all-encompassing updated food list for the 21 Day Fix for 2019. I laminate mine and cross off foods I don't care for, circle foods I love, or even circle foods that I have a personal goal of trying to eating more.
How do I begin the 21 Day Fix?
If you're just starting the 21 Day Fix, know that the entire point of the program is to build a better you. Use up the food that you have in the house and slowly start eating according to the updated foods list. Here is a huge list of 21 Day Fix recipes for you–all separated into categories.
If you have a hard time sticking to the plan, maybe try a three days on and one day off approach? It can help you be successful without the commitment of 21 days right in the beginning. The 21 Day Fix is something that you CAN do, but you might need to modify a little at first.
Also know that there are a lot of people who (after the first round) decide that they can't give up a certain product or two. That's ok, make the lifestyle work for you.
Planning your meals and snacks can be a HUGE help on this journey! Know that sitting down and writing down your food plan for the day or week will help you be more successful on the Fix. I have an article with a ton of 21 Day Fix meal plan ideas, and I've even included a sample meal plan full of simple foods.
I highly recommend starting simple with basic foods–it makes the process less overwhelming and I truly think that you are more successful in the long run doing this. Start using recipes after you understand the containers a little more.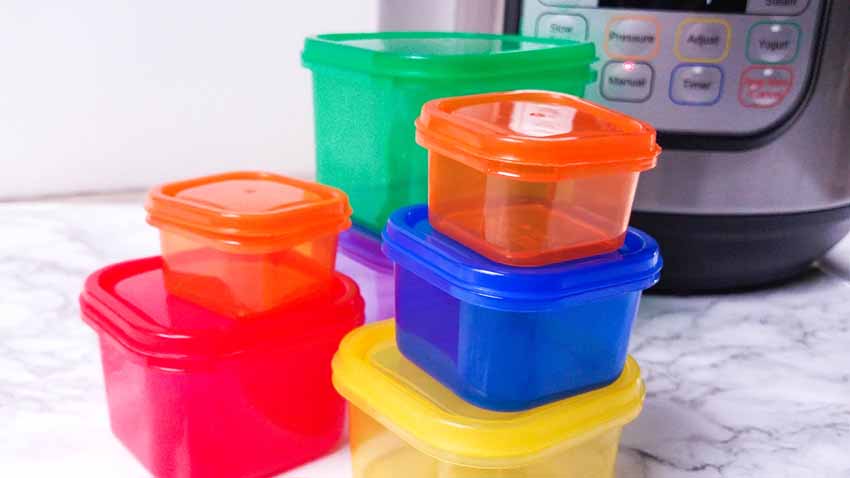 How do I know if something is 21 Day Fix approved?
When you're in need of something from the grocery store, buy the option that has the least amount of ingredients. The ingredients in the food that you're eating is more important than the nutritional information (calories, fat grams, etc). The focus isn't on fat/calories–it's on the quality of the food that you're eating.
I wrote this article about how to tell if something is 21 Day Fix approved–it's super helpful when you're starting out!
If you can stick to the 21 Day Fix 99% of the time but just can't give up your coffee creamer without turning into a mad woman, keep your coffee creamer! You've overhauled the rest of your diet and the indulgence might be worth it for you. BUT if you can give up that coffee creamer or switch to one that has no artificial sweeteners or extra oils, do it–your results will be better and you'll feel better committing 100%!
Just a reminder…
All of the information I've added to this list has a resource–click here for links to where Beachbody or Autumn commented about each update.
There are a ton of free resources on this website–21 Day Fix recipe roundups, recipes with container counts, Fixed Instant Pot recipes, free printables and tips, and tons more.
21-day-fix-2019-food-list-jan

Please enter your email in the box below to access the printable:
By entering your email address, you will be added to the My Crazy Good Life email list. You can unsubscribe at any time. The information will only be used to provide you with updates according to our privacy policy, found on our website. We will never sell your info.
Important 21 Day Fix Information:
Some must try 21 Day Fix approved recipes to crush cravings: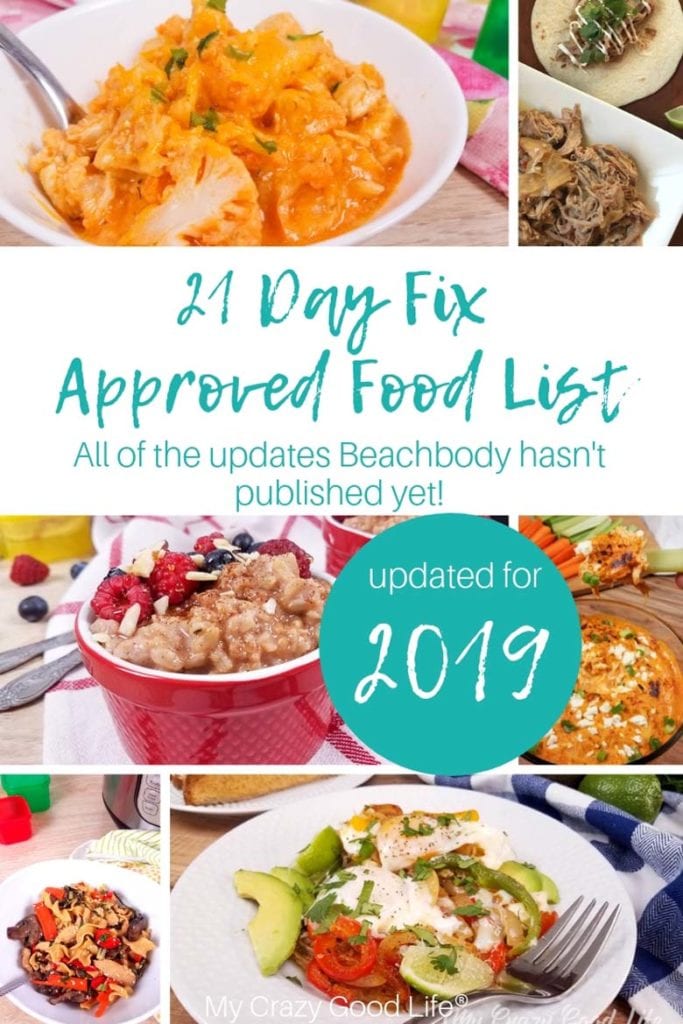 SaveSave