This site contains affiliate links. Please see Policies for more information.
Have you been looking for the perfect meal prep book? Maybe one that also uses an Instant Pot or other electric pressure cooker to meal prep?

I've got the book for you, friends: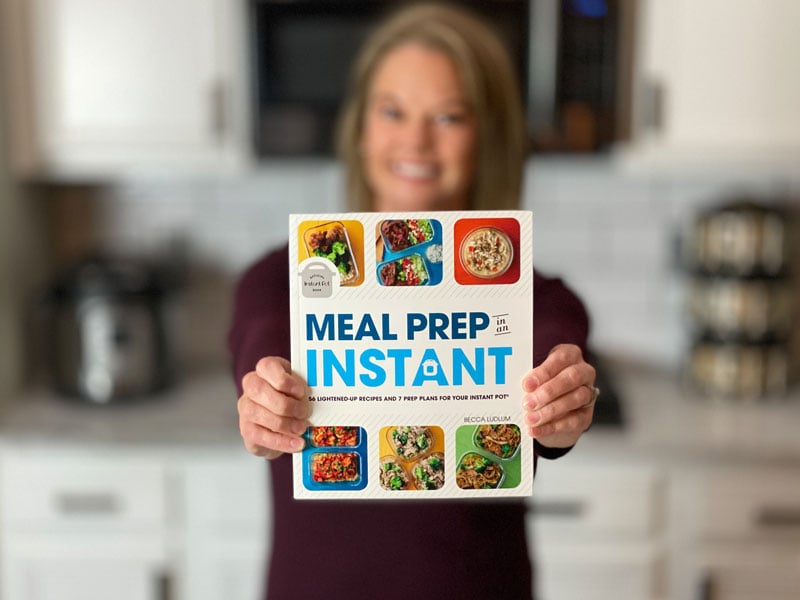 I've been busy this year writing a book! Meal Prep in an Instant (Pot) is the first and last book for meal prep Instant Pot recipes that you'll need. In it, you'll find:
56 Instant Pot recipes–healthy ones that use no artificial sweeteners or highly processed ingredients–clean eating at its best, friends.
7 weekly meal plans that include four primary recipes as well as for alternate recipes (including dessert!). This makes for an easy meal prep day!
Each weekly meal plan includes grocery lists, supply lists, and detailed prep plans–I walk you through exactly what to do on prep day, from the first thing you put in the pot to the last item you add to a prep container.
A wide variety of recipes including lean beef, chicken breast and thighs, turkey, pork, and vegetarian options. Most are dairy and gluten free or can easily be made dairy or gluten free.
Instant Pot Meal Prep, Made Easy
What makes this book different than other meal prep cookbooks is that there are informative chapters about cooking with your Instant Pot as well as explaining what meal prep is and how to find the level of meal prep that works right for you and your home.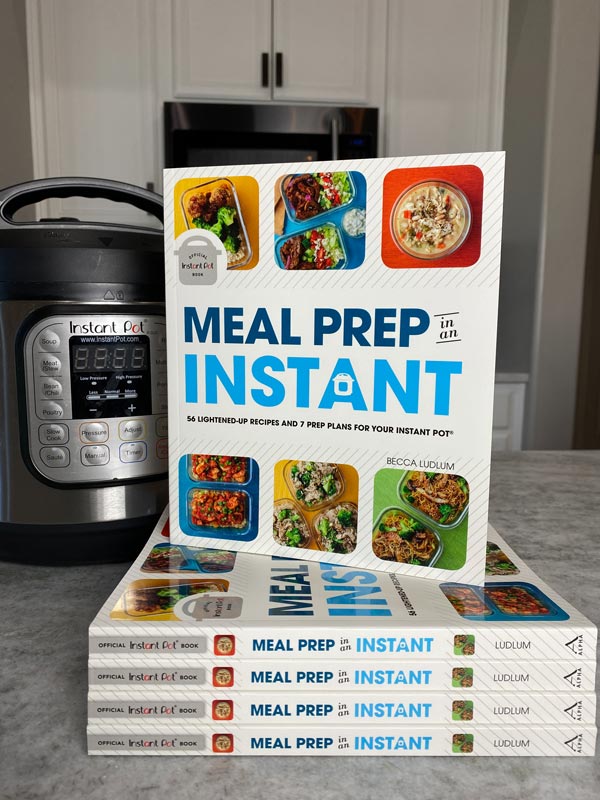 In addition to the 56 breakfast, lunch, dinner, and dessert recipes you'll find inside the book, there are specific sections for meal prep as well as using an Instant Pot. These sections will be beneficial to you if you're new to your Instant Pot and meal prep or if you're someone who has been doing this for a while.
Are certain recipes better for meal prep?
Yes! Meal Prep recipes are ones that are easy to make and store for a week. It's also important that they're easy to freeze, as many of us have busy schedules that can change at a moment's notice. Rather than wasting all of those recipes that you prepped, it's nice to stick them in the freezer for next week!
Are these 21 Day Fix Instant Pot Meal Prep recipes?
They are! While the book makes no mention of branded diets such as Beachbody, I've calculated the container counts for each recipe. You can download them here.
Why are these healthy Instant Pot recipes?
The recipes in this book are made with minimally processed ingredients, and there is even a section in the book that walks you through how to make small changes to your diet that will make it healthier.
Some of my favorite recipes in the book are:
Breakfast Sweet Potatoes (sweet and savory options!)
Apple Oat Crumble
Kung Pao Chicken
Vegetarian Chili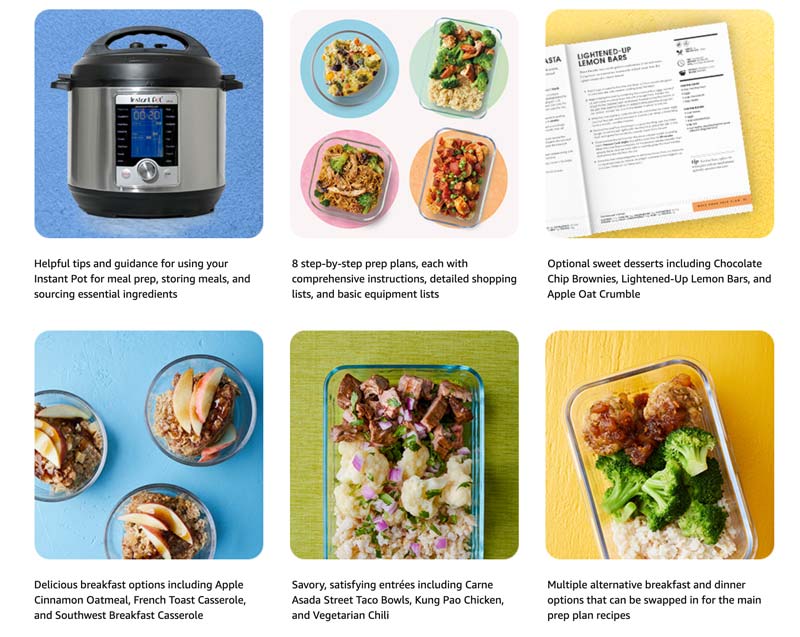 Special Diet Information
If you've been here before you know that I give 21 Day Fix container counts as well as Weight Watchers points for all of my recipes. While these counts aren't in the book, I've created a document where you can download them for all of the recipes in the book.
You'll find WW points for myWW Purple, Blue, and Green plans (there are no freestyle points, as that is an outdated plan) in the document. This book is perfect for Weight Watchers Instant Pot meal prep!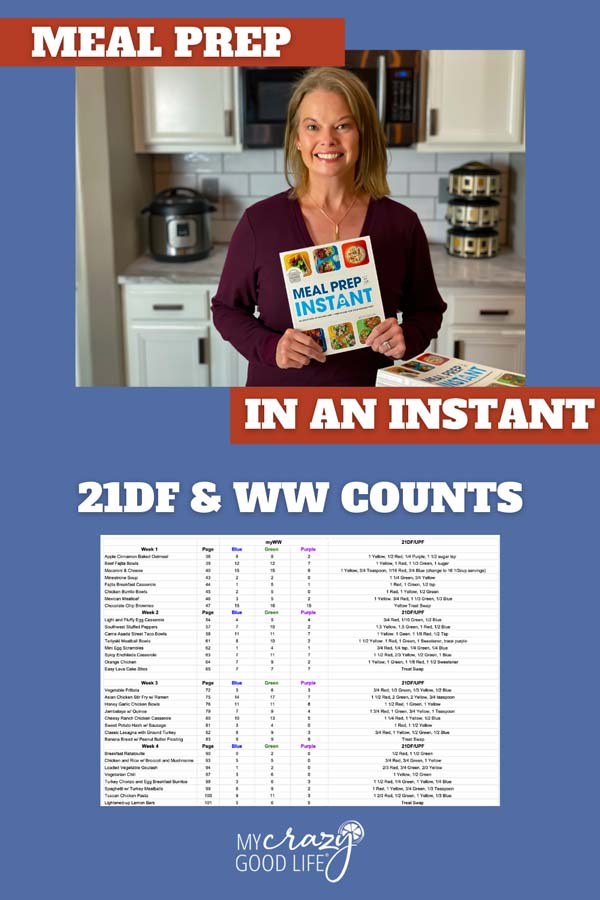 Get to know your Instant Pot
In Meal Prep in an Instant, I've given you several ways to prepare recipes in your pot:
using a few accessories (like this cake pan and these egg bite molds)
Pressure cooking right in the pot
using the pot as a one pot saute pan
cooking an entire meal in the pot–main dish and side dishes!
Can I use this book if I don't have an Instant Pot?
You can use this book with any electric pressure cooker–it doesn't have to be the Instant Pot brand. If you don't have an electric pressure cooker, unfortunately, this book will not work for you.