This site contains affiliate links. Please see Policies for more information.
This Steak Fajita Bowl recipe is made with tender steak and fresh toppings. This healthy one pot meal is the best steak bowl and is family favorite in my house.
I love making these fajita bowls because they're healthy, delicious, and the whole family loves them. We gather tasty toppings and, the best part is, everyone gets a chance to create their own perfect meal.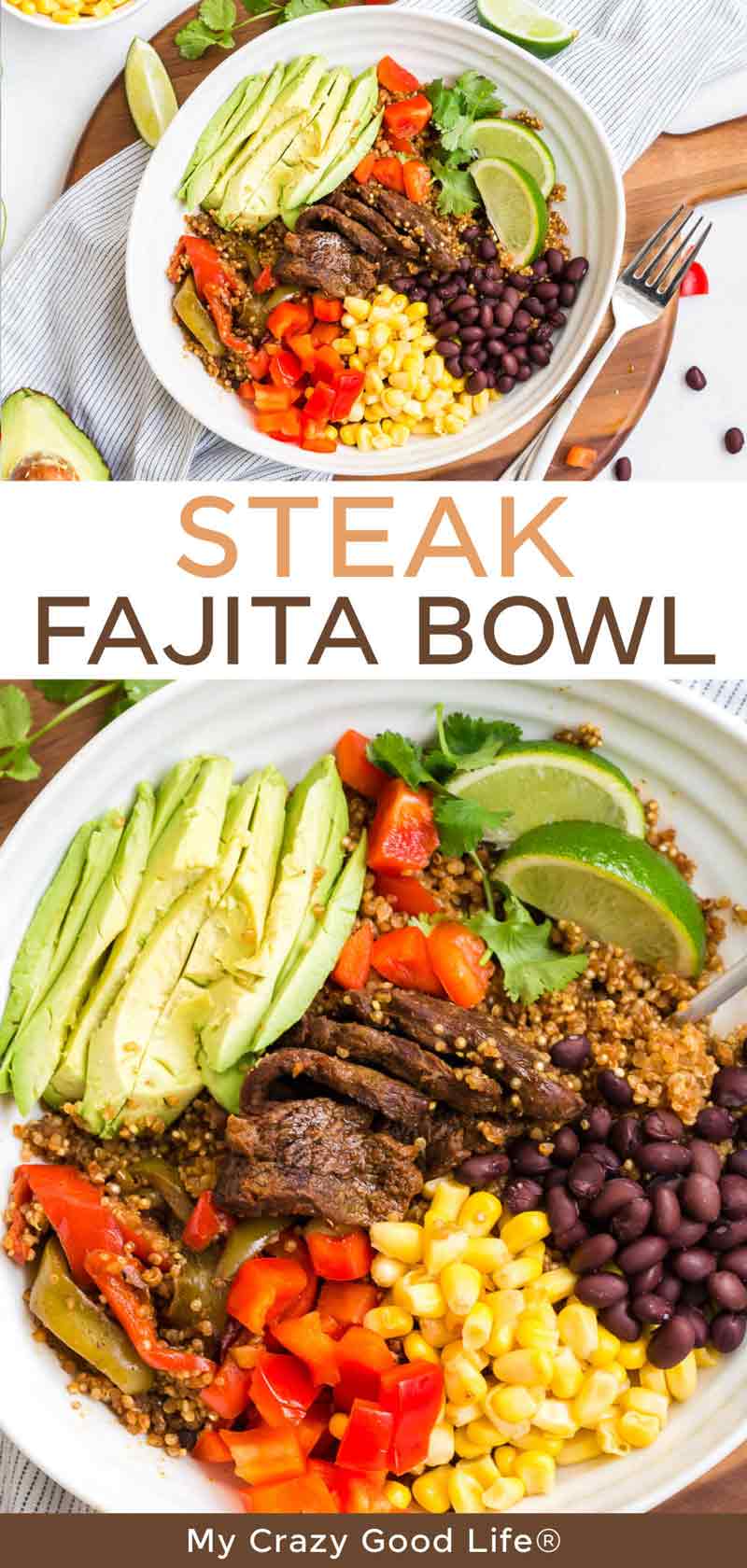 You can cook this recipe three different ways: the Instant Pot, the Crockpot, or on the stove top. It's an easy and healthy dinner that also works well for meal prep.
Where's the Recipe?
Here at My Crazy Good Life we like to make our recipes simple enough for anyone to recreate. In this article you'll find lots of information to help you succeed in making this dish. From ingredient information, to three different cooking techniques, to recipe tips, and then healthy eating plan calculations. There's a lot.
If you feel confident without all of that, and want to get straight to cooking, you can scroll down to the bottom of the page where you'll find the easy to print recipe card for these delicious steak fajita bowls.
Ingredients in this Steak Fajita Bowl Recipe
Olive oil: another great option would be avocado oil.
Coconut aminos: coconut aminos are a healthy soy sauce alternative that you can find in most grocery stores. You can also use low sodium soy sauce or tamari.
Lime juice: fresh lime juice adds great flavor to the marinated steak.
Garlic: fresh garlic is best but garlic powder would work if that's all you have on hand.
Steak: I prefer using flat iron steak for this recipe because it is more tender than skirt steak or flank steak. Really, any thin fajita steak will work, just be sure to slice against the grain
Bell peppers: I love using a variety of different colored bells – red pepper, green pepper… pick your favorite!
Onion: I think fresh onion is essential to fajita veggies. Yellow or red onion will work.
Quinoa: quinoa is a nutrient dense food that's high in protein and easy to prepare. I love using quinoa in place of white rice or brown rice. They're all somewhat comparable in terms of calories, but quinoa is the only one that is a complete protein.
Beef broth: I use low sodium beef broth for this recipe.
Cumin: cumin is an earthy tasting seasoning. Just a little bit goes a long way.
Chili powder: chili powder will add flavor and a little heat to this dish.
Paprika: paprika is another spice that will add an earthy flavor with a hint of sweetness. I typically use regular paprika, but any variety will work fine.
Optional Additional Toppings
These optional toppings are not included in the nutritional information.
Tomatoes: diced tomatoes are a great low calorie topping.
Jalapeños: thin slices of jalapeños add a delicious heat.
Cilantro: fresh cilantro is one of my favorite toppings for these kinds of bowls.
Lime: adding fresh lime wedges is a nice way for people to be able to customize the taste of their own fajita bowls.
Avocado: I love avocado, so this topping is one I think is worth the extra cost in points or calories.
Black beans: black beans are a great source of fiber, and they're delicious!
Corn: fresh corn kernels add great texture and a pop of sweetness to these fajita bowls. You can even go wild and make corn salsa.
Sour cream: I know a lot of people love to add a little dollop of sour cream to top their fajita bowls.
Pico de Gallo: pico de gallo is a simple recipe made with tomatoes, white onion, jalapeño, cilantro, lime and salt.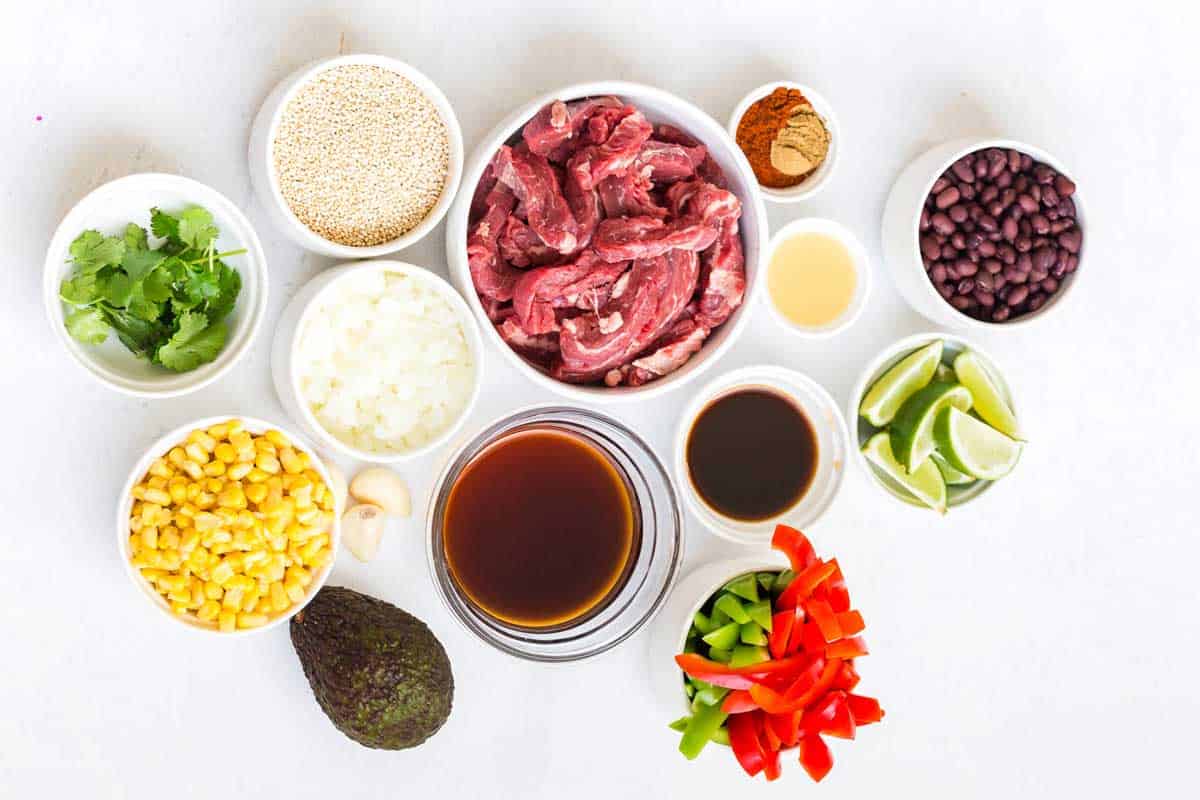 How to Make Instant Pot Steak Fajita Bowls
On a cutting board, slice your fajita veggies and then cut the steak into thin strips.
Turn the Instant Pot to sauté. Press the "adjust" button to turn the sauté mode to "high". When the Instant Pot insert is hot add the oil.
Add the onions, bell peppers, and garlic to the Instant Pot and sauté the vegetables until they are slightly browned.
Next place steak, fajita seasonings, lime juice, and coconut aminos to the pot. Mix the fajitas up and allow the steak to cook for 2-3 minutes until the steak is browned.
Turn the Instant Pot off. Push the fajitas to one side of the Instant Pot to make room for the quinoa. Add the quinoa to the open space. Pour the beef broth over the quinoa, but do not stir.
Close the lid and turn the pressure valve to sealing. Cook on high pressure using the manual setting for 2 minutes. Let the pressure release naturally.
Remove the lid and assemble your fajita bowl. Garnish with your desired toppings.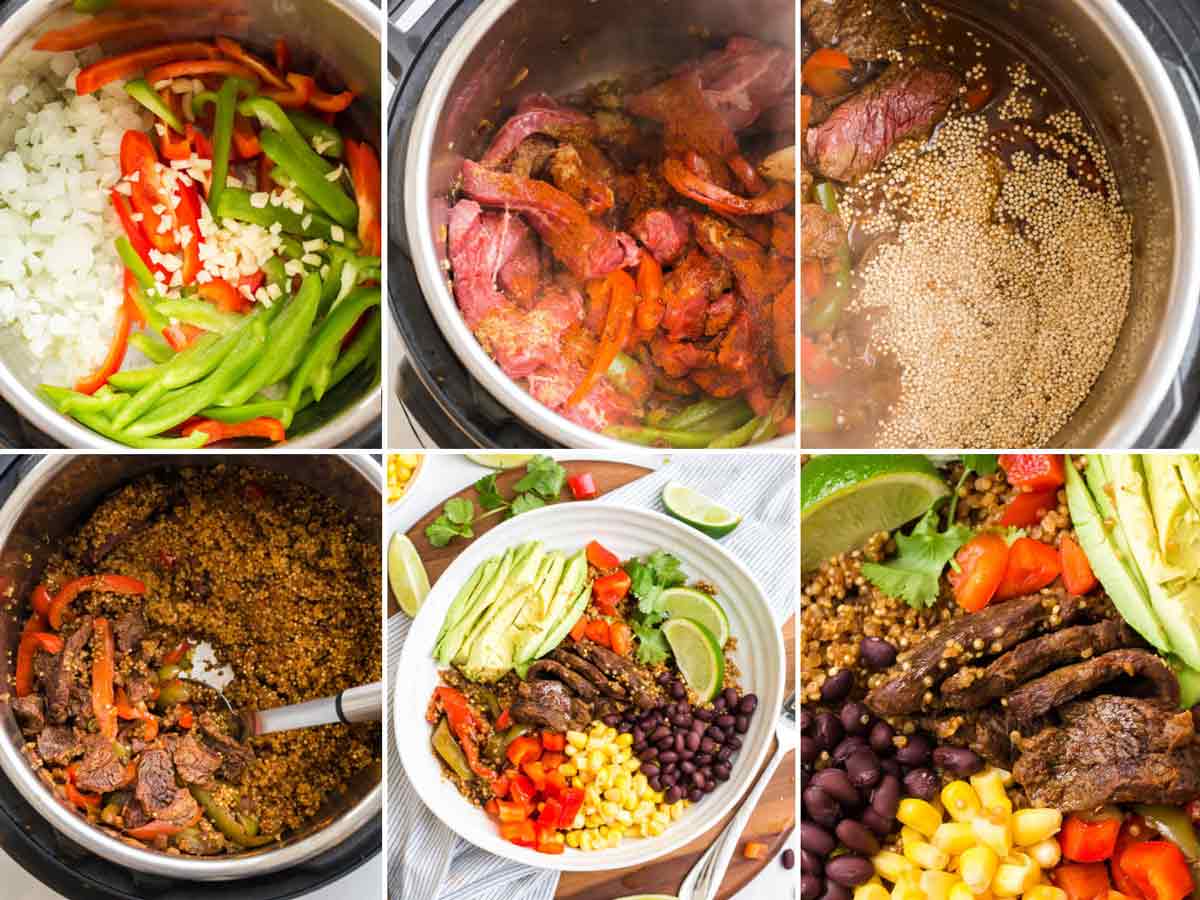 How to Make Steak Fajita Bowls on the Stove
On a cutting board, slice your fajita veggies and then cut the steak into thin strips.
Heat a large pan or cast iron skillet over high heat on your stove top. When the pan is hot add the oil. Add onions, bell peppers, garlic, and steak to the pan and sauté for 3-5 minutes to get scorch marks.
Reduce heat to medium/low. Add in the fajita seasoning, lime juice, and aminos. Mix together and then push the fajita mix to the side of the pan. Add the quinoa to the empty space and cover with beef broth. Do not stir.
Cover the skillet and let cook 15-20 minutes, or until the quinoa is done and slightly translucent. Remove the lid and let any excess liquid cook off.
Turn the stove off, assemble the bowls, and serve.
How to Make Slow Cooker Steak Fajita Bowls
On a cutting board, slice your fajita veggies and then cut the steak into thin strips.
In the slow cooker insert mix together all the ingredients for the fajitas minus the quinoa and broth.
Push the fajitas to the side and add the quinoa to empty space. Pour the beef broth over the quinoa, but do not mix. It won't look like there is enough liquid, but the beef will produce liquid as it cooks.
Cover the slow cooker and cook on high heat for 2 hour or low heat for 4 hours.
Turn the slow cooker off, assemble the bowls, and serve.
Recipe Tips
This is a great recipe for meal prep. The leftovers don't last long around here, but I can usually snag at least a few extra days from one recipe. I store leftovers in my meal prep containers and then pop them in the microwave to reheat for a quick lunch the next day.
When you're slicing the steak you want to make sure to slice against the grain. By doing that you are cutting and shortening the fibers of the meat, which will make the steak more tender and easier to chew.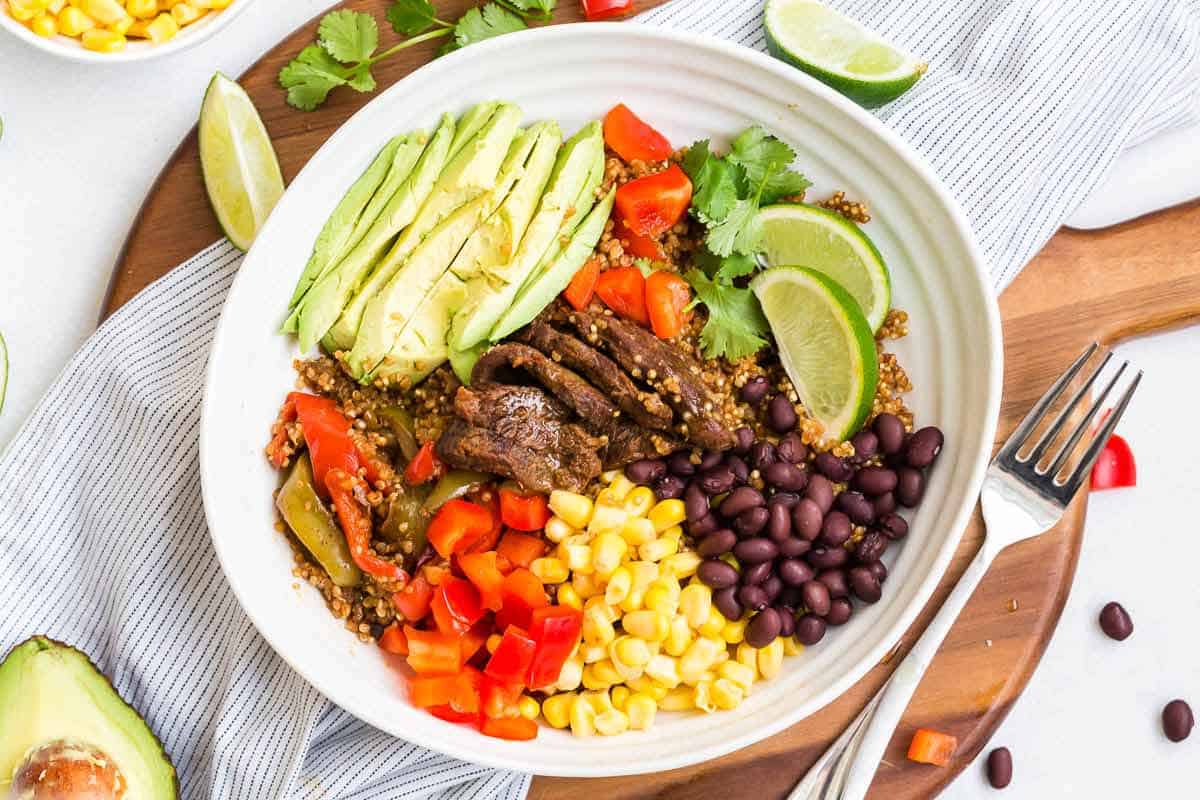 Healthy Eating Plans
21 Day Fix
As with most of the tasty recipes you'll find here at My Crazy Good Life, these steak fajita bowls are 21 Day Fix friendly. Here's a breakdown of the container counts for both the entire recipe and each serving so you can plan your meal accordingly.
Entire Recipe:
4 Red, 4 Green, 6 Yellow
Does not include toppings
Per Serving:
Makes 4 Servings of 1 cup veggies (1 green container), 3/4 cup beef
(1 red container), 1/4 cup quinoa (1/2 yellow container), plus toppings
Weight Watchers
8 Blue Plan Points | 8 Green Plan Points | 6 Purple Plan Points | 2023 Points: 9, not including garnish
Looking for more delicious healthy recipes?
click the stars to rate!
Steak Fajita Bowl Recipe
Servings 4 Servings
Beef fajita bowls are an easy way to eat a balanced and healthy meal. You've got protein, veggies, and nutrient dense quinoa. It checks all of the important boxes!
Equipment
Instant Pot 6 qt

Kitchen Knife

Cutting Board
Ingredients
Ingredients:
1 tsp olive oil
1 onion large, sliced
2 bell peppers sliced
1 tbsp garlic minced
1 lbs steak flat iron, but any thin steak will work (slice against the grain)
1 ½ tbsp lime juice about 1 lime worth
2 tbsp coconut aminos low sodium
1 cup quinoa
½ cup beef broth low sodium
Fajita Seasoning:
1 tsp cumin
1 tbsp chili powder
1 tsp paprika
Optional Toppings:
tomatoes
jalapeños
cilantro
lime
avocado
black beans canned
corn kernels
Instructions
Instant Pot:
Turn the Instant Pot to sauté. Press the "adjust" button to turn the sauté mode to "high". When the Instant Pot insert is hot add the oil. 1 tsp olive oil

Add the onions, bell peppers, and garlic to the Instant Pot. sauté the vegetables until they are slightly browned. 1 onion , 2 bell peppers, 1 tbsp garlic

Next add the steak, fajita seasonings, lime juice, and liquid aminos. Mix the fajitas up and allow the steak to cook for 2-3 minutes until the steak is browned.1 lbs steak , 1 tsp cumin, 1 tbsp chili powder, 1 tsp paprika, 1 ½ tbsp lime juice, 2 tbsp coconut aminos

Turn the Instant Pot off. Push the fajitas to one side of the Instant Pot to make room for the quinoa. Add the quinoa to the open space. Pour the beef broth over the quinoa, but do not stir. 1 cup quinoa, ½ cup beef broth

Close the lid and turn the pressure valve to sealing. Cook on high pressure using the manual setting for 2 minutes. Let the pressure release naturally.

Remove the lid and assemble your fajita bowl. Garnish with your desired toppings. tomatoes, jalapeños, cilantro, lime, avocado, black beans, corn
Stove:
Heat a large skilled on high heat on your stove top. When the pan is hot add the oil. Add onions, bell peppers, garlic, and steak to the pan and sauté for 3-5 minutes to get scorch marks.1 tsp olive oil, 1 onion , 2 bell peppers, 1 tbsp garlic, 1 lbs steak

Reduce heat to medium/low. Add in the fajita seasoning, lime juice, and aminos. Mix together then push the side of the pan. Add the quinoa to the empty space and cover with beef broth. Do not stir. 1 tsp cumin, 1 tbsp chili powder, 1 tsp paprika, 1 ½ tbsp lime juice, 2 tbsp coconut aminos, 1 cup quinoa, ½ cup beef broth

Cover the skillet and let cook 15-20 minutes until the quinoa is done and slightly translucent. Remove the lid and let any excess liquid cook off.

Turn the stove off, assemble, the bowls, and serve. tomatoes, jalapeños, cilantro, lime, avocado, black beans, corn
Slow Cooker:
In the slow cooker insert mix together all the ingredients for the fajitas minus the quinoa and broth. 1 tsp olive oil, 1 onion , 2 bell peppers, 1 tbsp garlic, 1 lbs steak , 1 ½ tbsp lime juice, 2 tbsp coconut aminos, 1 tsp cumin, 1 tbsp chili powder, 1 tsp paprika

Push the fajitas to the side and add the quinoa to empty space. Pour the beef broth over the quinoa, but do not mix. It won't look like there is enough liquid, but the beef will produce liquid as it cooks. 1 cup quinoa, ½ cup beef broth

Cover the slow cooker and cook in high heat for 2 hour or low heat for 4 hours.

Turn the slow cooker off, assemble the bowls, and serve. tomatoes, jalapeños, cilantro, lime, avocado, black beans, corn
Notes
Healthy Eating Plans 21 Day Fix Entire Recipe: 
4 Red, 4 Green, 6 Yellow
Does not include toppings Per Serving: 
Makes 4 Servings of 1 cup veggies (1 green container), 3/4 cup beef
(1 red container), 1/4 cup quinoa (1/2 yellow container), plus toppings Weight Watchers 8 Blue Plan Points | 8 Green Plan Points | 6 Purple Plan Points | 2023 Points: 9, not including garnish
Nutrition
Calories: 354kcal | Carbohydrates: 20g | Protein: 27g | Fat: 19g | Saturated Fat: 8g | Cholesterol: 69mg | Sodium: 321mg | Potassium: 626mg | Fiber: 4g | Sugar: 4g | Vitamin A: 2756IU | Vitamin C: 80mg | Calcium: 41mg | Iron: 4mg
SaveSave