2B Mindset is a new healthy lifestyle program that uses plate proportions and a designated food list to help you lose weight and make smarter choices. A lot of you are asking what is 2B Mindset, so I thought I'd share a little bit about it and what my initial thoughts are. I've also updated the post to include my thoughts after trying it for a bit.
Not all healthy lifestyle programs are the same. A lot of them share the same concepts which can be confusing and misleading.
The 21 Day Fix program and the 2B Mindset program are targeted at roughly the same audience, but it's definitely a different program. Let's have a quick overview of the 2B Mindset system.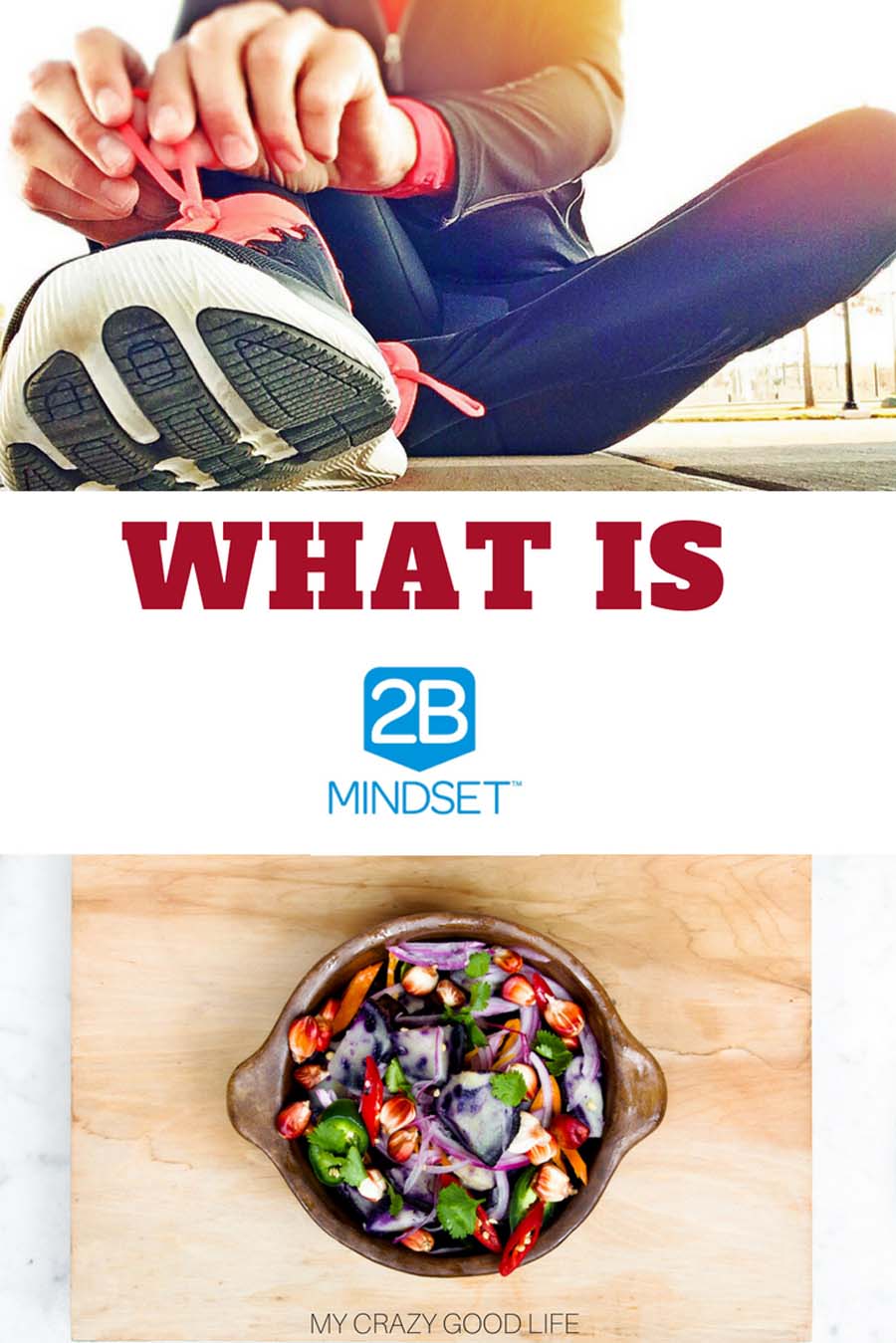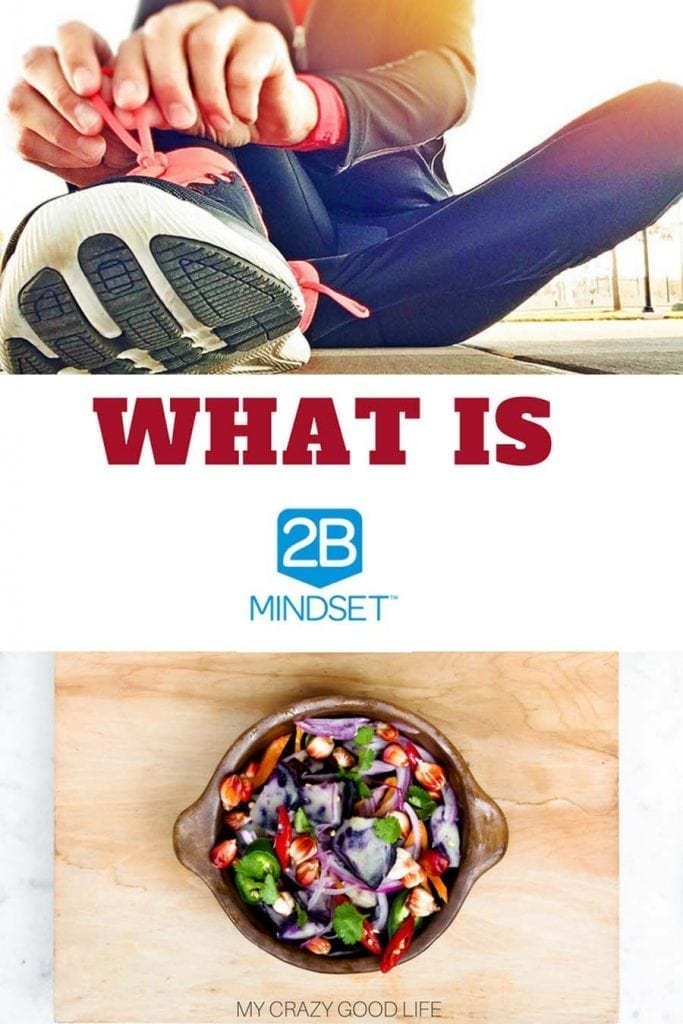 What Is 2B Mindset?
2B Mindset is a healthy lifestyle and weight loss program. The end goal is to lose weight and be healthier, right?
To achieve those goals, 2B Mindset uses diagrams of plates as well as food lists broken up into categories to teach you how to make healthy choices–this works because it's easy for most people to eyeball portion sizes.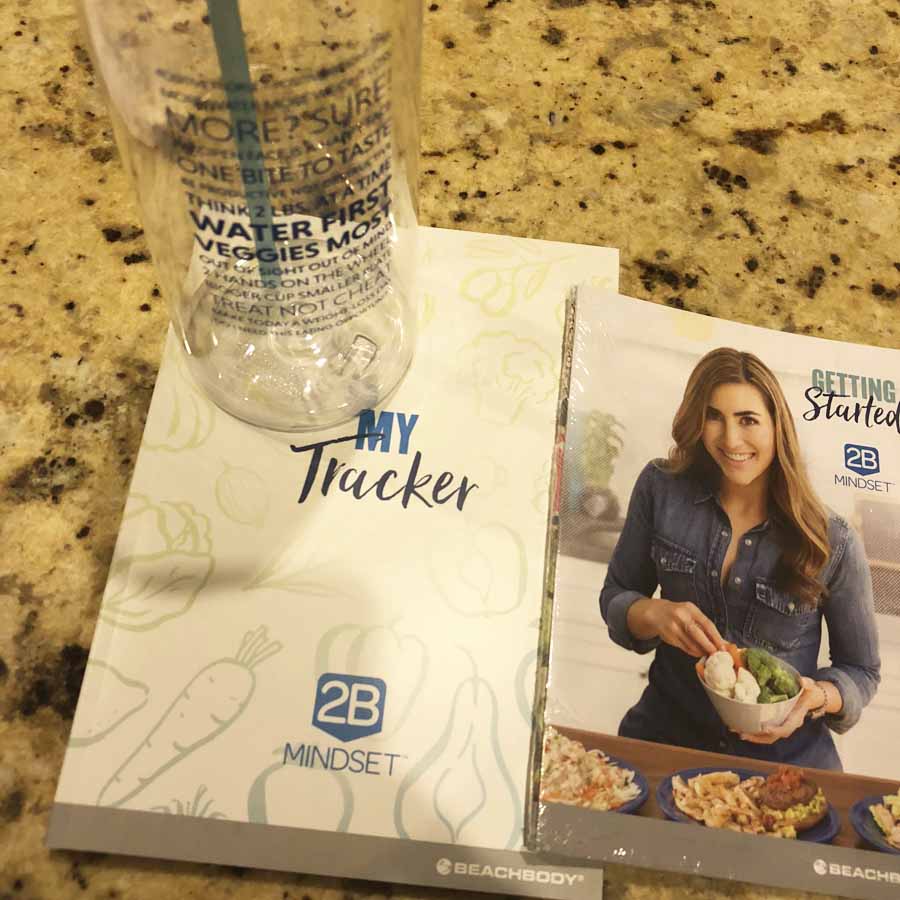 Unlike the 21 Day Fix, where you measure out your portions in specially sized containers, with 2B Mindset you are using your plate as a guideline for each meal. Breakfast, lunch, snack, and dinner all have different plate proportions. You are filling your plate with vegetables, fiber rich carbs, and protein from a list of choices.
How does 2B Mindset Work?
Another aspect of the 2B Mindset program is that they encourage 16 oz of water before every meal. This helps trick your body into feeling full so you eat less. It's also a great way to stay hydrated and meet your water goals for the day.
By giving you choices from simple food groups and using the plate as a way to divide up your meals, 2B Mindset takes some of the guesswork out of a healthy lifestyle. They have a printable meal tracker for you to use each day which can help you stay accountable. Over time it can also help you see what works and what doesn't with regards to eating (and drinking).
Because there is no direct calorie tracking it can be hard to know ahead of time how much weight you can expect to lose. Making healthy goals is a great way to get started and if you don't have any specific weight loss goals 2B Mindset could be helpful in that way. It's important to remember though that weight loss is just a math equation. Calories in and calories out!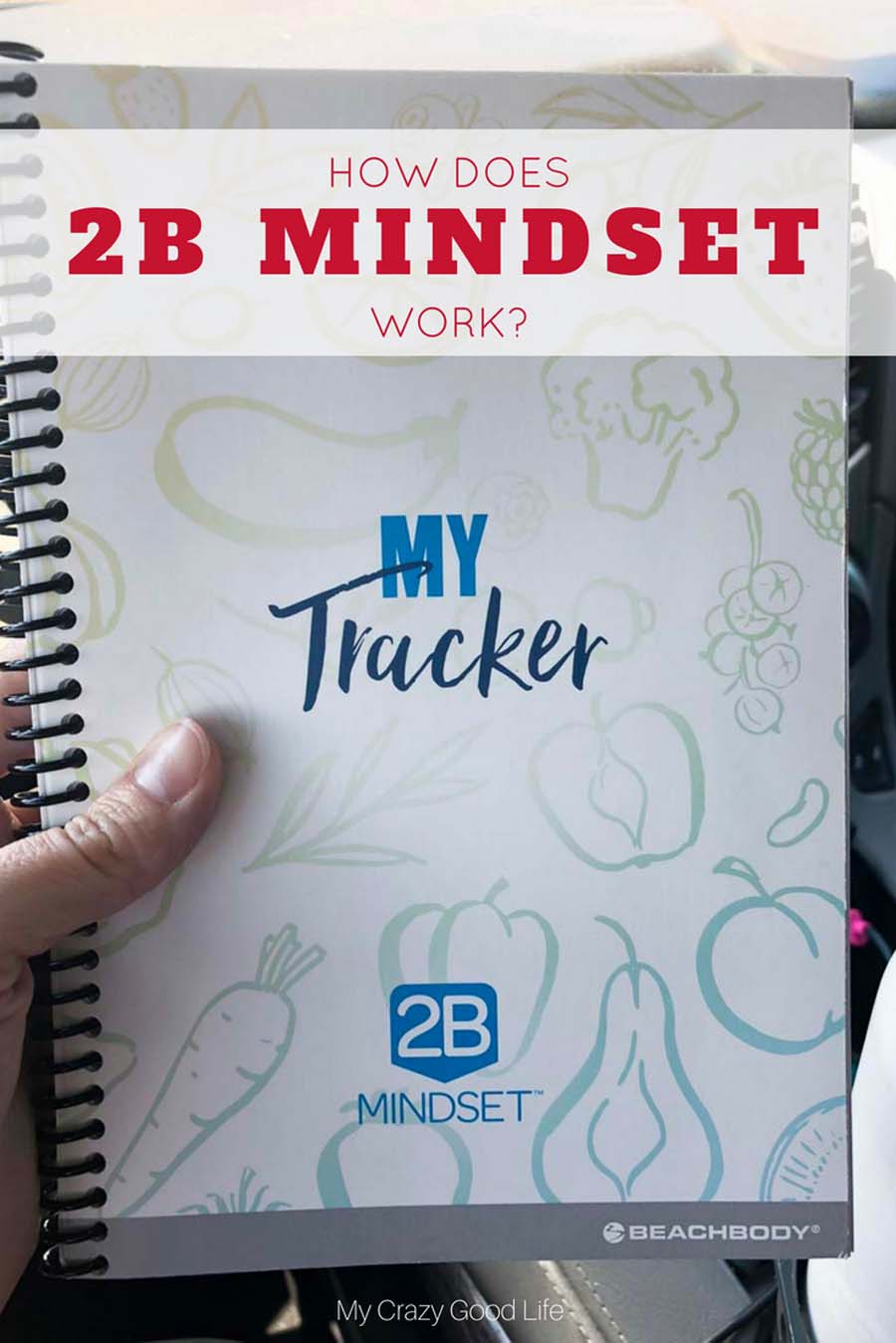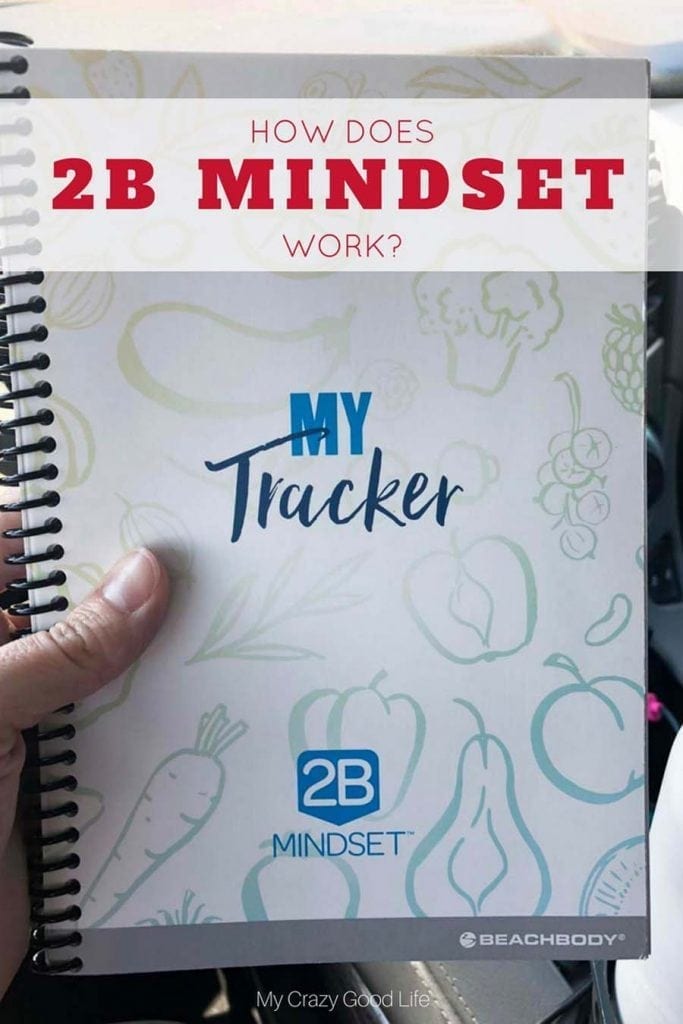 How Is 2B Mindset Different From 21 Day Fix?
2B Mindset is different from the 21 Day Fix in a couple of ways; it does not use measurements, there's no calorie brackets, and there's no counting containers. There's also no workout element combined with this program. That is not to say that you can't workout while doing the program, it's just not targeted workouts that correlate to your daily program.
In terms of measurements, on this program you are using proportions of your plate (50% veggies, 25% protein, 25% carbs, etc.) to show help you lose weight and make smart choices. You don't track containers, calories, or points. You are encouraged to write down everything you eat though, and track the changes you see!
The 2B Mindset program is also more focused on water consumption. They want you drinking a minimum of 16 oz of water before you take your first bite of any meal or snack. This is a unique element that can help you feel full before you even start eating.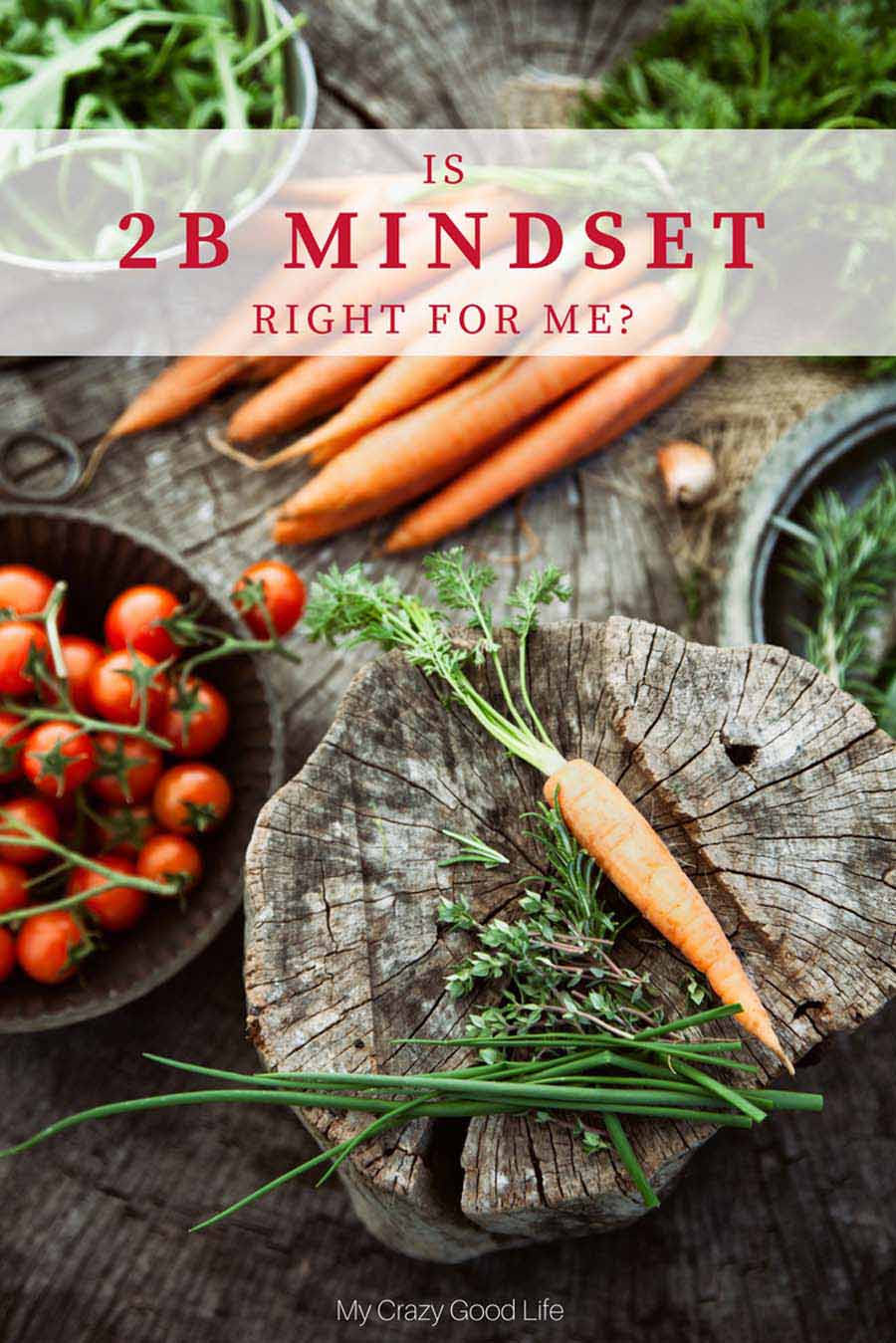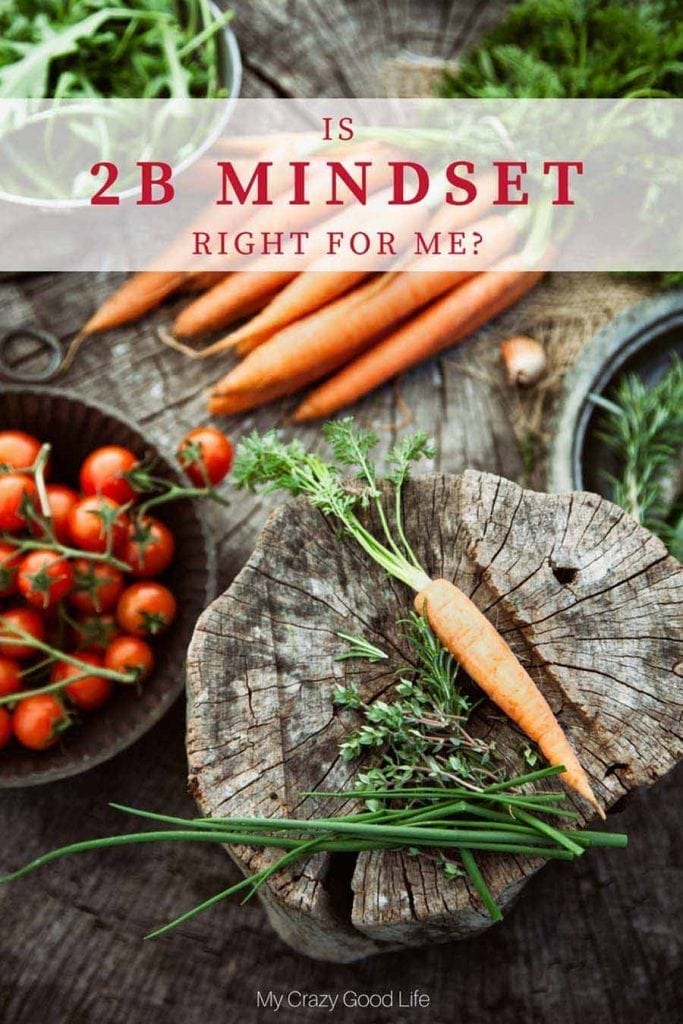 Can I Mix 2B Mindset And 21 Day Fix?
NO. I'm not sure how it would work for other programs but with 21 Day Fix you can not mix programs. With 21 Day Fix you should be tracking containers. Always. It's how the program works and it is how you track your food consumption.
The 21 Day Fix functions on rough calorie assumptions per container which is how your daily counts are determined. It's important for the ratios because of the workouts as well!
Also, the food lists for the two programs are pretty different. They're not going to easily work together. If you're looking for more comparisons, my friend Nancylynn has a great post that compares the 21 Day Fix and 2B Mindset.
Can I do 2B Mindset if I don't like veggies?
Nope. You're not going to be able to balance out your plate if you don't eat a decent amount of veggies (like, 75% of your last meal of the day has to be veggies).
What do you eat on 2B Mindset?
Here is a day of meals from the 2B Mindset nutrition program. If you're asking, what is 2B Mindset then these images should help you understand what your plate is expected to look like during each meal. Unstyled, very not professional photography here–this is real life, friends!
Breakfast: A veggie omelette with bacon and two small slices of Dave's Killer bread.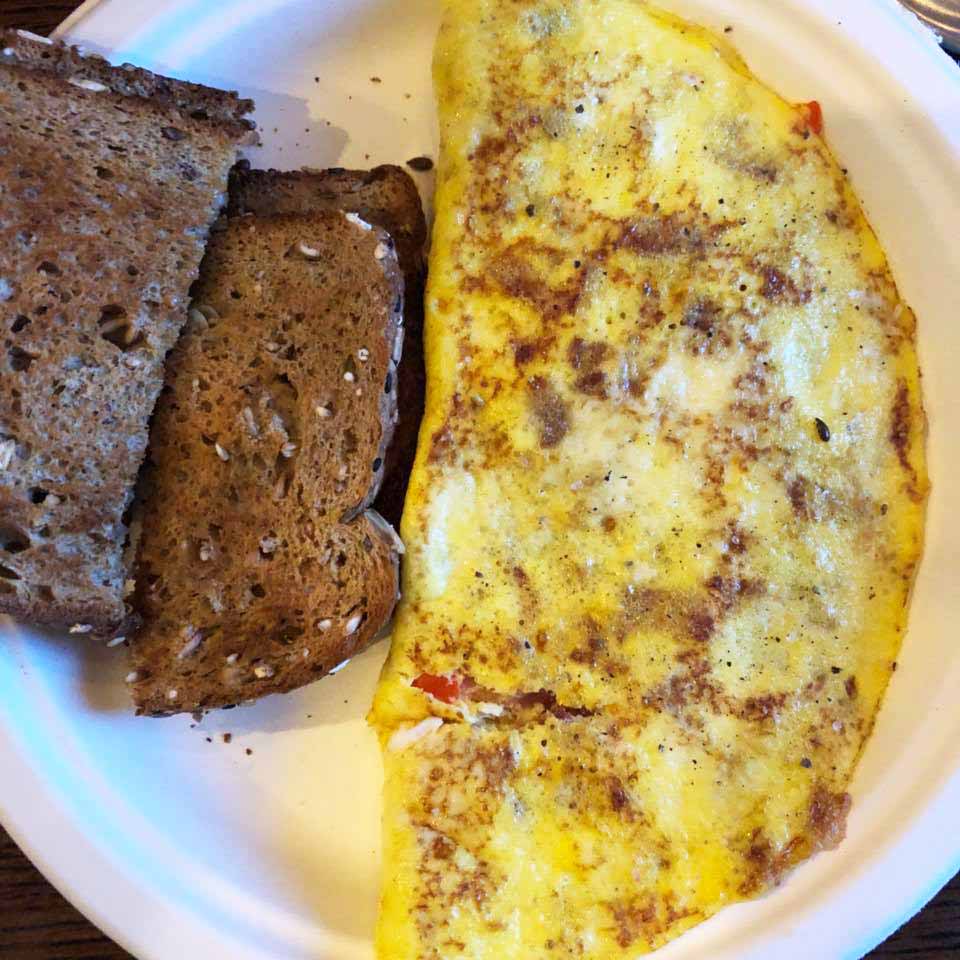 Lunch: Sweet potato crab cakes, sliced raw veggies, and butternut squash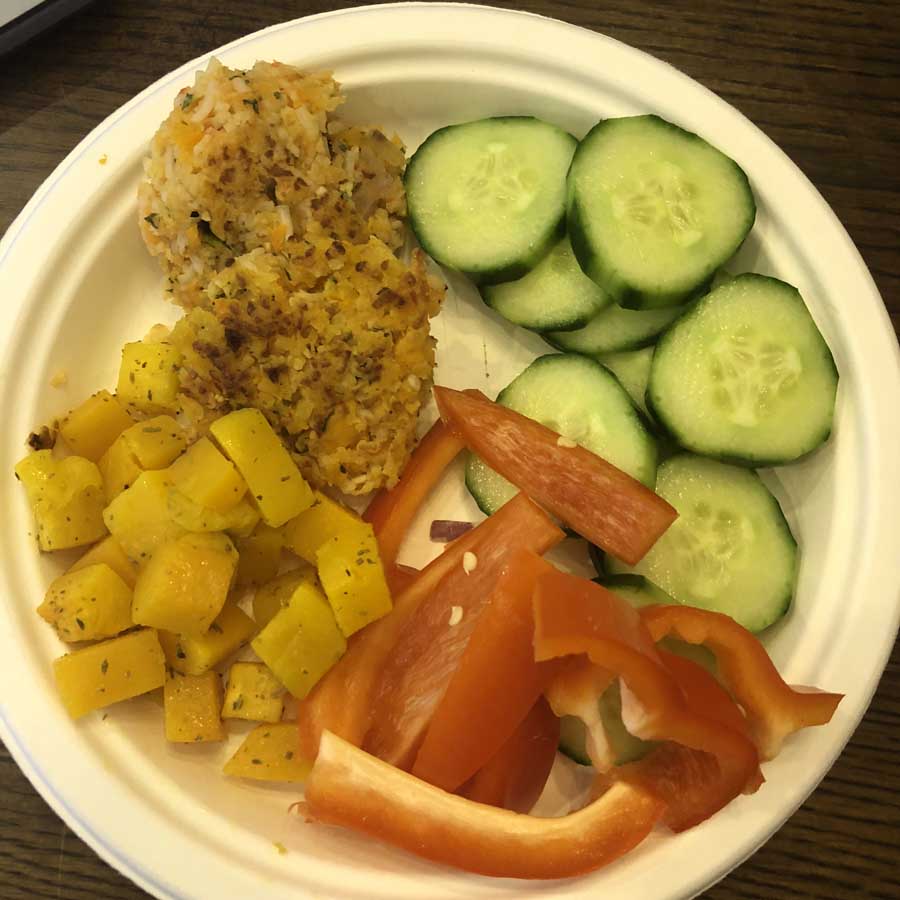 Dinner: Spiralized zucchini (zoodles), and fajitas with no tortilla.
Who do I recommend 2B Mindset for?
I think 2B Mindset is good for those who need to maintain and keep an eye on what they're eating. If you're looking to lose weight, my opinion is that 2B Mindset is not structured enough to help most people. If you were disciplined enough to watch what you eat, you probably wouldn't be looking to lose weight.
My opinion is that if you're looking to lose weight and keep it off, the 21 Day Fix is for you. If you're already really good at self control and watching your portions, you might want to check into 2B Mindset. But any program that labels treats "silly carbs," makes me a little wary.
From my experience, telling someone who is trying to lose weight to, "see how eating a golf ball size dollop of white sugar in your dinner recipe works for you" is a recipe for failure.
I might be wrong here, and I'll be the first to admit it if this program takes off–but as of now I'm very hesitant to recommend it.
Updated 6/1: I decided to try 2B to give my solid opinion, and I'll admit that my initial thoughts were was wrong about the program in some aspects. I've lost 5 pounds in the week that I've been loosely sticking to the plan, and can identify exactly why I haven't lost more ( my son's graduation from high school made for a very busy family filled party household for almost a week!).
You do have to know yourself, and set your limits. You do have to be ok with lowering or reducing your carbs after lunch. And, of course, you do have to track everything you eat–this is how you can correlate the piece of cake you ate last night with why the scale didn't budge today.
Weighing daily and tracking your food and water helps you see trends in your weight and ultimately identify how to keep it off long term.
Am I still super confused and a little annoyed at the reason behind the name of the program? Yes. We aren't children and I think Beachbody could have stepped up and named it after something more professional and nutrition oriented.
Do I disagree with the fact that Ilana labels what are essentially cheats and treats as "silly carbs?" Totally. Again with the childishness.
Am I a little judgmental? I'll totally agree to that ;)
Am I eating my words and saying that I like 2B? Yup. It's exactly the break I needed from the Fix after following it for so long. It challenges me to get more veggies into my diet, and that's always the goal right?
More Info On The 21 Day Fix:
Can I have dessert on the 2B Mindset program?
Yes! One of the best things to come out of 2B Mindset so far is Wonder Whips…okay there are a lot of good things but these might be the tastiest! Check out these Wonder Whip recipes you have to try, there are nearly 15 different varieties and recipes all in one spot. I have recipes for fruity flavors like lemon meringue and key lime pie as well as chocolate flavors with mint and peanut butter! You can also do Wonder Whip in savory recipes for dipping and toppings!