This site contains affiliate links. Please see Policies for more information.
Sometimes I get a craving for pasta…when the craving strikes I like to try out some sweet potato pasta first! This is a great recipe for sweet potato pasta that is 21 Day Fix and 2B Mindset friendly. It's loaded with great flavors and has lots of good nutrients for your body instead of all the sugar in processed pasta.
I know that zoodles and sweet potato pasta are not the same as real linguini or spaghetti but I can't feasibly eat those things everyday and still maintain my healthy lifestyle…so I make the best of it with delicious recipes like this!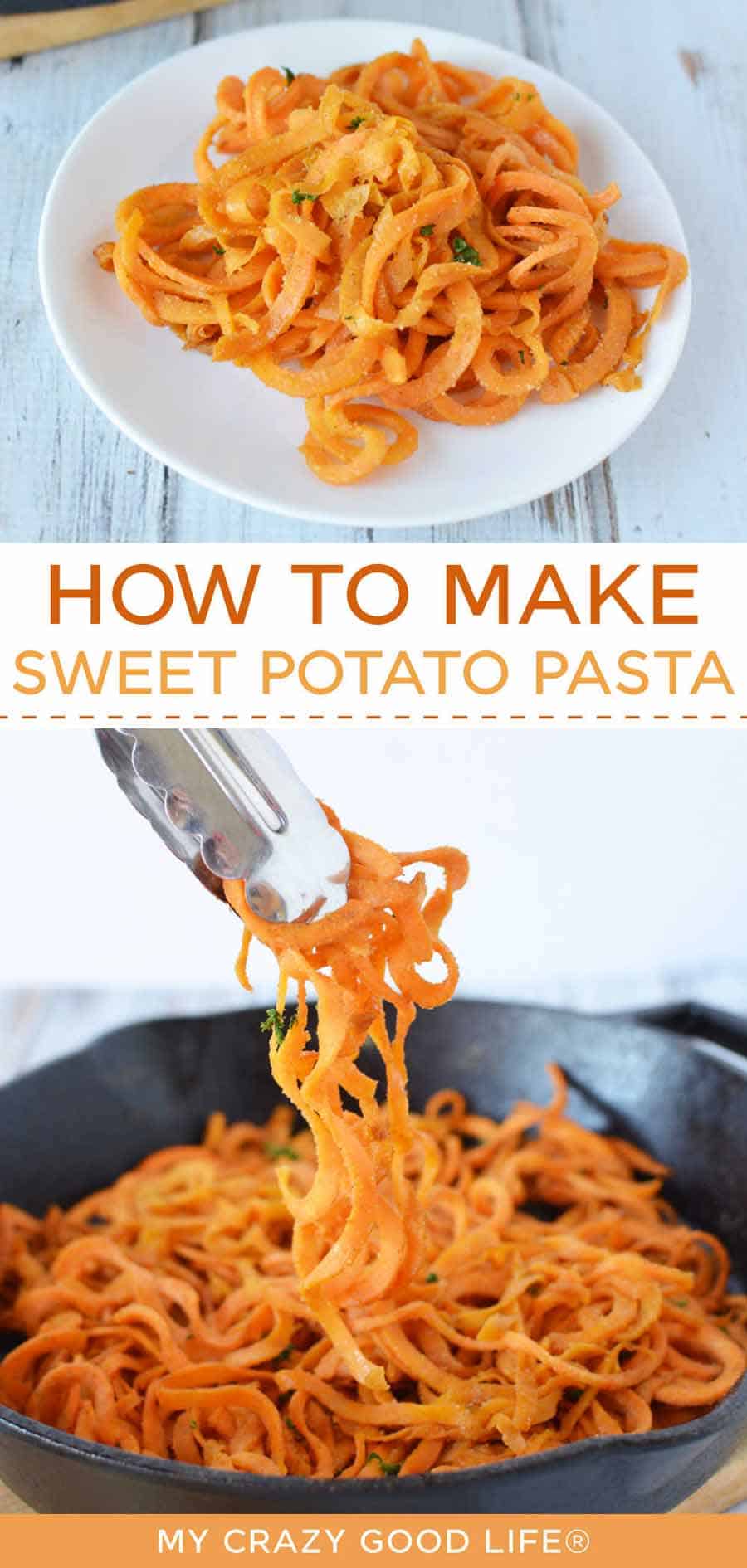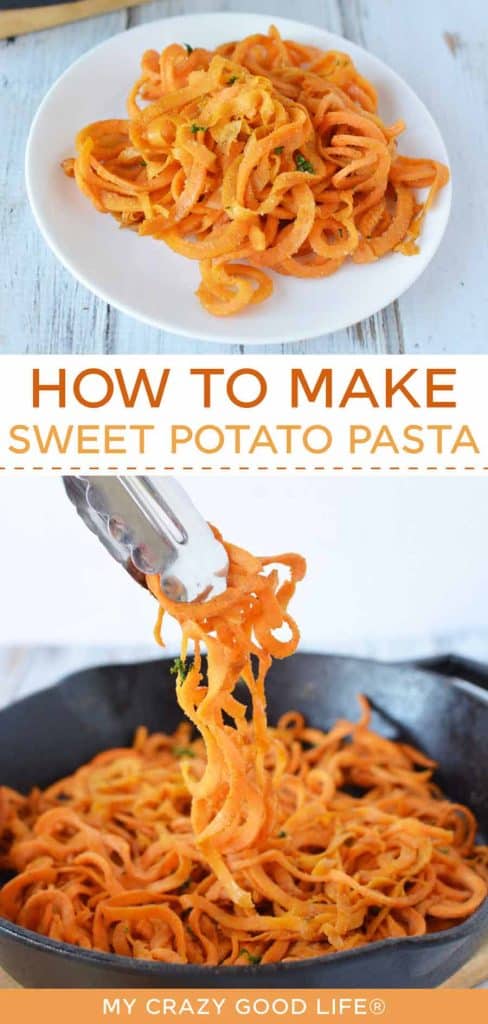 If you've never tried a spiralized veggie in place of your traditional cooked pasta you should give it a go. Zoodles can be a key ingredient, along with some protein and veggies, can make a delicious and healthy alternative that you and your whole family actually enjoys!
I personally think our sweet potato pasta has more delicious flavors than any roasted sweet potatoes recipe i've found online. Our sweet potato pasta is also healthier and more delicious than cooked pasta.
Where's the Recipe?
Here at My Crazy Good Life we write our recipes to all of our readers. We realize that we have a wide variety of readers who are either starting out their cooking journey, or those that are experts in the kitchen.
To help support all readers, we strive to included detailed instructions, top tips and tricks, healthy eating plan point information, as well as nutritional information. If you are ready to start cooking with the more basic version of this recipe, simply scroll down to the bottom of the page where you'll find our easy to print How to Make Sweet Potato Pasta recipe.
Ingredients in Sweet Potato Pasta
Butter
Ground sage: Sage is such the perfect match for sweet potatoes. This combination reminds me of all things Fall and delicious.
Garlic powder
Sweet potatoes: Sweet potatoes and yams are not the same. We like sweet potatoes because they have an abundance of health benefits.
Salt & pepper: (to taste)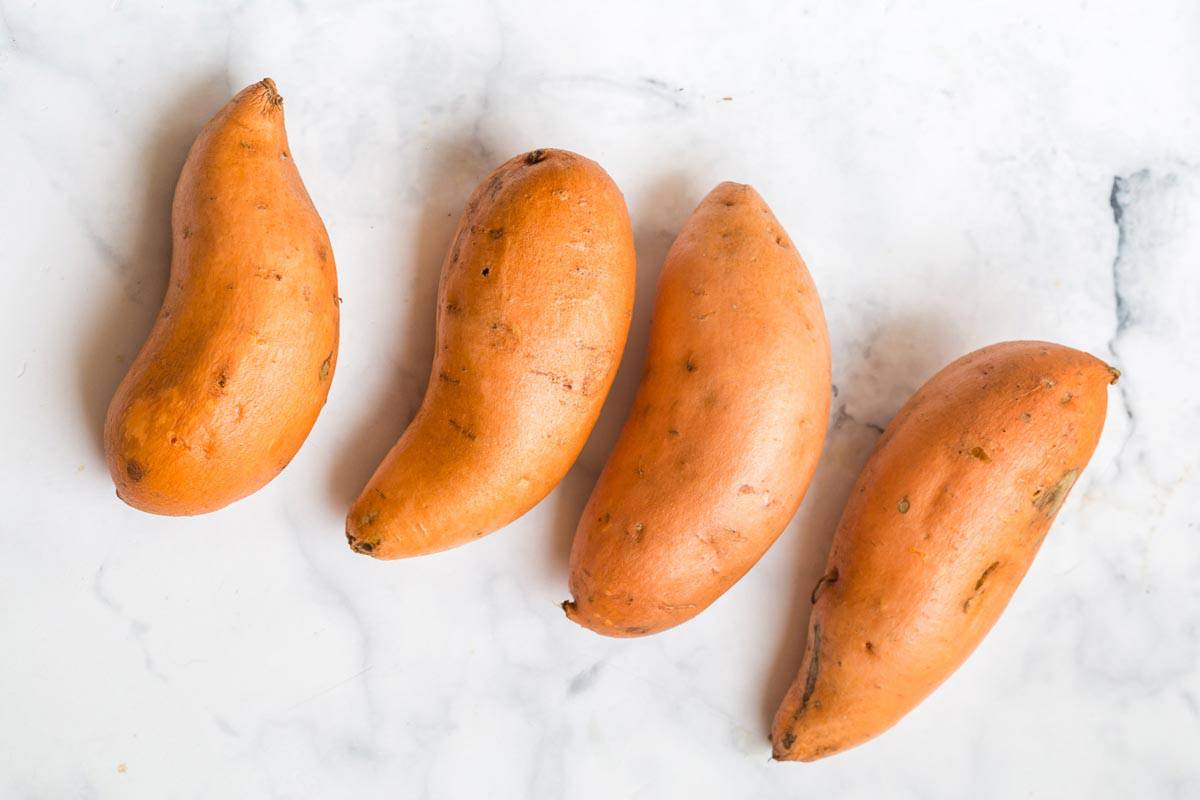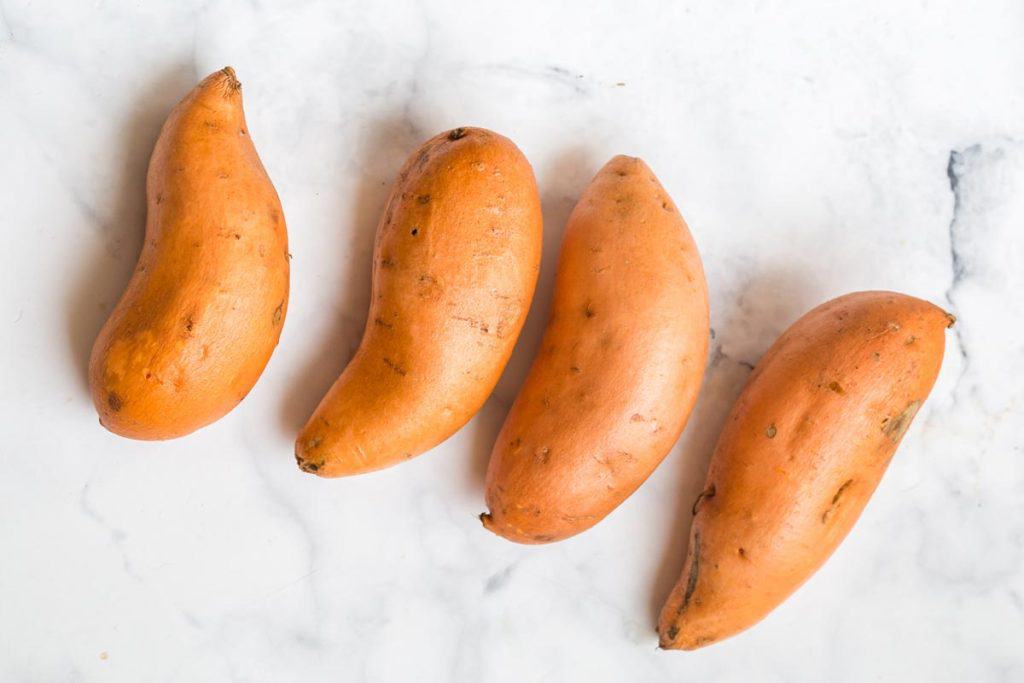 Spiralizer – How to make Vegetable pasta
You can make any kind of vegetable pasta easily with a spiralizer. I love this one, I use it pretty regularly to make zoodles and all variety of other spiralized vegetables! It's really simple. Once you have your potatoes peeled you insert them into the spiralizer and turn the crank. Smooth motions will keep your sweet potato pasta in long strands just like noodles.
I've found that using vegetable pasta really cuts down on carbs and helps me keep my healthy lifestyle goals on point. You'll end up with a long core that comes out during the spiralizing process, you can chop that up a bit and include it or you can compost it or toss it. Just be aware if you've never made zoodles before that it's totally normal!
If you decide you like making sweet potato pasta you have to try out this recipe for steak fajita zoodles, it'll further solidify your obsession with spiralizing, I promise! Sweet potato linguini and other zoodle recipes are great for anyone who might be dealing with a gluten intolerance too! They can be cooked up dairy free as well so they're amazing for special dietary needs.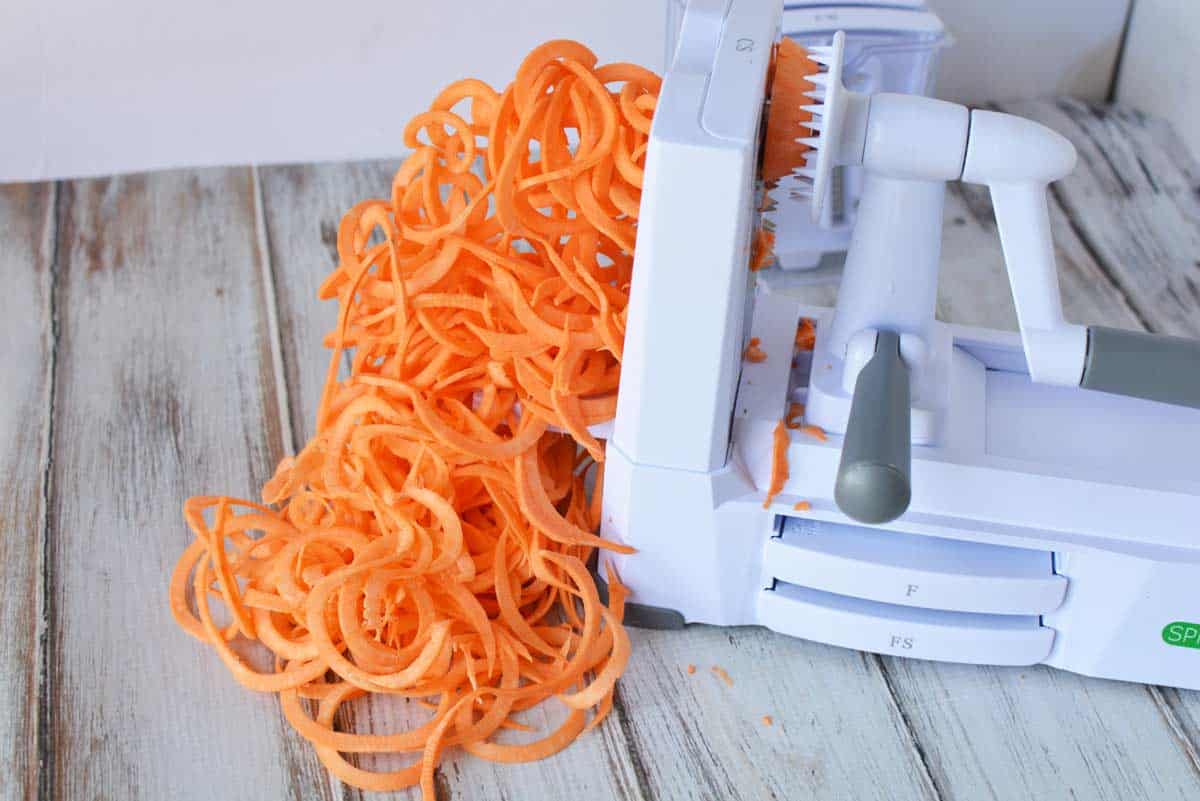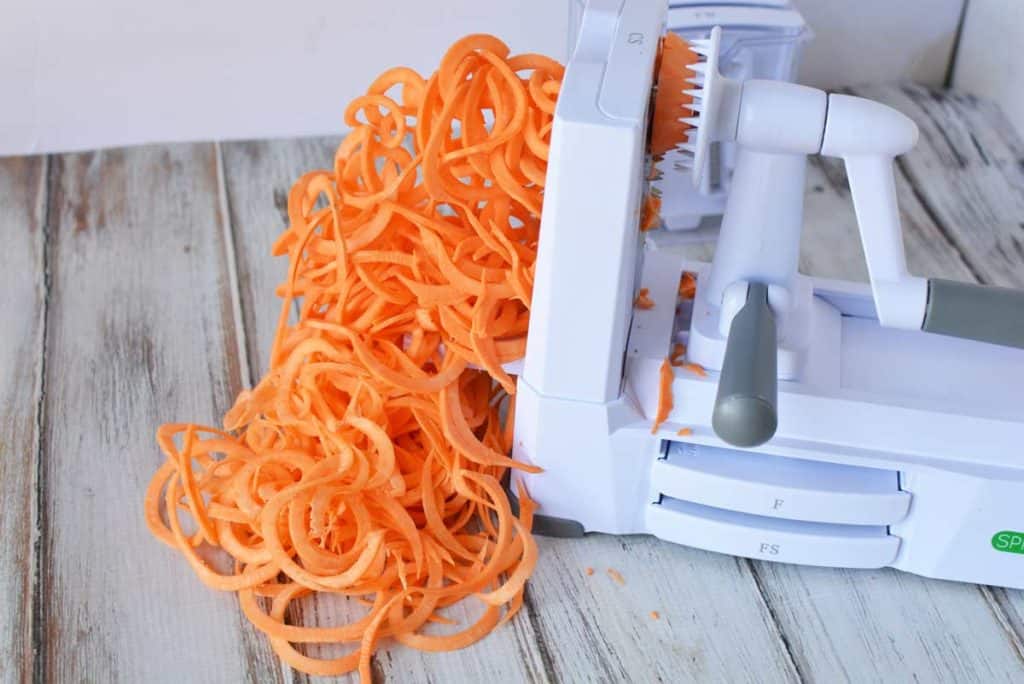 How to Make Sweet Potato Pasta
Peel sweet potatoes.
Use a spiralizer with a coarse shred or flat blade to make the sweet potato pasta.
Melt butter in large skillet over medium high heat.
Add sage, garlic powder, and salt (if using).
Add sweet potato zoodles.
Stir and toss until tender (approx. 3 to 5 min).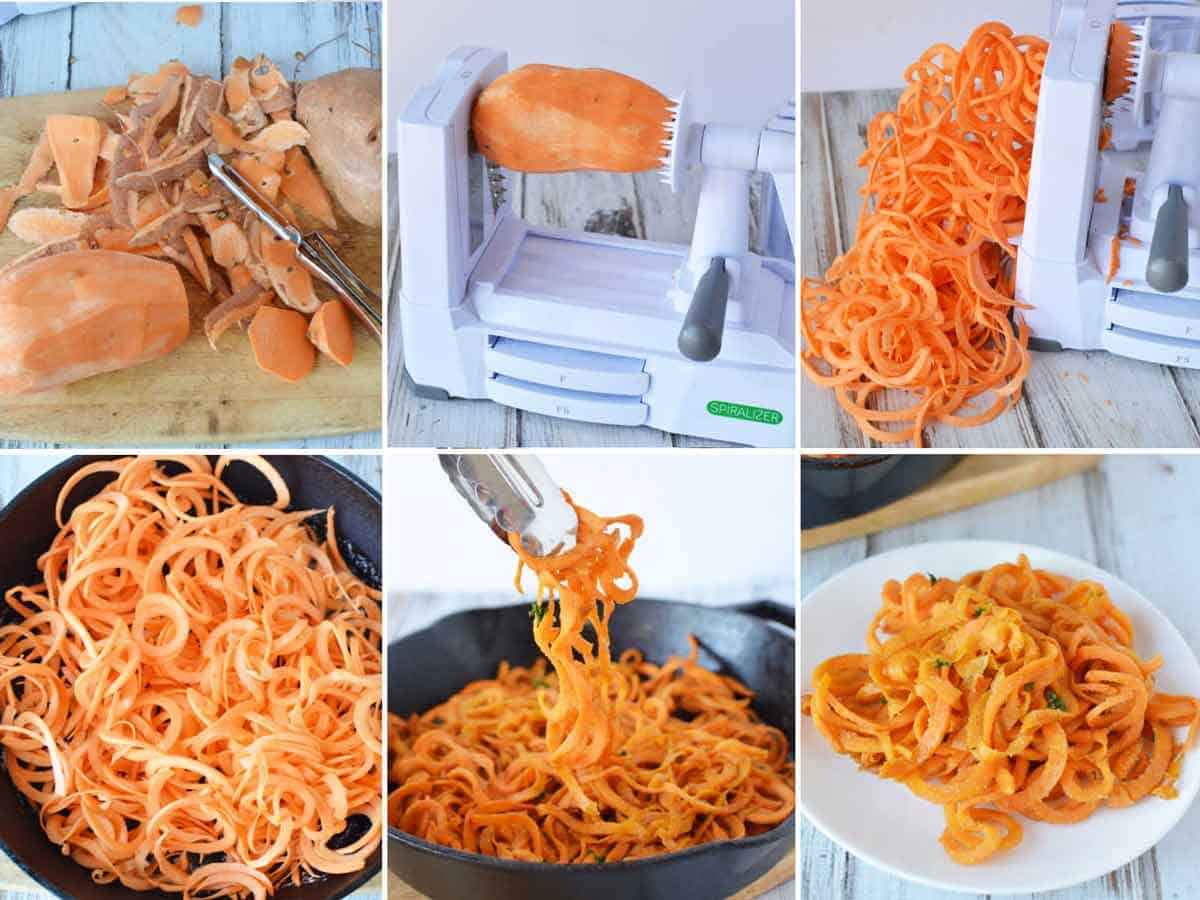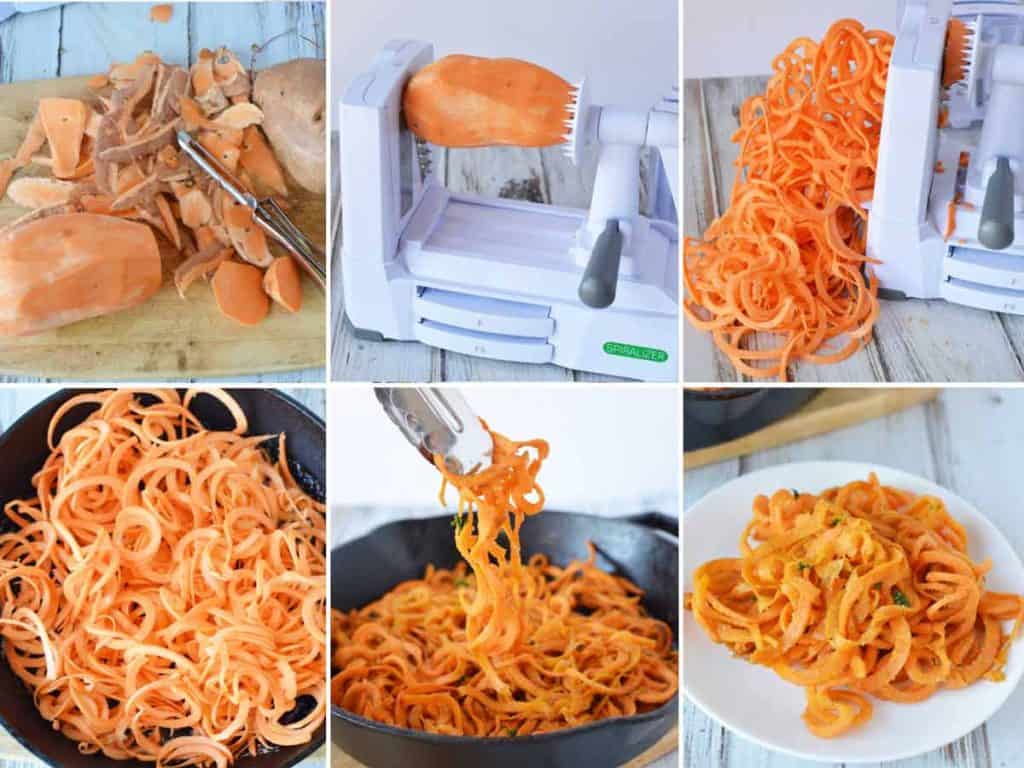 Recipe Tips
Our sweet potato pasta noodles are the most flavorful when you serve immediately.
If you love roasted sweet potato, you're going to love this pasta swap. We prefer sweet potatoes over white potatoes, although those can also have nutritional value too!
You could serve the sweet potato pasta with a creamy sauce, or a simple pasta sauce. We think these are perfectly wonderful without an additional pasta sauce.
Healthy Eating Plan Points
Weight Watchers Points
3 2023 Plan Points | 5 Freestyle Points
21 Day Fix Sweet Potato Pasta
The entire recipe is 6 Teaspoons and 6 Yellow depending on the size of your sweet potatoes. Use your containers to measure the potatoes if you are unsure!
Depending how you decide to use this recipe, as a base, a side dish, etc. you can measure accordingly with your yellow containers. Just remember that for each Yellow you need to count a Teaspoon as well!
2B Mindset
This recipe makes an excellent choice for Fiber Filled Carbohydrates. Your FFC's vary based on which meal of the day so you can measure out your portions accordingly! Add some protein like these teriyaki turkey meatballs and some veggies and you'll be on your way to an excellent 2B Mindset meal.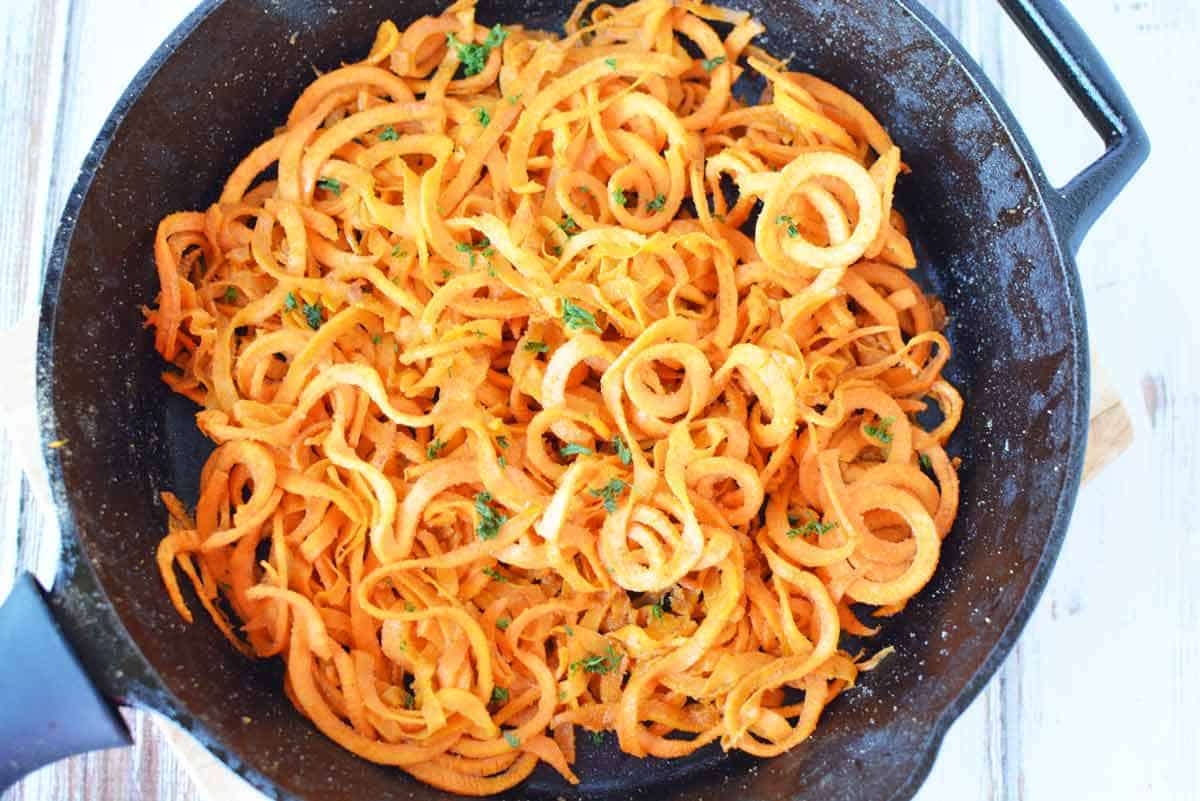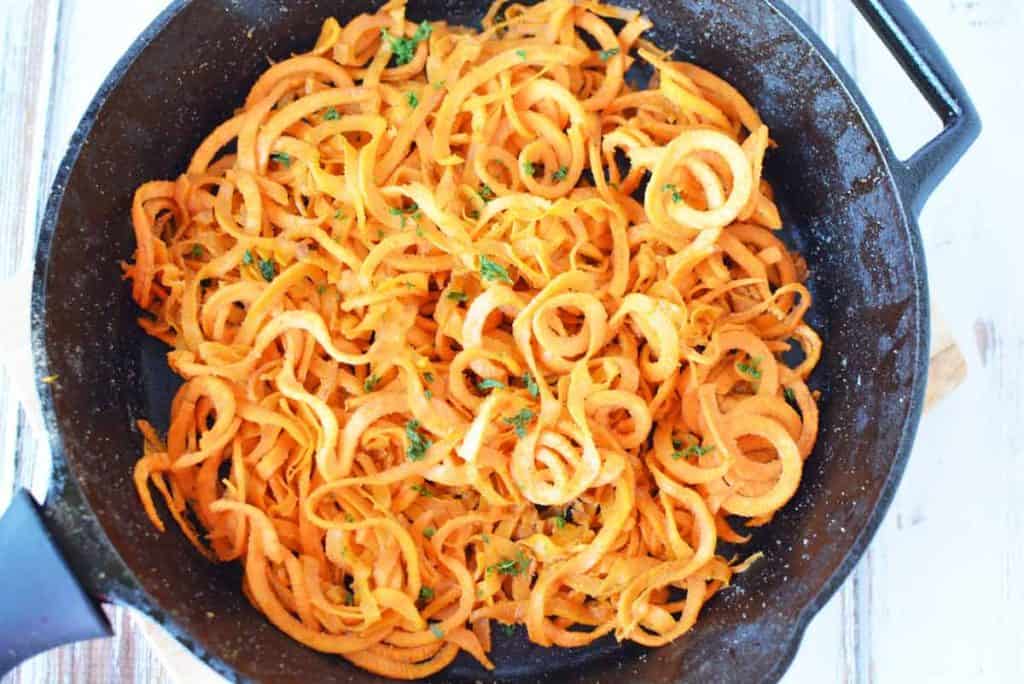 Looking for more healthy recipes?
If you are searching for more delicious 21 Day Fix recipes you can find them right here. I've included a few that would go great with sweet potato pasta zoodles!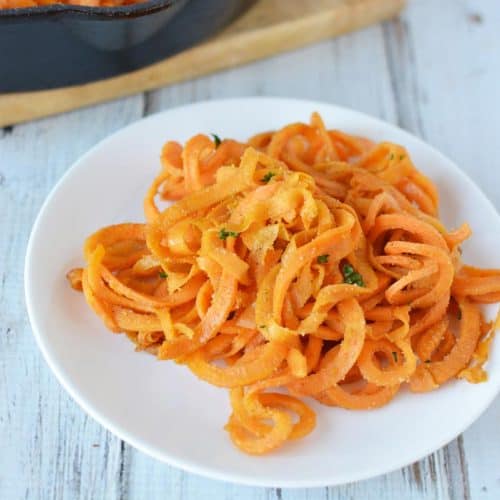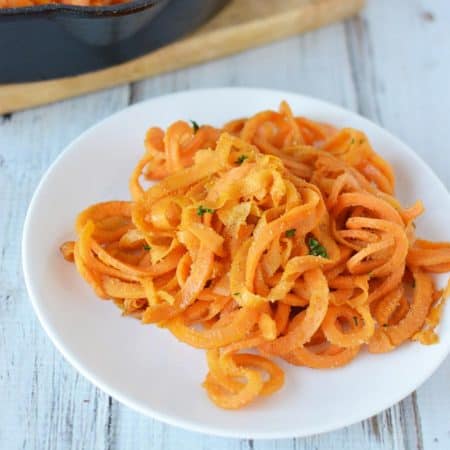 click the stars to rate!
How to Make Sweet Potato Pasta
Servings 6 Servings
Our sweet potato pasta is a healthy, gluten free pasta alternative that tastes delicious.
Equipment
Spiralizer

Enameled Cast Iron Pan

Kitchen Knife
Ingredients
2 tbsp butter
1 tsp sage ground
1 tsp garlic powder
salt to taste
3 sweet potatoes long ones make for pretty noodles!
Instructions
Peel potatos 3 sweet potatoes

Use a spiralizer with a coarse shred or flat blade to make the sweet potato pasta

Melt butter in large skillet 2 tbsp butter

Add sage, garlic powder, and salt 1 tsp sage, 1 tsp garlic powder, salt

Add potato zoodles

Stir and toss over medium high heat until tender (approx. 3 to 5 min)
Notes
21 Day Fix: Entire Recipe is 6 T and 6 Y WW: 3 2023 Plan Points | 5 Freestyle Points
Nutrition
Calories: 92kcal | Carbohydrates: 14g | Protein: 1g | Fat: 4g | Saturated Fat: 2g | Cholesterol: 10mg | Sodium: 70mg | Potassium: 225mg | Fiber: 2g | Sugar: 3g | Vitamin A: 9340IU | Vitamin C: 2mg | Calcium: 21mg | Iron: 1mg