This site contains affiliate links. Please see Policies for more information.
Thanksgiving is nearly here. I'm not even remotely ready for that! We always seem to be doing Thanksgiving with our families or friends so I don't often have to actually cook the turkey. I have to admit I didn't know there were so many delicious ways to cook a turkey. If you need to cook a turkey this year you are in luck, the options are pretty amazing.
The great thing about any of these recipes is that you can tweak them to suit your own personal taste. I'd also recommend you tweak the size of the turkey in most cases. If you have to feed 37 people I doubt that little 8 pound turkey is going to cut it. But hey, that's just one girls opinion. There really is a way to cook a turkey that can suit any style. You don't have to sacrifice flavor by mixing it up; there are plenty of tasty options, just wait and see!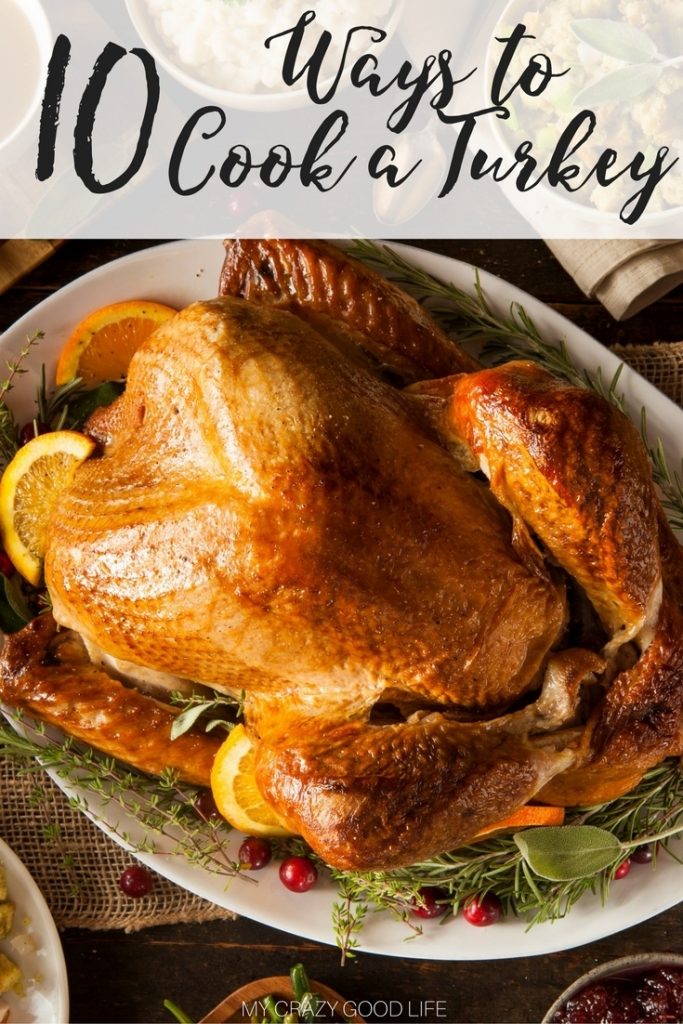 10 Ways to Cook a Turkey
Okay so this one is pretty standard but if you don't know how to do it you need a recipe! One of the benefits of baking a turkey is that traditional looking turkeys are pretty festive. Not to mention the stuffing from inside the turkey is one of a kind.
This is probably one of my favorite ways to cook a turkey. Deep frying a turkey requires some special equipment and lots of peanut oil but it's totally worth it. If you love the crispy, crunchy, deliciously fried skin then you have to try deep frying your turkey.
With a Chicken and a Duck Inside
Okay, you might think I'm losing it, but I assure you I am not. It's called a Turducken and it's basically a series of birds stuffed into the other! The end result is nothing short of a miracle. The chicken goes inside the duck which goes inside the turkey! Like nesting dolls only delicious.
Did you know you can smoke a turkey?!? It's amazing. The possibilities are endless! This is a pretty detailed process and is not for the faint of heart. If you have the equipment and a great deal of patience you can enjoy this tasty option.
If  you are worried about keeping your turkey moist you can use some of these tips to keep it moist. There are special ways to cook a turkey so that it stays extra juicy!
This one is a great idea if you have a grillmaster in your house! Here, it's my husband, and he would love to grill a turkey. In fact, it looks so easy we might try it on some random Thursday!
Making a maple bourbon brined turkey can add a nice pop of flavor to your menu this year. It's easier than you might think to spice things up this Thanksgiving!
We are all about the crockpot life over here. I was stoked to find a recipe for making a turkey in the slow cooker! If you love using your slow cooker to make meals you have to try this method for cooking turkey.
If you are worried about making your turkey in the slower cooker because you'll miss the crispy skin, here is a solution to that problem! The best of both worlds all rolled up into one crockpot!
If you are looking for a break from the altogether turkey experience this might do the trick. Mini turkey pot pies are a creamy and delicious way to celebrate turkey during the holidays!