This site contains affiliate links. Please see Policies for more information.
Have you ever heard of compound butter? It might sound fancy, but it's really just butter mixed with other ingredients. You'll typically see flavor combinations like herbs and garlic, but you can also go a sweeter route by using honey or cinnamon.
There are so many different compound butter recipes. Some of my favorites are Lemon Rosemary, Chive & Dill, and Dill & Rosemary Compound Butter.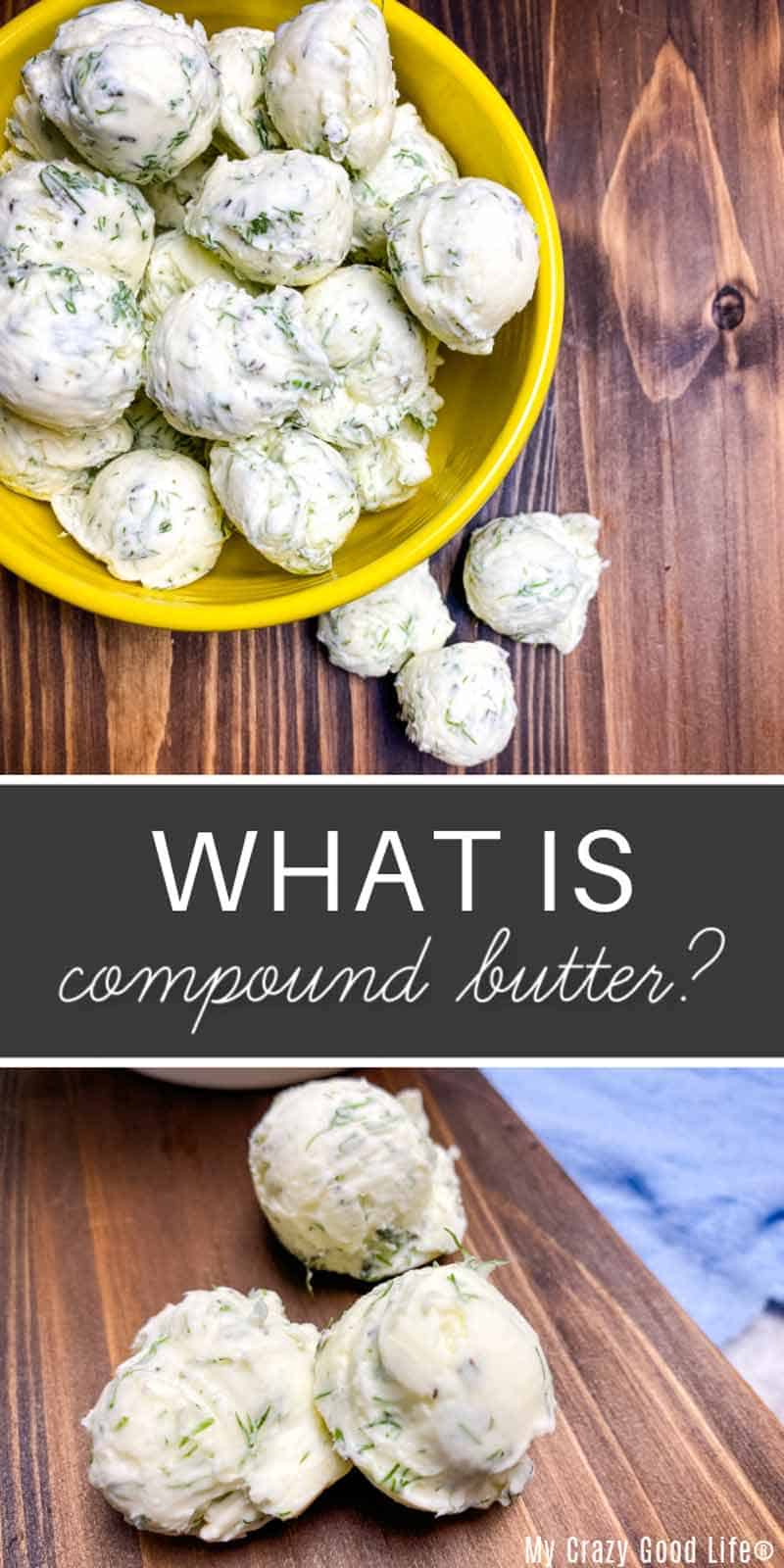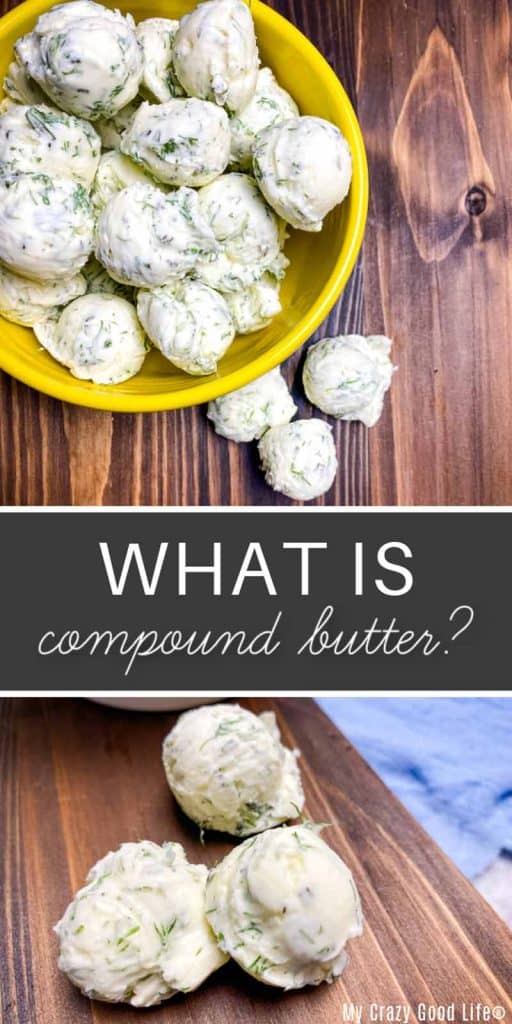 How to make compound butter:
The best (and easiest) way to make this flavorful butter is to allow the butter to soften naturally to room temperature, then mix in your flavors. For savory flavors, I always opt for fresh herbs over dried when I can.
Allow your sticks of butter to come to room temperature by placing it on the counter for about 30 minutes or so. Using the microwave to melt the butter will cause your butter to look a bit runny and it will freeze differently than if it comes to room temperature naturally.
Add your herbs and spices and use a fork to stir the butter and herbs together. You can use the butter now, refrigerate it, or freeze it for later. I prefer to freeze mine in small individual servings.
I freeze my butter in individual servings by using a spoon or cookie scoop to roll the herb butter into 1 tablespoon balls. Place the butter into mini muffin tins or onto a plate that will fit into your freezer. There is no need to use a piece of parchment paper here, the butter doesn't stick when frozen. Since butter can be so high in saturated fat, I've found that freezing in tablespoon sized balls helps keep my portions reasonable!
Freeze the butter for 15 minutes (or longer if you need to!) and then transfer the butter balls to a plastic freezer bag or freezer safe storage container. I recommend labeling the container or bag with the flavors as well as the date made so that you know exactly what is in there.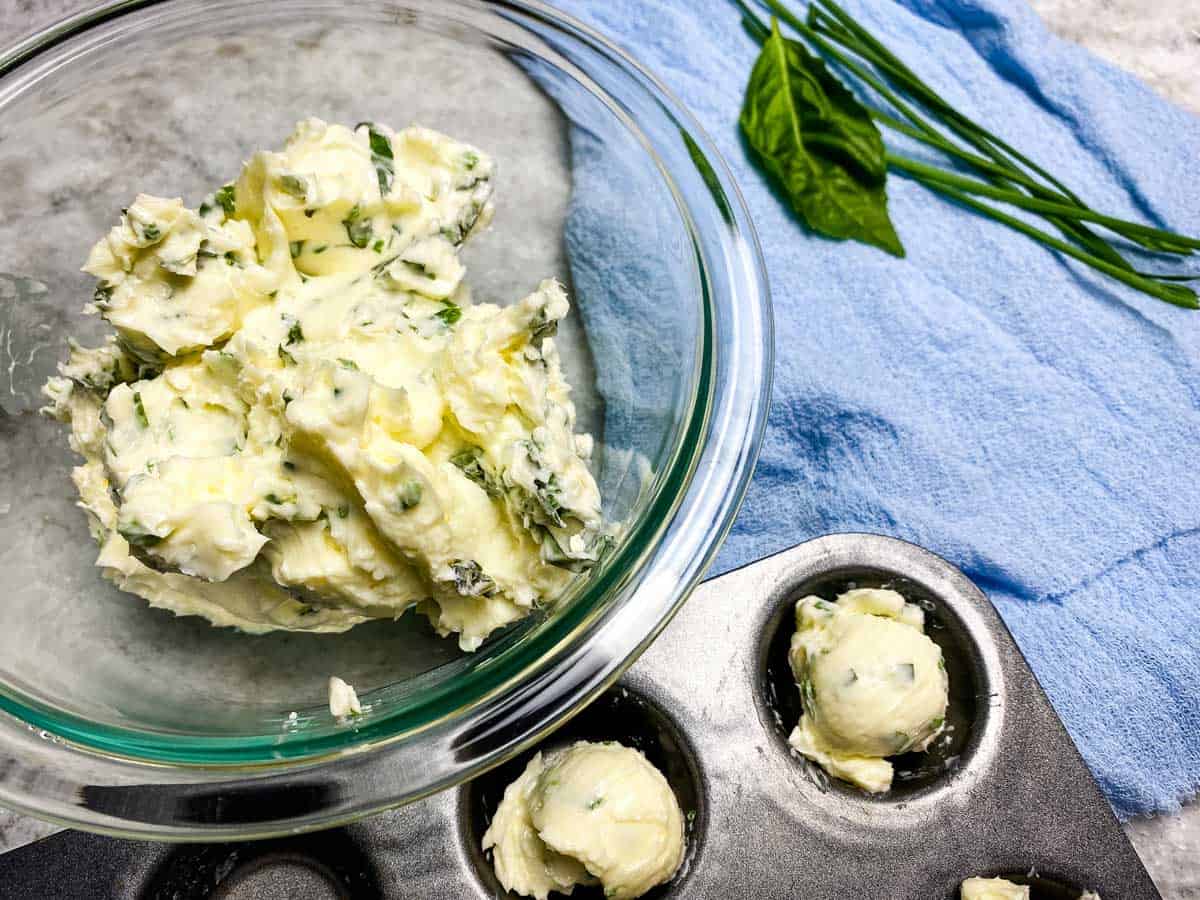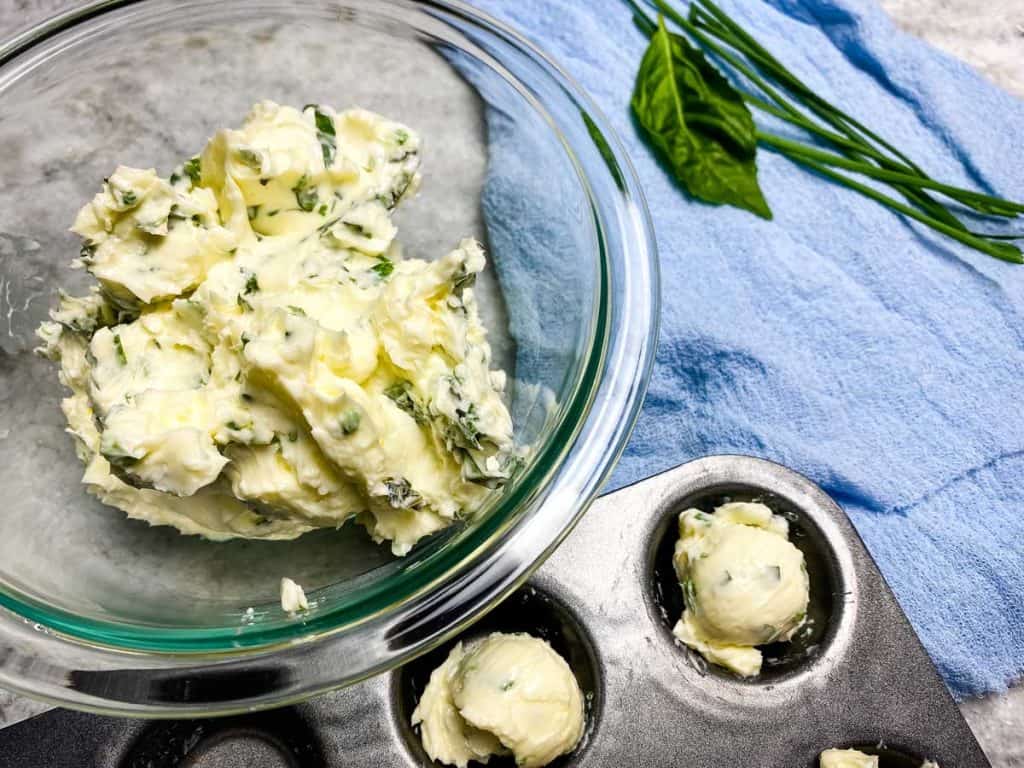 How to store compound butter:
As mentioned above, I always freeze my butter balls in labeled zipper freezer bags. They are good for several months in the freezer (as long as regular butter would be good for!). I take out a few at a time and use them right away.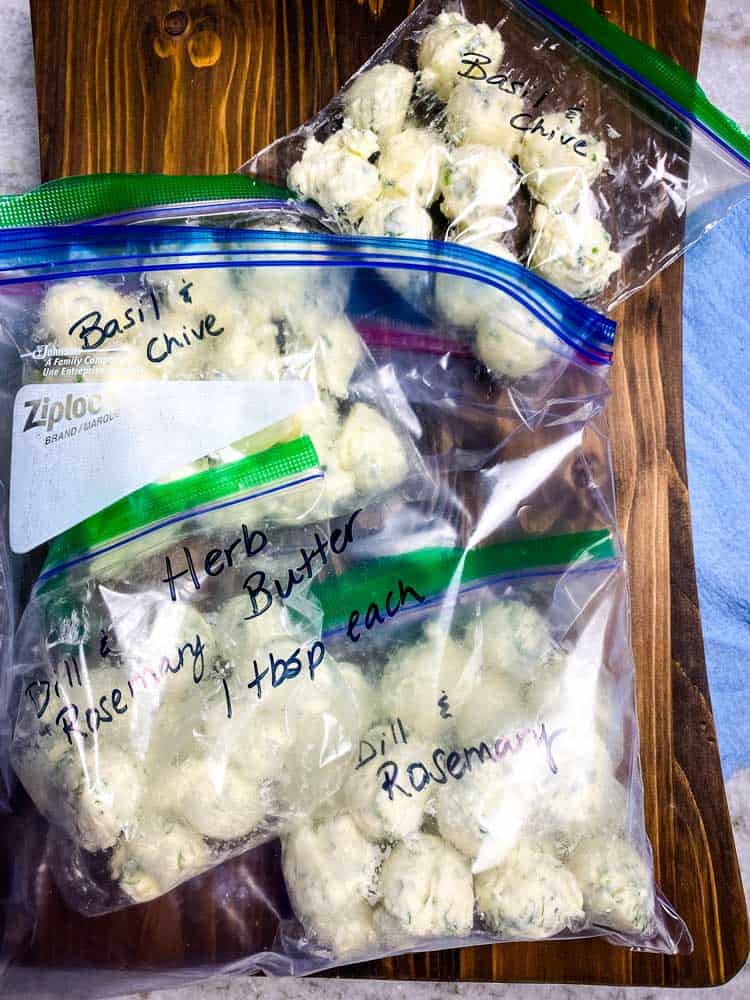 How to use compound butter:
There are so many ways to use this butter! We often use it to flavor fish that we grill, but we have also used it for other meats like steak and chicken, shrimp, and even vegetables.
I love using room temperature garlic herb compound butter to make homemade garlic bread, or adding it to cooked pasta for a creamy pop of flavor.
Tips and Frequently Asked Questions:
What is compound butter made of?
Compound butter starts with softened unsalted butter. There are many flavor options you can add, like herbs and garlic, olive oil, citrus zest, or even cinnamon and honey.
Can you freeze compound butter?
Yes! It keeps well for 2-3 months in the freezer.
Can you use dried herbs in compound butter?
I think fresh herbs are best, but you can use dried herbs or garlic powder if that's all you have and you can't get to the store.
Here are some delicious recipes to use with your butter balls: