This site contains affiliate links. Please see Policies for more information.
This Weight Watchers Sweet Potato Hash Recipe is one of my favorite low point meal prep recipes that your whole family will love. One of the reasons I love to make this sweet potato hash is that I can prep it once at the beginning of the week and heat it up every morning for a mess free breakfast. I add an egg to make it the perfect and well rounded breakfast recipe.
Sweet potato hash is more than just a tasty breakfast food. Sweet potatoes are good for you, low in points, high in fiber, and so delicious. I've also included a few ideas for pairing this side dish and making some delicious meals from it.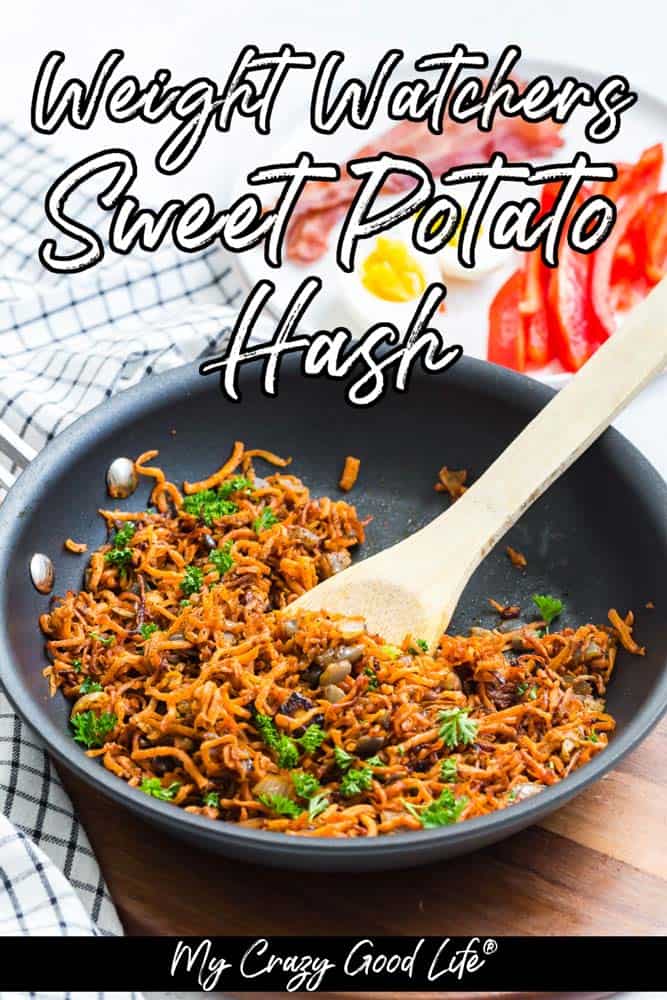 Where's the recipe? 
Here at My Crazy Good Life, we write recipes that anyone can make – whether you've been cooking for years or if you're just learning. If you'd like to learn about the ingredients in this recipe, detailed cooking instructions with pictures, and recipe tips, be sure to read the post below before cooking. 
If you'd like to skip straight to the ingredient measurements and cooking instructions, scroll down the the printable recipe for this WW Sweet Potato Hash. 
Ingredients in Weight Watchers Sweet Potato Hash Browns
Sweet potatoes
Red onion
Cinnamon
Nutmeg
Olive oil
How to Make Healthy Shredded Sweet Potato Hash
Clean, peel using a vegetable peeler, and then shred the sweet potatoes. You can shred sweet potatoes easily with a food processor, it's my favorite way. You can also use a box grater.
If the potatoes seem too wet, you can remove excess water by laying the shredded potatoes out on paper towels for a few minutes before you start cooking them.
Chop the onion into small chunks. If you'd rather shred them in the food processor with the sweet potatoes you can definitely do that.
Mix the potatoes, onion, and seasoning in a large bowl or plastic bag and mix well. A plastic bag is a great way to get the seasoning onto all the small bits and bites.
Heat coconut oil or olive oil in a large skillet, and then stir to combine everything together in the pan. I like using cast iron pans to make these sweet potatoes. It gives them a nice little crispiness around the edges.
Add grated sweet potato mix and cook over medium to medium-high heat. Flip occasionally to lightly brown on all sides while cooking.
The potatoes will take approximately 20 to 25 minutes to cook.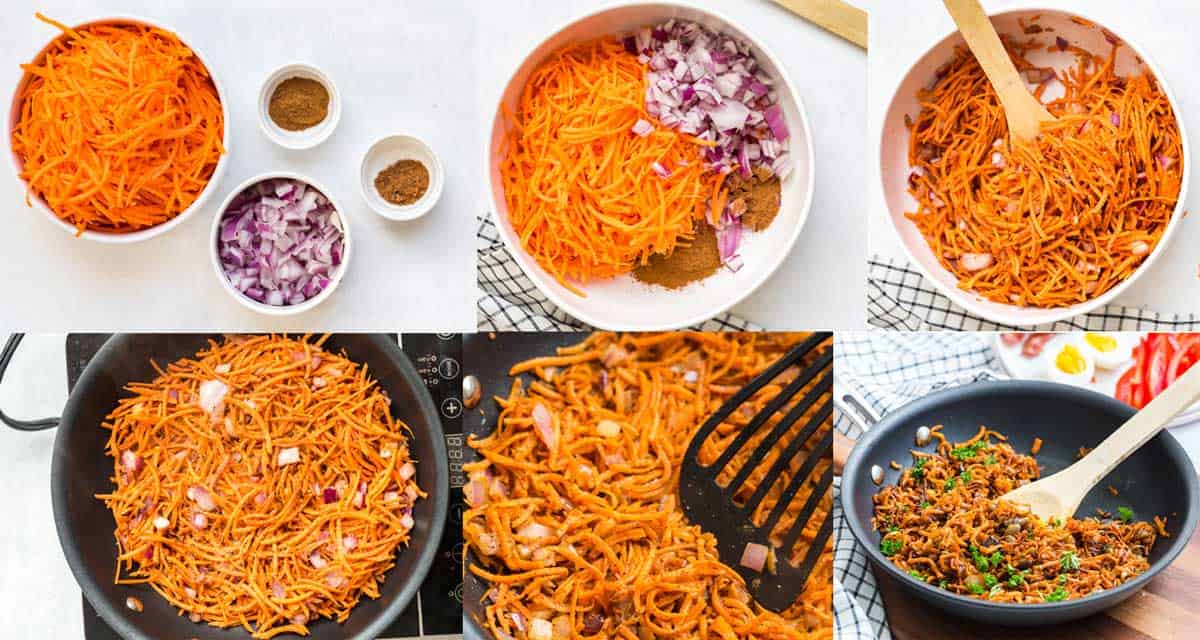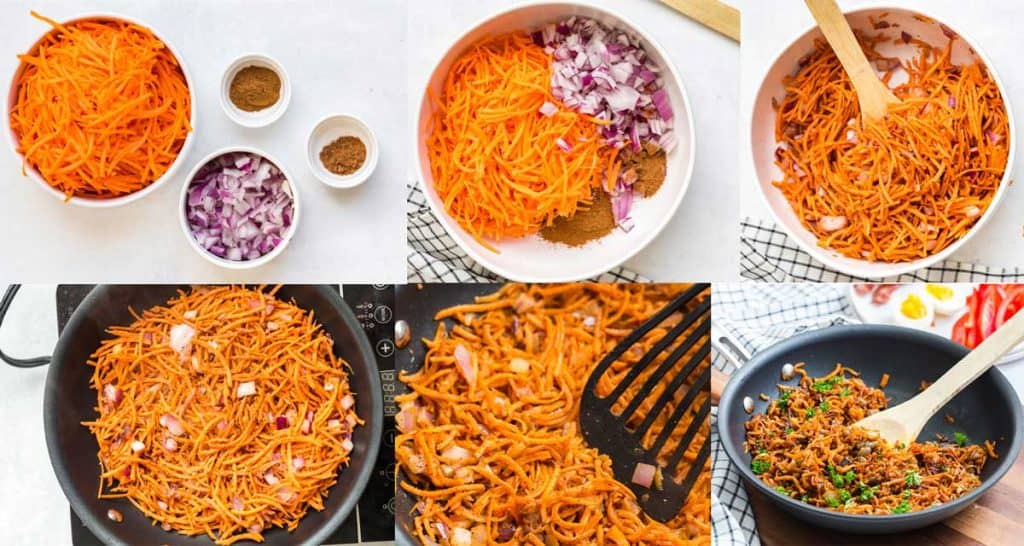 Recipe Tips
Looking to add more veggies to your diet? This is a perfect recipe to add them to. – bell peppers and mushrooms could be added to this recipe easily to help fill you up!
If you'd looking to crisp these up without oil, cook them in the oven slowly on a sheet pan at a low temperature.
Looking to round out your breakfast with some protein? I highly recommend making this Homemade Turkey Sausage with ground turkey – it's zero WW points, super easy to meal prep and freeze, and perfectly compliments this Sweet Potato Hash!
When I freeze this recipe, I divide it into personal portions and stick it in small freezer bags. I like adding multiple smaller bags into one gallon sized freezer bag. I pull it out of the freezer when my alarm goes off (or even the night before) and cook on low heat until it's thawed.
Are sweet potatoes good for inflammation?
Yes, sweet potatoes are loaded with great vitamins and minerals. Vitamin C and E along with beta carotene and carotenoids alpha help to reduce inflammation throughout the body.
If you have issues related to inflammation like allergies, asthma, IBD, Coeliac, or other autoimmune diseases, you could benefit from adding anti-inflammatory foods to your diet.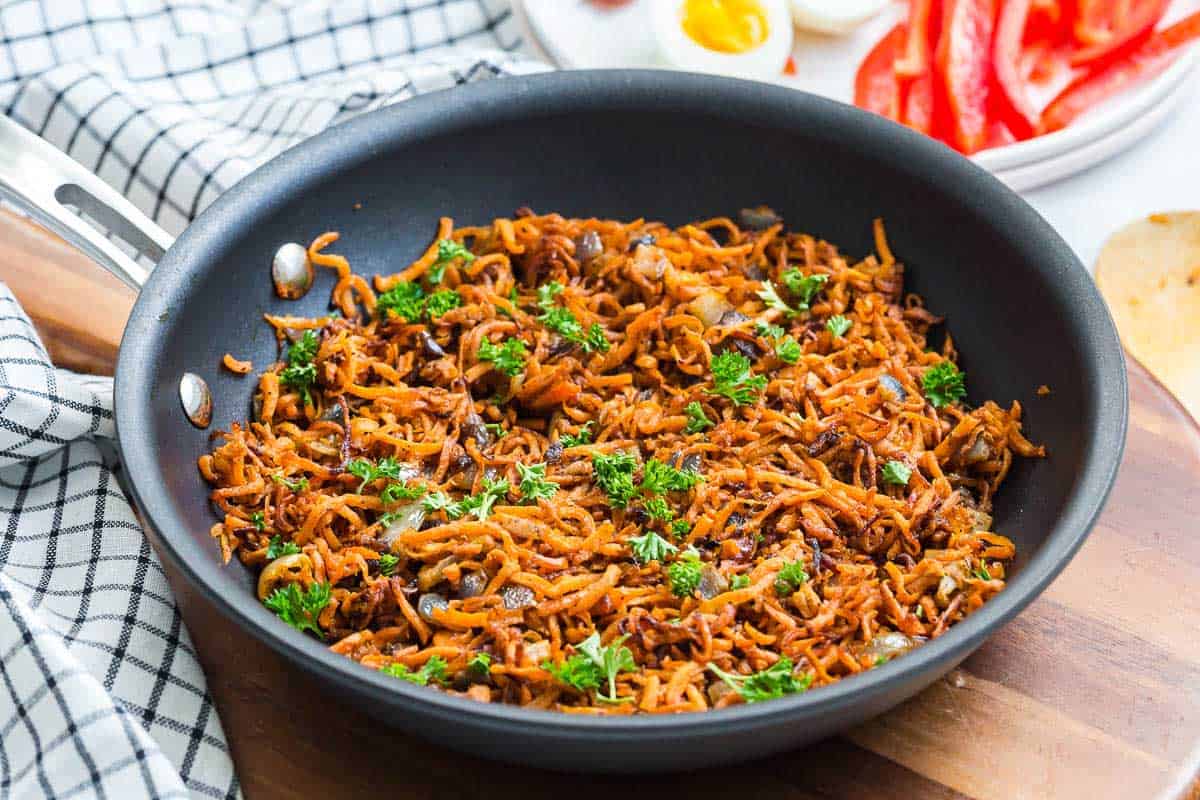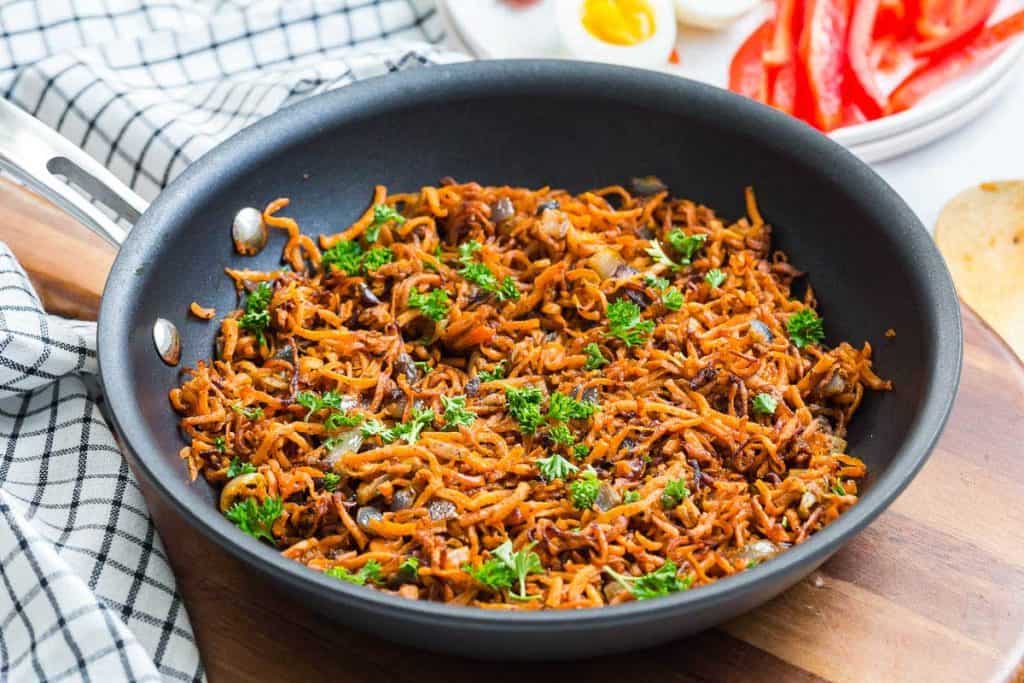 Weight Watchers Points
This Weight Watchers Sweet Potato Breakfast Hash recipe is just 3 points on the 2023 plan!  If you're still following the myWW plans, here are your counts: 3 Blue Plan Points | 3 Green Plan points | 1 Purple Plan Points per serving. If you're looking to reduce the number of points in this recipe, start by reducing the oil. 
I use the Weight Watchers online program to calculate the points in my recipes. As always, I encourage you to calculate your recipes based on the exact ingredients that you use to recreate this recipe at home. 
More healthy recipes and quick breakfast recipes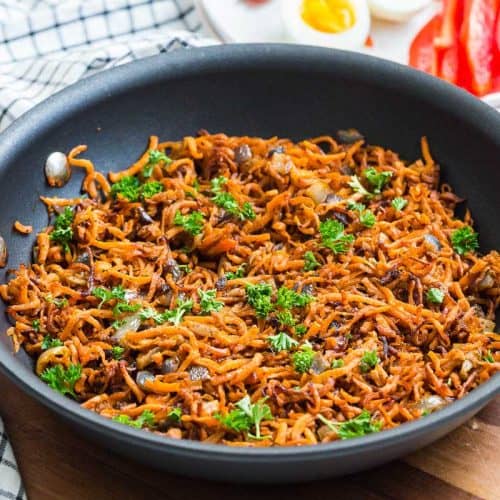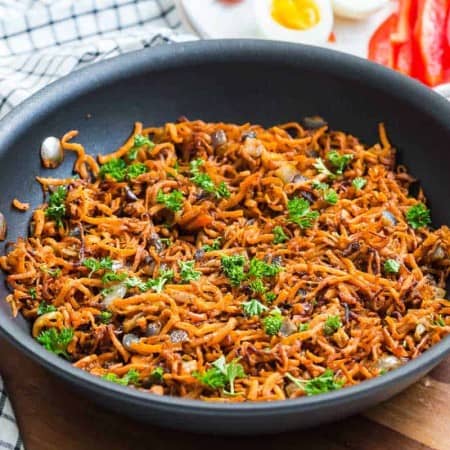 click the stars to rate!
Weight Watchers Sweet Potato Hash
Approximate Serving Size: 1/2 cup
Servings 6 Servings
This Weight Watchers Sweet Potato Hash Recipe is packed with great flavors and healthy fiber to keep you full and energized throughout your morning.
Equipment
Enameled Cast Iron Pan

Food processor
Ingredients
3 cups sweet potatoes peeled and shredded
1 large onion red, chopped
1 tsp cinnamon
½ tsp nutmeg
2 tbsp olive oil
Instructions
Clean, peel, and shred the sweet potatoes. 3 cups sweet potatoes

Chop the onion. 1 large onion

Mix your sweet potatoes, onion, and seasoning in a large bowl or plastic bag and mix well. 1 tsp cinnamon, ½ tsp nutmeg

Heat 2 tbsp olive oil in a large skillet 2 tbsp olive oil

Add sweet potato mix and cook over med to med-low heat. Flip occasionally to lightly brown on all sides.

Depending on heat, potatoes will take approx. 20 to 25 minutes to cook
Notes
3 2023 points | 3 Blue | 3 Green | 1 Purple Plan Points
Nutrition
Calories: 137kcal | Carbohydrates: 23g | Protein: 2g | Fat: 5g | Sodium: 10mg | Sugar: 1g
SaveSave
SaveSaveSaveSave