Sweet potato hash is more than just a tasty breakfast food. Sweet potato hash browns are good for you, low in points, high in fiber, and these shredded sweet potatoes are AIP, Paleo, and anti-inflammatory!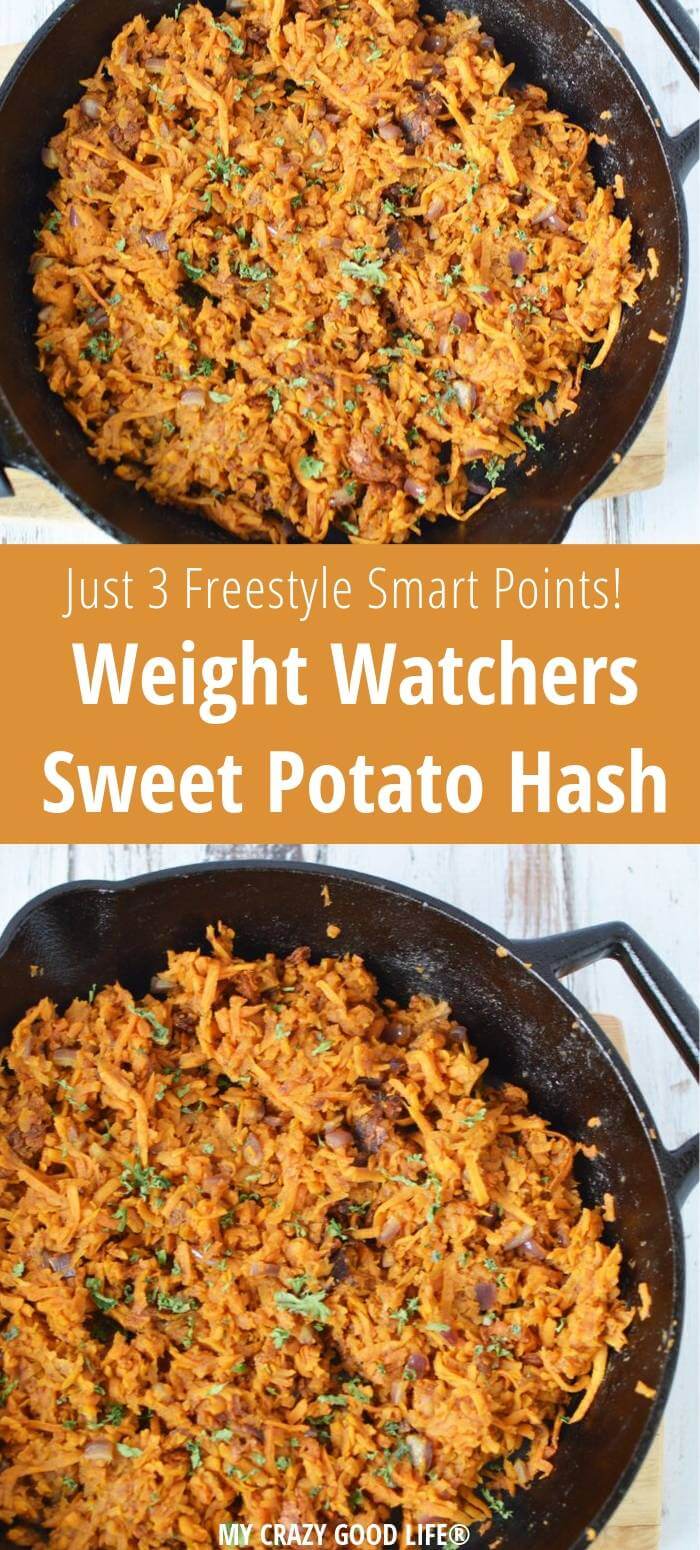 Weight Watchers Sweet Potato Hash Breakfast Recipe:
Finding delicious, filling, and low point breakfast recipes can be tricky on Weight Watchers. Eventually we all get sick of our usual options and we need something new and exciting to try.
One of the reasons I love to make this sweet potato hash is that I can prep it once at the beginning of the week and heat it up for a mess free breakfasts on the go. I add an egg to make it the perfect and well rounded breakfast recipe.
Are these Paleo sweet potato hash browns?
Paleo is a diet that focuses on limited ingredients, no processed foods, and very little diary / grains. Paleo focuses on food groups that would have been consumed by early man. Things like meat, vegetables, fruits, and fish.
With just five ingredients that are all approved for Paleo, you can enjoy these delicious shredded sweet potato hash browns!
Sweet potatoes
Red onion
Cinnamon
Nutmeg
Olive oil
AIP Shredded Sweet Potato Hash:
AIP is a more intense version of Paleo with a more strict list of approved foods. It's a dietary program that is used to help treat autoimmune diseases and is sometimes used as an elimination diet when searching for triggers in certain dietary problems.
This is an AIP sweet potato hash! All of the ingredients are approved and natural so you can enjoy this recipe without fear of upsetting your dietary balance.
More Weight Watchers Freestyle Recipes To Try:
Never fear, there are plenty of delicious Weight Watchers Freestyle recipes here to try. If you aren't a fan of sweet potato hash for Weight Watchers you can try some of these other great options. I love making Weight Watchers recipes because they are delicious, healthy, and family friendly. Here are some of my favorites:
Weight Watchers Freestyle Smart Points
Perhaps the best part of this sweet potato has for Weight Watchers Freestyle is the Smart Points…just 3 points per serving! I'll breakdown my calculations below so you can see how I came to that calculation.
This is how I count this recipe for my program. I use the Weight Watchers online program to build my recipes and it automatically calculates the points per serving based on the Weight Watchers Freestyle Smart Points formula.
As always, I encourage you to calculate your recipes based on the exact ingredients that you use to recreate this recipe at home. We all have to do what works for us and at the end of the day we are all responsible for our own results!
3 Cups of Sweet Potatoes – 10 Points
2 Tablespoons Olive Oil – 8 Points
If you are looking for ways to reduce the points you can obviously reduce that count by cutting back on the oil. By reducing the amount of oil you can cut the points back by almost half.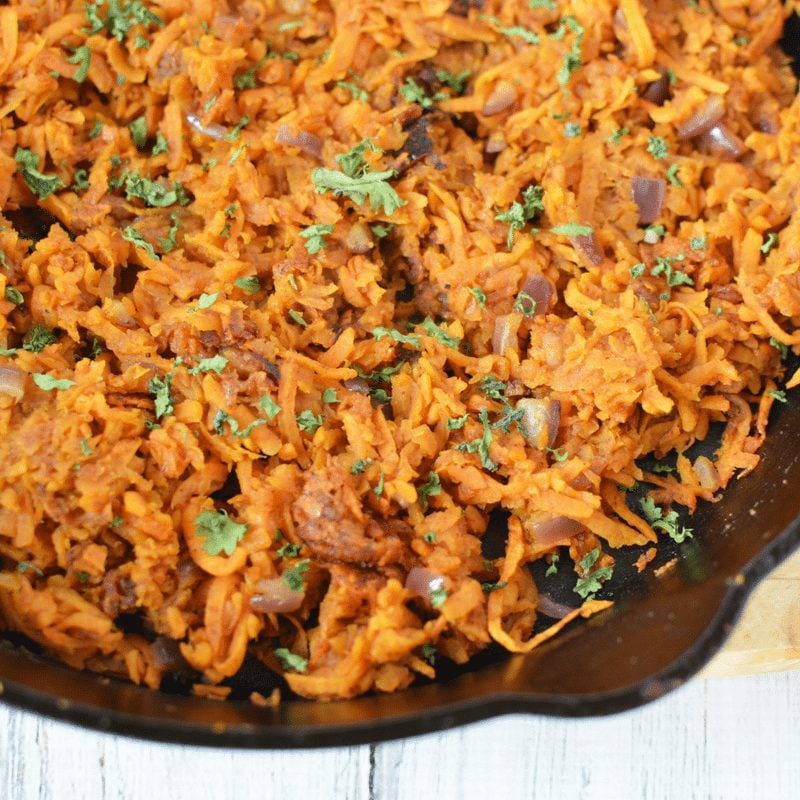 How to Make Healthy Shredded Sweet Potato Hash:
Clean, peel, and shred sweet potatoes. You can shred sweet potatoes easily with a food processor, it's one of my favorite kitchen hacks. You can also use a box grater.
If the potatoes seem too wet you can remove excess water by laying the shredded potatoes out on paper towels for a few minutes before you start cooking them!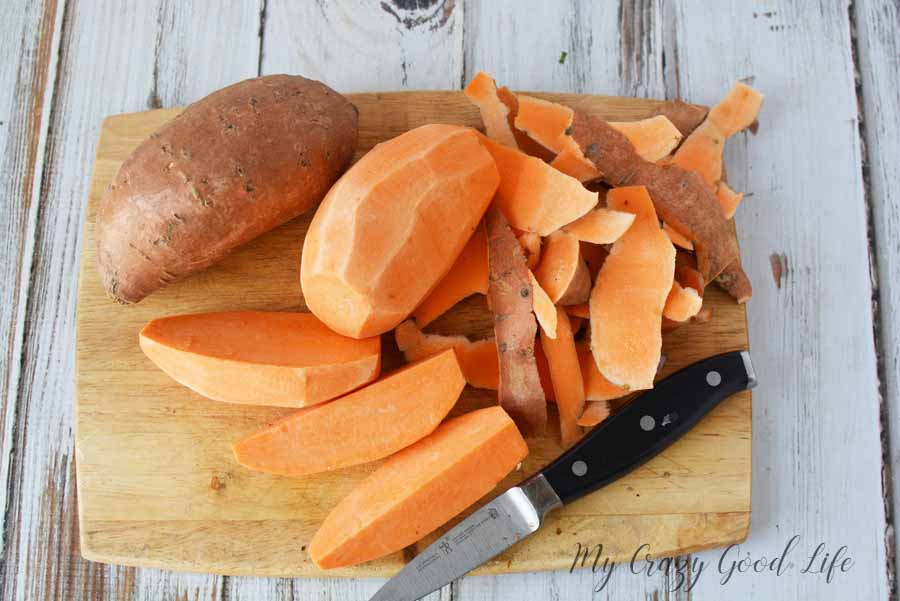 Chop the onion into small chunks. If you like them smaller you can easily just shred them with the food processor or box grater!
Mix the potatoes, onion, and seasoning in a large bowl or plastic bag and mix well. This is a great way to get the seasoning onto all the small bits and bites!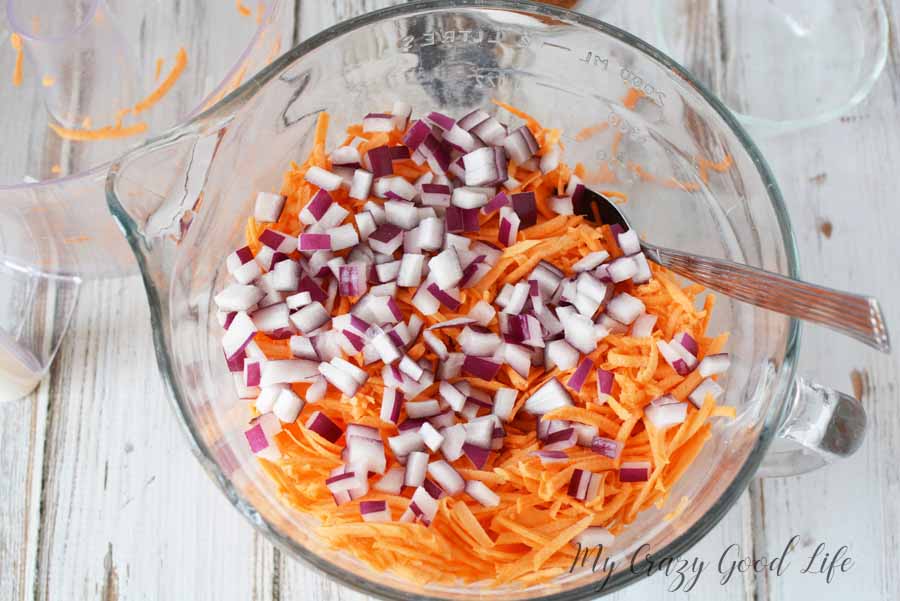 Heat 2-3 tbsp coconut oil or olive oil in a large skillet, stir to combine. I like using cast iron pans to make these sweet potatoes. It gives them a nice little crispiness around the edges.
Add grated sweet potatoes mix and cook over med to med-low heat. Flip occasionally to lightly brown on all sides to finish this sweet potato hash recipe.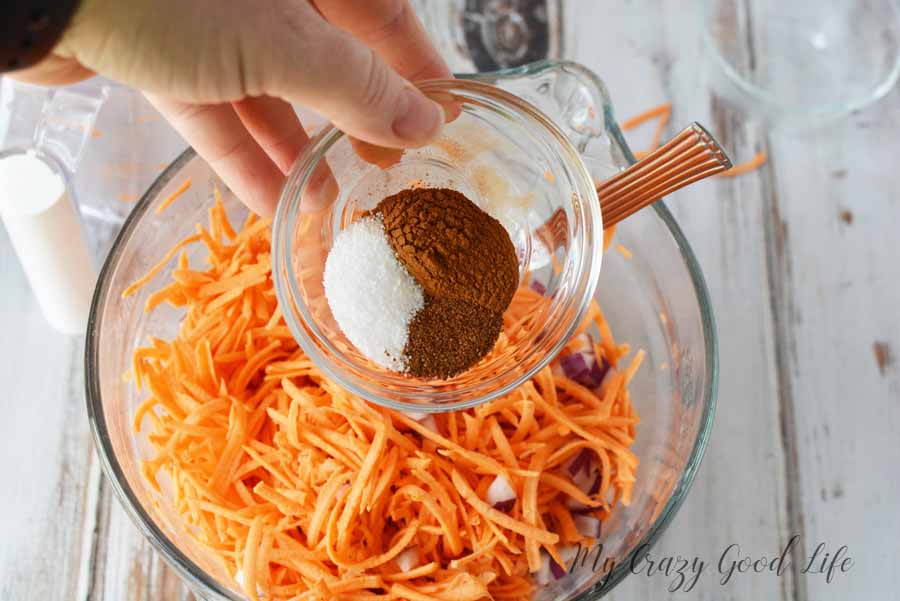 Depending on heat, the type of pan you use, etc. the potatoes will take approximately 20 to 25 minutes to cook.
Are sweet potatoes good for inflammation?
Yes, sweet potatoes are loaded with great vitamins and minerals. Vitamin C and E along with beta carotene and carotenoids alpha help to reduce inflammation throughout the body.
If you have issues related to inflammation like allergies, asthma, IBD, Coeliac, or other autoimmune diseases, you could benefit from an anti-inflammation diet. In that case, you're really in luck because these shredded sweet potato has browns are anti-inflammatory!
This recipe is gluten free as well! There are plenty of reasons to love sweet potatoes and no gluten is one of them!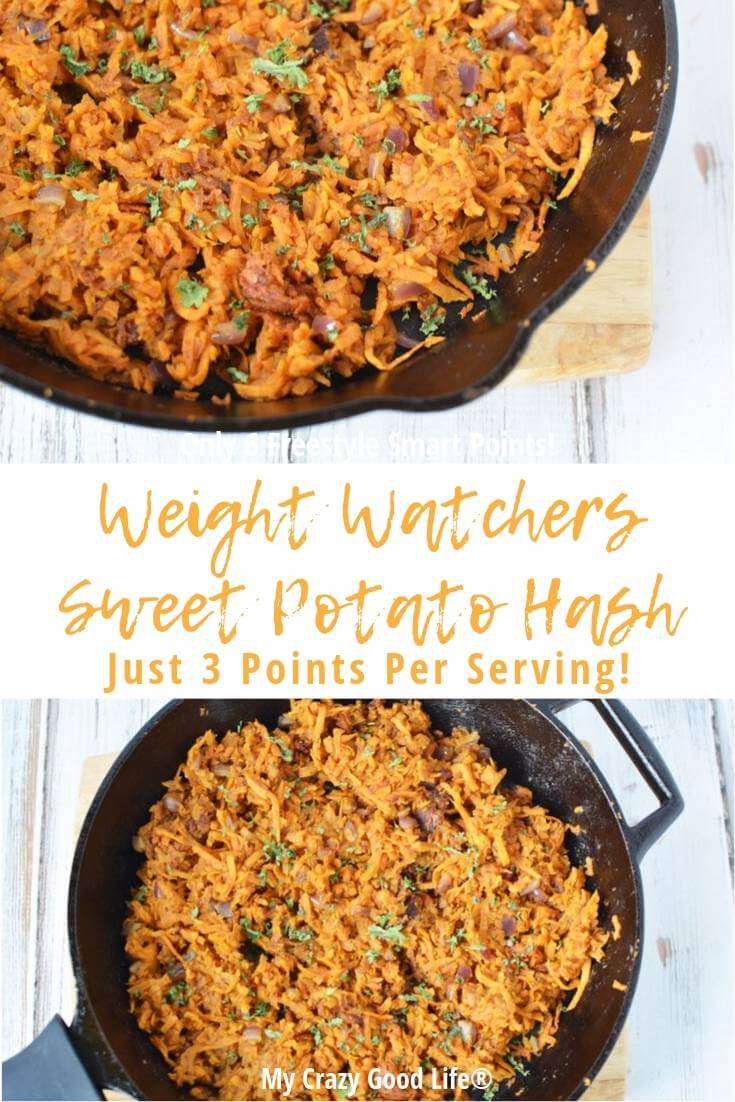 Looking for a way to spice up this sweet potato hash?
There are some easy ways to spice up this hash and make it more exciting. Weight Watchers Freestyle allows us to have lots of veggies, seasonings, and more for no points!
One great way to beef up hash brown recipes is by adding bell pepper, green onions, fried eggs, smoked paprika, or your other favorite peppers!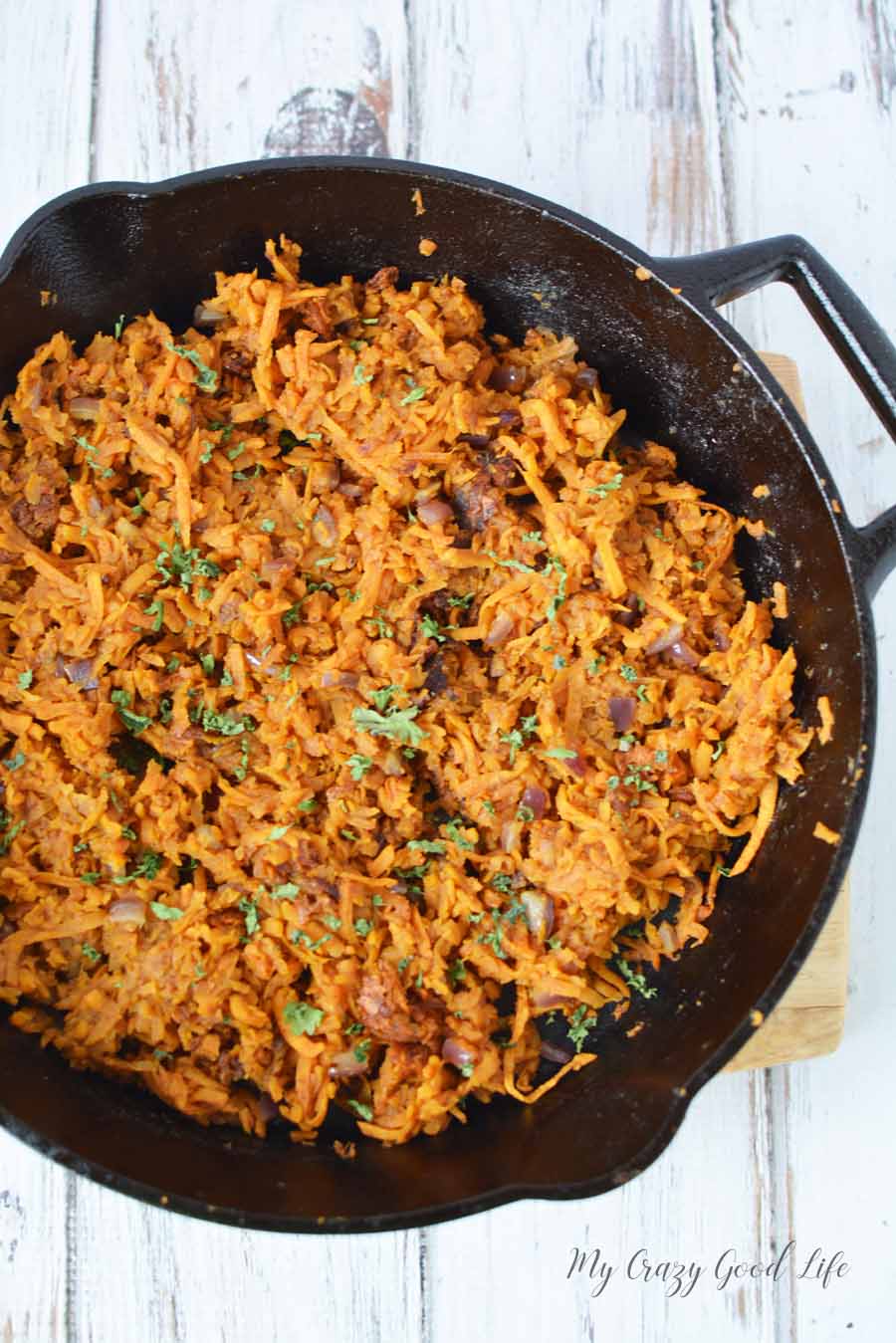 Printable Sweet Potato Breakfast Hash Recipe:
Weight Watchers Sweet Potato Hash
Finding delicious, filling, and low point breakfast recipes can be tricky on Weight Watchers. This sweet potato hash for Weight Watchers Freestyle is so easy and delicious. It's packed with great flavors and healthy fiber to keep you full and energized throughout your morning.

Ingredients
3

Cups

sweet potatoes

peeled and shredded a food processor works great for this!

1

large

red onion

chopped

1

tsp

cinnamon

½

tsp

nutmeg

2

tbsp

Olive Oil
Instructions
Clean, peel, and shred sweet potatoes.

Chop onion.

Mix potatoes, onion, and seasoning in a large bowl or plastic bag and mix well.

Heat 2 tbsp olive oil in a large skillet

Add sweet potato mix and cook over med to med-low heat. Flip occasionally to lightly brown on all sides.

Depending on heat, potatoes will take approx. 20 to 25 minutes to cook
Nutrition
Calories:
137
kcal
|
Carbohydrates:
23
g
|
Protein:
2
g
|
Fat:
5
g
|
Sodium:
10
mg
|
Sugar:
1
g
SaveSave
SaveSaveSaveSave