This site contains affiliate links. Please see Policies for more information.
My favorite spiralizer recipes–I love spiralized veggies of all types, it's not just for zoodles anymore! I hope you love this list of my favorite dinner recipes with tons of veggies.
Most of us have appliances in our kitchens that have been around for decades like a toaster or a blender. These things have become a staple to our lives in the kitchen. Every now and then though, a new invention comes along that could become a new staple to the kitchen and the Spiralizer is next in line.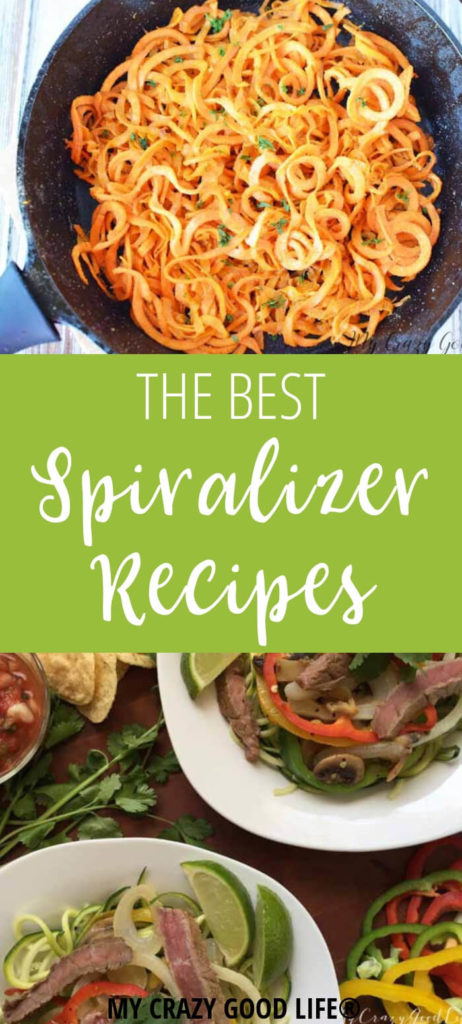 Spiralizers have helped turn zucchini noodles into a fast growing trend but there is so much more you can do with it! It can help you turn your favorite meals into extra healthy versions that you and your family can enjoy more often. There are also so many great recipes that you can alternate out the pastas for veggie pastas and so much more.
I love spiralizing #alltheveggies. Root vegetables, spiralized carrots and onions, bell peppers, and zucchini are all favorites of mine.
The Best Spiralizer Recipes | Spiralized Vegetables:
Steak Fajita Zoodles Recipe | Gluten Free | My Crazy Good Life | These are one of our favorite recipes and when it comes to spiralizer recipes adding some steak never hurts the situation in my experience!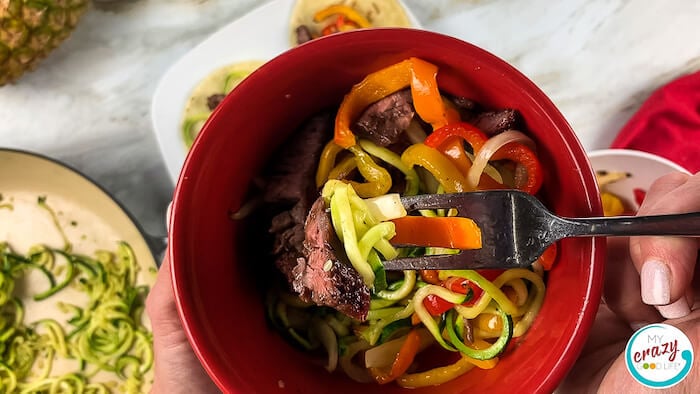 Spiralized Sweet Potato Enchilada Skillet | Sweet Peas and Saffron | If you love enchiladas but don't want to make a traditional homemade enchilada recipe you should give this recipe a try!
Thai Carrot Cucumber Noodle Salad with Peanut Lime Dressing | Flavor The Moments | There's just something about the Pad Thai flavors that go so well with these fresh veggies. You won't want to miss out on this delicious recipe.
Spiralized Beet Salad | Fashionable Foods | I love making vegetable salads with the spiralizer. It's such a fun presentation and it's a great way to get picky eaters to try something new!
Spiralized Apple Crumble | The Healthy Maven | I'll bet you didn't expect to see dessert recipes coming out of the spiralizer right? They can do so much more than just zucchini!
Chicken Lo Mein | My Crazy Good Life | We love this healthy veggie-filled meal, and it's often on our weekly food list!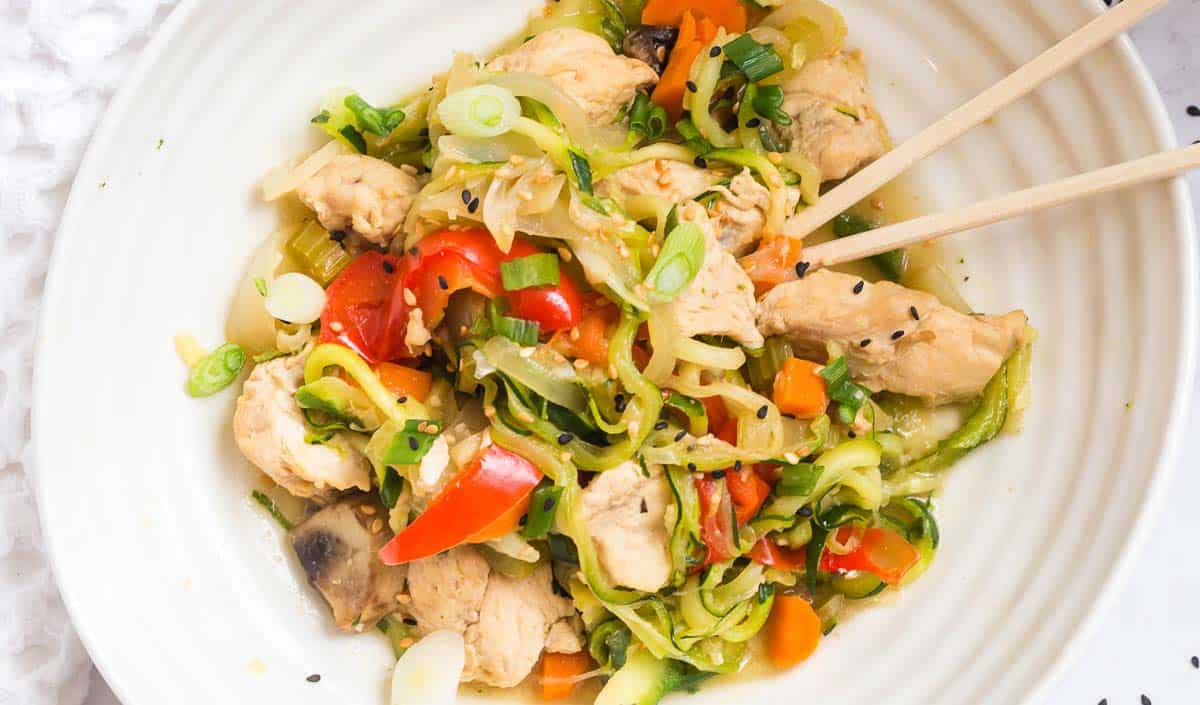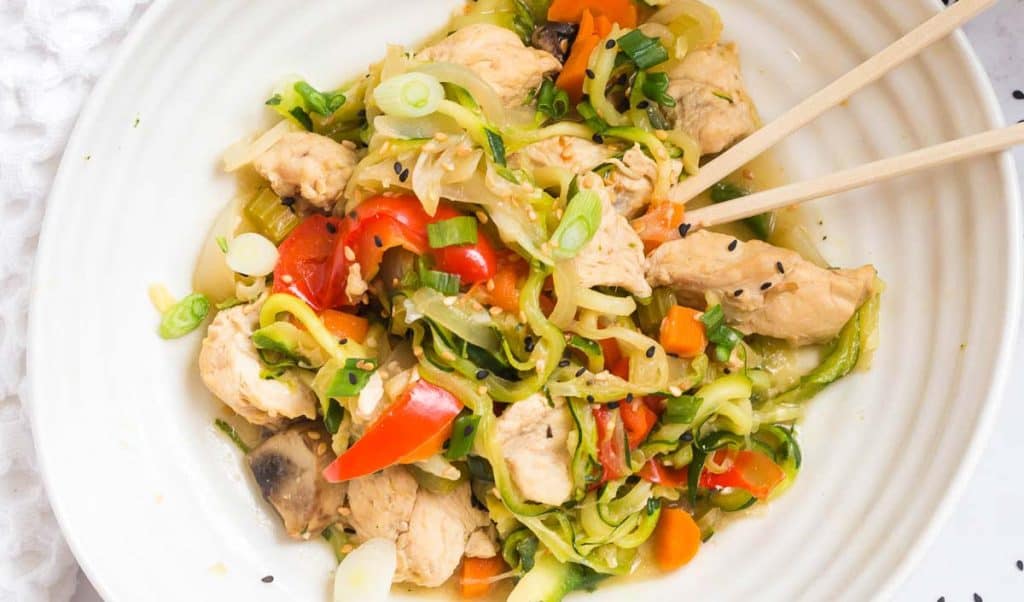 Spiralizer Sweet Potato with Goat Cheese, Caramelized Onions and Pine Nuts | A Pinch of Healthy | If you are looking for a recipe that has more going on than just substitutions for noodles, this is the one for you! A delicious and unique flavor profile that everyone will love. 
Spiralized Apple Pie | Hungry Girl | The classic American dessert has met its match…the spiralizer! Check out this delicious apple pie, cuts down on cooking time and comes out so beautifully.
Roasted Garlic Parmesan Carrot Noodles | Kirbie's Cravings | Garlic parmesan is one of my most favorite flavor combinations. This recipe is a delicious way to turn carrots into something you won't want to stop eating!
Spiralized Melon Salad | Bake Love Give | Summer is upon us, time to break out some melon recipes. It's easier than you think to spiralize your favorite fruits into a beautiful summer salad.
Sesame Sweet Potato Noodles | The Organic Dietitian | Sweet potatoes are so versatile. They can be sweet or savory and that lends itself so nicely to the sesame flavors. This is one of the best recipes you can make for sweet potato noodles!
Spicy Spiralized Sweet Potato Fries | Strength and Sunshine | A healthier alternative to French fries?! Yes!
Spiralized Apple Fritters | The Spiffy Cookie | Apple fritters that come out perfectly every time?! These apple fritters are so fun and tasty you'll be making them all the time!
Antipasto 'Pasta' Salad | Lexi's Clean Kitchen | This colorful summer salad is so delicious and fresh. It's great for parties, picnics, and backyard BBQs!
Carrot Ribbons | Chelsea Joy Eats | Carrots are such a great veggie to spiralize. They hold up well and they have such a light flavor you can combine them with anything. 
Spiralized Apple and Cabbage Slaw | Skinnytaste | Apples and cabbage go together very nicely, this recipe is proof that they're more than just good looking together…they taste great too!
Sweet Potato Linguini | My Crazy Good Life | Sweet potatoes spiralize so beautifully. They're easy, sturdy, and they can go directly into this amazing linguini dish that the whole family will love.
Zucchini and Sausage Breakfast Skillet | My Crazy Good Life | We love using our spiralizer to cut ribbons or round pasta for this dish–I think it's easier (and safer) than shredding.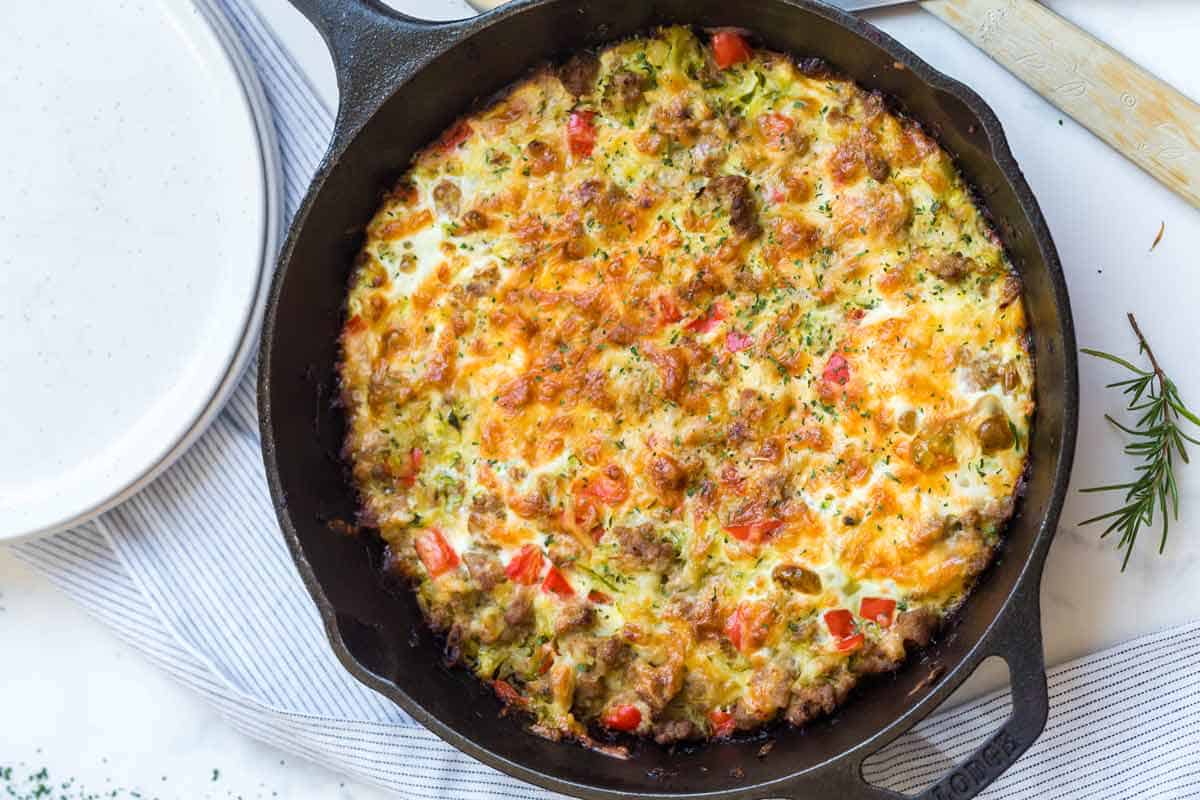 Spiralized Butternut Squash Bowls | Simply Quinoa | You know I love a good bowl recipe. I make chicken gyro bowls and beef fajita bowls for our meal plan almost weekly. This is a great recipe for bowls that the whole family can customize to their liking. Butternut squash noodles are so nice for bowls, stir fry, and more!
Spiralized Cucumber Ranch Salad | Crunchy Creamy Sweet | Vegetable noodles make salads so much more fun! If you get tired of zucchini you can move on to something new and fun…like this spiralized cucumber ranch salad! Yum!
Which spiralizer should I use?
I use this Paderno 3 Blade Spiralizer. It's amazing and has all kinds of blades to choose from so I can pick the blade that works best not only for the spiralizer recipes I'm making but also the best blade for the type of veggies I'm using. Potatoes and cucumbers are not going to act the same way in a spiralizer because of their texture and density differences!