This site contains affiliate links. Please see Policies for more information.
The best steak fajitas are the ones we make at home! These healthy steak fajitas can be served with zucchini noodles for extra veggies, and have a delicious teriyaki marinade recipe that makes them taste better than a restaurant.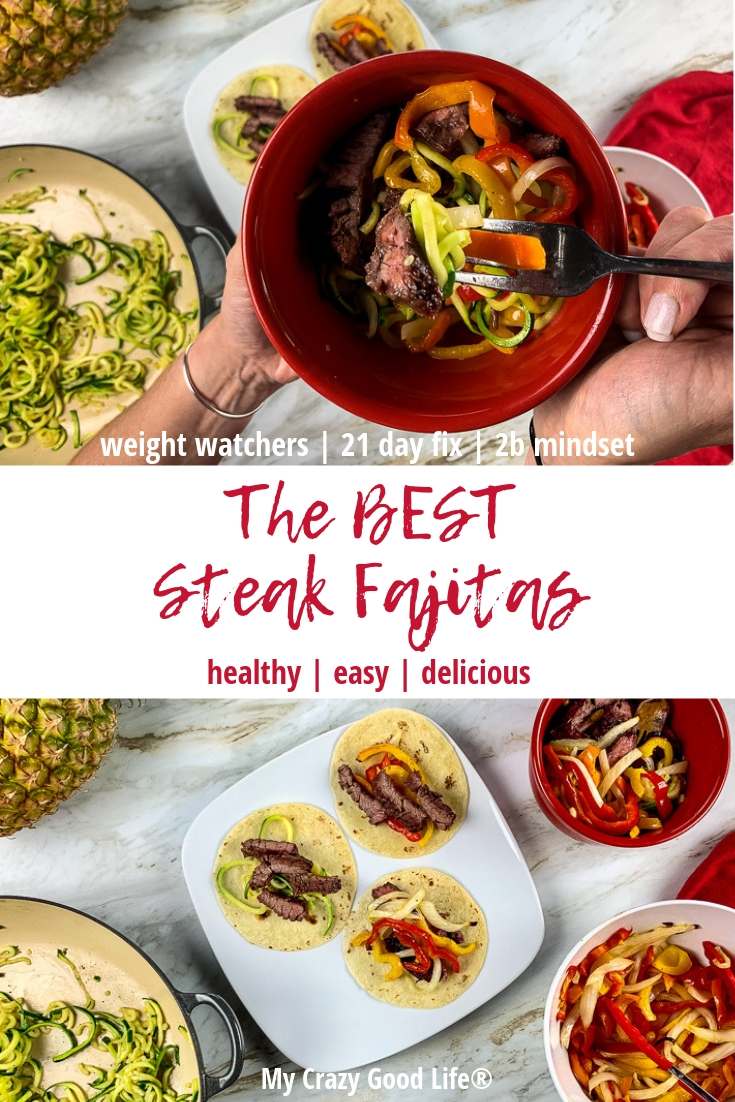 It might be because we live in Tucson where it's easier to grill outside than heat up the house, but we love grilling and I love the super easy prep that fajitas need. I added zoodles (zucchini noodles) to my fajitas instead of tortillas a few weeks ago, and… YUM. This recipe makes the best steak fajitas we have had!
To make the zoodles, I use my food processor or a spiralizer.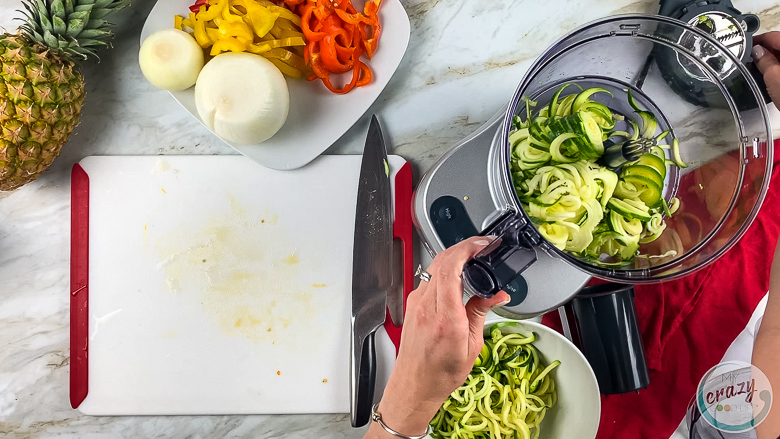 This recipe for Fajita Zoodles combines my love of Zoodles with my husband's amazing fajita recipe that we have been making for years. The marinade ingredients might surprise you, but the ingredients are SO delicious together. Trust me on this one.
What kind of meat is best for fajitas?
Something with a bit of fat but not a ton–we love a cut that we get from Costco called loin flap. Other great cuts are flank steak and skirt steak.
I cut the fat off the underside of whatever steak we use. I've never thought it was dry or unflavored by doing this, and would much rather trim the fat before we cook it than after it's cooked.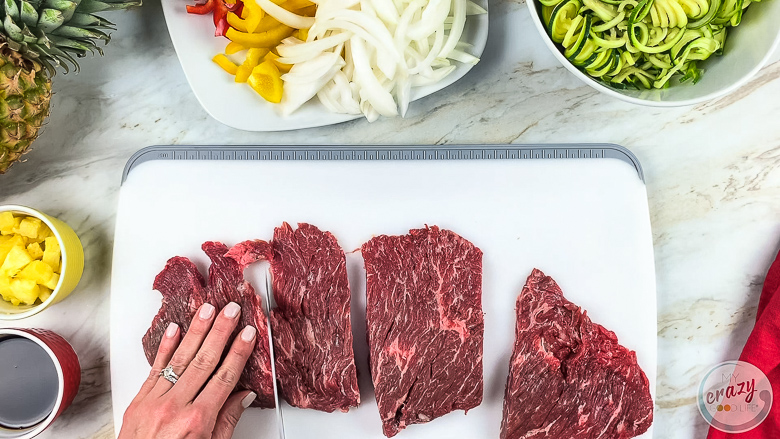 Ingredients in the Best Steak Fajitas with zoodles:
Steak (we use loin flap, flank steak, or skirt steak from Costco), about 1 pound
Like I said, we use different veggies–whatever you love. But our staples are: 1-2 multi-colored bell peppers, an onion, a zucchini, and a package of mushrooms, sliced.
Teriyaki Coconut Aminos (you can absolutely use regular teriyaki sauce here, but I highly recommend this coconut one!)
pineapple chunks
Worcestershire Sauce
Montreal Steak Seasoning for the veggies
About two tablespoons olive oil for the veggies
Optional:
As I mentioned, I think this steak fajita recipe is pretty darn perfect–but if you're wanting more…
onion and garlic powder
freshly squeezed lime juice
cilantro
Instructions for our Steak Fajita Zoodles Recipe:
Mix together pineapple chunks with the teriyaki coconut aminos. If you want to be extra (you do), you'll want to add in some Worcestershire sauce with your marinade. Mix these ingredients in a small bowl or pour them right into a zipper bag and add the steak in.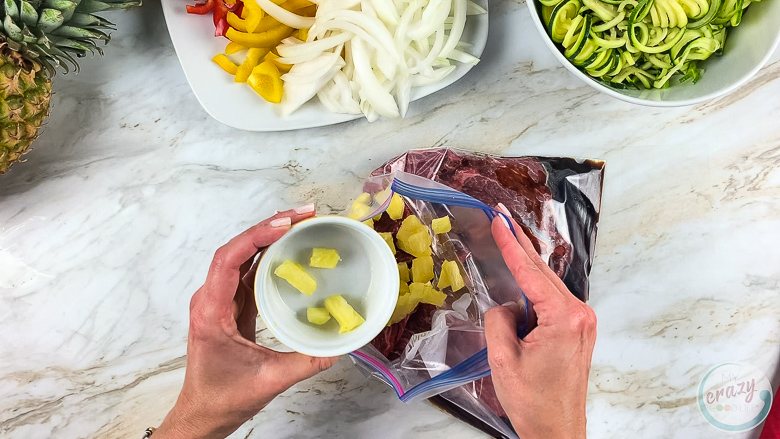 2. Slice the veggies that you're not going to spiralize, then spiralize the veggies you need.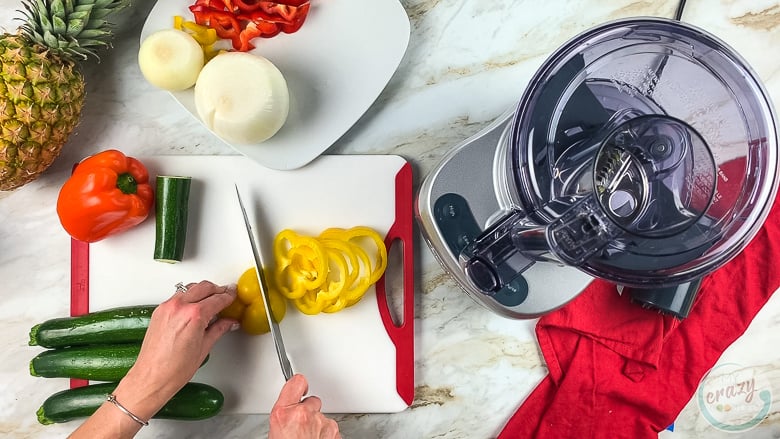 3. Add veggies and a bit of olive oil to a plastic bag. Again–you get extra points if you sprinkle some Montreal steak seasoning in with the veggies. Not sure why these tastes are so perfect together, but they are. Trust me on this one.
4. Grill your veggies for 8-10 minutes on high. Grill your steak on medium high heat for 3-5 minutes per side, or until it's done.
5. While the grill is going, saute your spiralized veggies in a large skillet over medium heat for 5-10 minutes, being very careful to not overcook them. Watch them while they cook, stirring often.
6. Slice the steak into thin slices, cutting into strips that go against the grain, and serve immediately.
You have some options here for everyone in your family. Another reason why this is the best steak fajita recipe is that you can make fajitas with it (served in small flour tortillas), fajita zoodle bowls (served with zoodles, veggies, and steak fajita meat), burritos (large flour tortillas with veggies and steak), or a steak fajita salad!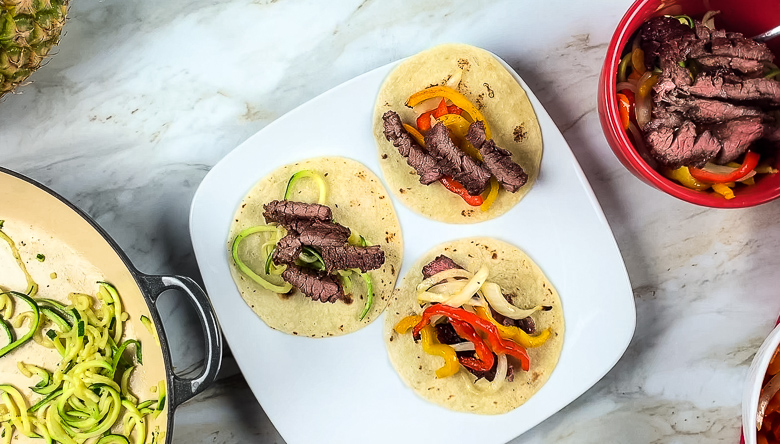 Need to cook these steak fajitas on the stove?
No worries! Cook both the steak and veggies in separate skillets over medium high heat. As the veggies are finishing, move them to the side of your pan and add your zoodles in.
Pro cooking tips:
On the day that you buy the steak, cut it up and marinate it, then stick it in the freezer. Your steak will be ready to cook in an hour or so after removing it from the freezer and placing it in a sink full of cold water.
Spiralizing onions is delicious and I swear it makes the entire meal taste better.
If you're cooking this on the stove, I'd cut your steak in even smaller slices.
Top these fajitas with:
sour cream or plain greek yogurt
salsa
guacamole
queso
Special Diet Information
This one is easy! Fill each container with what you'd like and count accordingly. I add a teaspoon because of the oil I use. My usual container count for this recipe is 2G (one for zoodles, one for fajita veggies), 1R (for meat) and 1 tsp for oil.
Looking for more 21 Day Fix Grill Recipes?
This recipe is great for the Weight Watchers. It's just 8 points for 1 serving of this recipe on Blue Plan, Green Plan, and Purple Plan Points. You can have as many veggies as you'd like! I figured these points using skirt steak. Different meats will have different points
Trim Healthy Mama:
This is a THM-S recipe. Stick to a small "garnish" amount of pineapple and this will be a perfect S!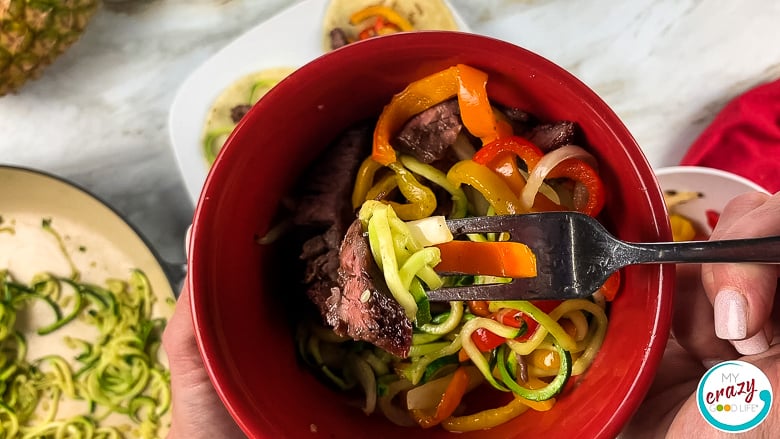 click the stars to rate!
Best Steak Fajitas Recipe with Zoodles
Servings 4 people
The best steak fajitas are the ones we make at home! These healthy steak fajitas can be served with zucchini noodles for extra veggies, and have a delicious teriyaki marinade recipe that makes them taste better than a restaurant.
Equipment
Food processor

Kitchen Knife

Cutting Board
Ingredients
1 pound steak skirt or loin flap is best
2 tbsp Worcestershire Sauce
1/4 cup teriyaki coconut aminos
1/2 cup diced pineapple
1 zucchini large
2 onion small
1 tbsp Montreal Steak seasoning optional
2 cloves garlic
2 bell peppers any color
16 oz mushroom
Instructions
Marinate steak in Worcestershire, teriyaki aminos, and pineapple marinade for 1-24 hours. 1 pound steak, 2 tbsp Worcestershire Sauce, 1/4 cup teriyaki coconut aminos, 1/2 cup diced pineapple

Spiralize the zucchini (with the skin on) and 1 of the onions (with the skin off). 1 zucchini, 2 onion

Sauté spiraled veggies for 8-10 minutes on med-high, drizzled with olive oil and fresh garlic. 2 cloves garlic

Slice peppers, your remaining onion, and mushrooms. Drizzle with olive oil and sprinkle lightly with Montreal Steak seasoning. 2 bell peppers, 16 oz mushroom, 1 tbsp Montreal Steak seasoning

Grill veggies (we use a grill basket) and steak

Slice steak thinly when it comes off the grill

Use your Zoodles as a base for your fajitas or add them in to your tortilla with the other fajita ingredients if you'd like!
Notes
For 21 Day Fix, count containers as you fill them.  Weight Watchers: 8 Blue Plan Points / 8 Green Plan Points / 8 Purple Plan Points
Nutrition
Serving: 4g | Calories: 271kcal | Carbohydrates: 8g | Protein: 23g | Fat: 16g | Saturated Fat: 7g | Cholesterol: 69mg | Sodium: 482mg | Potassium: 394mg | Fiber: 1g | Sugar: 3g | Vitamin A: 43IU | Vitamin C: 11mg | Calcium: 30mg | Iron: 3mg