Our family makes fajitas 3-4 nights a week. We use different veggies almost every time, depending on what is in the fridge or garden.
It might be because we live in Tucson where it's easier to grill outside than heat up the house, but we love grilling and I love the super easy prep that fajitas need. I added Zoodles (zucchini noodles) to my fajitas instead of tortillas a few weeks ago, and… YUM. These Steak Fajita Zoodles are amazing!

To make the Zoodles, I used a spiralizer–and in the few weeks I've been using it, it's been life changing. It makes eating veggies SO easy, and our entire family loves adding extra veggies to meals now that we're spiral slicing them. This is the one that I use, but there are several styles:
This recipe for Fajita Zoodles combines my love of Zoodles with my husband's amazing fajita recipe that we have been making for years. The marinade ingredients might surprise you, but the ingredients are SO delicious together. Trust me.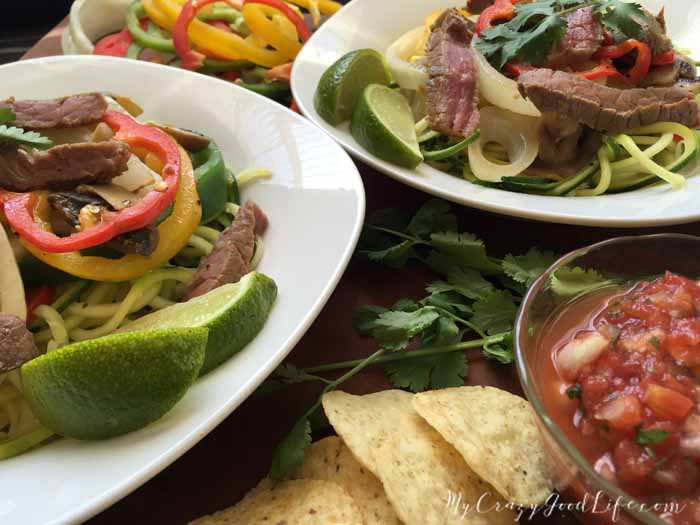 Ingredients in our Steak Fajita Zoodles Recipe: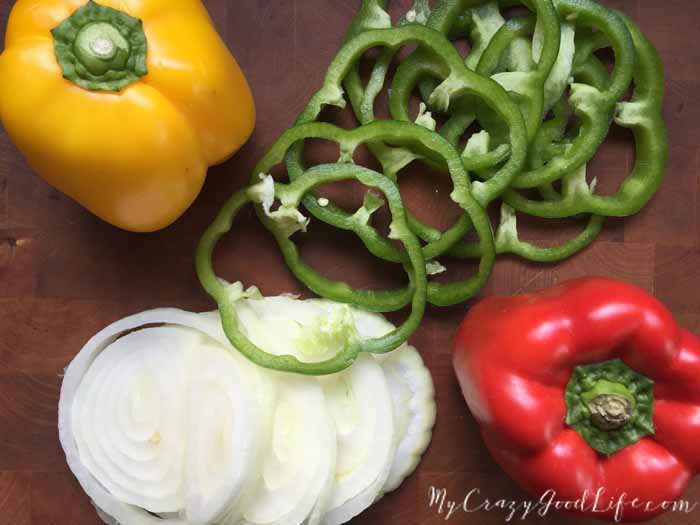 (serves 4-6)
Steak (we use loin flap from Costco) or skirt steak, about 1 pound
Like I said, we use different veggies–whatever you love. But our staples are: 3-4 multi colored Bell Peppers, 2 onions, 5 zucchini, 1 package mushrooms, sliced.
1/2 Cup Teriyaki Pineapple Marinade (omit this if following the 21 Day Fix, or replace with 1/4C coconut aminos)
2Tablespoons Worcestershire Sauce
1Tablespoon (or to taste) Montreal Steak Seasoning
Instructions for our Steak Fajita Zoodles Recipe:
*marinate steak in Worcestershire and teriyaki marinade*
1.Spiralize the zucchini (with the skin on) and 1 of the onions (with the skin off)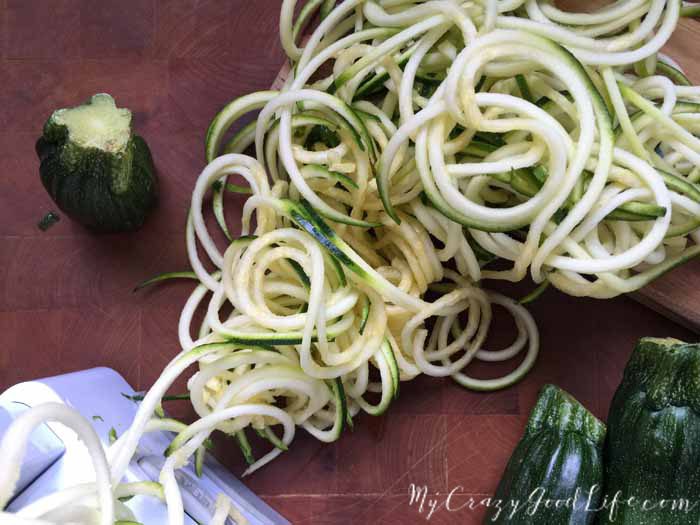 2. Sauté spiraled veggies for 8-10 minutes on med-high, drizzled with olive oil and fresh garlic 3. Slice peppers, your remaining onion, and mushrooms. Drizzle with olive oil and sprinkle lightly with Montreal Steak seasoning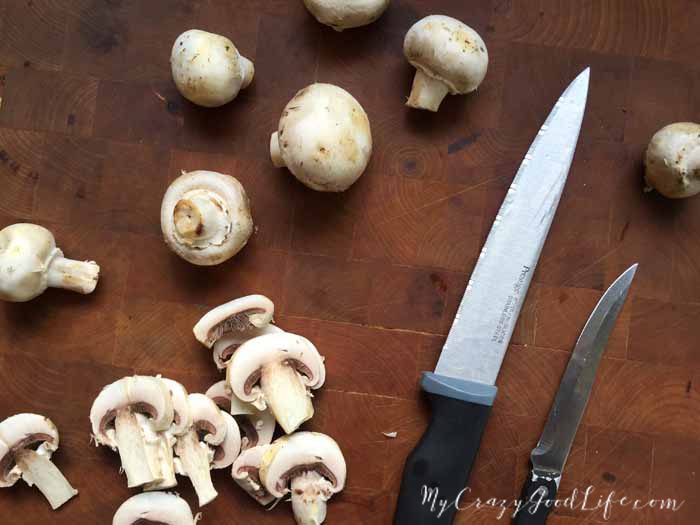 4. Grill veggies (we use a grill basket) and steak
5. Slice steak thinly when it comes off the grill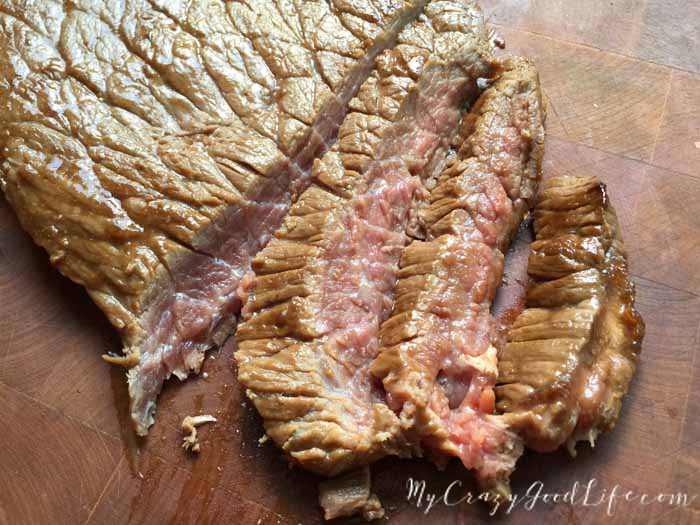 6. Use your Zoodles as a base for your fajitas or add them in to your tortilla with the other fajita ingredients if you'd like!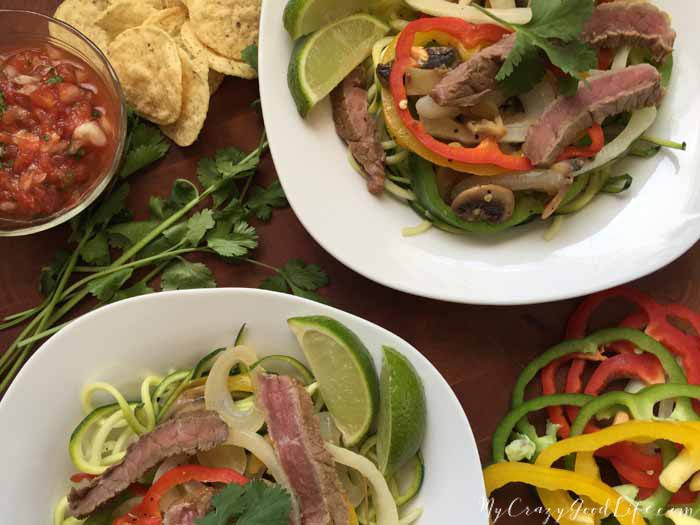 So tell me… what do you make with your Zoodles? Items used in this recipe:
21 Day Fix Container Count: This one is easy! Fill each container with what you'd like and count accordingly. I add 2 teaspoons because of the oil and marinade. My usual container count for this recipe is 2G (one for zoodles, one for fajita veggies), 1R (for meat) and 2 tsp for oil.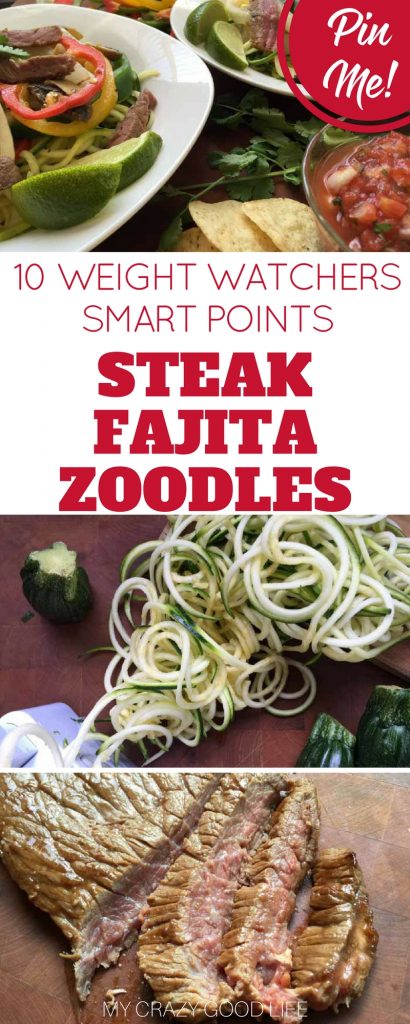 This recipe is great for the Weight Watchers Smart Points plan as well. It's just 10 points for 1 serving of this recipe, or 6 Freestyle Smart Points. You can have as many veggies as you'd like! If you use just 1/2 cup of marinade that cuts the Smart Points per serving back to 8.
[wprm-recipe id="29553"]
Looking for more spiralizer recipes?