This site contains affiliate links. Please see Policies for more information.
This five day 21 Day Fix Meal Plan A will help you start off your FIX journey on the right foot. The 21 Day Fix is a way of clean eating that focuses on unprocessed foods and portion control. Eating a specific number of colored containers every day will help you achieve the weight loss you're wanting, and this 1200-1800 calorie meal plan will help.
This meal plan is broken down for Monday through Friday. Breakfast, lunch, dinner, and snacks are included. There are a few main recipes you'll be making and eating all week–if you're not a fan of recipes or eating leftovers, you might enjoy my easy meal plan for this bracket–it uses only simple meals and no recipes.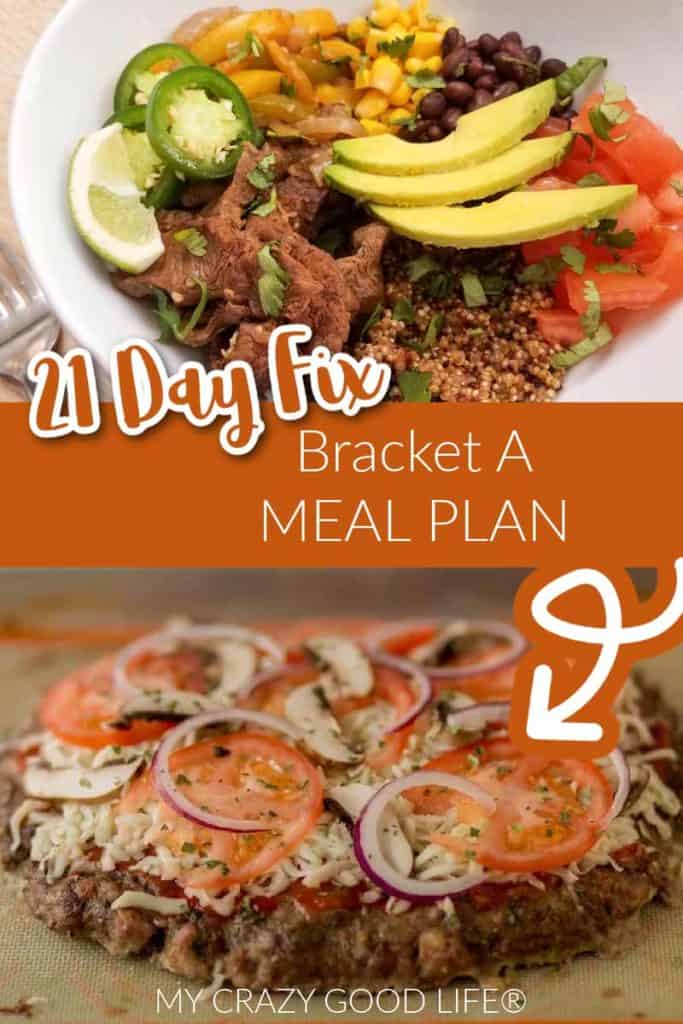 21-Day Fix Meal Plan A
I'll be honest, the 21 Day Fix has you eating so much food. I usually plan on eating leftovers for lunches so I don't have to cook quite as often, and have found that it's the best way for me to stay focused on my healthy eating plan.
The 21 Day Fix plan focuses on eating whole foods. This means that most of your foods will not have a package. Fresh fruits, vegetables, and whole grains are important on this eating plan.
For Bracket A, you'll be eating the follow portion-control containers:
4 Green Containers (vegetables)
2 Purple Containers (fruits)
4 Red Containers (lean proteins)
2 Yellow Containers (healthy slow burning carbs)
1 Blue Container (healthy fats)
1 Orange Container (seeds & dressings)
3 teaspoons of oil based foods (mayo, olive oil, peanut butter, etc)
There is a 21 day fix food list that goes along with the containers, and those are the foods you'll be eating. For example, you can't just fill the yellow container with any carb you choose. The food list is very specific and tells you how much or how many of each food you can use. One half of a banana, one whole small apple, or 1 cup diced pineapple are all counted as a purple container.
I've created a printable food list that has not only the foods that are on Beachbody's main list, but also their free food list, container sizes, calorie ranges for each container, and shopping tips. You can view it in my printable library with more than 20 other resources by signing up for my email newsletter here: https://mycrazygoodlife.com/newsletter/.
Updated for Ultimate Portion Fix/Portion Fix
The 21 Day Fix has gone through a few name changes. Whatever you're calling it these days, rest assured that this meal plan is updated to what Beachbody is currently calling the Fix. You'll see that the extra green container and teaspoon that was added to the Ultimate Portion Fix is included in this meal plan. You can now eat more veggies and peanut butter on the UPF (does anyone use their teaspoons for anything other than peanut butter?!).
---
---
Resources for those using 21 Day Fix Meal Plan A:
Check your bracket There is a formula for taking your current weight and using that to find your bracket, but I've created a simple calculator for you to do it. Always check your bracket before starting a round to make sure you haven't gone up or down a bracket. Eating the correct amount of containers every day is what makes this weight loss program work.
Sample Meal Plans Meal planning for the Fix is very important because it helps you stay on track. Think of it like a budget–if you eat all your containers before dinner, you'll be hungry and go over your budget. You can find free sample meal plans on this site that will help! If you need more, I have a video about How to Meal Plan for the 21 Day Fix. (side note: meal planning is important for the Fix, meal prep is not–if it's helpful to you, do it. If it stresses you out, don't feel that you have to meal prep!)
Extra 21 Day Fix Containers Extra containers are always helpful! These are the correct measurements–many containers for sale on Amazon are not the correct measurements and can negatively influence your results.
21 Day Fix Recipes with Container Counts
Small changes make up big losses. Replace fast food and unhealthy foods with delicious healthy meals for the best results.
1,200-1,499 Calorie Bracket | 21 Day Fix Meal Plan A
directions for getting a printable version of this Meal Plan are at the bottom of the post
Monday
Breakfast: Banana Pancakes (2 Purple, 1/2 Red)
Snack: Celery with Nut Butter (1G, 2 teaspoons)
Lunch: Salad Using (1 Green, 1 Red, 1 Orange, 1 Yellow)
Snack: Hard Boiled Egg, Carrots (1/2 Red, 1 Green)
Dinner: Instant Pot Jambalaya (2 Red, 1 Green, 1 Yellow, 1 Teaspoon)
Snacks: Raw Whole Almonds (1 Blue)
Tuesday
Breakfast: 3 Egg Bites (1 Red, 3/4 Blue)
Lunch: Grilled Chicken with Steamed Veggies with Apple (1 Red, 2 Green, 1 Purple)
Dinner: Beef Fajita Bowls (1 Red, 1 Green, 1/2 Yellow) Toppings (1/4 Blue for Avocado, 1 Green for Veggies) ( Total 1 Red, 2 Green, 1/2 Yellow, 1/4 Blue)
Snacks: Fruit & Nut Butters (1 Purple, 3 Teaspoons), Treat Swap (1 Yellow), Shakeology with Pumpkin Seeds (1 Red, 1 Orange)
*treat swaps can be used for almost anything not on the food list! Potato chips, alcohol, chocolate… here's a video about treat swaps*
Wednesday
Breakfast: Homemade Sausage | Sweet Version with Whole Grain Cereal with Banana (1 Red, 1 Teaspoon, 1 Yellow, 1 Purple)
Lunch: Grilled Salmon, Roasted Carrots & Asparagus Topped With Sesame Seeds (1 Red, 1 1/2 Green, 1 Orange)
Dinner: Beef Stroganoff (1 Yellow, 1/2 Green, 1 1/2 Red)
Snacks: Carrot and Celery Sticks (1 Green), Hummus on Lettuce (1 Blue), Apple with Nut Butter and one hard boiled egg (1/2 Red, 1 Purple, 1 Teaspoon)
Thursday
Breakfast: Bread, Whole Grain with Nut Butter and Banana Slices (1 Yellow, 1 Purple, 1 Teaspoon)
Lunch: Salad with Chicken and Quinoa (1 Green, 1 1/4 Red, 1 Orange, 1 Yellow)
Dinner: Low Carb Meatza made with 3 Veggies (2 1/4 Red, about 1 Green, 1 Blue)
Snacks: Apples with Nut Butter (1 Purple, 1 Teaspoon), Snowpeas (1 Green)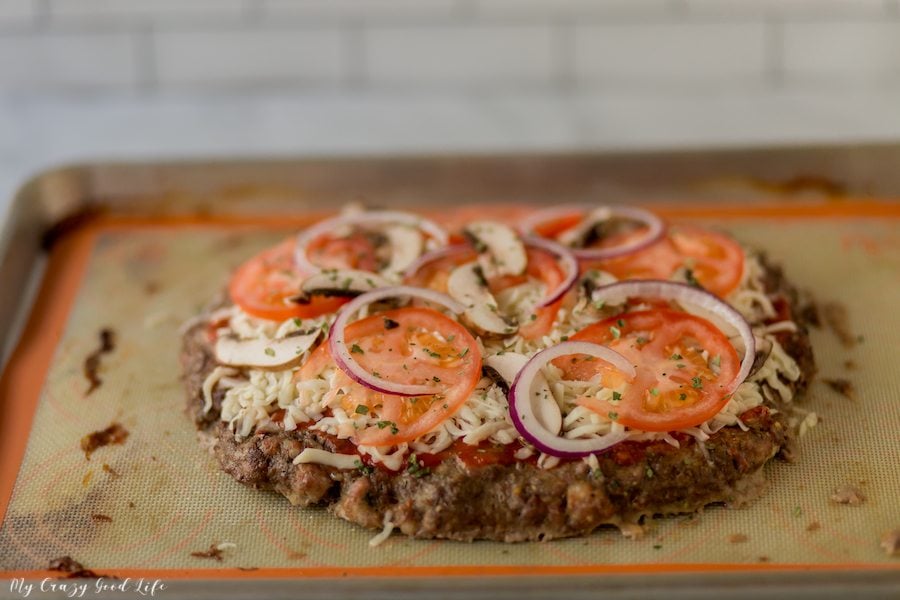 Friday
Breakfast: Banana Pancakes (2 Purple, 1/2 Red)
Lunch: Instant Pot Jambalaya (2 Red, 1 Green, 1 Yellow, 1 Teaspoon)
Dinner: Beef Fajita Bowls (1 Red, 1 Green, 1/2 Yellow)
Snacks: Hummus on Lettuce (1 Blue), Celery & Nut Butter (1 Green, 1 Teaspoon), Pumpkin Seeds (1 Orange)

To gain access to my free printable library (to download a PDF of this Meal Plan for Bracket A) please fill out the form below:
By entering your email address, you will be added to the My Crazy Good Life email list. You can unsubscribe at any time. The information will only be used to provide you with updates according to our privacy policy, found on our website. We will never sell your info. If you don't receive your sign up link or printables, please check spam. If you still don't see it, please email me at becca@mycrazygoodlife.co
More 21 Day Fix Meal Plans: