This site contains affiliate links. Please see Policies for more information.
Who can deny a delicious slice of meatza? I love pizza, and I love that I don't have to sacrifice carbs for this recipe since it's got a meat crust!
This low carb pizza recipe is a great recipe that your meat loving husband will LOVE. Bonus? It's got nutrition info below for 21 Day Fix and Weight Watchers!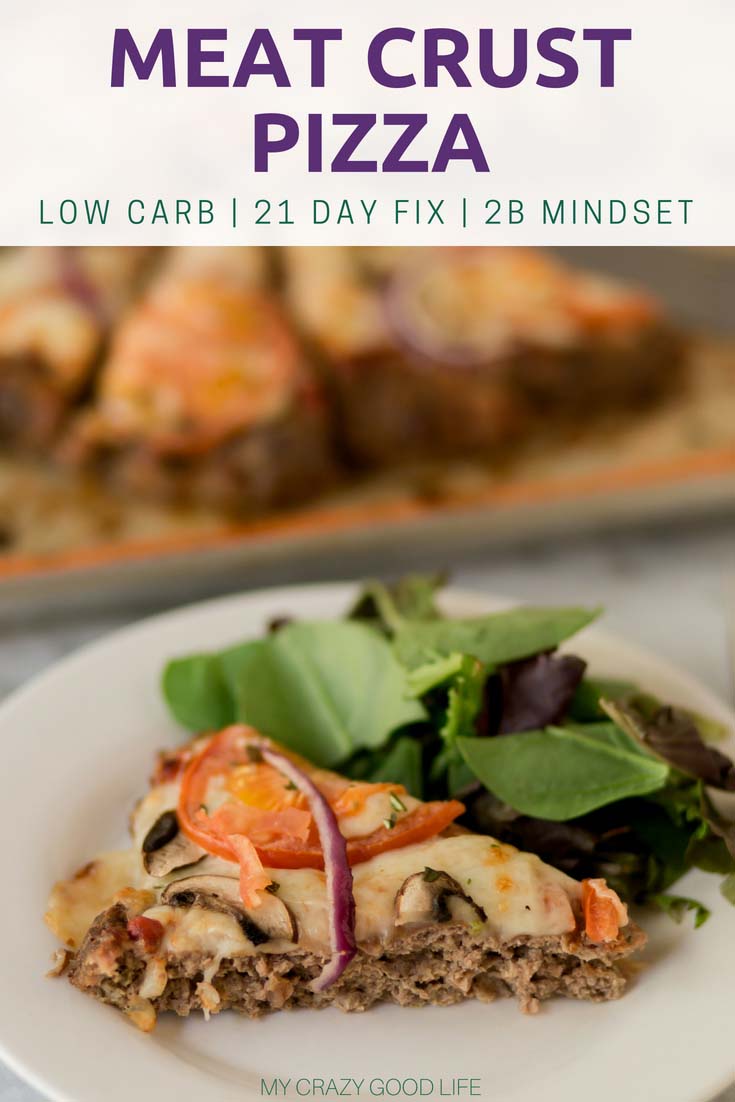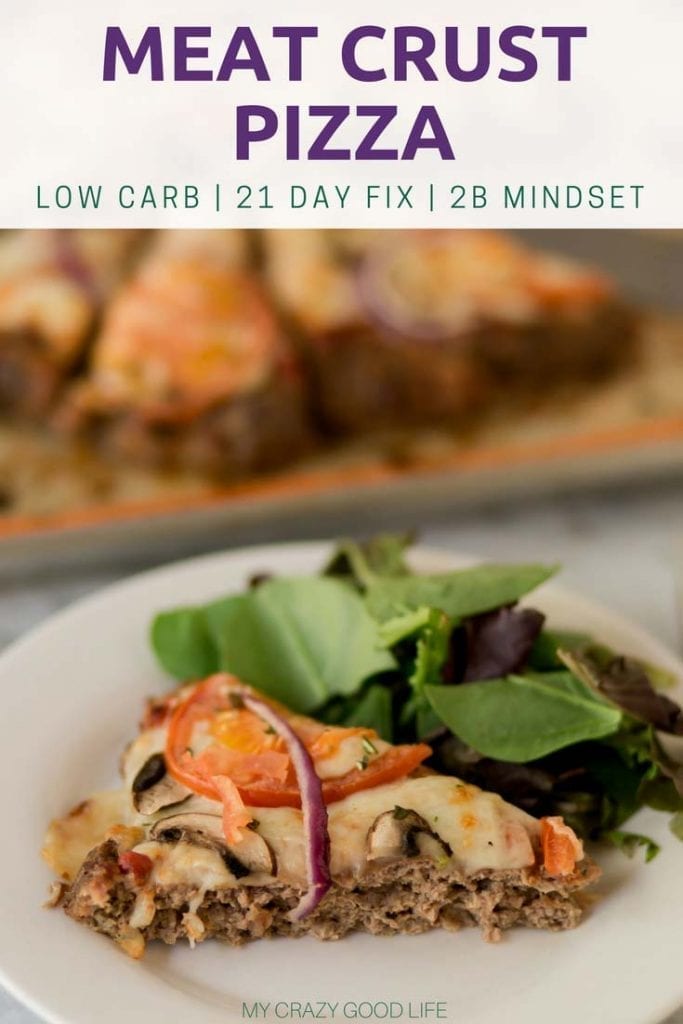 It's quick and easy to make this delicious meatza. Better yet, though, you can top it with all of your favorite ingredients! I love that I can indulge in one of my favorite dishes without straying from my nutrition plan and you can too.
What is a Meatza?
Meatza is a meat pizza–it's a delicious way to make a low carb, meat crust pizza. The crust is literally made of meat. The base of this recipe is ground beef and/or sausage, then you can add pizza sauce, veggies, and cheese on top.
Meatza is great if you are watching your carbs or are looking for a gluten free pizza option. Pizza crust is not necessary for a delicious pizza night!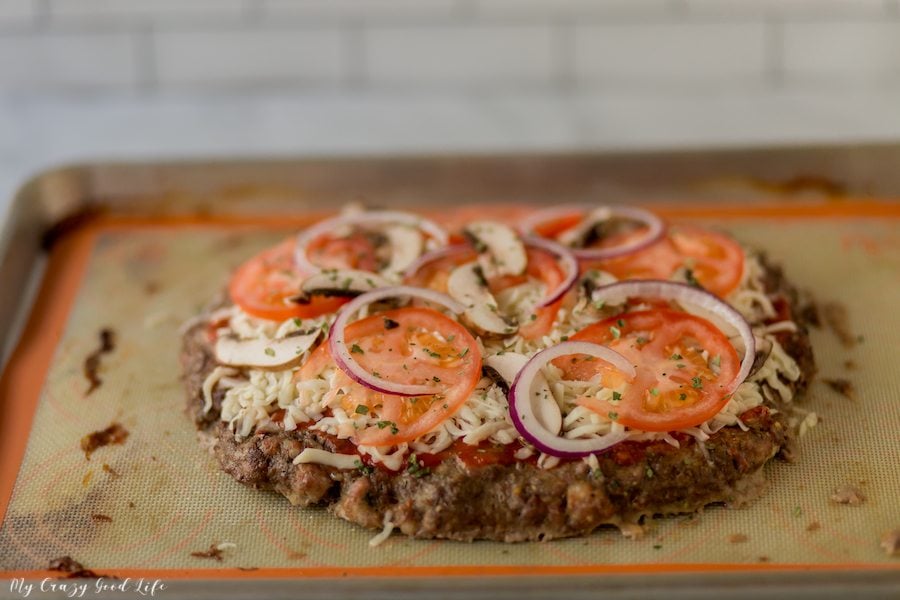 Making any kind of pizza at home is perfect for picky eaters, the same goes for this meatza recipe! My family can have their favorite toppings and flavors on their portion, and I get to be happy knowing that they are eating something healthy.
It's super easy to split this recipe into fourths and top each serving slightly different.
Ingredients in meat crust pizza:
ground beef
ground turkey
eggs
onion powder
garlic powder
oregano
basil
salt (optional)
pizza sauce
mozzarella cheese
veggies & other toppings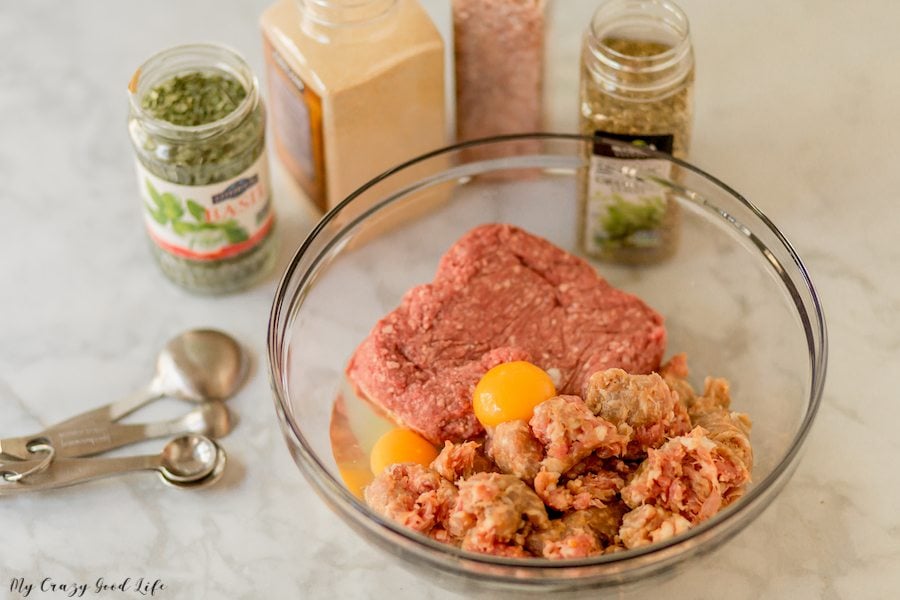 What toppings can I put on my meatza?
Anything–literally. I love adding a hearty tomato sauce to this recipe and filling it up with veggies and additional toppings. We love going to the grocery store and finding new toppings to add.
Here are our favorites, but definitely don't let this list stop you from trying something new today:
tomatoes
mushrooms
red onion
pineapple
garlic
zucchini
olives
bacon
pepperoni or turkey pepperoni
How to make a meatza meat crust pizza:
Preheat the oven to 450º
In a medium bowl, mix ground beef, sausage, egg, and seasonings.
Spread the mixture onto a greased baking sheet. You'll want to use one with sides to catch any grease that rolls off.
Bake for 10 – 15 minutes, or until meat is fully cooked.
Remove from the oven and drain excess fat/grease. You can use paper towels to soak it up or you can use a turkey baster to suck it up.
Turn your oven to broil.
Spread pizza sauce on your meatza, and add your cheese and toppings.
Broil for 4-5 minutes or until your cheese is perfect and browned.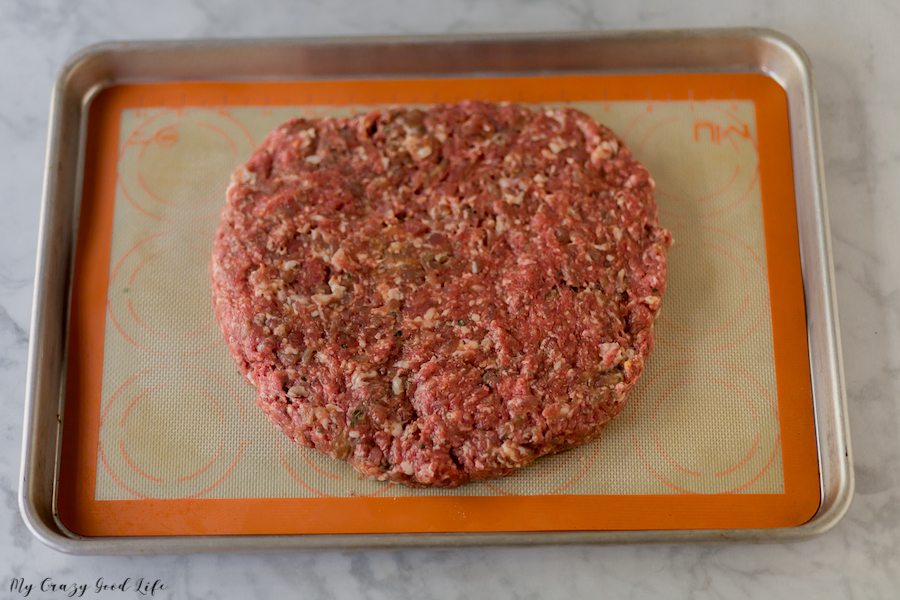 Pro Cooking Tips: 
Your meatza will shrink a bit in size, so be sure to roll it out with that in mind.
Don't stress about shape–round or rectangle, meatza is delicious!
You can use parchment paper to collect some of the grease, but know that it won't make the bottom crispy like it normally does with baking.
To lower the fat content of this recipe, consider skipping the ground sausage in the base and using some of it to top the pizza instead.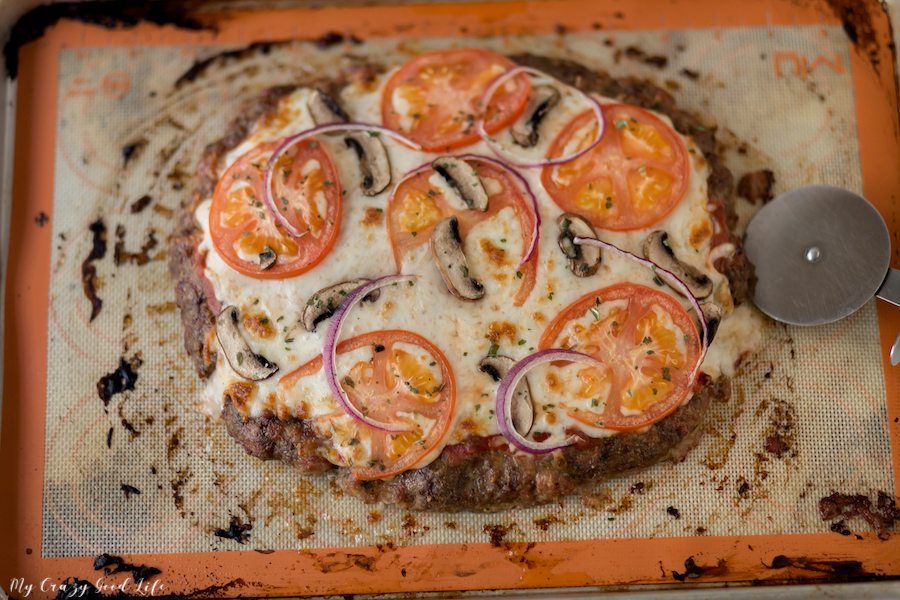 Special Diet information:
Weight Watchers Points:
7 Blue Plan Points |9 Green Plan Points | 7 Purple Plan Points for lean ground turkey breast, lean sweet turkey sausage, fat free marinara sauce, and part-skim mozzarella cheese. Make sure to add your toppings up, too!
Making a Trim Healthy Mama meatza?
You can serve this meatza up on THM as a Crossover recipe by substituting an approved version of the marinara. A sugar free variety will do the trick!
21 Day Fix\Ultimate Portion Fix:
Container count for the full meatza base is 9 red.
Container Count for entire recipe (I add this in case you change the recipe and need to recalculate):
1.5 G, 1 tsp (sauce), 4 B, count your veggie and meat toppings too!
For each 3/4 C of meat topping, add 1 R to this count
For each 1 C of veggie topping, add 1 G to this count
Single Serving is 1/4 of the meatza:
For 1/4 of meatza with cheese and sauce, but no toppings: 2 1/4 R, about 1/3G, 1B
For each 1 G of veggies, add 1/4 G per serving
For each 3/4 of meat topping, add 1/3 R per serving
Keto/Low Carb:
This recipe has less than 3 grams of carbs per serving, which is 1/4 of the entire recipe. Make sure to calculate your toppings for this meat crust pizza, as well!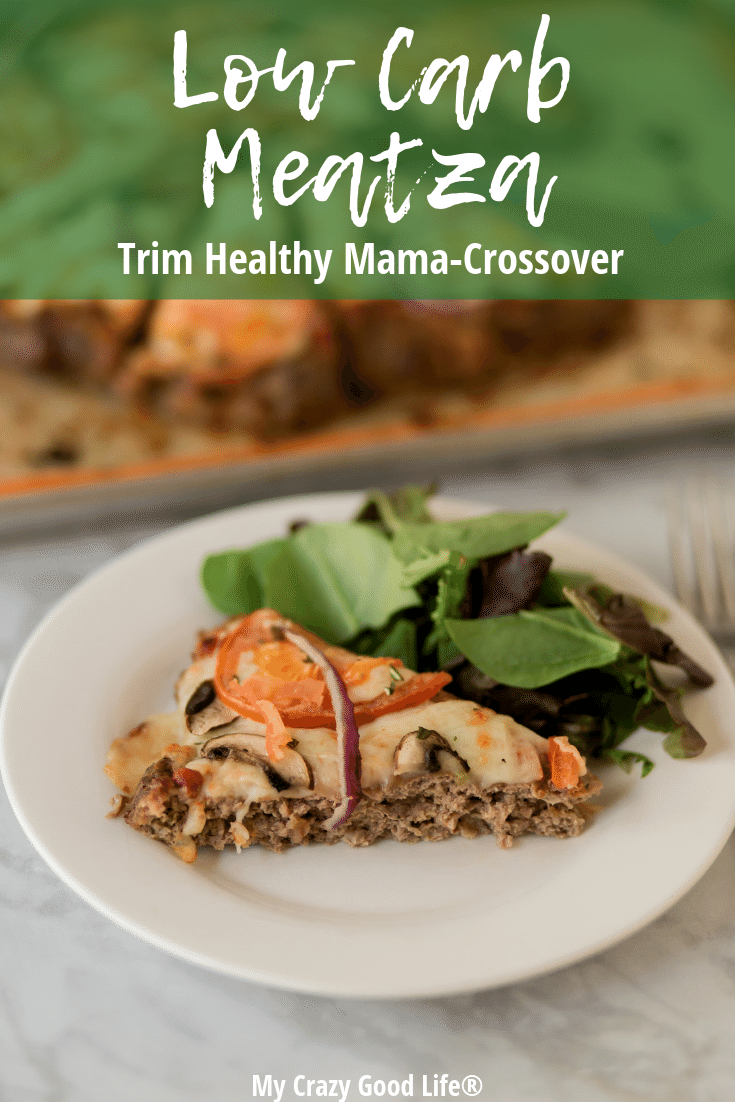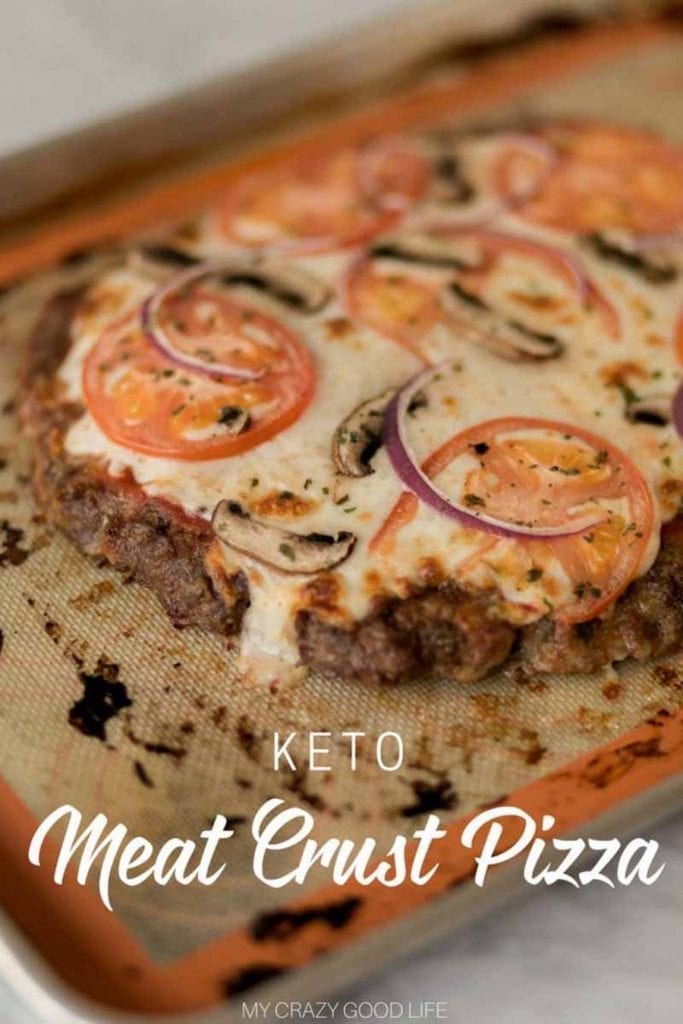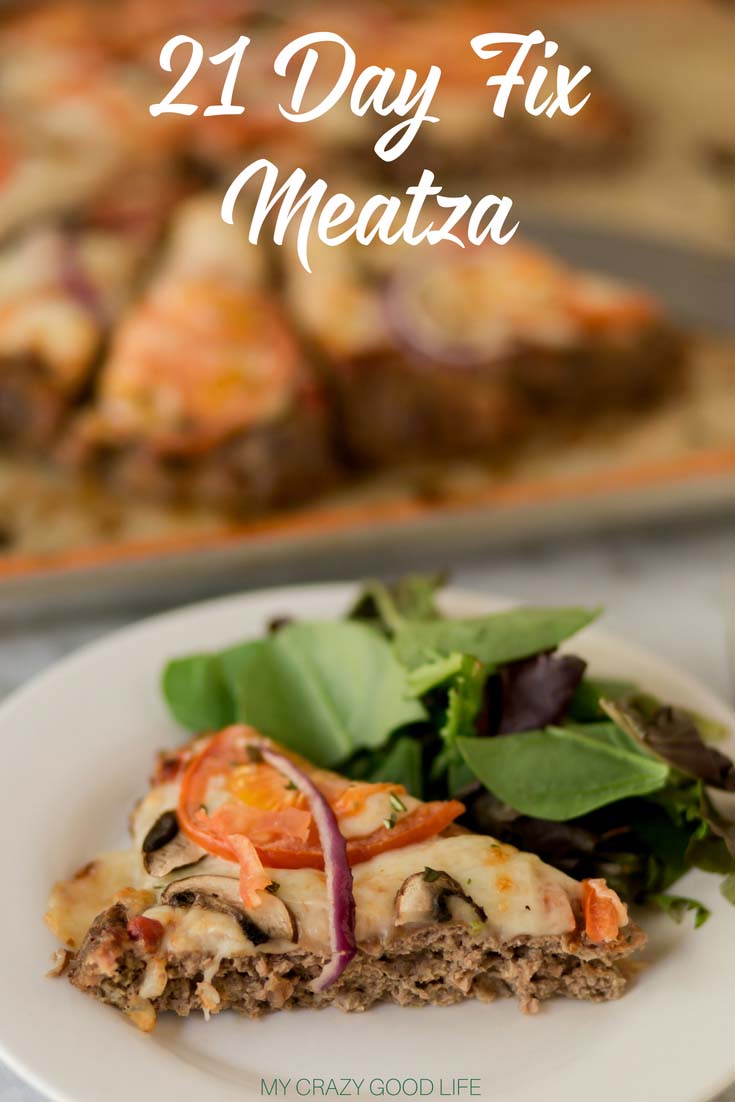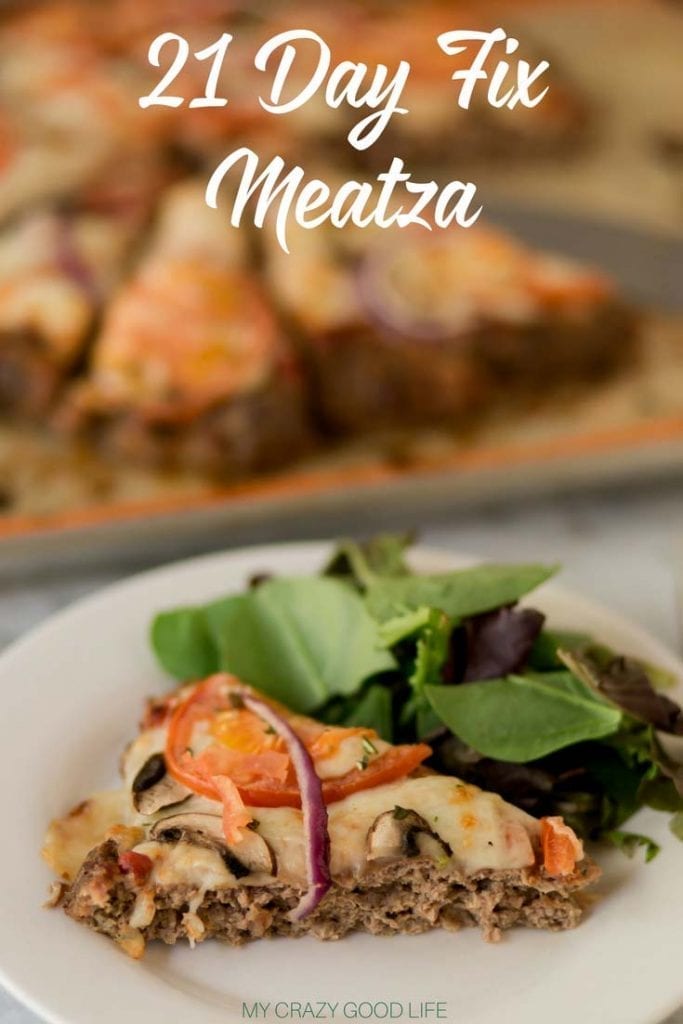 Print recipe here: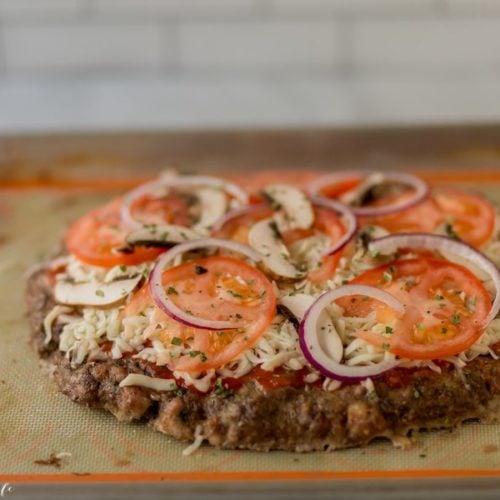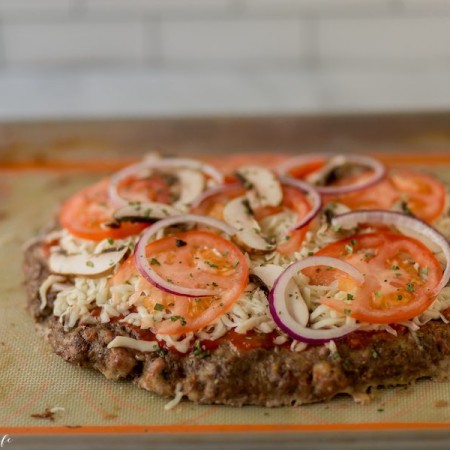 click the stars to rate!
Meatza No Crust Pizza Recipe | Meat Crust Pizza
Servings 4
Who among us can deny the draw of a delicious slice of pizza? Not me! I love pizza and this meatza recipe is a low carb, 21 Day Fix option.
Ingredients
1 lb ground beef very lean
1 lb turkey sausage ground, Italian
2 eggs
1 tsp onion powder
1 tsp garlic powder
1 tsp oregano
1 tsp basil
Toppings:
1 cup marinara sauce
1 1/3 cup mozzarella cheese shredded
chopped veggies of choice
Instructions
Preheat oven to 450.

In medium bowl mix hamburger, sausage, egg, and seasoning. 1 lb ground beef, 1 lb turkey sausage, 2 eggs, 1 tsp onion powder, 1 tsp garlic powder, 1 tsp oregano, 1 tsp basil

Spread onto a greased cookie sheet (must have a lip on the sides) Bake for approx. 10 minutes or until meat is fully cooked (it will reduce in size quite a bit).

Remove from oven and drain excess fat.

Put oven on broil.

Spread marinara sauce on the meat "crust. 1 cup marinara sauce

Layer with meat, veggies, and cheese. chopped veggies of choice, 1 1/3 cup mozzarella cheese,

Broil for 4 to 5 minutes until toppings are heated through and cheese is melted.
Notes
Container Count:
1.5 G, 1 tsp (sauce), 4 B, count your veggie and meat toppings too!
For each 3/4 C of meat topping, add 1 R to this count
For each 1 C of veggie topping, add 1 G to this count Single Serving is 1/4 of the meatza:
For 1/4 of meatza with cheese and sauce, but no toppings: 2 1/4 R, about 1/3G, 1B For each 1 G of veggies, add 1/4 G per serving
For each 3/4 of meat topping, add 1/3 R per serving
Nutrition
Calories: 653kcal | Carbohydrates: 12g | Protein: 54g | Fat: 43g | Saturated Fat: 17g | Cholesterol: 277mg | Sodium: 1906mg | Potassium: 1234mg | Fiber: 3g | Sugar: 8g | Vitamin A: 1192IU | Vitamin C: 15mg | Calcium: 269mg | Iron: 6mg