Jump to Recipe
This delicious Avocado Stuffed Chicken Breast is wrapped in bacon and lightly seasoned for a delicious and easy low carb dinner.
This delicious Avocado Stuffed Chicken Breast is wrapped in bacon and lightly seasoned for a delicious and easy low carb dinner. Chicken and Avocado recipes are delicious for lunch or dinner, and we love these on the grill!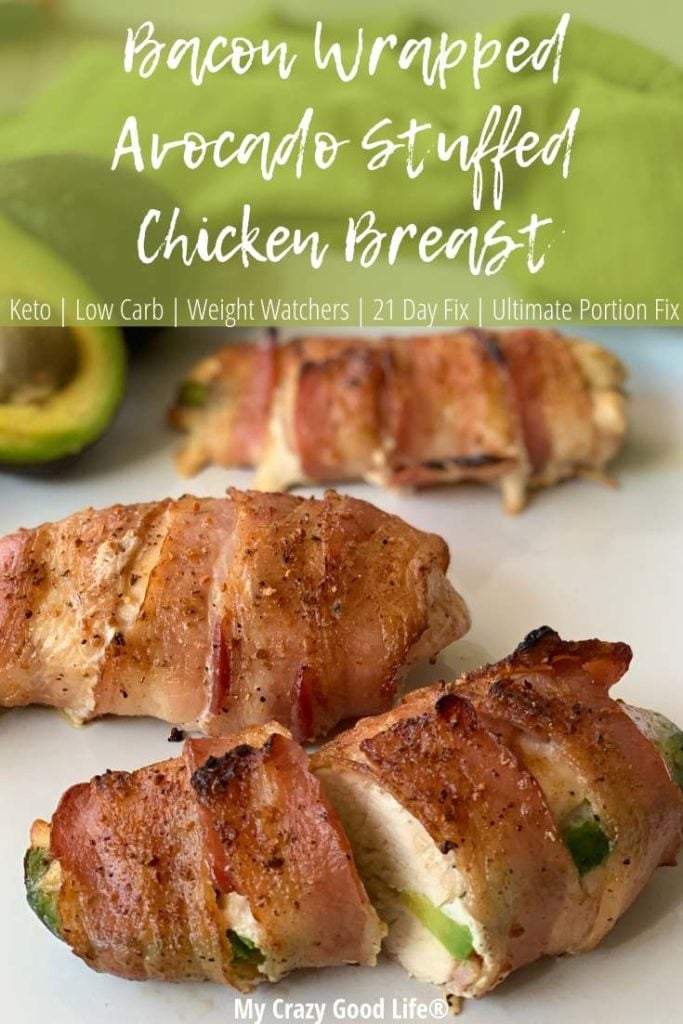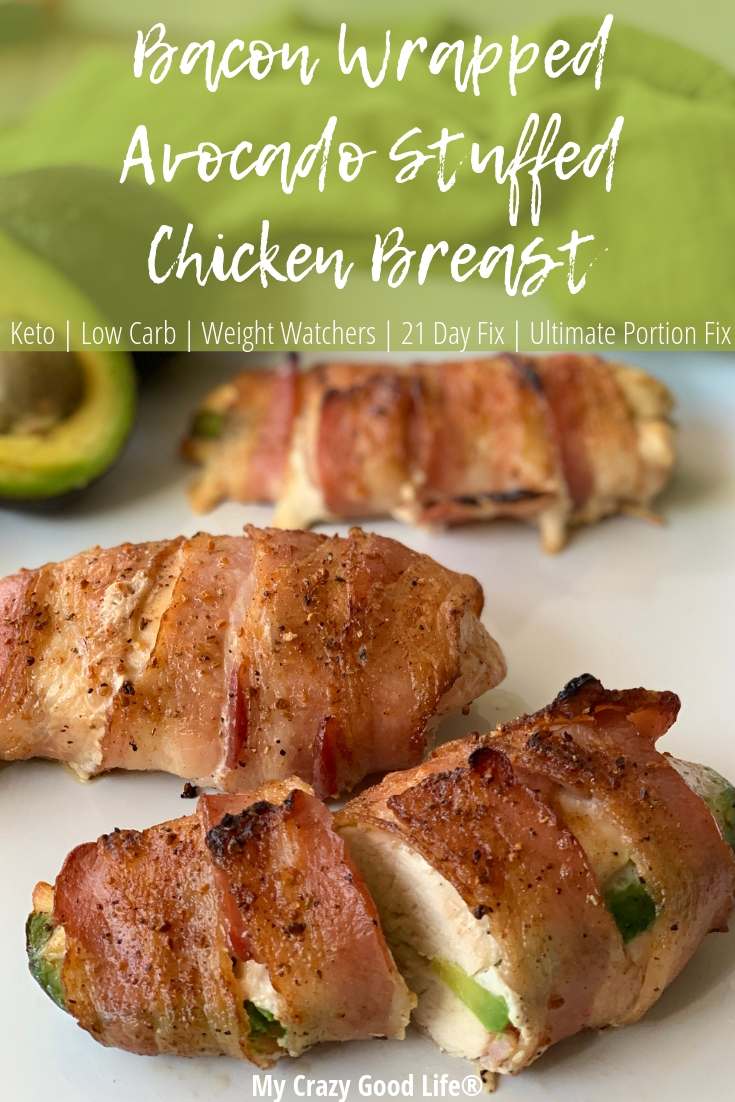 This low carb dinner is simply delicious. Three ingredients, and you've got a healthy dinner that is full of lean protein, a delicious source of creamy fat, and everyone's favorite–bacon. I love sharing our family favorites with my readers, because in addition to allowing you to fall in love with these recipes as much as we have, I always test and test again before posting to make sure everything is just right.
You see, I'm not much of a "by the book" cook. I definitely love cooking with "a little of" this, and a "pinch of" that. Sharing a recipe here means that I need to focus on measurements and temperatures and make the recipe a few times. Making this Avocado Stuffed Chicken Breasts with bacon several times in the last few weeks has been pretty exciting–it's one of our favorite meals and has been for a few years.
When we make this meal, we often split pieces of chicken or cut back a little on the bacon to keep our portions in check. Making it for pictures, I added a little more bacon than we usually use, which is a bit indulgent.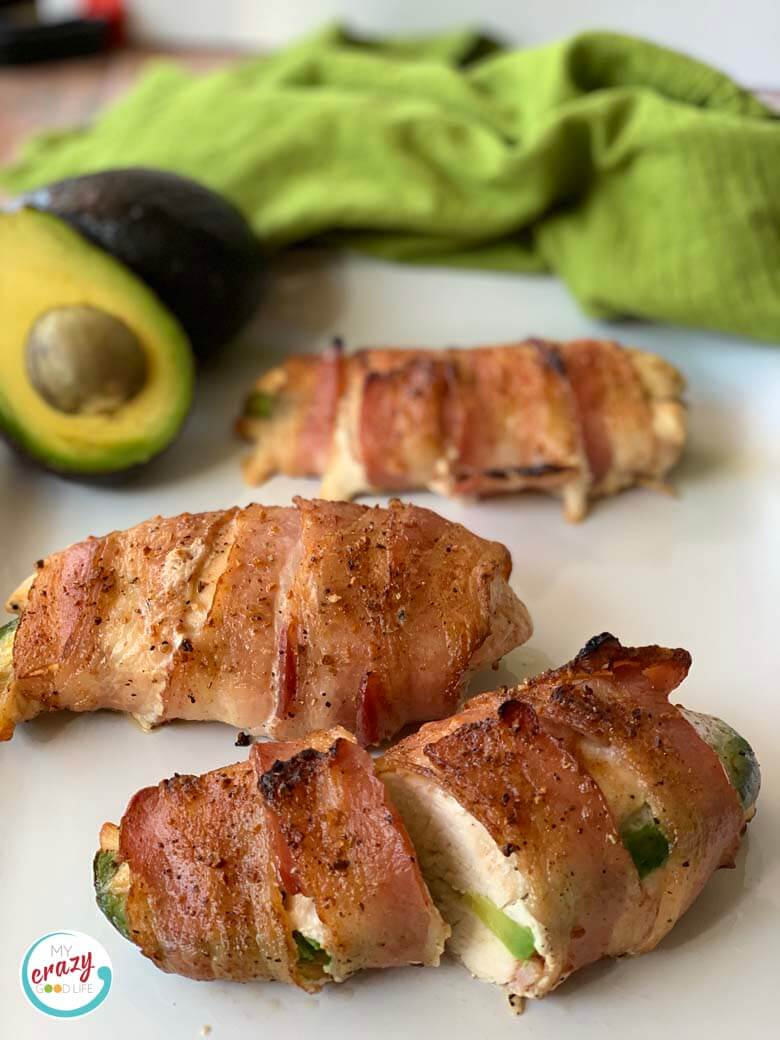 While this recipe is delicious and indulgent, I do give tips for both reducing the calories and preparing the recipe a a little quicker because wrapping anything in bacon takes time!
Ingredients in this Avocado Stuffed Chicken Breast with Bacon:
chicken breast (you could totally use chicken thighs too!)
bacon
avocado
salt and pepper or seasoning, optional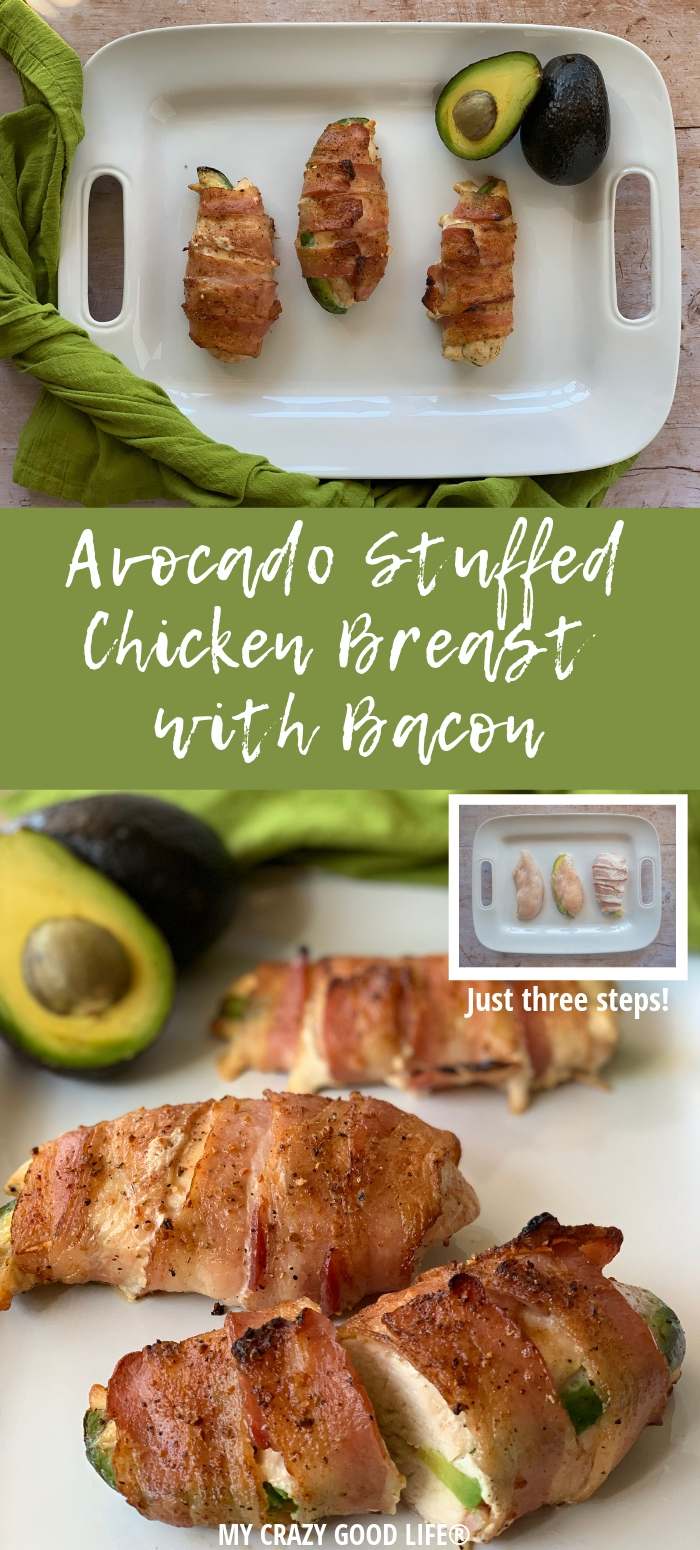 How to make this low carb recipe:

I've highlighted the three main steps to making this recipe in the above picture. I'll give you some tips below!
Slice the chicken breast almost in half length-wise. If you remember your hot dog and hamburger folds in elementary school, this would be a hot dog fold ;)
Slice avocados thinly and stick them inside the chicken. At this point, I like to use a good barbecue seasoning on the chicken–just a little, though. This one from Traeger is the one I find myself reaching for when I make this recipe. You could definitely use salt and pepper or skip the seasoning entirely though!
Using toothpicks to get the ends of the bacon to stay put, wrap the bacon around the chicken. Sometimes I have toothpicks poking out of the top and bottom of the chicken, and that's ok.
Recipe Tips:
Don't overstuff the chicken–the avocado will slide out when it's cooking and make a mess. If you want more avocado, top your chicken with it when it's done cooking.
These end up being big–if you cut them in half before cooking, make sure to wrap all four sides, because the avocado seems to move more when I cut the chicken in half. A proper serving size is about 4 ounces, which is about the size of the palm of your hand. You can see all of the nutritional information in the printable recipe below.
If you don't have any avocado, guacamole will do just fine!
You get better at this with time, don't stress.
I like to trim all of the extra fat off the ends of the bacon. I think this helps the toothpicks stay put, keeps the bacon on the chicken, and allows for crispy bacon.
I buy nitrate free bacon center cut and highly recommend it for this recipe. There is a lot less fat on it.
You can easily use turkey bacon if you'd like!
Err on the side of using more toothpicks instead of less. Just be sure to let them stick out of your chicken so you can pull them out later.
Pull out a handful of toothpicks and plan on tossing the extras, because you don't want to be reaching into the toothpick box with raw chicken and bacon on your hands.
Running short on time? Slice the chicken in half and grill, then serve 1/2 piece of chicken with 1 1/2 slices of bacon and avocado slices on top. I promise it's just as delicious on a busy night!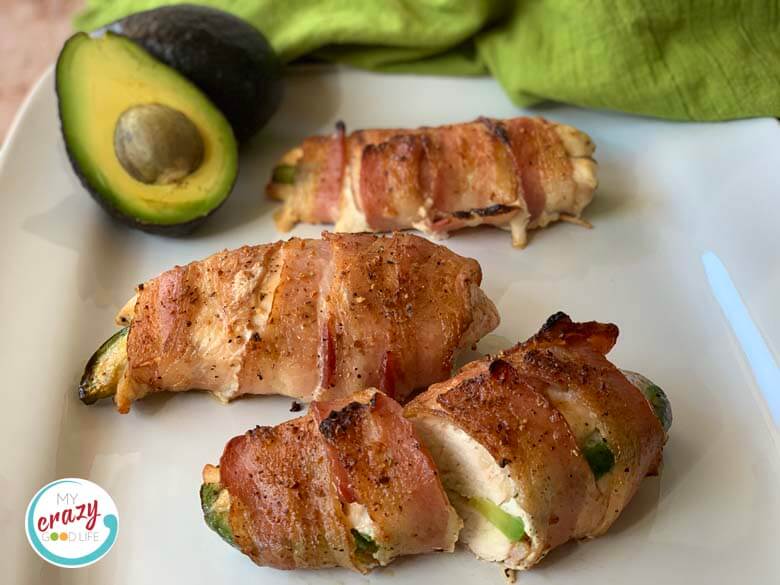 How to grill this recipe:
I used our grill/smoker to make this chicken, and I set it to 350º and let it cook for about 50 minutes. Use a meat thermometer to make sure your chicken is cooked thoroughly, but be sure you're not measuring the temperature of the avocado in the middle. I always check what I'm grilling about halfway through to make sure it's cooking at a decent speed.
If you test your chicken at 30 minutes and it's, say, 150º, you'll know that your grill won't take the full 50 minutes to cook this recipe. I've found that the cooking time varies a bit depending on the size of the chicken breast and thickness of the bacon, so definitely keep an eye on the temperature so you don't over cook it.
How to bake this recipe:
Preheat oven to 350º and place chicken in a casserole dish or pie plate. Cook until internal temperature of chicken (not avocado) is 165º, about 50 minutes.
Can I make this recipe in the Instant Pot?
Though I love my Instant Pot, I don't love cooking everything in it. Grilling or baking makes this recipe perfect with just enough crisp in the bacon.
Can I use rotisserie chicken to make this?
I'd skip using rotisserie chicken for this specific recipe, but if you have a rotisserie chicken I'd highly recommend making a delicious avocado chicken salad with it! You can follow a recipe, or if you're like me add in some red onion, maybe some cheddar cheese, and a bit of lime juice, chop your bacon and avocado, chop or shred your chicken, and use the mixture to top a salad or use as a vegetable dip.
What do I serve this low carb chicken dinner with?
We love serving this with asparagus, mushrooms, or just about any other roasted or grilled veggie. Here are some other delicious options for you if you're looking for low carb side dishes:
Healthy Eating Plans:
This is a  low carb\keto recipe that has 1 net carb (3 carbs minus 2 grams of fiber).
Weight Watchers:
For one serving of this recipe (1/2 piece of chicken breast around 4 ounces, 1.5 slices of turkey bacon, and using 1/3 of an avocado for the entire recipe), each serving is 3 Blue Plan Points | 4 Green Plan Points | 3 Purple Plan Points.
WW 2022/2023 Points: 3 using turkey bacon
21 Day Fix:
If you'd like to make this recipe Fix-friendly, use turkey bacon (4 slices = 1 red container) and aim for about 5 ounces of chicken (red container). Of course, the amount of avocado you eat shouldn't be more than your blue container which is 1/3 cup.
Trim Healthy Mama:
This recipe fits perfectly within the THM-S label.
Avocado Stuffed Chicken Breast with Bacon
This delicious Avocado Stuffed Chicken Breast is wrapped in bacon and lightly seasoned for a delicious and easy low carb dinner.
Approximate Serving Size:
1/4th of the recipe, about 1/2 breast
Ingredients
1

lbs

chicken breast

about 2 small breasts

1/2

avocado

sliced

6

slices

bacon

I prefer nitrate free and center cut

BBQ spices

optional
Instructions
Slice your chicken breasts lengthwise top to bottom. Don't cut them all the way through.

Stuff chicken breast with 2-3 slices of avocado.

Sprinkle salt and pepper or your favorite spice on top. I like the Traeger Prime Rib spice for this recipe.

Wrap your chicken breast with 2-3 slices of bacon, it depends on what fits on your chicken breast.
In the oven:
Add to casserole dish and cook at 350 for 50 minutes. Take temperature at around 30 minutes to make sure your time is on track.
On the grill:
Preheat grill to 350º or medium. Place bacon-wrapped chicken on the grill for 50 minutes. Take the temperature at 30 minutes to make sure you're on track for a 50 minute cook.
Chicken should be cooked to an internal temperature of 165º.
Notes
Nutrition facts are for 1/2 piece of chicken, about 4 ounces, or about the size of your palm. 
Nutrition
Calories:
307
kcal
|
Carbohydrates:
3
g
|
Protein:
29
g
|
Fat:
20
g
|
Saturated Fat:
6
g
|
Cholesterol:
94
mg
|
Sodium:
227
mg
|
Potassium:
607
mg
|
Fiber:
2
g
|
Sugar:
1
g
|
Vitamin A:
71
IU
|
Vitamin C:
4
mg
|
Calcium:
9
mg
|
Iron:
1
mg
Click for info about WW & Beachbody Counts
Love this recipe?
Please take a pic and tag @BeccaLudlum