This site contains affiliate links. Please see Policies for more information.
This healthy spaghetti sauce recipe is quick and easy! Fresh basil, olive oil, onions, garlic, and no added sugar make this recipe one of my favorites to make for my family.
I love how quickly this recipe comes together, and how it can be tweaked for your specific tastes–you can add red pepper to make it spicy, Parmesan cheese to make it cheesy, or even some red wine.
This homemade spaghetti sauce recipe is healthier than store bought sauce because it contains no preservatives, sugar, or highly processed oils.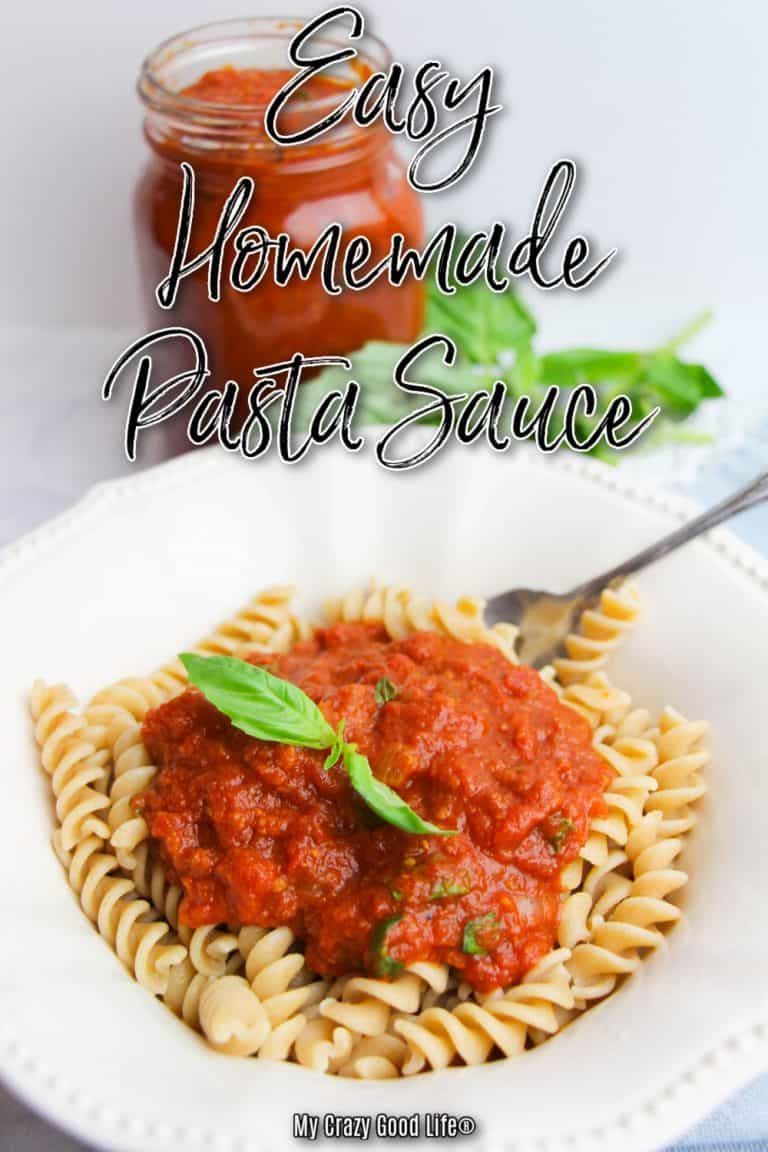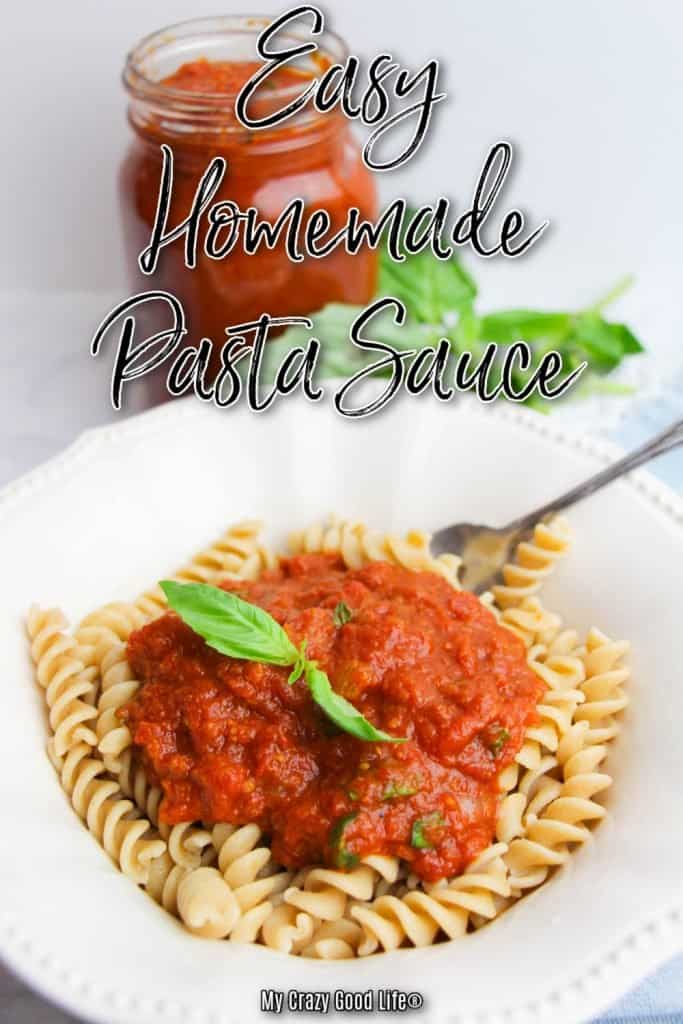 Where's the recipe?
Here at My Crazy Good Life, we write recipes so that anyone can make them. Whether this is the first time you've followed a recipe or you've been cooking for your entire life, you'll have no problem following this recipe.
To read all of the detailed instructions including recipe tips, ingredient and substitute information, or special counts for healthy eating plans, you'll want to read the article below. To skip right to the quick instructions, scroll down to the bottom of the article to the printable recipe for this Healthy Homemade Spaghetti Sauce.
Ingredients needed for this Healthy Spaghetti Sauce
Olive Oil If you don't have olive oil, any unprocessed oil will do.
Red Onion I prefer red for this recipe, but you can use any onion you have on hand
Fresh Garlic
Tomato Paste This helps to thicken the sauce
Canned Whole Tomatoes If you're not a fan of chunky tomato sauce, you can blend these. You could also use fresh tomatoes if you prefer.
Honey (optional) You can use any sweetener you prefer, or none at all
Fresh Basil Fresh will taste best, but if all you have is dry that's ok too!
Salt & Pepper to taste
How to make this Spaghetti Sauce
Heat the oil in a large saucepan over medium high heat.
Add diced onion to the hot pot, stirring frequently. Cook for 5 to 6 minutes, until the onion is translucent.
If you'd rather have smooth pasta sauce, blend the whole tomatoes in a blender now.
Add tomato paste and garlic. Continuously stir this, if this sticks to the pot it's a mess to clean up and will burn a little.
Add tomatoes, honey (if using), and salt and black pepper (optional), then bring to a boil (more of a low boil or a simmer). Stir for 3-5 minutes.
Add the chopped basil and stir the sauce. Allow this sauce to simmer for 10-15 minutes or longer if you'd like. The longer it simmers, the better it will taste.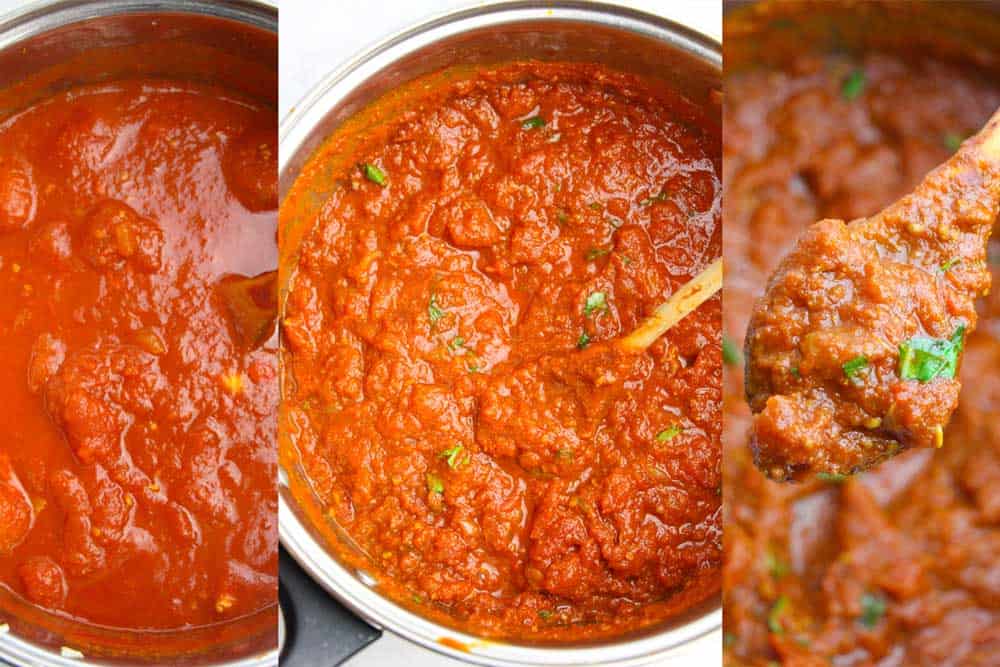 Recipe Tips
If you'd like to increase the amount of spicy heat in this recipe, add 1 teaspoon of red pepper flakes to the sauce.
This recipe is naturally gluten free, with no added sugar.
Looking for more herbs and spices? Add 1 tbsp of Italian seasoning.
If you'd like to add meat to this sauce, you can brown ground beef, ground turkey, or ground Italian sausage before making the recipe and then adding it to the sauce. Use the sauce with meat within 5 days if stored in the fridge.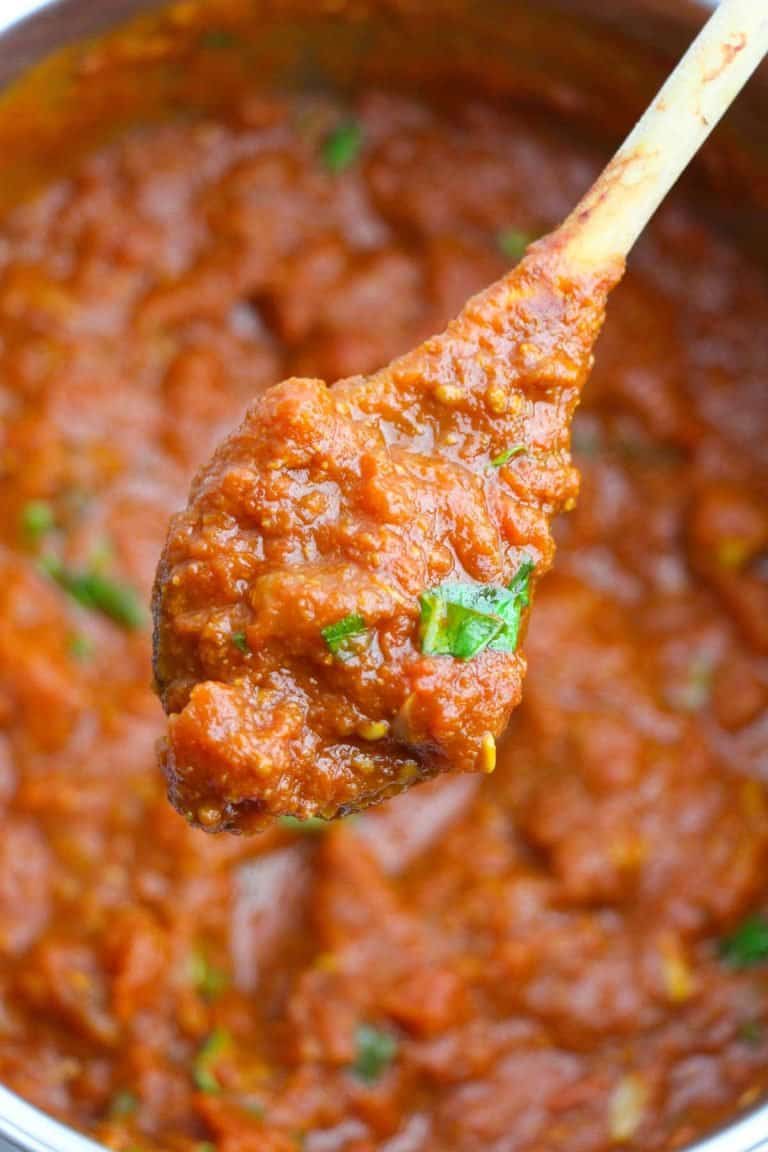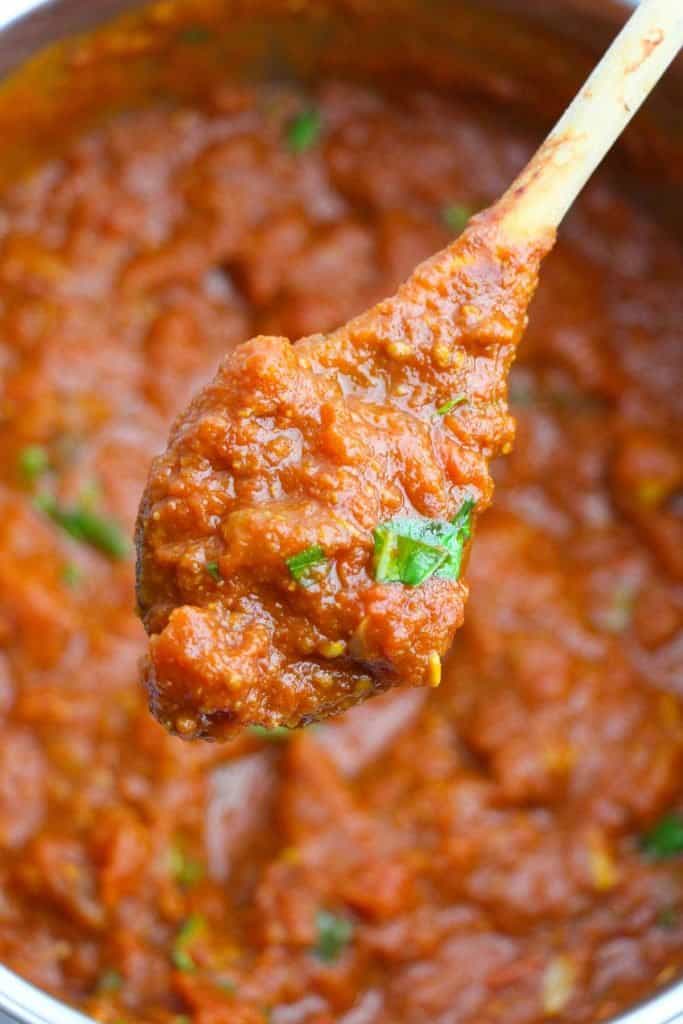 Healthy Eating Plans
This 21 Day Fix Spaghetti Sauce counts as 1 1/2 Green Container & 1 sweetener teaspoon for 1 cup. If this recipe looks familiar, it's because it's very similar to the Fixate Grandma's Tomato Sauce recipe. The Fixate Spaghetti Sauce recipe has inaccurate counts in the first version or two of the cookbook and I'm aware that my counts above are a little different than the Fixate version–I'm confident in my counts.
For Weight Watchers: 1 cup counts as 3 Points on the 2023 Plan | 6 Freestyle Smart Points | 6 Blue Points | 6 Green Points | 6 Purple Points
Enjoy this sauce recipe in these recipes: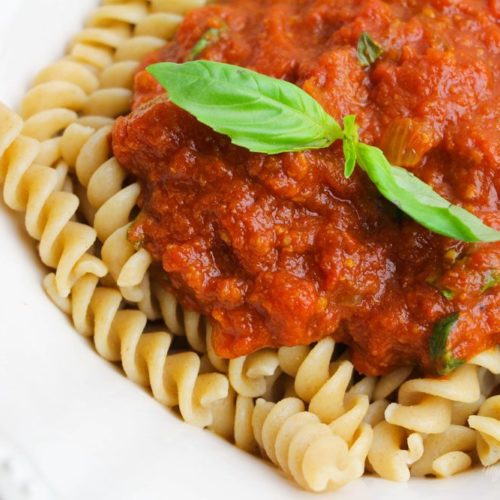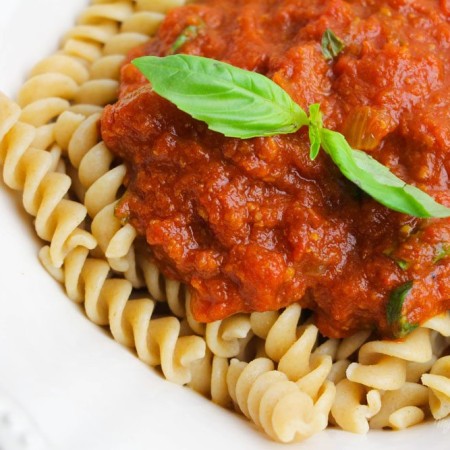 click the stars to rate!
Healthy Spaghetti Sauce Recipe
Approximate Serving Size: 1 cup
Servings 4 servings
This healthy spaghetti sauce recipe is delicious and light. It's a 21 Day Fix spaghetti sauce so you can make this for your favorite pasta recipes. 
Equipment
Stock Pot

Kitchen Knife

Cutting Board
Ingredients
2 tbsp olive oil
1 medium onion chopped
1 6 oz can tomato paste no salt added
4 cloves garlic finely chopped
2 28 oz cans whole tomatoes peeled
2 tbsp honey or agave
1/4 tsp black pepper
3 tbsp basil finely chopped
Instructions
Heat oil in a large saucepan over medium high heat. 2 tbsp olive oil

Add onion to the hot pot, stirring frequently. Cook 5 to 6 minutes until the onion is translucent. 1 medium onion

Add tomato paste and garlic. Stir often, if this sticks to the pot it makes a mess. Cook for 3-4 minutes. 1 6 oz can tomato paste, 4 cloves garlic

Feel free to blend or chop tomatoes to your liking before the next step. If you prefer chunky sauce, leave it as is right out of the can. 2 28 oz cans whole tomatoes

Add remaining ingredients (except basil) and bring to a rolling boil. After you boil, reduce the heat and let simmer while stirring for about 3 minutes. 2 tbsp honey, 1/4 tsp black pepper

Garnish with the basil and mix together. The longer you let this sauce simmer, the better the tastes blend together. Ideally, let the sauce simmer for 10-15 minutes. 3 tbsp basil
Nutrition
Calories: 118kcal | Carbohydrates: 12g | Protein: 1g | Fat: 8g | Saturated Fat: 1g | Sodium: 2mg | Potassium: 52mg | Fiber: 1g | Sugar: 8g | Vitamin A: 105IU | Vitamin C: 3mg | Calcium: 15mg | Iron: 1mg