This site contains affiliate links. Please see Policies for more information.
One of my favorite 21 Day Fix breakfasts is french toast! Delicious wheat bread, cinnamon and vanilla, peanut butter and bananas… some of my favorite things! Add an egg in there for protein and it's the perfect meal.

One thing I don't love about french toast on the 21 Day Fix is not using a whole egg. How do you know how much of an egg to count when you're making french toast?
I've figured it out. It took a bit, but I figured it out and honestly, I'll never make "regular" french toast again.
Here's my 21 Day Fix french toast. It uses one slice of wheat bread (yellow), one egg (1/2 red), 1 purple container's worth of banana, and 2 tsp of peanut butter. The amount of almond milk that I use, I don't even count. Truly, you could probably go without it in the recipe.
21 Day Fix French Toast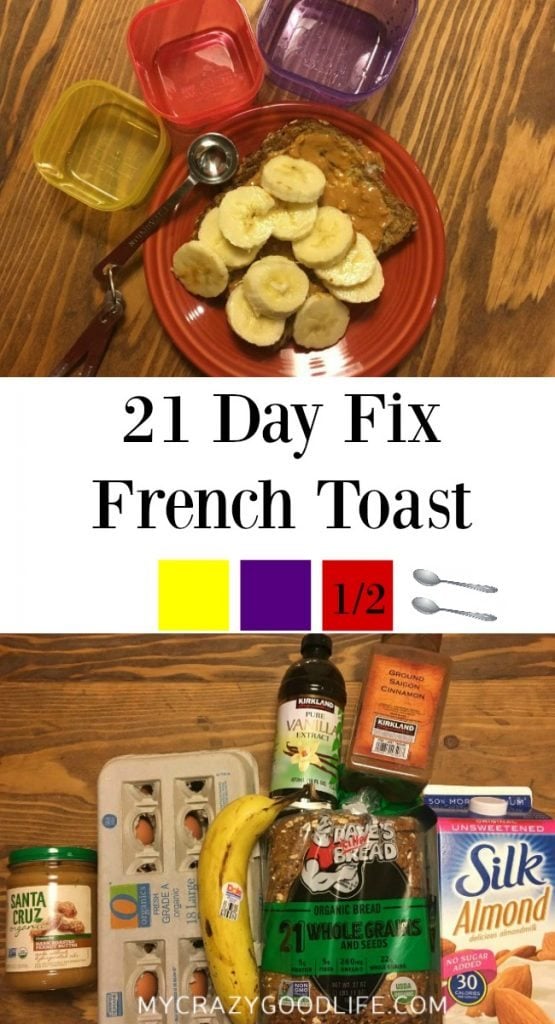 Ingredients
1 slice wheat bread (I LOVE Dave's Killer Bread–it has 5 grams of fiber and 5 grams of protein per slice!)
1 egg
1 tsp. almond milk
a few shakes of cinnamon
1/2 tsp vanilla
2 tsp peanut butter and 1 purple container full of bananas for topping
Directions:
Heat a pan and spray with coconut oil
Mix egg, vanilla, cinnamon, and almond milk into a bowl
Dip bread into mixture
Place bread onto heated pan and very slowly pour the remaining egg mixture onto the top of the bread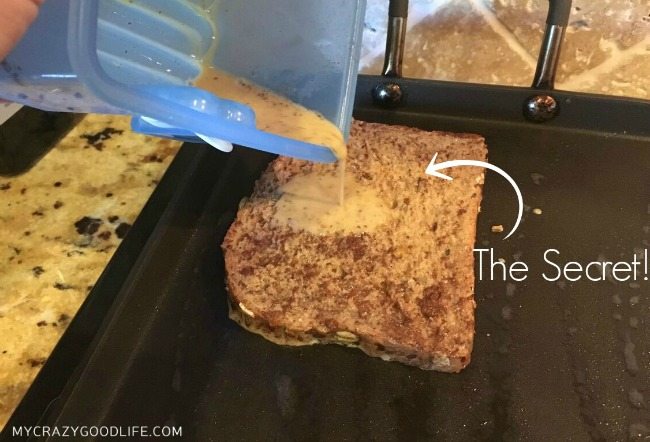 If the egg slides off the bread, allow it to cook a little and fold it back onto the bread
Flip the bread and make sure the egg is cooked thoroughly before removing from the heat
Top with peanut butter and bananas – enjoy!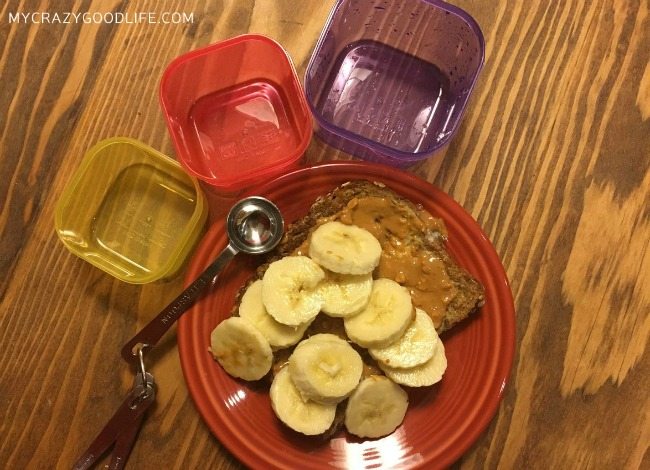 If 1/2 serving of protein isn't enough for you, cook another egg and put it on top of your french toast before adding the peanut butter and bananas!
For more 21 Day Fix breakfast recipes, click here!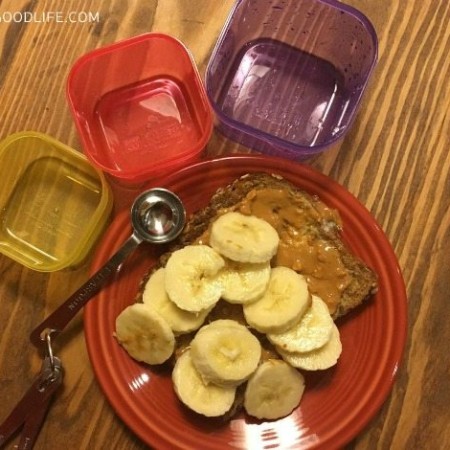 click the stars to rate!
21 Day Fix French Toast
Servings 1
This 21 Day Fix French toast uses one egg and is a delicious portion fix breakfast!
Ingredients
Ingredients
1 egg
1/2 teaspoon vanilla
1 teaspoon cinnamon
1 teaspoon almond milk
1 slice wheat bread I LOVE Dave's Killer Bread–it has 5 grams of fiber and 5 grams of protein per slice!
2 teaspoon peanut butter
1/2 banana 1 purple container for topping
Instructions
Directions:
Heat a pan and spray with coconut oil

Mix egg, vanilla, cinnamon, and almond milk into a bowl 1 egg, 1/2 teaspoon vanilla, 1 teaspoon cinnamon, 1 teaspoon almond milk

Dip bread into mixture 1 slice wheat bread

Place bread onto heated pan and very slowly pour the remaining egg mixture onto the top of the bread

If the egg slides off the bread, allow it to cook a little and fold it back onto the bread

Flip the bread and make sure the egg is cooked thoroughly before removing from the heat

Top with peanut butter and bananas – enjoy! 2 teaspoon peanut butter , 1/2 banana
Nutrition
Calories: 223kcal | Carbohydrates: 19g | Protein: 10g | Fat: 12g | Saturated Fat: 3g | Cholesterol: 163mg | Sodium: 147mg | Potassium: 375mg | Fiber: 3g | Sugar: 9g | Vitamin A: 240IU | Vitamin C: 5.1mg | Calcium: 45mg | Iron: 1.1mg