There are so many great posts on the site about recipes, printables, exercise programs, and other resources for the 21 Day Fix program. It occurs to me that what we don't have is a simple explanation of what the 21 Day Fix is and how it works! So today we're going to break it down; the 21 Day Fix is an awesome diet and lifestyle program. This program is not as complex as you might think. It's pretty easy to get started, the plan comes with everything you need to get going. You can order the 21 Day Fix program here. You will need the program itself to calculate some of the key elements of the plan. The resources here for recipe ideas, printables, and more will enhance your 21 Day Fix experience but they won't replace the plan itself.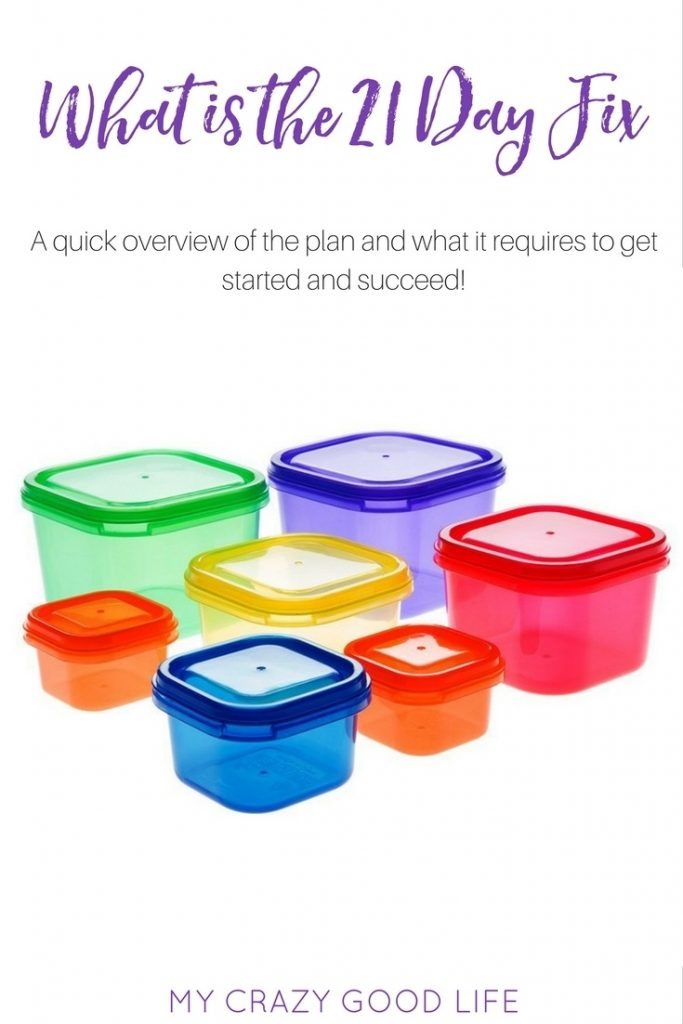 How the 21 Day Fix Plan Works
Basically the 21 Day Fix program works by assigning various food groups to a color coded container. Your height, activity level, weight, and long term goals will define how many of each colored container you will eat each day. By controlling food group types the 21 Day Fix helps you develop habits that are healthy and sustainable. There are a plethora of delicious recipes out there that are broken down by containers, types of recipes, and more. You can whip these types of recipes up quickly and automatically know which containers  you have to check off per serving.
What Do the Colors Mean?
Here is a breakdown of the colors of the containers, and what you put in them. Click each container for a roundup of recipes that are exclusive to that container!
The Blue container is for Healthy Fats
The Green container is for Veggies
The Yellow  container is for Caloric Carbs and Starches
The Purple container is for Fruits
The Red container is for Protein
The Orange container is for Seeds and Dressings
How to Use the 21 Day Fix Containers
You can always stock up on color coded containers but for all intents and purposes the colored containers can be used as measuring cups. Fill your containers and then place the ingredients in colored bags for easy travel and storage. This is especially good advice for meal prep. If you like to have things ready to grab and go you can use these bags to help. Planning and prepping for the whole week can help keep you on track with healthy snacks. Chances are good that healthy snacks will be easier to choose if they're handy, and you'll probably be so used to using the containers after a few weeks that you can eyeball the measurements better if you're in a pinch or out at a restaurant.
What Else do You Need for the 21 Day Fix?
Another key aspect of the 21 Day Fix plan is water! My favorite way to make sure I get my water each day is by taking along a 20 oz tumbler or Hydro Flask. I load it up with ice, fresh fruit, and water. If I can drink 5 or 6 of these tumblers in one day I know that I've knocked my water goal out of the ballpark! When I start to get bored with water, I switch to a new tumbler. I can't lie, I love travel mugs of all kinds. It's like a special treat to get a new one, dig out one of my favorites, etc. It inspires me to keep my water with me at times when I have a fun and flashy travel mug or tumbler to carry!
Save