This site contains affiliate links. Please see Policies for more information.
All of these 2B Mindset Chicken Recipes are healthy but they're also family approved! No more multi-meal cooking for yourself and the rest of the family.
If you've been following along lately you might know that I've decided to give the 2B Mindset a try between rounds of 21 Day Fix. So far it has been great! If you are needing some great protein options for the 2B Mindset this is the post for you.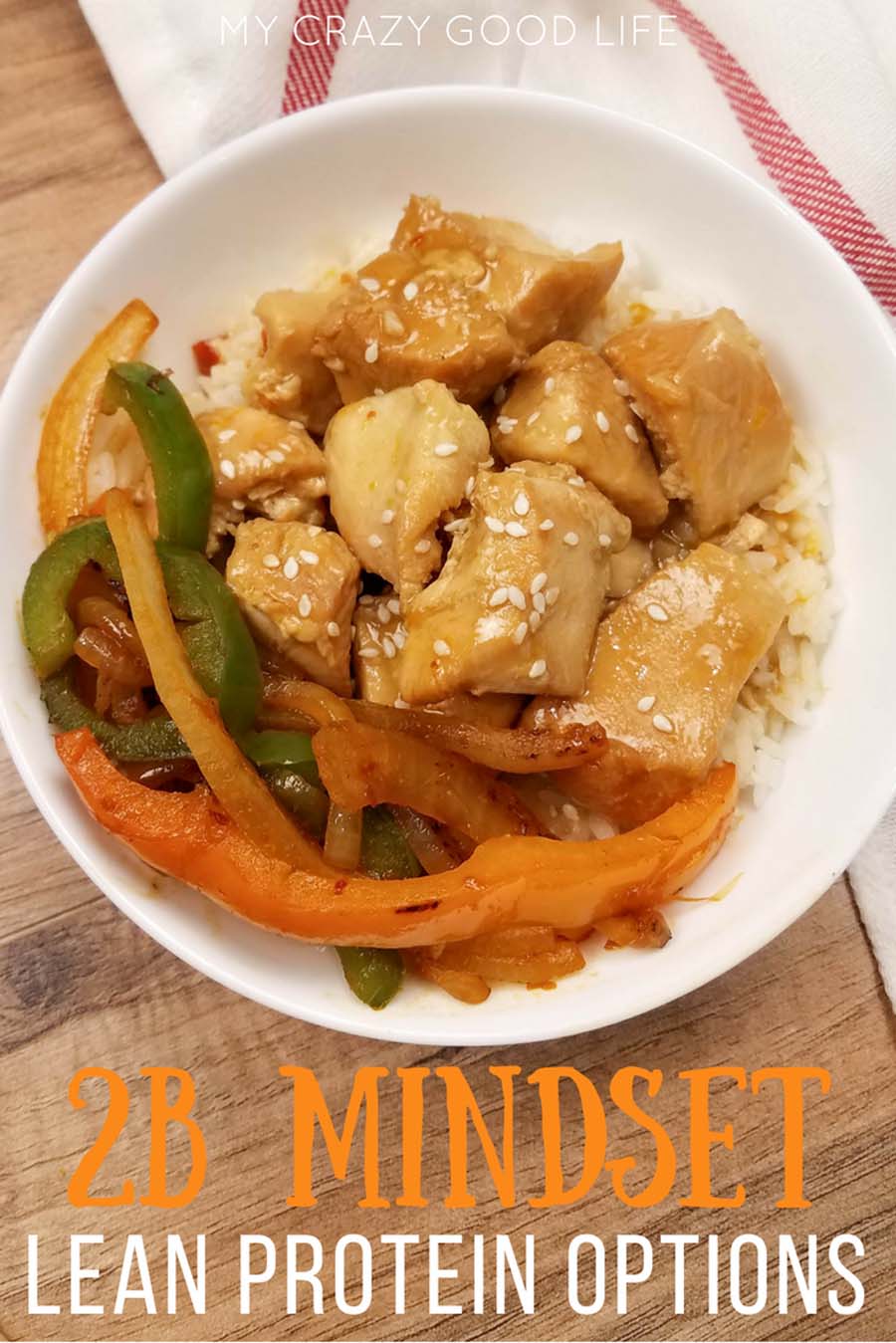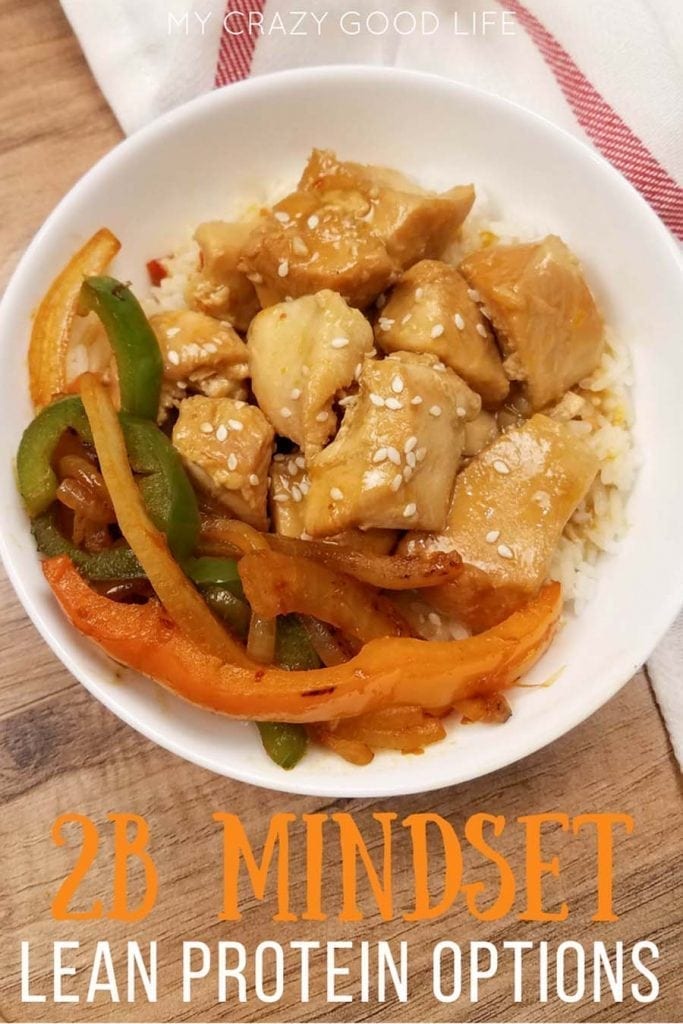 For those of you who aren't following the 2B Mindset nutrition plan or the 21 Day Fix, all you need to know is that these recipes are not only delicious…they're also healthy! A win, right?
What is the 2B Mindset Nutrition Plan?
2B Mindset is a program from Beachbody. It's a nutrition plan that helps to teach you portion sizes and healthy eating habits.
The way the program works is by dividing food into three categories (more or less): Vegetables, Fiber Filled Carbs, and Protein. These three groups are then used to fill your "plate" at each meal. Each meal has a different plate division. Sometimes you are eating 50% veggies and 50% protein and other times there are FFC's mixed in.
We have hundreds of 2B Mindset recipes here for you-at the end of the recipe under "Healthy Eating Plans" you'll see how the recipe fits into the 2 B Mindset program.
2B Mindset has a list of approved foods for each group and there are videos to guide you through making your daily choices. Another big component of the program is drinking water.
Before each meal you are supposed to try and drink at least 16 oz. of water. This not only helps keep you hydrated but it also works to keep you feeling full throughout the day and it helps prevent overeating. More times than not we're actually thirsty when we feel hungry!
More 2B Mindset Resources & Recipes:
Like any healthy lifestyle, 2B Mindset is a journey. You are going to need help at some point or another along the way. Check out some of these other posts for more information on the program itself and recipe roundups to fill out your meal plans.
How Do I Do 2B Mindset?
The program is largely based online. There are no meetings or check ins and you don't technically have to go workout or log on to follow along with workouts. If you'd like more information about the 2 B Mindset program, you can sign up for my in-depth 2B Mindset newsletter series.
Chicken is a multipurpose protein, so a lot of these 2B Mindset chicken recipes will be useful for your meals throughout the day and throughout the week. If you are like me and prefer to meal plan at least a little bit for the week, these are versatile recipes that you'll want to have on hand!
2B Mindset Chicken Recipes
Chicken falls into the protein category so it's going to be pretty integral to your journey on the 2B nutrition plan. Chicken is a great lean protein that we eat pretty regularly both as a family and on our healthy lifestyle plans.
Remember, the portions are different for your different meals throughout the day. You may have to adjust the portions or add in some fiber-filled carbs or veggies depending on the meal. Don't be afraid to step outside your comfort zone and try some new and tasty recipes, with a little bit of adjustment you can make any of these work for your different meals throughout the day.
These recipes are all 21 Day Fix friendly as well so if you aren't on 2B Mindset you can still use these tasty recipes in your meal plan this week.
Crockpot Chicken For Meal Prep This is a great staple to start your meals with.
Rotisserie Chicken Soup With Salsa This soup is a family favorite! Leave the tortilla strips out for dinner, and make add in another small FFC for lunch.
Healthy Buffalo Chicken Dip Man, I love this recipe. It's full of protein and a great happy hour dip!
Cauliflower Spanish Rice with Chicken I love using my Instant Pot for this meal–I don't love it for meal prep for more than a few days because of the cauliflower, but I'll use it for a day or two.
Instant Pot Orange Chicken Another favorite! This is perfect for lunch!
Chicken Burrito Bowls Soooo easy, a great lunch and easy to add all of your veggies as toppings.
Pasta with Broccoli and Chicken Sausage Leave the pasta out for dinner, or use this as your lunch for the week.
Crack Chicken This is another dip that easily doubles as a meal.
The great thing about 2B Mindset chicken recipes is that you can use them in so many different ways. You can pair them with your favorite veggies for dinner or add some carbs for breakfast…even eating leftovers for breakfast is possible on 2B Mindset.
Cilantro Lime Chicken Tacos Taco Tuesday, anyone?
Instant Pot Bruschetta Chicken Carrie does some amazing things with tomatoes in her recipes–I notice a trend with them ;)
Buffalo Chicken Craving wings? This is definitely a healthier choice.
Arugula Salad with Chicken and Black Beans Another great lunch option, because of the black beans.
Chicken Salad Another great lunch or dinner option for 2B.
If you are making any of the great whole chicken recipes make sure you save the broth and make your own bone broth! It's so easy in the Crockpot or the Instant Pot. Makes a delicious stock for other recipes or soups and the health benefits are awesome too!