This site contains affiliate links. Please see Policies for more information.
This healthy chicken salad recipe is a great choice for lunches, dinner on the go, and snacking in-between meals. Using premade chicken (there are links in this post telling you how to make chicken in your crockpot, pressure cooker, grill, and oven) and a few other ingredients, you can make this easy recipe in just a few minutes.
This healthy twist on classic chicken salad, this recipe adds in some unflavored Greek yogurt (or regular yogurt, if you'd like) for some extra protein.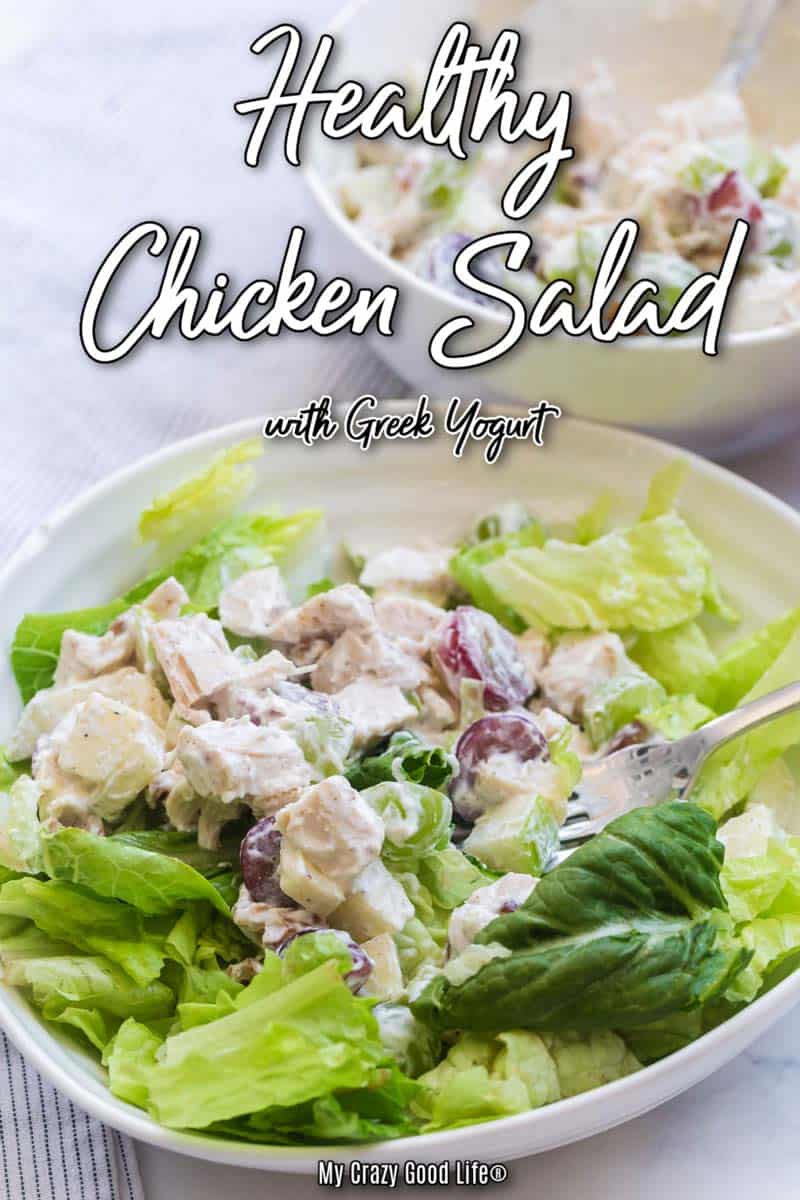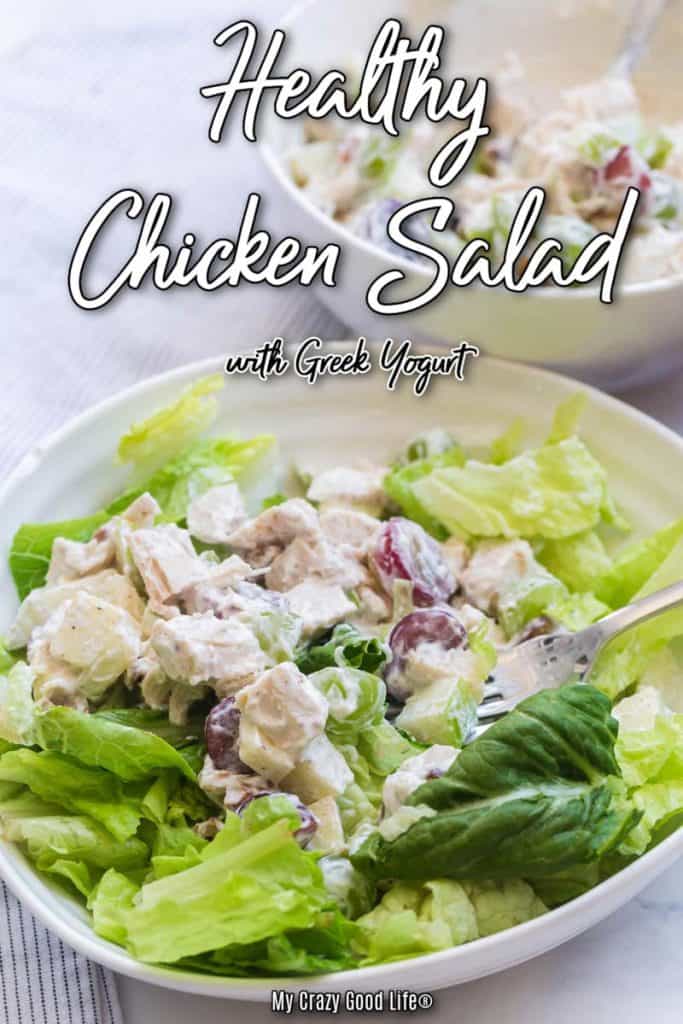 Where's the recipe?
Recipes on My Crazy Good Life are written so that anyone can make them–whether this is your 1st or 500th time in the kitchen. The post below will give you every detail that you need, along with recipe tips, ingredients information, and healthy eating plan counts.
If you're not looking for all of the details, scroll down to quickly view the Healthy Chicken Salad recipe at the bottom of the post in the printable recipe area.
Ingredients in this Crockpot Chicken Salad:
List of ingredient amounts is in the printable recipe. This section will explain what ingredients are needed.
Cooked and chopped chicken breast You could buy a whole rotisserie chicken, or make your own. Choose your favorite method here:
Green and Red Seedless Grapes, halved
Apple, cored and diced
Greek yogurt or Regular yogurt, unflavored I always recommend lowfat or full fat, not fat free.
Vanilla (optional)
Mayonnaise You can easily omit this and use all yogurt if you'd like
Black Pepper
Pecans (optional)
Salt and Pepper to taste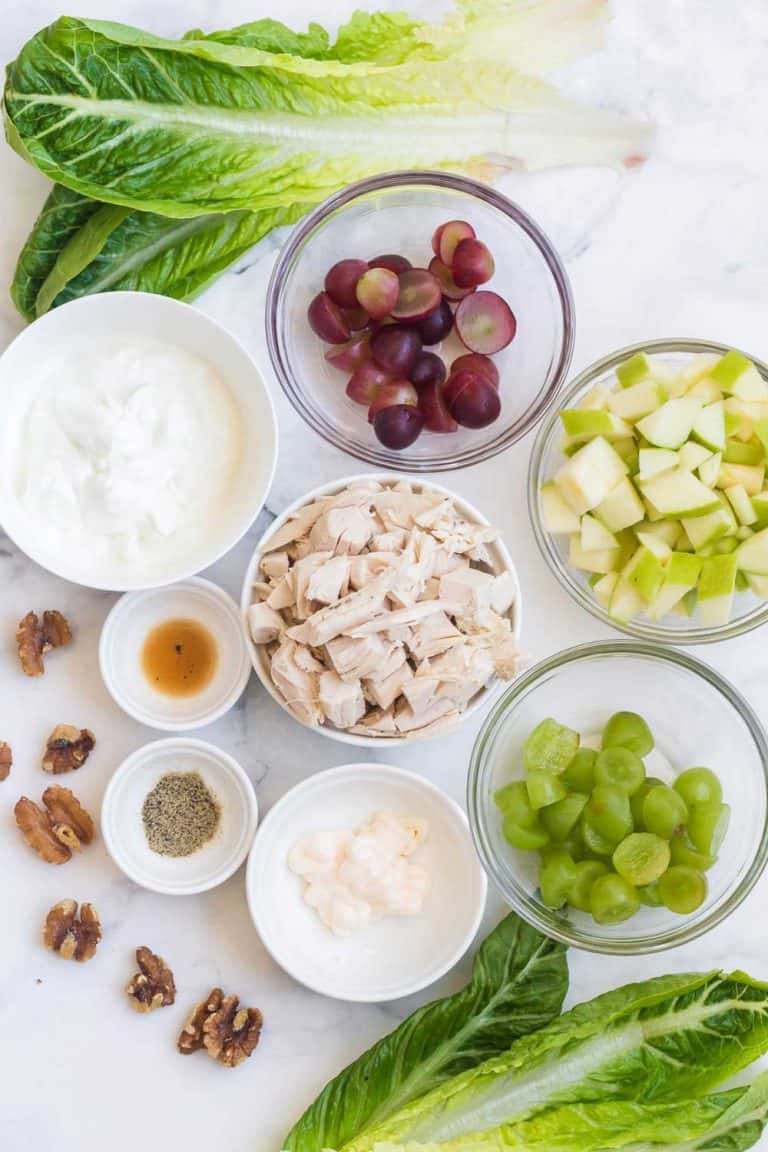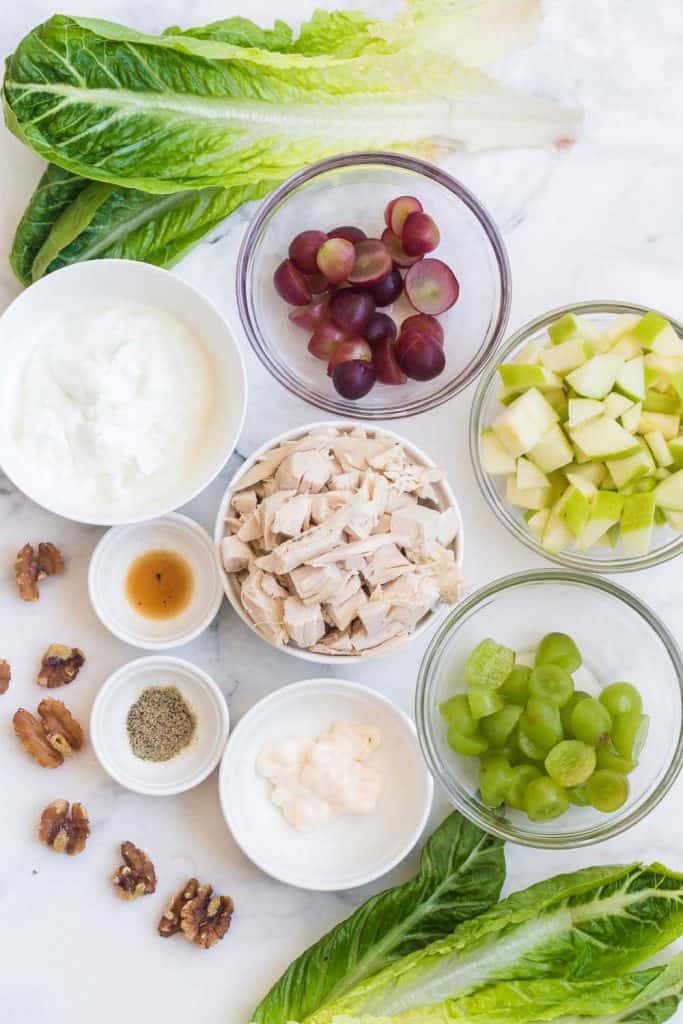 How to Make Healthy Chicken Salad with Greek Yogurt:
Prepare your ingredients by removing the chicken from the bones, chopping the chicken, cutting the grapes in half, dicing the apple, and chopping the nuts.
Blend together the Greek yogurt, mayonnaise, and pepper. You can do this with a fork, a spoon, or a small blender or food processor.
Stir in the chopped chicken, halved grapes, diced apple, and chopped nuts.
Your chicken salad is done! You can eat is as is, spoon onto a large leaf of lettuce to eat as a lettuce wrap, make a chicken salad sandwich, or topped on a bed of lettuce to eat as a salad.
It's important to note that you can use store bought rotisserie chicken or make your own whole chicken or use chicken breasts. The crockpot is definitely the easiest way to make a whole chicken, but if you don't have 3-4 hours to wait, any of the other methods work!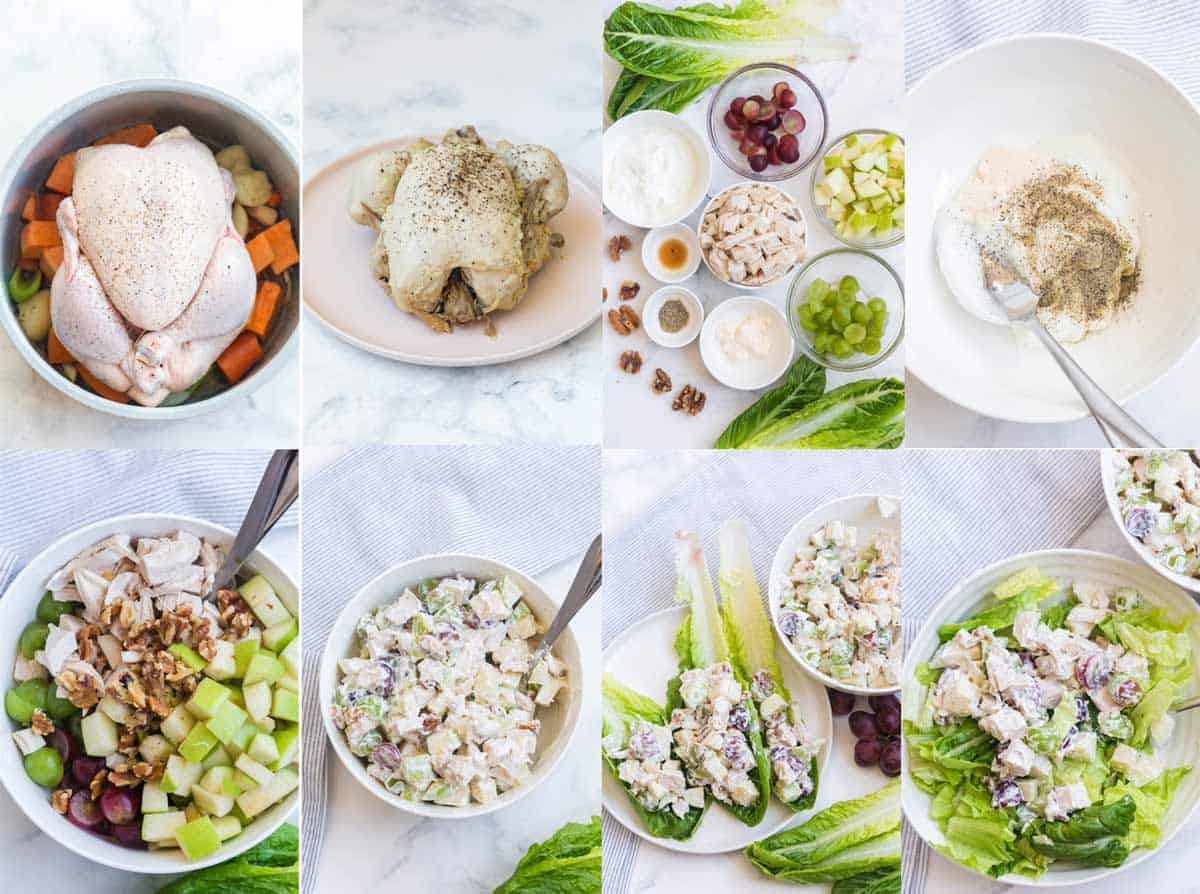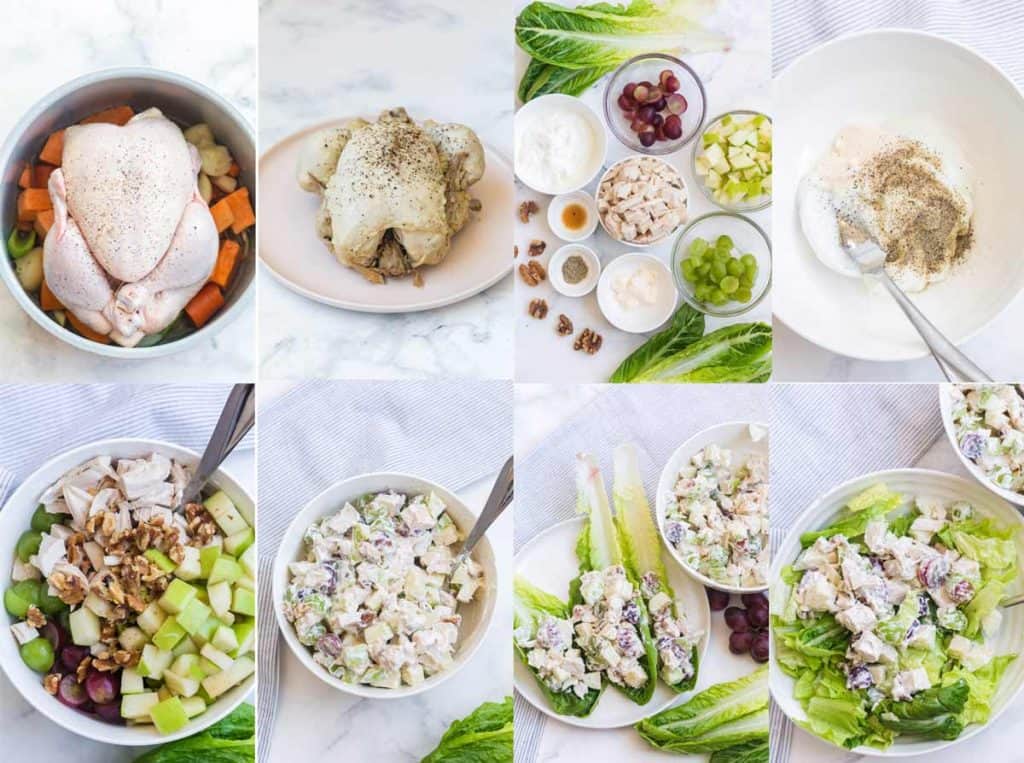 Recipe Tips
If possible, use cooled/cold chicken and not chicken that has recently been cooked. Using warm chicken will result in your yogurt and mayo warming and I'd advise refrigerating it for a bit before eating.
In addition to apples and grapes, celery and other crunchy vegetables are a delicious addition to this recipe! You can add them in the same measurements as whatever you're replacing. This recipe is very easy to modify, which is one of the reasons we love this recipe!
Looking for more protein? Go ahead and remove mayo from the recipe and use all yogurt.
There is no cooking time set for this recipe because it assumes you're using precooked chicken. If using a slow cooker, this chicken salad is an easy recipe to make after your chicken is cooked.
I love meal prepping this recipe–it lasts in the fridge for about 5 days. I wouldn't recommend freezing it because the fruit would be soggy after thawing.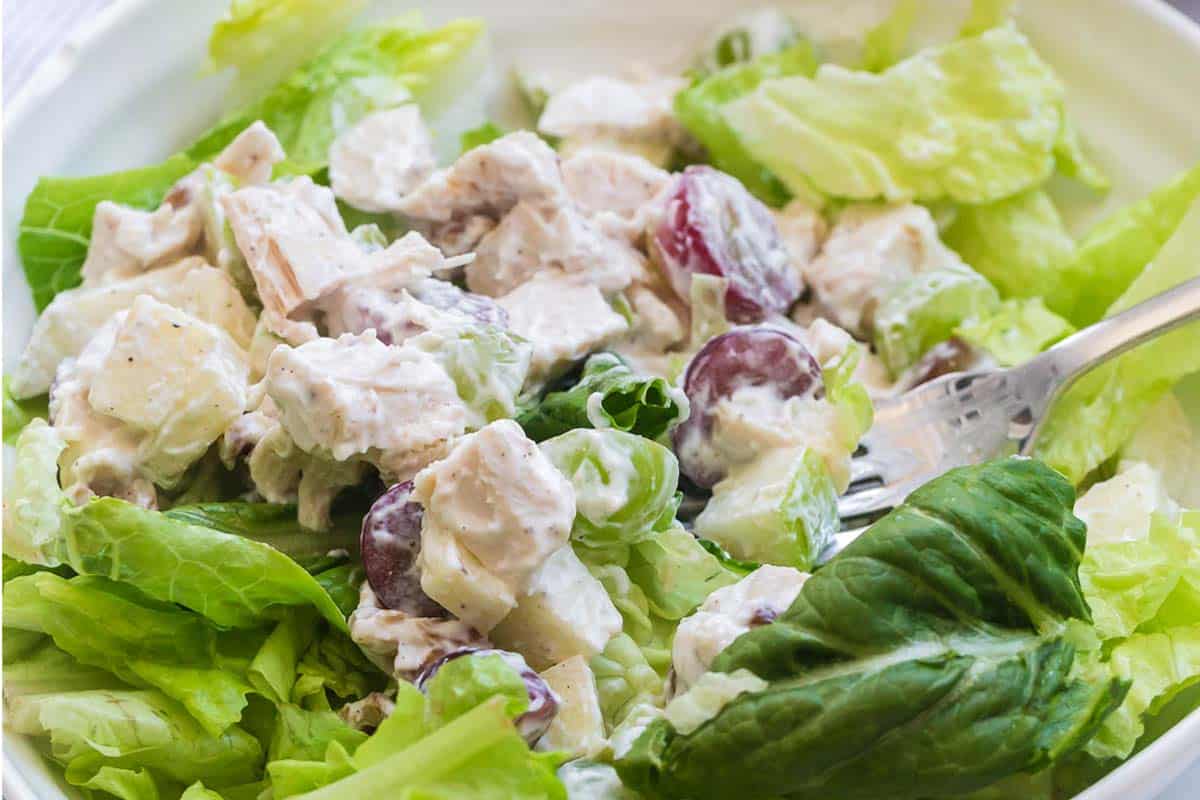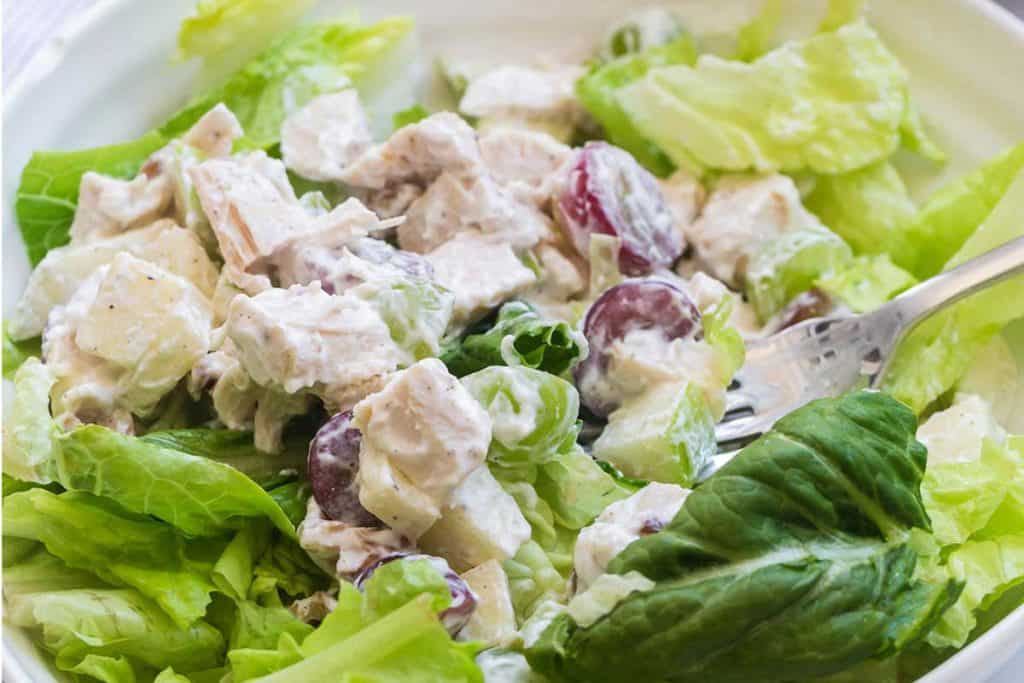 Healthy Eating Plans
If you are looking for a healthy chicken salad recipe this is it! The information below is to help you fit this recipe into your healthy eating plan. If you're on a WW plan, you'll want this recipe instead, as the ingredients are a little different.
Portion Fix / 21 Day Fix Chicken Salad:
Entire Recipe: 2 1/2 Red containers, 2 Purple containers, 3 oil teaspoons, 2 Green containers, 1 Blue container (I give you the counts for the entire recipe so it's easier for you to recalculate the containers if you need to)
Per Serving (Makes 2 Servings): 1 1/4 Red container, 1 Purple container, 1.5 teaspoons, 1 Green container, 1/2 Blue container
2B Mindset Chicken Salad:
This recipe is a great lunch paired with veggies to fill your plate. You could also add veggies instead of the fruit or in place of some of the fruit in the recipe. Good veggies for this recipe would be celery, cucumbers, or thinly sliced carrots or jicama.
More easy recipes using cooked chicken:
All of these recipes can be made using precooked chicken, which means you're spending less time in the kitchen! Go ahead and skip the directions about cooking the chicken and enjoy saving that time.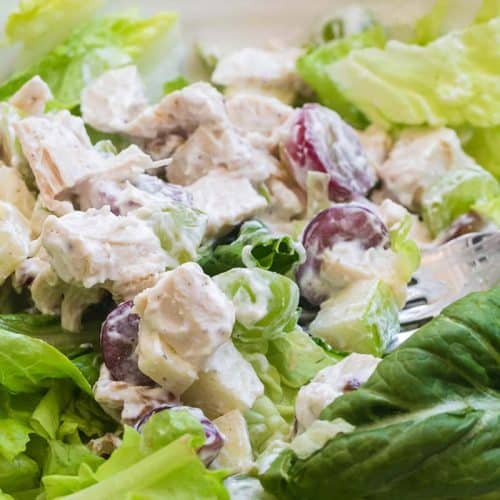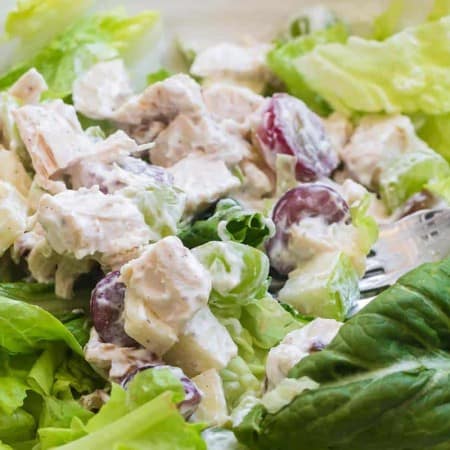 click the stars to rate!
Healthy Chicken Salad with Yogurt
Approximate Serving Size: about 1 cup
Servings 2 Servings
This healthy Chicken Salad is made with crockpot chicken and uses Greek yogurt and green grapes for flavor. A high protein recipe that's perfect for snacking.
Ingredients
½ cup yogurt plain
1 tbsp mayonnaise
¼ tsp black pepper
1 ½ cup chicken cooked and chopped
½ cup seedless red grapes halved and chilled
½ cup seedless green grapes halved and chilled
1 apple cored and diced
⅛ tsp vanilla optional
10 pecans or 8 walnuts, chopped
Instructions
Stir together yogurt, mayonnaise and pepper. This makes your creamy base for the salad. ½ cup yogurt, 1 tbsp mayonnaise, ¼ tsp black pepper

Stir in chopped chicken, halved grapes, diced apple, and chopped nuts. 1 ½ cup chicken, ½ cup seedless red grapes, ½ cup seedless green grapes, 1 apple, ⅛ tsp vanilla, 10 pecans

Your chicken salad is finished! Eat as is, spoon onto a large leaf of lettuce for a lettuce wrap, serve as a chicken salad sandwich, or use as a topping for a salad.
Notes
For the 21 Day Fix, the entire recipe counts as: 2 1/2 Red Containers, 2 Purple Containers, 3 teaspoons, 2 Green Containers, and 1 Blue Container. Each serving (half of the recipe) counts as : 1 1/4 Red Container, 1 Purple Container, 1.5 teaspoons, 1 Green Container, and 1/2 Blue Container.
Nutrition
Calories: 364kcal | Carbohydrates: 32g | Protein: 29g | Fat: 14g | Saturated Fat: 3g | Polyunsaturated Fat: 5g | Monounsaturated Fat: 5g | Trans Fat: 1g | Cholesterol: 79mg | Sodium: 220mg | Potassium: 835mg | Fiber: 4g | Sugar: 26g | Vitamin A: 174IU | Vitamin C: 9mg | Calcium: 137mg | Iron: 1mg