This Crockpot Chicken for meal prep is one of the staples in my weekly meal plans. Whether you're prepping for the Fix, Weight Watchers, or another weight loss plan this is an easy meal prep recipe.
Why should I make a meal prep chicken in the slow cooker?
Crock pot chicken is a great meal prep choice because you can use it in a variety of recipes, and it's so easy to cook one in the Crockpot! Check out the list below for ideas on how to use this quick and easy chicken meal prep. This is a wonderful slow cooker recipe that leaves you with plenty of healthy protein that you can use in some quick and easy 30 minute meals.
How to make Crockpot chicken for meal prep:
You won't believe how easy it is to make this tasty Crockpot chicken for meal prep. It's as easy as throwing everything in and walking away, seriously! You won't find an easier slow cooker meal for weeknight dinners.
1.Place all of your chopped vegetables on the bottom of the slow cooker, they'll make a nice little bed for your chicken to rest on.
2. Add broth, but remember you don't need to add much if you aren't making chicken stock to use for vegetable soup with the cooked veggies. But, adding broth makes for a great (and easy) homemade chicken broth, and then you can make bone broth!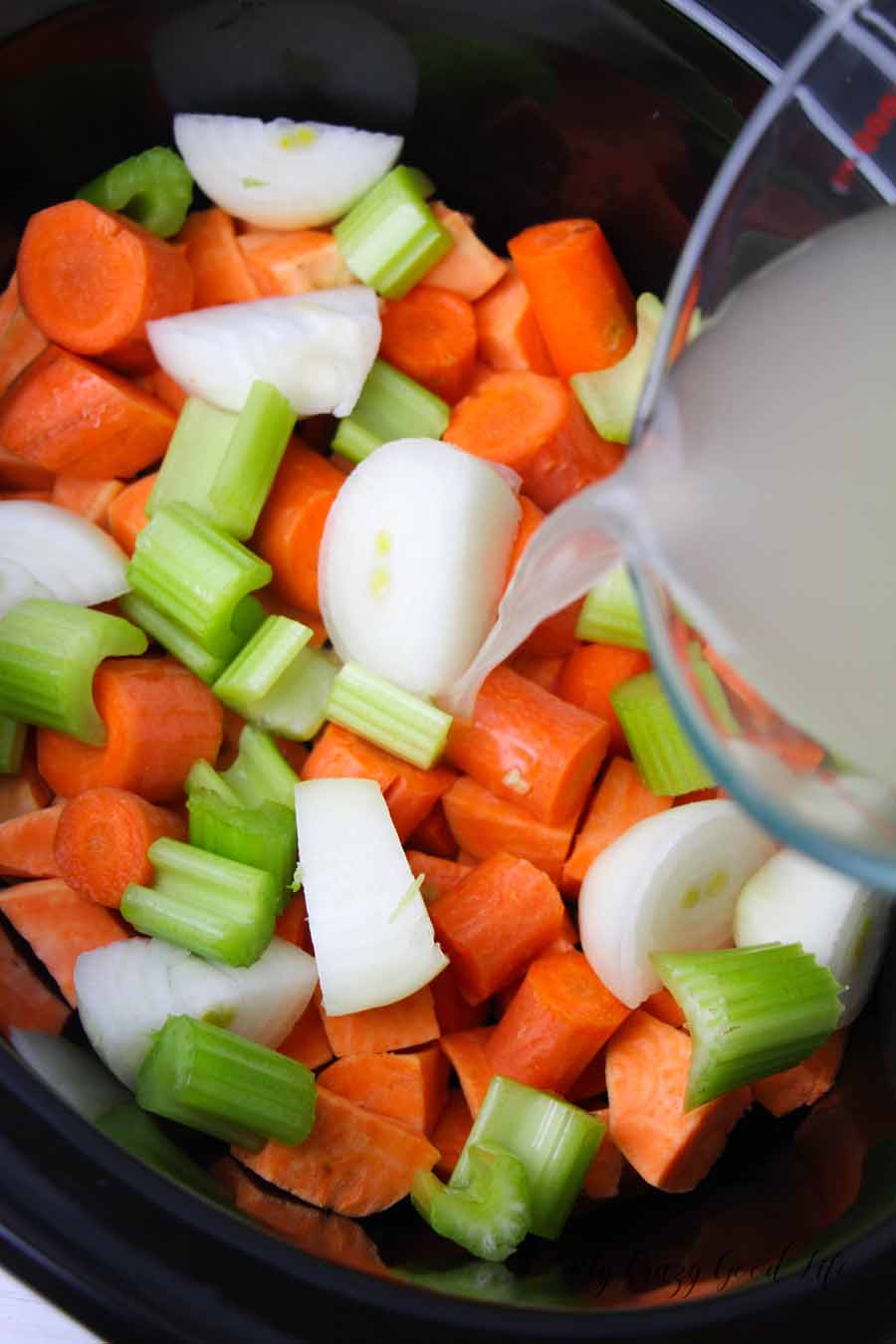 3. Place the whole chicken on top of the vegetables and chicken stock that you have already put in the Crock pot.
4. Spread oil or butter all over the chicken, then add salt and pepper on top to season the meat and eventually the broth as well.
5. Place the lid on your Crockpot and start to cooking! Cook for 4-6 hours on low. You can try doing it for 3-4 hours on high if you don't have as much time but definitely check the temperature and adjust the cooking time if necessary. I'd recommend using the lower cooking temperature for the longer time if at all possible. It will make for a more tender and juicy chicken as well as making the chicken easier to shred!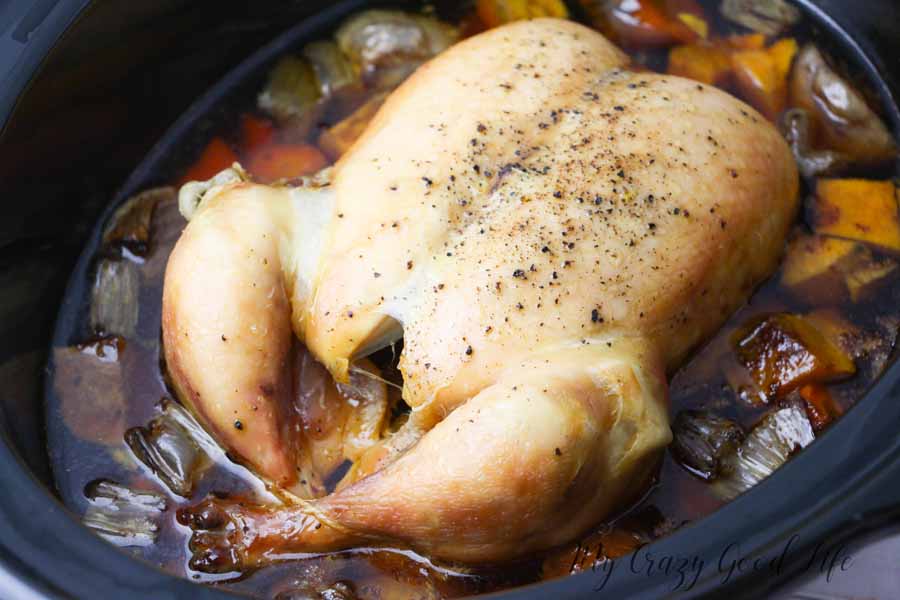 How do I substitute my cooked Crockpot chicken in recipes?
You can substitute this cooked chicken in almost any recipe that calls for chicken…cooked, raw, or otherwise. It's just a matter of changing the cooking times. If you are cooking raw chicken in a Crockpot, Instant Pot, in the oven, or on the stove you know it takes much more time!
I use my best guess when substituting cooked chicken. The great thing is that it's already cooked so you don't need to worry about raw chicken or bacteria being a concern.
If you are substituting this chicken into a recipe that calls for root vegetables you'll need to make sure those have enough time to cook. In the Instant Pot that is usually 4-5 minutes if they're cubed or chopped.
In the case of recipes that have noodles or rice, follow the cooking times for those ingredients as your main focus. Again, we don't have to worry about undercooking the chicken so you can basically take it out of the cooking equation altogether and just focus on the other ingredients like the vegetables, pasta, or rice.
My favorite Crockpot chicken recipes for meal prepping:
Making Crockpot chicken is a great way to get ahead for a variety of meals for the week! These are some of my favorite chicken recipes that utilize this delicious chicken. Remember, using cooked chicken will save you some time in cooking and preparation in a lot of these recipes.
Once you have finished cooking your slow cooker shredded chicken you can use it to make some amazing recipes–it's super easy to use this chicken in all kinds of recipes! I use chicken in a lot of my recipes so having some prepped and ready to go is a real time saver.
You can even substitute this shredded Crockpot chicken for meal prep where recipes call for boneless skinless chicken thighs! Using this chicken, which is already cooked, means you can cut way back on cooking times! In many cases it'll be a matter of just getting everything heated up or cooking veggies until they're tender.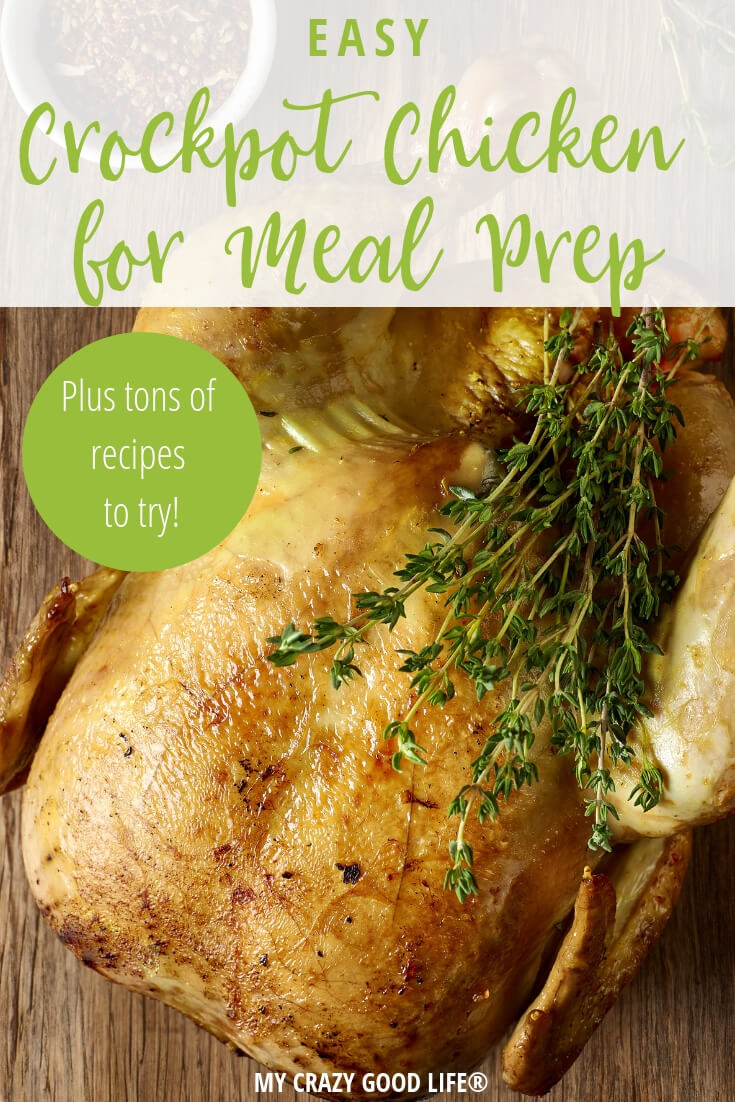 Can I freeze this meal prep Crockpot chicken?
Absolutely. Once you are done cooking the chicken in the slow cooker you can pull it off the bone and shred it a bit and then it can be frozen.
Using cooked frozen chicken for recipes is a great way to cut back on meal prep times. It's also a tasty gluten free, low carb, option for stocking the freezer! You can pull packages of this cooked chicken out of the freezer and thaw in the refrigerator or you can speed the process up by submerging
Crockpot Chicken Meal Prep
I use my Crockpot and my Instant Pot to do all of my meal prep. Once a week, I take some time and prep a variety of foods and meals so that my dinners, lunches, and snacks for the week can be ready to go!
Prepping chicken in the slow cooker is one of the easiest ways to make sure I have healthy protein on hand for dinners. This is a great shredded chicken recipe which also makes the perfect topping for salads.
Chicken Meal Prep 21 Day Fix Info:
Crockpot chicken is a great recipe for both Weight Watchers and the 21 Day Fix. It's a quick and healthy recipe that you can use for just about any healthy lifestyle program or meal plan. Having a low fat protein prepped and ready makes my life so much easier.
Life gets hectic and that usually ends up being an easy excuse to stray from the parameters of our diet plans, right? Avoid those slip ups with an easy protein meal prep like this Crockpot chicken.
What are the 21 Day Fix Container Counts? 
Each 3/4 Cup is equal to 1 Red container. You can equally use this measurement to create your own recipes for 21 Day Fix and the Ultimate Portion Fix. This healthy shredded chicken makes an excellent base for lots of different recipes.
Can I have this meal prep Crockpot chicken on Weight Watchers?
The recipes calls for chicken stock. I use fat free chicken stock which is zero points. Calculate for yourself using your brand to be sure you are getting accurate points.
The best way to calculate the points per serving is to shred the chicken and debone. Once that is done you can divide up the servings. Based on roughly 10 servings you can calculate 8 Blue Plan Points | 9 Green Plan Points | 5 Purple Plan Points (chicken only).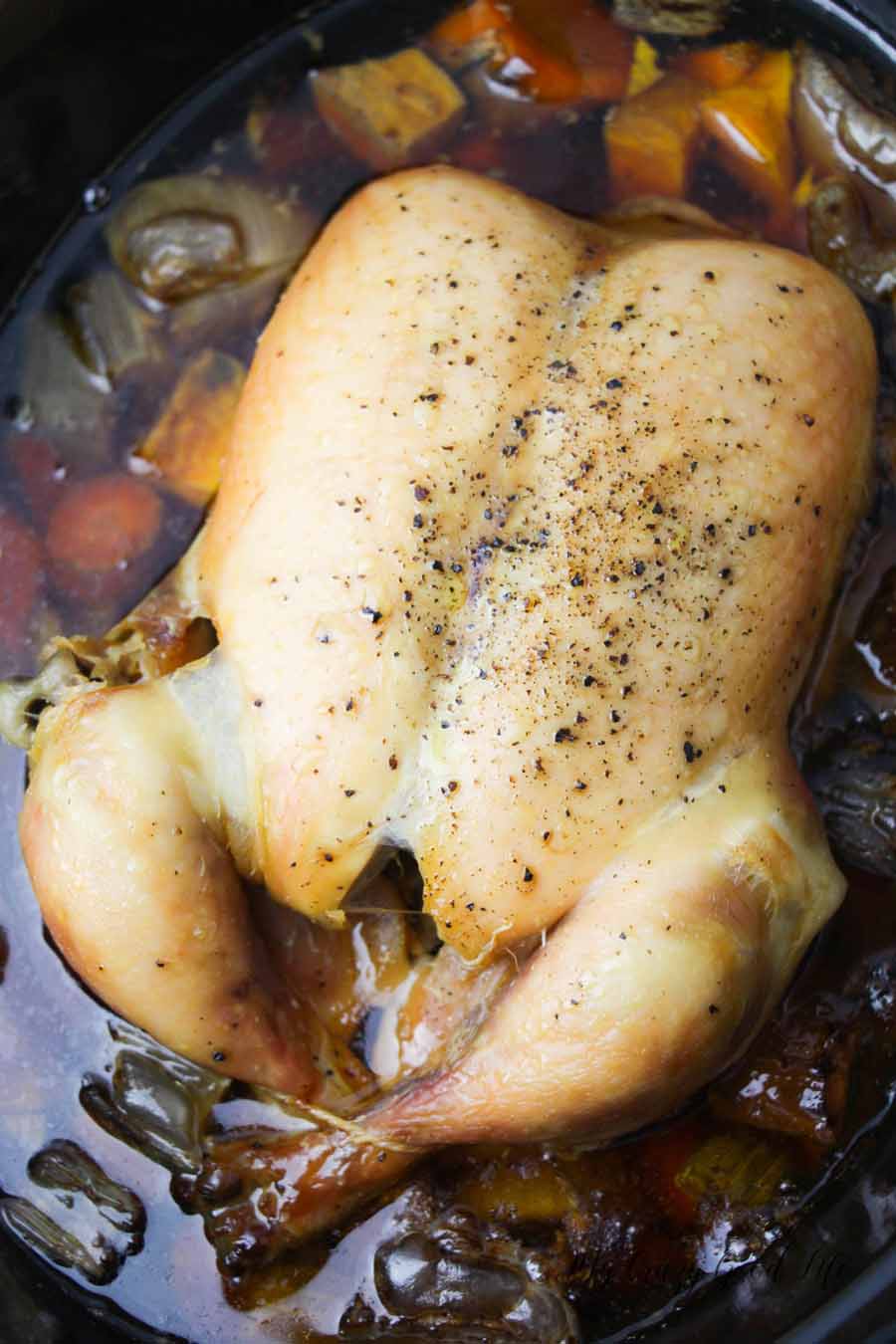 Why is this Crockpot chicken for meal prep better than a rotisserie chicken?
I am always more inclined to enjoy a recipe that I make at home more than something I pick up in a corporate setting…there's just something about knowing what is in my food that makes it much more enjoyable.
There are some acceptable options out there for rotisserie chickens and they're better than any fried option, sure, but many rotisserie chickens have artificial sweeteners, gluten, and preservatives added to them. Another reason to consider making this Crockpot chicken versus picking up a rotisserie style chicken from the grocery store is the bone broth. If you have ever considered making bone broth you can accomplish both tasks at once with no additional work.
Can I use the leftovers for bone broth?
Once you have picked your chicken off the bones you'll have a great stock that is just begging to be turned into bone broth! I have a Crockpot bone broth recipe that you won't want to miss out on.
If you aren't eating the veggies that are included while cooking this meal prep Crockpot chicken, that is totally fine! You can leave them in the Crockpot and then just follow the directions for my easy bone broth and you'll be on your way to some amazing stock for future use.
Printable Meal Prep Crockpot Chicken Recipe:
Crockpot Chicken for Meal Prep
My love for meal prep runs deep. This Crockpot chicken for meal prep is one of the staples in my weekly meal plans. It is perfect for all of my favorite recipes!

Approximate Serving Size:
3/4 cup chicken
Ingredients
1

whole

chicken

salt & pepper

to taste

2

tbsp

olive oil

or butter

1

cup

chicken broth

(Use less if you don't want any stock, 1/4 Cup will do)

2

sweet potatoes

chopped

2

onions

yellow, chopped

3

carrots

chopped

2

stalks

celery

chopped
Instructions
Place all chopped vegetables on the bottom of the Crockpot.

Add broth, remember you don't need to add much if you're not making chicken stock to use for vegetable soup with the cooked veggies.

Place chicken overtop of the vegetables and chicken stock.

Spread oil or butter all over the chicken, then add salt and pepper on top to season.

Place lid on the Crockpot and cook for 4-6 hours on low.
Notes
21 Day Fix: 3/4 Cup is 1 Red  Based on roughly 10 servings you can calculate 8 Blue Plan Points | 9 Green Plan Points | 5 Purple Plan Points (chicken only)
Nutrition
Calories:
277
kcal
|
Carbohydrates:
4
g
|
Protein:
1
g
|
Fat:
28
g
|
Saturated Fat:
4
g
|
Cholesterol:
0
mg
|
Sodium:
928
mg
|
Potassium:
396
mg
|
Fiber:
1
g
|
Sugar:
1
g
|
Vitamin A:
1145
IU
|
Vitamin C:
19
mg
|
Calcium:
46
mg
|
Iron:
0.5
mg