This site contains affiliate links. Please see Policies for more information.
I don't know about you, but we are always looking for fun and easy school lunch ideas. Jack would be happy eating a peanut butter and jelly sandwich every day, but I like to surprise him with fun and different snacks.
With 20 school days in a month, this list will get you through five weeks of school unless your little (or big!) one doesn't like a few things on the list. Minimum, it's a month's worth of ideas!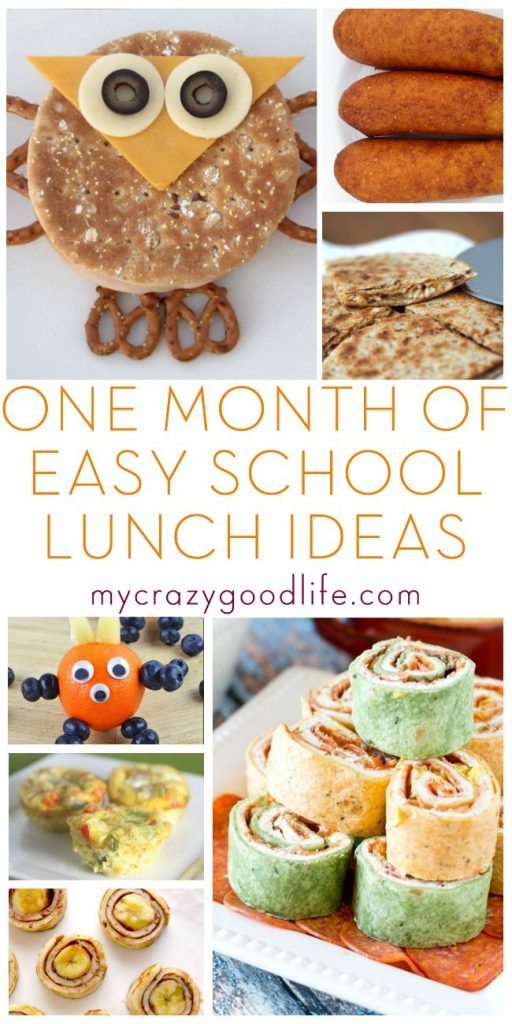 Pizza Kabobs | Mom to Mom Nutrition
Gluten Free Chicken Sausage Corndogs | Totally the Bomb
Taco Bundles | The Gracious Wife
Pigs in a Blanket | Glue Sticks and Gumdrops
Slow Cooker Enchilada Chicken with Tortilla Chips | Crazy Adventures in Parenting
Fruit Monsters | Simplistically Living
Pepperoni Rolls | DIY Budget Girl
Easy Owl Sandwich | Kids Activities Blog
Rice Krispie Chicken Tenders | The Lean Green Bean
Nutella Fluffernutter | Around My Family Table
Ham & Vegetable Frittata Muffins | The Classy Chapter
Classic Egg Salad | The Gracious Wife
BBQ Chicken Flatbread Pizzas | Mom to Mom Nutrition
Chicken Quesadilla | Stuffed Suitcase
Homemade Chicken Nuggets | Amanda's Cookin'
Pizza Quesadillas | Amuse Your Bouche
Mozzarella Sticks | Glue Sticks and Gumdrops
Cheesy Ranch Potato Bites | Tastes of Lizzy T's
Cucumber Sandwiches | The Gracious Wife
Pizza Grilled Cheese | Mom to Mom Nutrition
Pancake Rollups | Kids Activities Blog
Italian Pepperoni Rollups | Tastes of Lizzy T's