This site contains affiliate links. Please see Policies for more information.
If you're trying to lose weight, you probably know all about cravings–right? They hit hard and are so difficult to control. This Key Lime Pie Wonder Whip is the perfect healthy dessert and it's here to save the day–maybe even the week! It's a healthy no bake dessert that takes just minutes to make, and can also be used as a pie filling!
Wonder Whips are a healthy and easy dessert idea for those days when your cravings get a little out of control. Those days when I feel like I'm eating everything in the kitchen? Those are the ones where I make a Wonder Whip.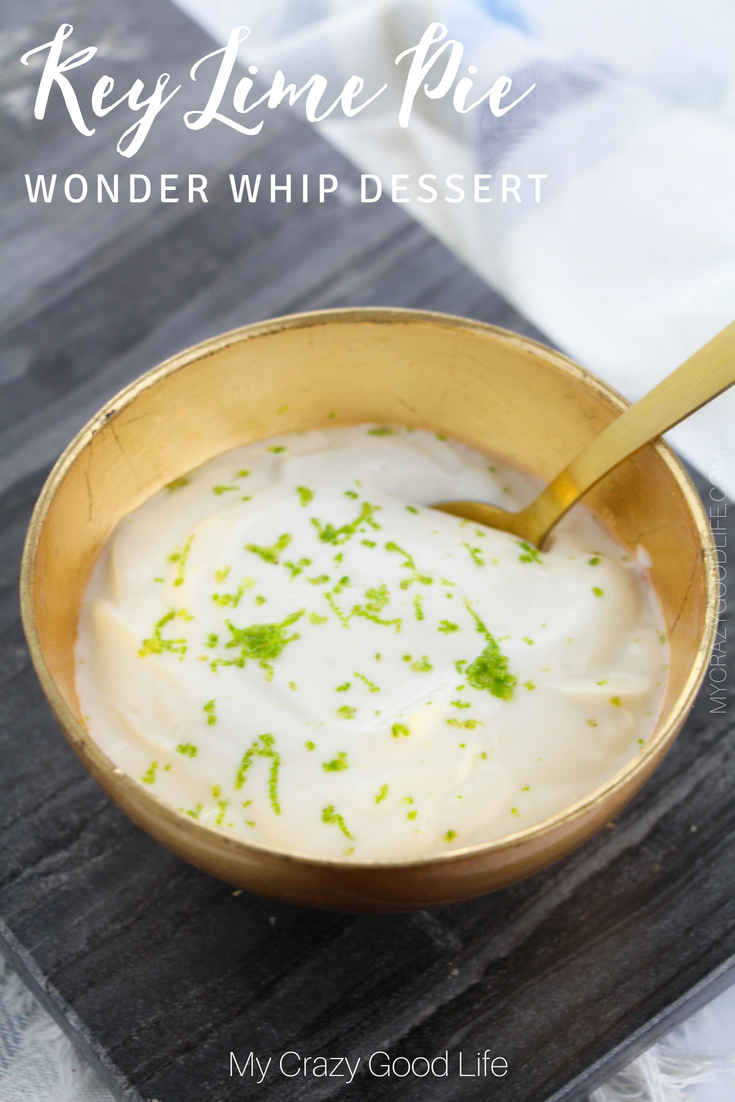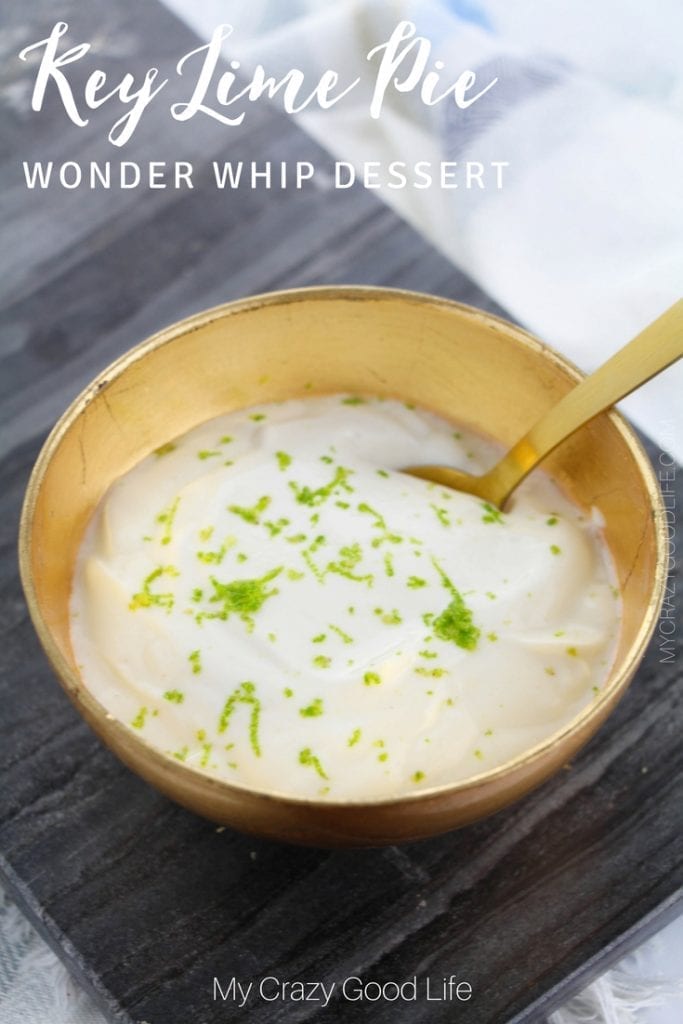 Ingredients:
3/4 cup Greek yogurt
1 tsp lime juice
1 lime, zested
1 tsp vanilla
1 pinch stevia
What is a Wonder Whip?
That's a great question. The first time I heard about a Wonder Whip was from Ilana Muhlstein, the creator of 2B Mindset–Beachbody's newest nutrition program. She shared her favorite Wonder Whip recipe on her YouTube channel and I decided that even though I didn't love Greek Yogurt, I had to try this.
I tried it and it was delicious! Very creamy, and I found that I couldn't eat the entire thing in one sitting, it was so rich. The flavors you add make the yogurt not so tangy, and I love the different flavors you can make!
How long does Wonder Whip keep in the fridge?
About a week! I've heard that people make a few at the beginning of the week and then eat a few bites daily. I bet they would freeze well, too! Maybe in egg bite molds?? I haven't had a Wonder Whip last long enough for this yet.
Can you fill a pie with Wonder Whip?
Absolutely! It makes for a creamy and delicious pie filling that is high in protein and low in sugar. Your guests will love the smooth texture, and you'll be the hero of your party–seriously.
How often can I eat Wonder Whips?
Well, I've been eating them daily! As long as you're watching the ingredients to make sure they don't sneak up on you, there is no reason to hold back! For example, there is a peanut butter chocolate Wonder Whip that some people love to add real peanut butter to–if you're eating that every day, or more than once a day, that peanut butter can sneak up on you and cause you to gain weight or maybe not lose as much as you're wanting to.
How do you make a Wonder Whip?
Combine all ingredients and whip together with an electric mixer, whisk, or even a fork.
Taste and adjust the lime and sweetener to taste (I used stevia but use your preferred sweetener).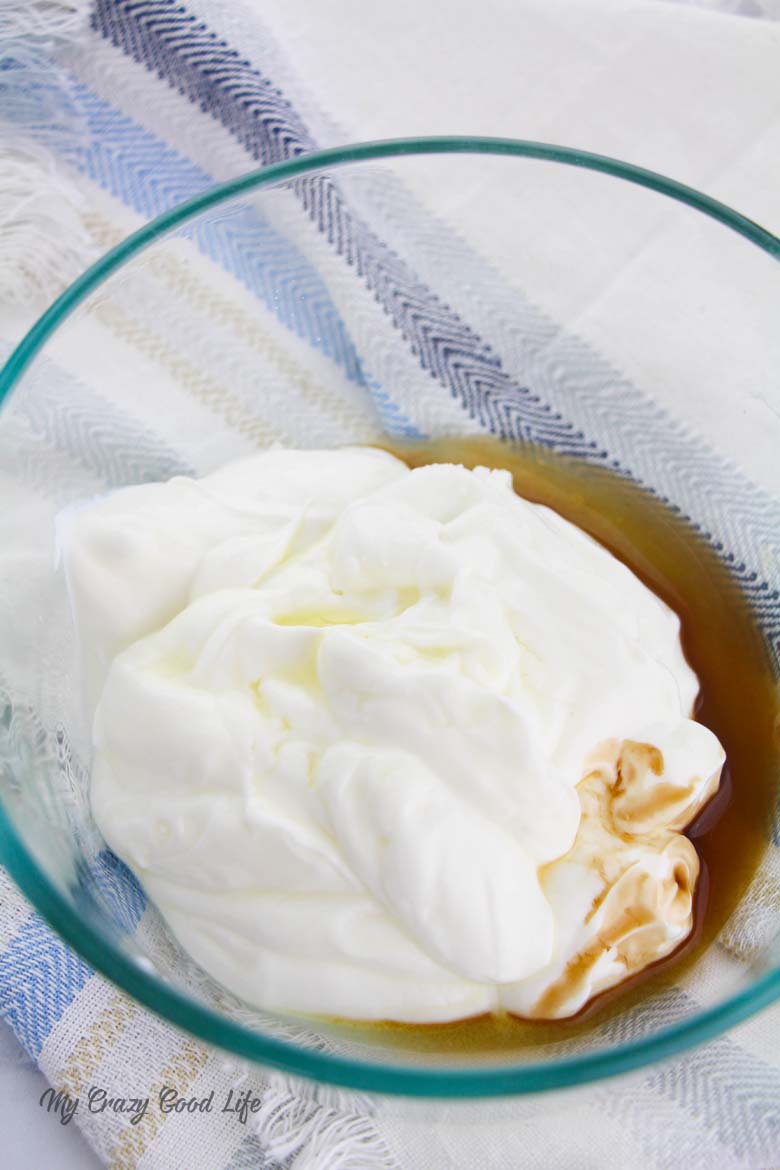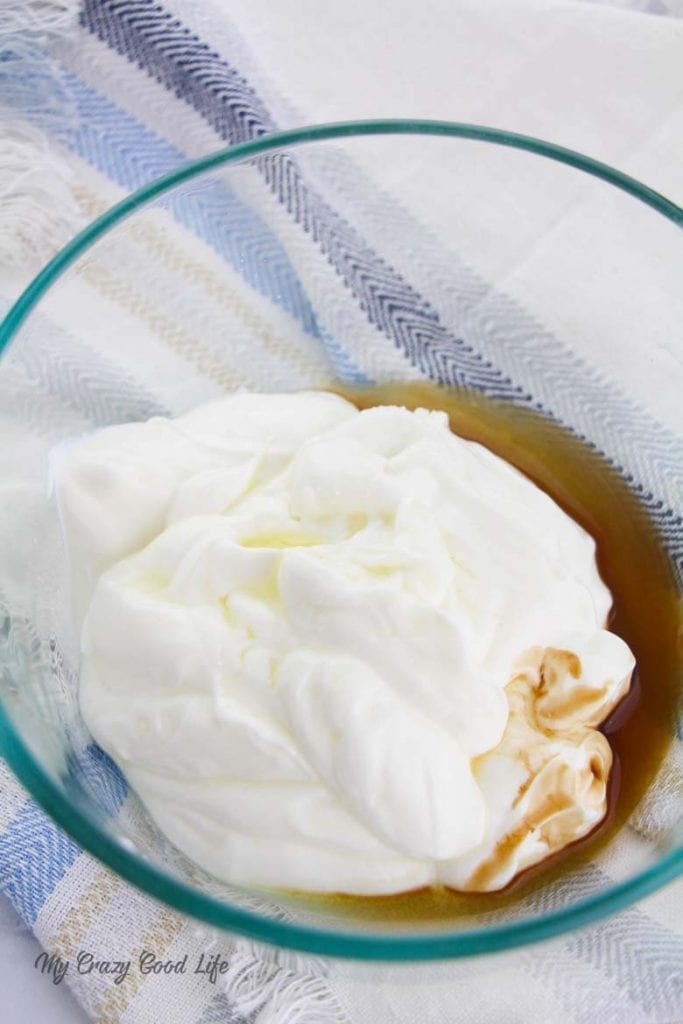 Can I make a Wonder Whip without a blender or mixer?
Yes! Sometimes I just "whip" mine with a fork, and that gives it a light and fluffy texture. If you're looking for something a little thicker, I'd recommend freezing your Wonder Whip for a bit–that might give you the texture you're looking for!
As the Wonder Whip sits in the fridge, it becomes a bit more firm, making for a mousse-like treat just when you need it most. I'd recommend experimenting with extracts and flavors until you find your favorite!
Can you have Wonder Whip on the 21 Day Fix?
Yup! The Greek yogurt counts as one red container, and then you add any ingredients you add in – don't forget your teaspoons for the sweetener! Any recipe you find on this website will have containers already calculated for you!
Can I eat Wonder Whips on 2B Mindset?
Absolutely! The creator of 2B Mindset is actually the creator of the Wonder Whip, so she would approve! You should eat the Wonder Whips as part of breakfast, lunch, or if you need an after workout snack to keep it within your Plate It guidelines.
What kind of yogurt do I need for a Wonder Whip?
When making my Wonder Whip recipes I use Plain Greek Yogurt or Oikos Triple Zero Vanilla (watch the ingredients in Canada, it looks as if the Triple Zero Greek yogurt has sugar in it instead of Stevia, so if you're avoiding that…). I prefer nonfat yogurt because I don't care for dairy, or the creaminess of dairy, but I always watch for for additional ingredients that might be added in to make it nonfat.
Oikos Triple Zero is the only yogurt I can eat without adding Stevia, because it's already sweetened with Stevia. It doesn't have as much protein as the other greek yogurts, but I am ok with that. I'm not normally a fan of yogurt, so I was pretty excited to find this.
Is there a Dairy Free Wonder Whip?
For those of you who can't or don't eat dairy, I'd recommend using a dairy free yogurt, like the one that Silk makes. You'll still get the delicious Wonder Whip dessert without the dairy!
Do you have any other Wonder Whip recipes?
So many! You can look at this post to see the entire list, but here are my favorites:
As I mentioned above, these Wonder Whips also make a delicious pie filling! Any Wonder Whip that you add real peanut butter to is going to come out a bit thicker than other whips, so maybe start your pie experimenting there?
Weight Watchers Points: 0 Blue Plan Points / 2 Green Plan Points / 0 Purple Plan Points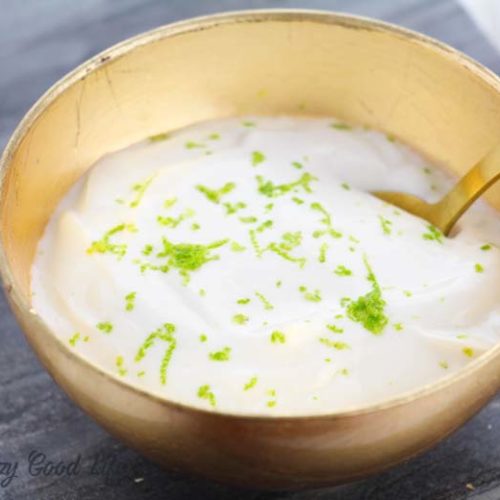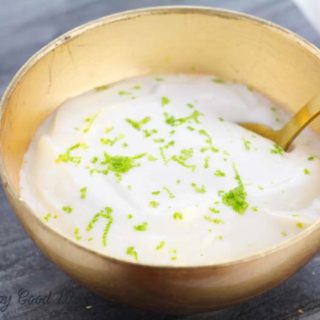 click the stars to rate!
Key Lime Pie Wonder Whip | Healthy Key Lime Pie Filling
Servings 1 serving
This Key Lime Pie Wonder Whip is a healthy dessert recipe! I love making this no bake dessert to fight cravings! It's also a delicious healthy pie filling!
Ingredients
3/4 cup Greek yogurt
1 tsp lime juice
1 lime zested
1 tsp vanilla
1 pinch Stevia
Instructions
Combine all ingredients and whip together with an electric mixer, blender, or even a whisk or fork. 3/4 cup Greek yogurt, 1 tsp lime juice, 1 lime, 1 tsp vanilla, 1 pinch Stevia

Taste and adjust the lime and sweetener to taste (I used stevia but use your preferred sweetener).
Notes
1 Red per serving Weight Watchers Points: 0 Blue Plan Points / 2 Green Plan Points / 0 Purple Plan Points (when using Oikos Triple Zero Plain Greek Yogurt)
Nutrition
Calories: 162kcal | Carbohydrates: 15g | Protein: 17g | Fat: 4g | Saturated Fat: 2g | Cholesterol: 10mg | Sodium: 71mg | Potassium: 68mg | Fiber: 2g | Sugar: 9g | Vitamin A: 98IU | Vitamin C: 21mg | Calcium: 220mg | Iron: 1mg