This site contains affiliate links. Please see Policies for more information.
These are some of my favorite 2B Mindset dinner recipes. Since veggies are 75% of your dinner plate, it's helpful to have some veggies-most dinner recipes on hand.
Breaking emotional eating habits isn't easy, but you can do it by finding a plan that works for you. Often the most successful healthy eating plans are the ones with simple principles (drink more water, eat more veggies). And remember that for the best results, your habits should change slowly and your weight should come off slowly.
Vegetables have so much to do with weight loss and nutrition – one of the reasons why I really like 2 B Mindset as much as I do is because of the focus on veggies.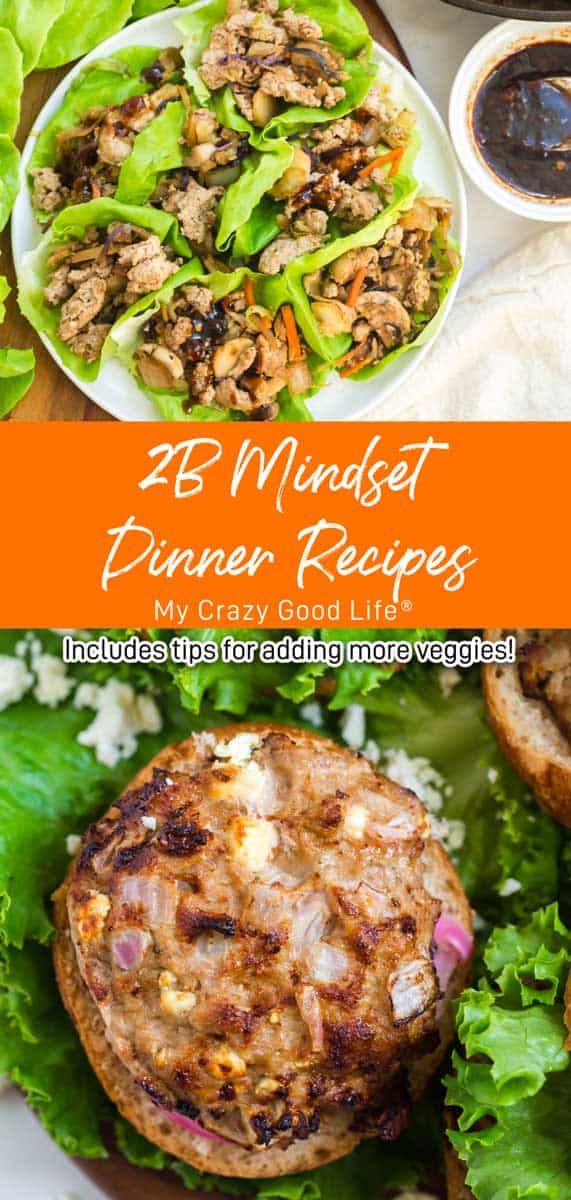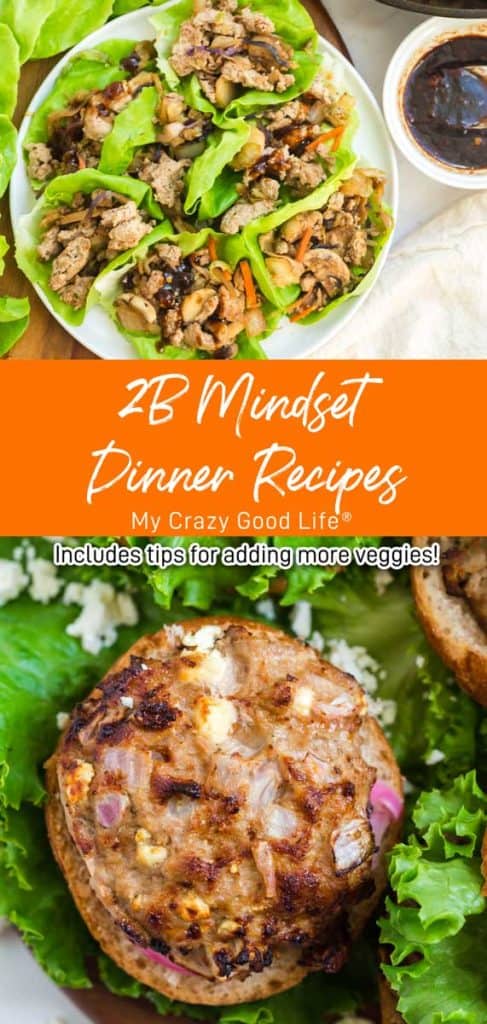 What is 2B Mindset?
2B Mindset is a nutrition program that focuses on eating healthy meals in healthy portions. There are several food groups:
The 2 B diet focuses on teaching intuitive eating and creating a healthy habit – you'll be filling your plate with a set ratio from each food list for every meal. For example, your 2 B Mindset breakfast recipes will be plated so that 50% of your plate is protein and 50% of your plate is FFCs. As long as your food comes from the food list and your portions are 50/50, you've succeeded at a healthy breakfast.
The program creator, Ilana Muhlstein, struggled with her weight throughout her childhood and created this program to help people create a mindset shift and positive relationship with food.
Looking to learn more about 2B Mindset? You can sign up for my 2B Mindset Newsletter and receive free printables, meal prep tips, and suggestions for 2B Mindset meals that fit perfectly within the plan.
Should I meal plan on 2B Mindset?
2B Mindset is a weight loss program, like many others, that requires you to eat from a specific list of foods and in specific amounts. A meal plan will help you know in advance what you are going to eat. This is a great way to take the stress of choosing something healthy in the moment, it also helps keep you from going off plan.
I always eat better when I plan ahead. By choosing my meals ahead of time, doing some light meal prep, and being focused on my plan, I stay on track and end up sticking to my goals.
If you've never meal planned before, 2B Mindset is a great place to start. The 2 B Mindset plan is unique in that it allows you to eat a variety of foods – just in specific portions.
You can choose your meals from some of these healthy recipes ahead of time so you know what to buy from the store. Each recipe has a printable recipe included so you can bookmark it for later or print the recipe to have on hand while cooking and shopping.
How to create 2B Mindset meal plan
There are a lot of different ways to meal plan. Sometimes I do an entire week, Monday to Friday, for my whole family. That includes all my meals, snacks, etc. Did you know that My Crazy Good Life has free meal planning software that also creates grocery lists for you? You can sign up for our meal planning helper here.
Here's how I meal plan on the 2 B Mindset Nutrition Plan:
Choose your meals. I've given you lots of choices for delicious recipes because we all love different things and different flavors right?! I'd pick three recipes for dinner to start because they're going to make a lot of food and you don't want to end up wasting it all. Another idea is starting with simple ingredients and not recipes. Think grilled chicken, broccoli, and brown rice.
Prep your snacks in advance. This is my best meal prep tip when it comes to meal plans because snacks are when we all tend to go off the rails: If you have healthy vegetables, fruit, and protein prepped and ready to go you are more likely to choose those healthy options. It takes almost no time to make a batch of hard boiled eggs, and cutting up your vegetables and fruit at the beginning of the week is a breeze. Just throw your snacks in bags in the fridge and they're ready to go for those busy days on the road!
Eat leftovers. If you don't eat leftovers or you don't like repeating meals, you'll have to cook more often but it's totally do-able. There are enough choices that you can have something different for each meal all week long. I personally love leftovers because it means I have to spend less time cooking and in the kitchen when I'd rather be relaxing with my family :)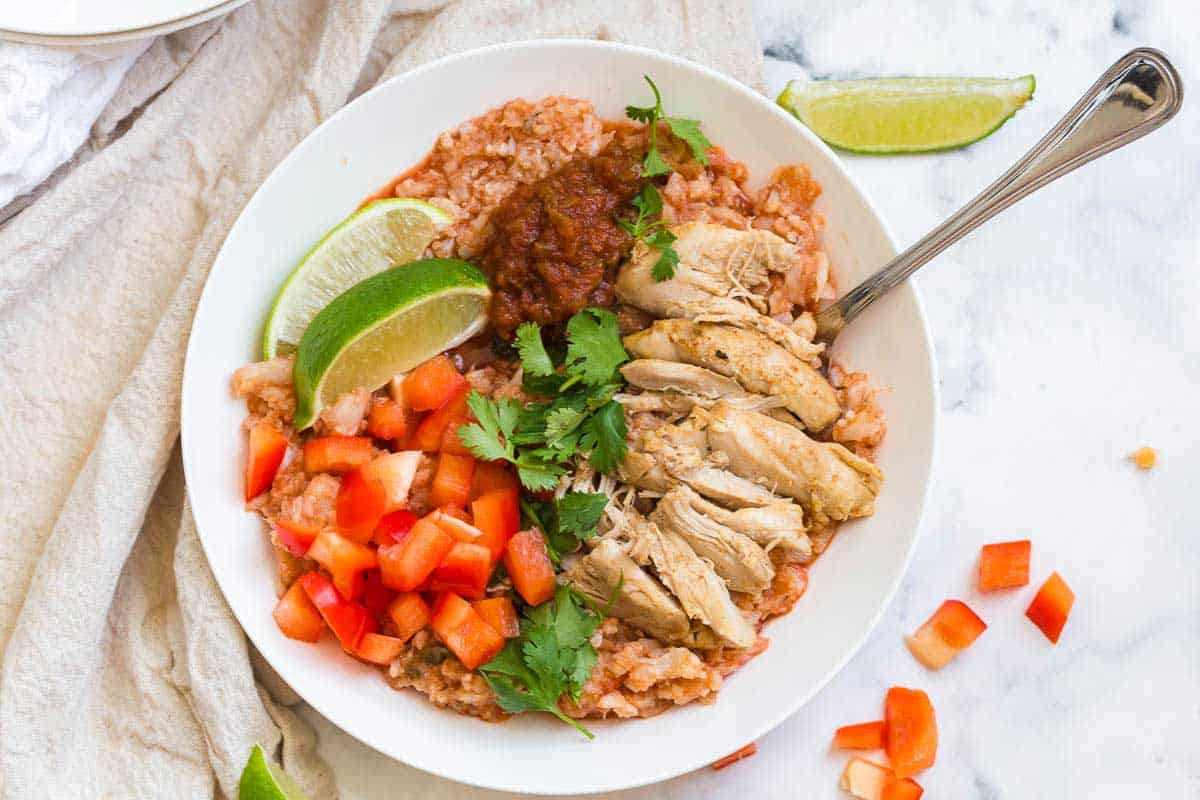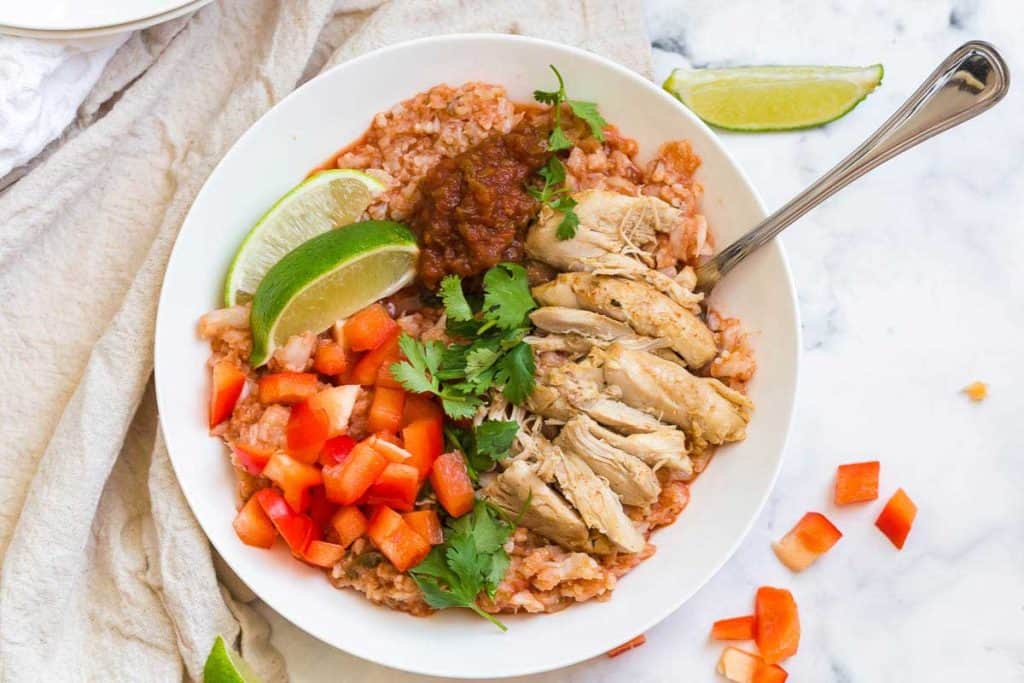 2 B Mindset Dinner Recipes
These delicious meals are just some options that I love when following 2B. I've included suggestions for adding extra veggies to each recipe.
Easy Ways To Add Vegetables
Since the 2B Mindset program is based on the idea of a veggies most mindset we need to have great ways to make vegetables appealing. Here are some tips for getting those 2 B Mindset veggies in:
You might also be interested in: