This site contains affiliate links. Please see Policies for more information.
I'm sharing the easiest way I've found to make our Perfect Instant Pot Hard Boiled Eggs. Making instant pot eggs is THE way to make hard boiled eggs.
I use this method to make Instant Pot hard boiled eggs every single time. I can make enough hard boiled eggs to fill all of my meal prep needs and have some for a healthy snack for the family to snack on!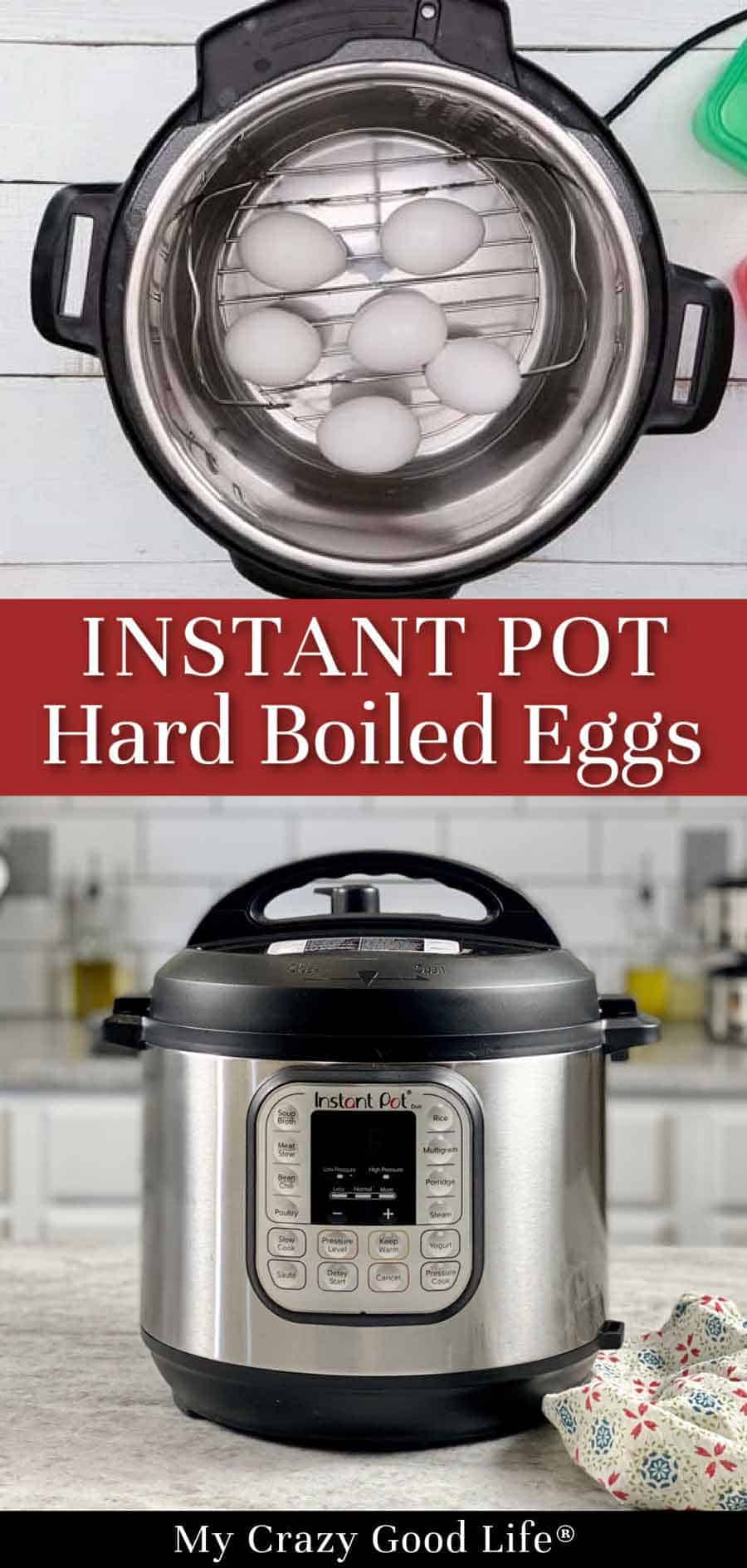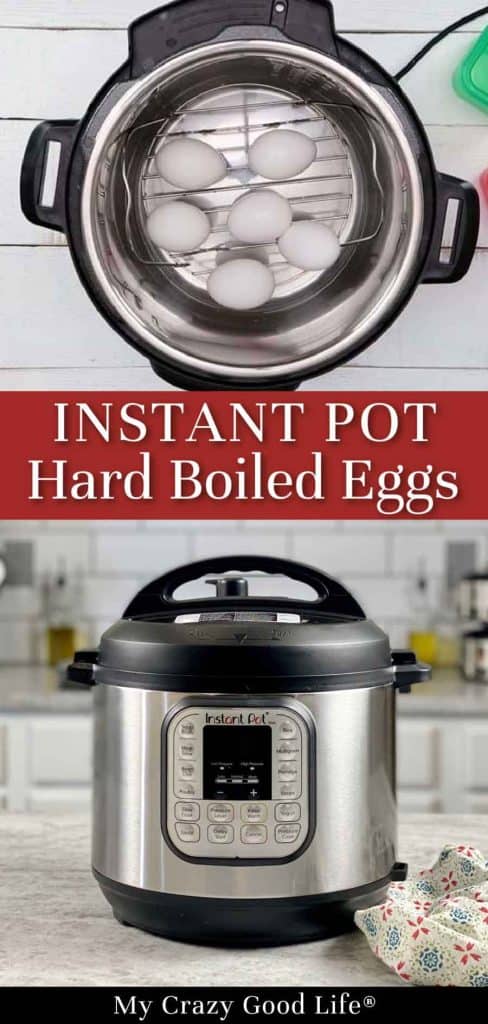 When you need to make some hard boiled eggs in a hurry this is the best way to make them. There's no muss, no fuss, no waiting for water to boil, they're done in just 5 quick minutes. Get ready to enjoy the perfect hard-boiled eggs made perfect in the Instant Pot!
This is just another one of the many ways that the Instant Pot makes things so much quicker and easier. Everything from Instant Pot Meal Prep, to less hands on cooking time in the kitchen. The Instant Pot makes cooking a breeze.
If you haven't purchased one, click here to see which Instant Pot is right for you! You'll see all of the features, accessories, uses, and more.
Where's the Recipe?
Here at My Crazy Good Life we have a range of readers who use our recipes. Some are beginners in the kitchen, while others are pros. With this in mind, we are dedicated to providing detailed instructions, recipe tips, nutrition information, healthy eating plan information, and more!
If you are feeling confident and ready to start, simply scroll down to the bottom of the page to find our easy to print Perfect Instant Pot Hard Boiled Eggs recipe.
Ingredients in Perfect Instant Pot Hard Boiled Eggs
Eggs: Large eggs, medium eggs, whatever you have on hand. Just be sure to use fresh eggs, not old eggs. The age of the egg has a lot to do with how your hard-boiled eggs will turn out!
Water: Water is key for all forms of pressure cooking. The water at the bottom of the rack will boil and create the pressure to cook the eggs.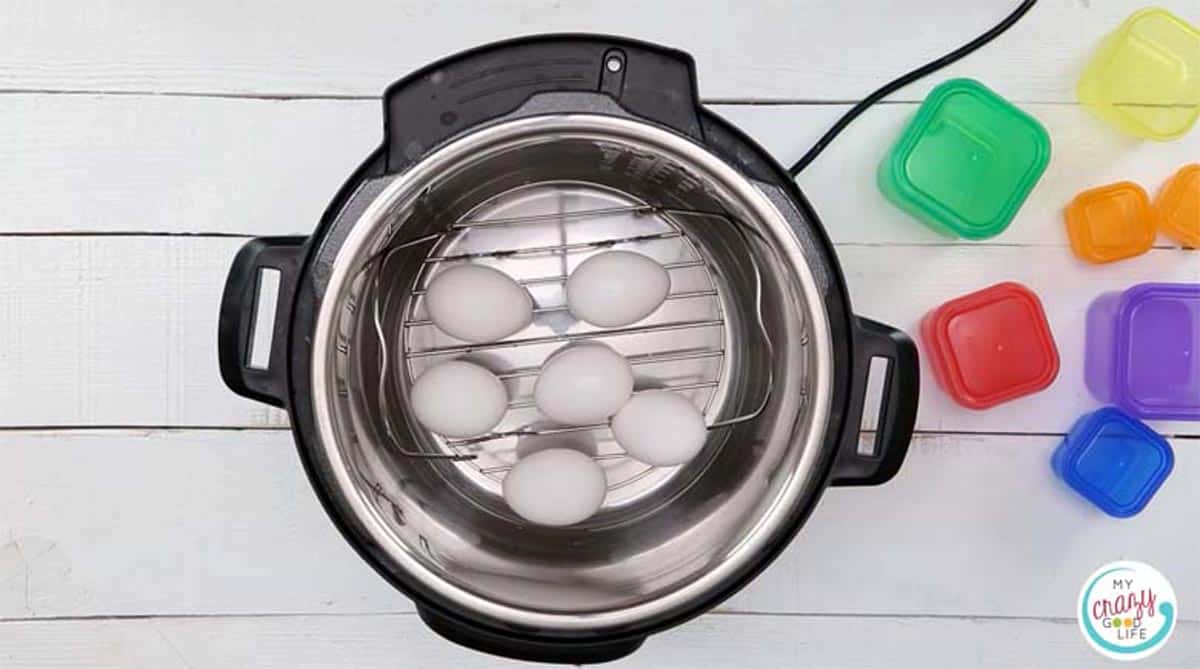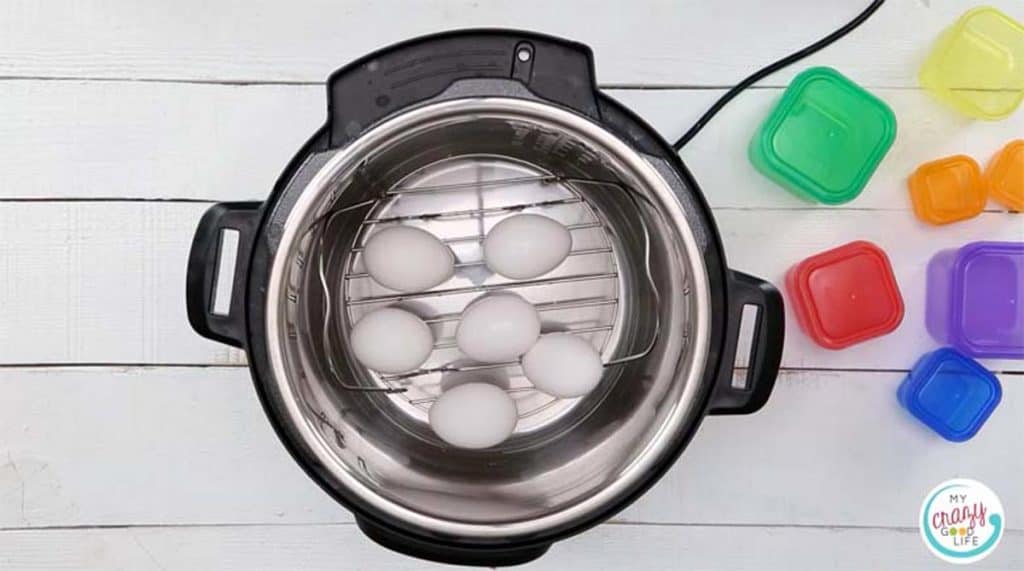 How to Make Perfect Instant Pot Hard Boiled Eggs in the Instant Pot
Place metal rack or egg trivet inside the Instant Pot.
Places eggs on top of the metal rack.
Add 1 cup of water to the bottom of your Instant Pot if using a 6-quart IP. If using an 8-quart IP, increase the water to a 1 1/2 cups.
Close, and place the lid on the instant pot making sure the steam valve is sealed.
Set the manual/high pressure/pressure cook setting for 5 minutes.
Use the natural release for 5 minutes, then quick pressure release the rest of the remaining pressure.
Transfer the eggs to an ice cold water bath.
Peel and enjoy!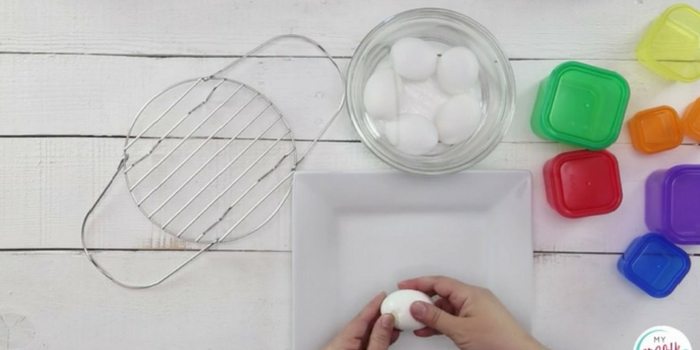 Recipe Tips
Cooking eggs in the Instant Pot make the best hard boiled eggs.
I've boiled as few as 5 and as many as 18 eggs at one time in my Instant Pot with no time change, there is no specific amount that is required or necessary for the hard boil eggs to turn out perfectly.
Instant Pot Hard Boiled Eggs High Altitude: Elevation affects the cook time because the Instant Pot needs more time to cook in higher elevation. If you live at high altitude, you might have to add a minute or two to your cook time. Our high-altitude guide can help you nail down the perfect amount of time necessary for cooking your eggs.
Egg age is also important, I find the fresher the eggs the more likely i'll end up with perfect hard boiled eggs.
If you prefer soft-boiled eggs, cook for 4 minutes and manually quick release immediately after the cooking process.
The ice bath is key and important to have as much ice as possible. It stops the cooking process and helps you avoid getting the green rings that appear on eggs if you overcook the eggs. The green rings aren't harmful, just ugly.
If you have any eggs remaining, store any peeled eggs in an airtight container. Unpeeled eggs will remain fresh for up to five days in the refrigerator.
You might modify the amount of time the eggs cook in the instant pot. Give it a few times and be gracious with your learning curve–you'll find the perfect amount of time that will yield your favorite type of boiled egg and consistency of the egg yolks.
Healthy Eating Plans
Weight Watchers
Serving size: 1 egg
0 Points on the 2023 Plan | 0 Blue Plan Points | 2 Green Plan Points | 0 Purple Plan Points
21 Day Fix / Portion Fix
Our 21 Day Fix Perfect Instant Pot Hard Boiled Eggs are easy to track. Count one red container for every 2 eggs you eat!
Other Delicious Egg Recipes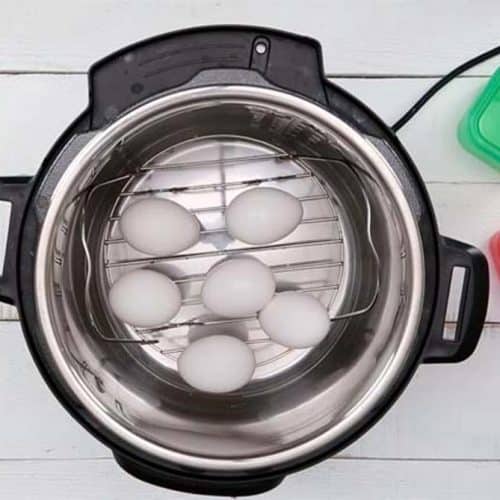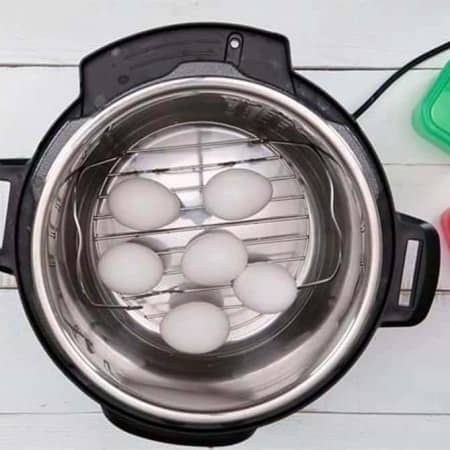 click the stars to rate!
Perfect Instant Pot Hard Boiled Eggs
Servings 3 person
You might not think that hard boiled eggs are a pain to make…unless you've been there, struggling to peel them, only to realize that they are either over or under boiled.
Equipment
Instant Pot 6 qt

Instant Pot Trivet

Sealing Rings
Ingredients
6 Eggs
1 Cup Water (for 6 qt Instant Pot)
Instructions
Place metal rack or trivet inside the Instant Pot.

Places eggs on the metal rack.

Add 1 Cup of water to the bottom of the Instant Pot.

Use the manual setting for 5 minutes.

Allow the pressure/steam to release naturally for 5 minutes, then release steam manually.

Place hard boiled eggs in cold water.

Peel and enjoy
Notes
Our 21 Day Fix Perfect Instant Pot Hard Boiled Eggs are easy to track. Count one red container for every 2 eggs you eat!  Weight Watchers 1 Egg: 0 Points on the 2023 Plan| 0 Blue Plan Points | 2 Green Plan Points | 0 Purple Plan Points
Nutrition
Calories: 126kcal | Carbohydrates: 1g | Protein: 11g | Fat: 8g | Saturated Fat: 3g | Cholesterol: 327mg | Sodium: 129mg | Potassium: 121mg | Sugar: 1g | Vitamin A: 475IU | Calcium: 49mg | Iron: 2mg