Jump to Recipe
Here's another time saving tip with Instant Pot hard boiled eggs. Just in time for dying, decorating, and meal prep! These eggs are so easy to peel too!
You might not think that hard boiled eggs are a pain to make…unless you've been there, struggling to peel them, only to realize that they are either over or under boiled.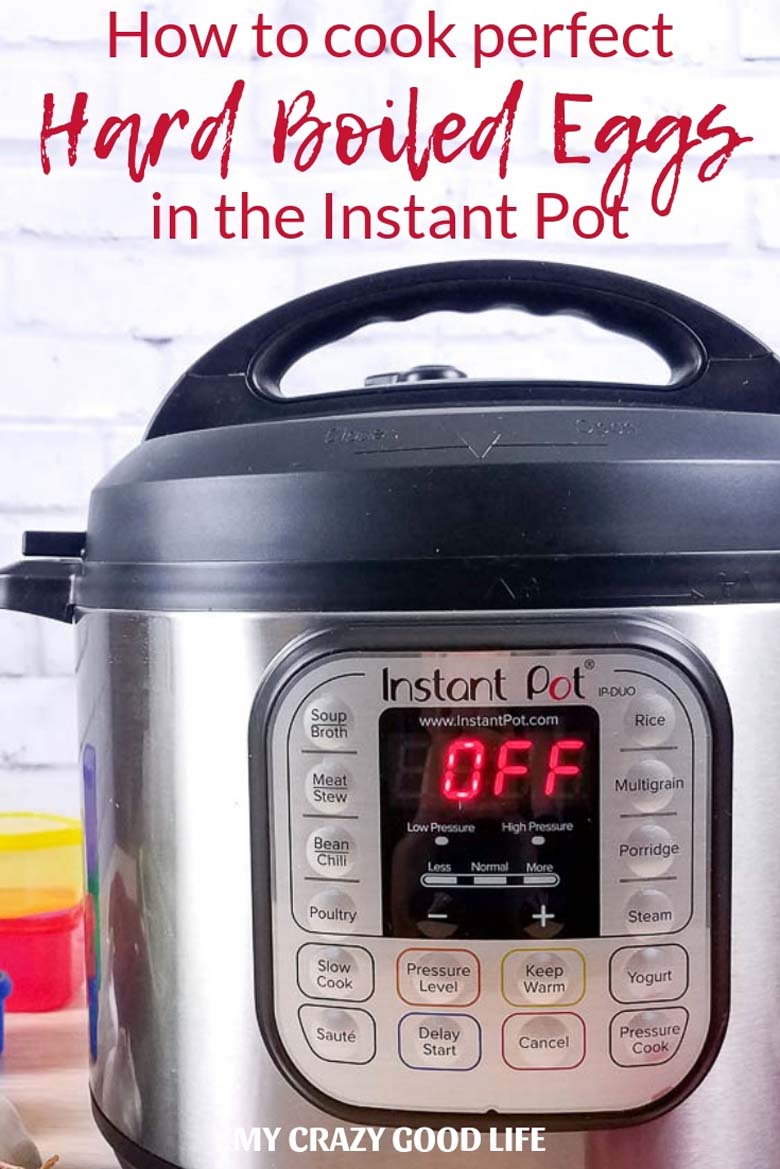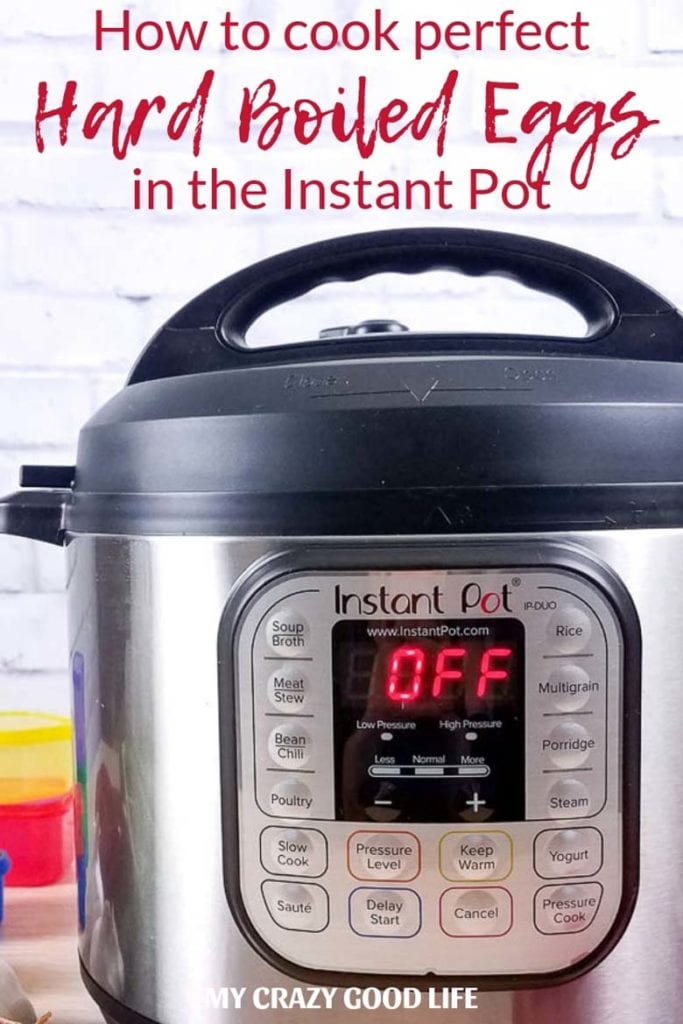 I'm sharing the easiest way I've found to make hard boiled eggs. This is how to make perfect Instant Pot hard boiled eggs.
I use this method to make Instant Pot hard boiled eggs at least once a week. I can make enough hard boiled eggs to fill all of my meal prep needs and have some for the family to snack on!
When you need to make some hard boiled eggs in a hurry this is the perfect method. There's no muss, no fuss, no waiting for water to boil, they're done in just 5 quick minutes.
This is just another one of the many ways that the Instant Pot makes things so much quicker and easier. Everything from Instant Pot Meal Prep, to desserts, and dinners.
The Instant Pot can do so many awesome things. If you haven't purchased one, click here to see which Instant Pot is right for you! You'll see all of the features, accessories, uses, and more.
Are Instant Pot Hard Boiled Eggs Easy to Peel ?
Once you make and peel hard boiled eggs in the Instant Pot, you'll never go back to the stove! Making the eggs in the Instant Pot is nice, but peeling is so much easier when they're cooking in the Instant Pot! Eggs made in the Instant Pot are so easy to peel.
Instant Pot Hard Boiled Egg video
Scroll right down to the printable recipe in this post to see the video I've created while hard boiling eggs in the Instant Pot. It helps to have a visual sometimes!
How many eggs can I hard boil in my Instant Pot?
I've boiled as few as 5 and as many as 18 eggs at one time in my Instant Pot with no time change.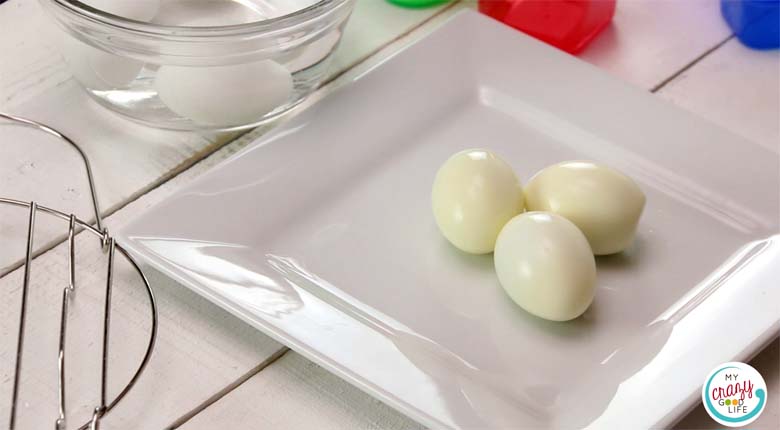 Why are there so many different ways to cook hard boiled eggs in the Instant Pot?
There are several things that can make a difference in your egg cooking in the Instant Pot or any other electric pressure cooker. Elevation, the age of the eggs, egg preference, and the size of your Instant Pot can all change some things.
Elevation
Elevation affects the cook time because the Instant Pot needs more time to cook in higher elevation. If you're in a place that is higher in altitude, you might have to add a minute or two to your cook time.
Egg Age
The age of your eggs has a lot to do with how your hard boiled eggs turn out! I buy fresh eggs from grocery stores that have a lot of turnover.
We have a small corner market down the street that I won't buy eggs from because I'm not sure what their turnover is on them–I want the freshest eggs possible.
Even if I have a few eggs left in my fridge, I'll buy new ones for when I make hard boiled eggs so they cook the same every week.
Preference
I like my hard boiled eggs hard boiled–not soft boiled, not over boiled. I'm a bit picky. It took me 3-4 times of making them to perfect the time for my favorite egg outcome. It sounds silly, but I'm serious!
I started out cooking mine for 5 minutes and then pulling them out immediately, but they weren't cooked enough. Then I realized that if I allowed the eggs to naturally release for 5 minutes, they were perfect and not overcooked.
There are green rings that sometimes show up if you overcook the eggs–they're not harmful, just ugly. Playing with your cook time and the extra time waiting for pressure release can get rid of them.
Give it a few times and be gracious with your learning curve–you'll find the perfect recipe for your favorite type of boiled egg.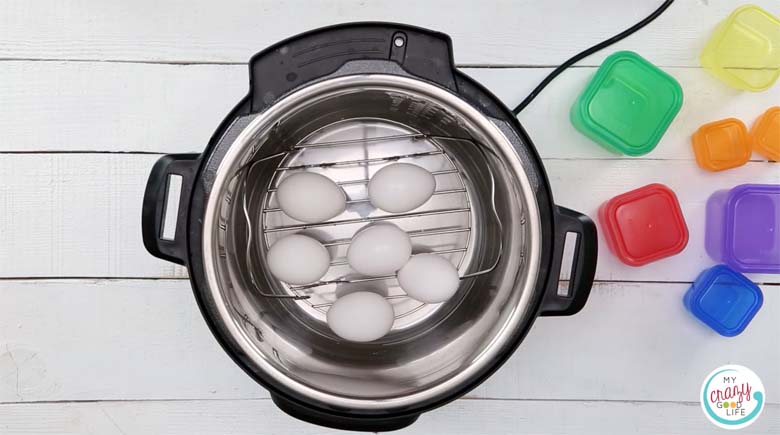 Size of the Instant Pot
I cook the eggs for the same times in my 6 quart and 8 quart Instant Pot, but I add more water to my 8 quart–at least 1/2 cup more. Most recipes are written for the 6 quart Instant Pot, so keep this in mind!
If at the end of the cooking cycle, you have a very little amount of water left in your pot, go ahead and add more water next time–it won't hurt. I'd hate to get a burn warning on eggs because of not enough liquid!
Instant Pot
Instant Pot Rack
Eggs (I have used as little as 5 and as many as 18 with great results)
Water (for 6-quart Instant Pot)
How to Make Perfectly Hard Boiled Eggs in the Instant Pot:
Place metal rack inside the Instant Pot.
Places eggs on top of the metal rack.
Add 1 Cup of water to the bottom of the Instant Pot.
Set the manual/high pressure/pressure cook setting for 5 minutes.
Allow for steam/pressure to release naturally for 5 minutes, then quick release the rest of the steam.
Transfer the eggs to an ice water bath.
Peel and enjoy!
For soft boiled eggs, cook for 4 minutes and manually quick release immediately after cooking.
If you are cooking at a higher altitude you might have to add a few minutes in order to get perfectly cooked hard boiled eggs. Check out this post to see how much time you need to add for your altitude.
Are hard boiled eggs diet friendly?
They're full of protein and as long as your doctor hasn't told you to watch your egg intake, they're definitely a healthy snack. On Weight Watchers, each egg is 0 points on Blue and Purple Plan, and 2 Green Plan Points. On the 21 Day Fix, you count one red container for every 2 eggs you eat.
What can I make with hard boiled eggs?
These are my favorite egg recipes:
Herbed Deviled Eggs Definitely one of my favorite dishes to bring to a holiday get together–everyone loves them!
Crab Bloody Mary Deviled Eggs Ummmm yeah. These are delicious and they look amazing. These will wow everyone at your brunch!
Healthy Egg Salad Recipe This is such an easy recipe to make, and it can use all of your eggs in case you made too many or aren't eating them like you thought you would. It turns out perfect every time.
Caesar Deviled Eggs Classic Caesar recipe (anchovies and all!) that is healthy, too!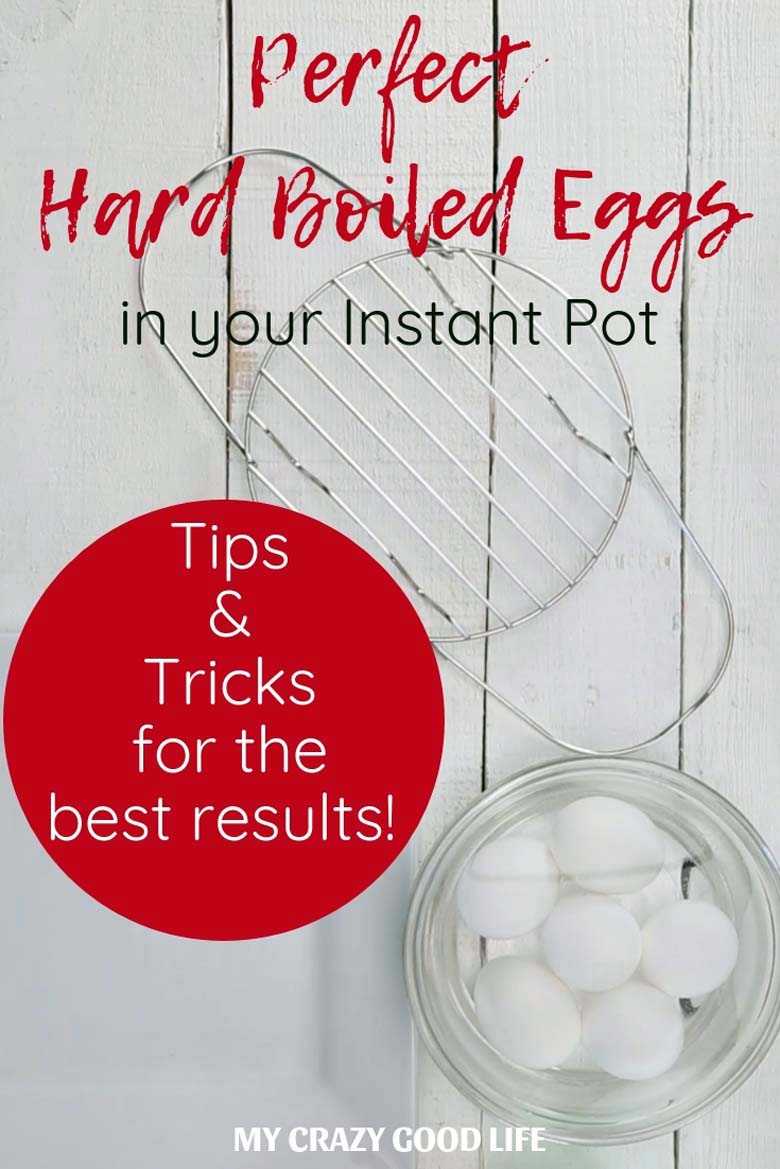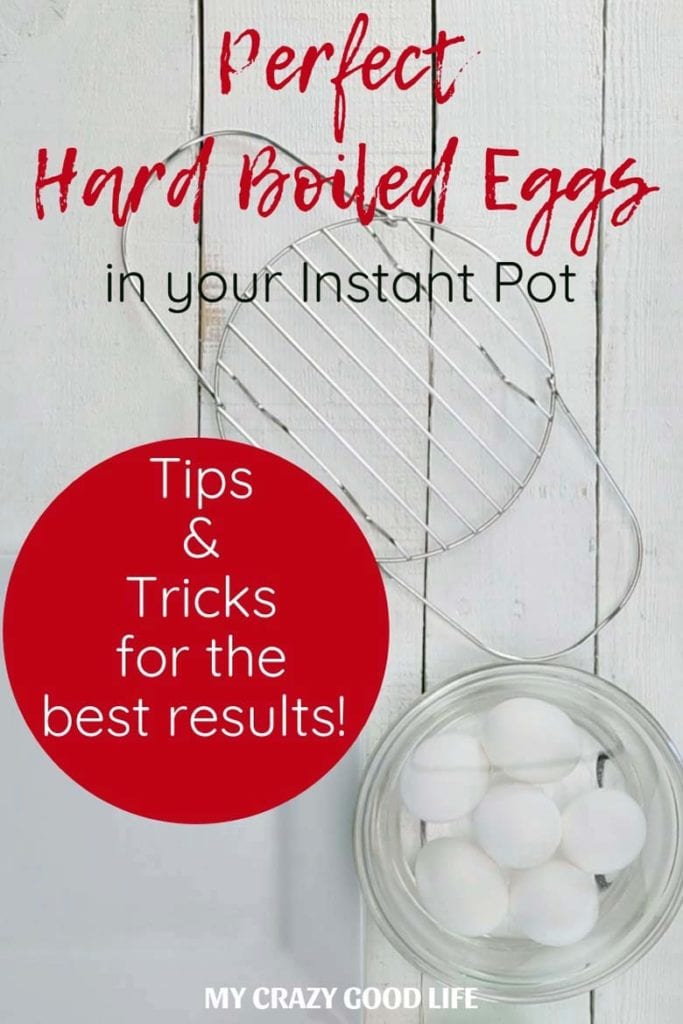 Perfect Instant Pot Hard Boiled Eggs | Tips and Tricks
Here's another time saving tip with Instant Pot hard boiled eggs. Just in time for dying, decorating, and meal prep! These eggs are so easy to peel too!
Ingredients
6

Eggs

1

Cup

Water

(for 6 qt Instant Pot)
Instructions
Place metal rack inside the Instant Pot.

Places eggs on the metal rack.

Add 1 Cup of water to the bottom of the Instant Pot.

Use the manual setting for 5 minutes.

Allow the pressure/steam to release naturally for 5 minutes, then release steam manually.

Place hard boiled eggs in cold water.

Peel and enjoy
Notes
Weight Watchers | 1 Egg | 0 Blue Plan Points | 2 Green Plan Points | 0 Purple Plan Points
Nutrition
Calories:
126
kcal
|
Carbohydrates:
1
g
|
Protein:
11
g
|
Fat:
8
g
|
Saturated Fat:
3
g
|
Cholesterol:
327
mg
|
Sodium:
129
mg
|
Potassium:
121
mg
|
Sugar:
1
g
|
Vitamin A:
475
IU
|
Calcium:
49
mg
|
Iron:
2
mg
Nutrition & Diet Information