If you're looking for a filling a satisfying WW snack idea to beat cravings, these Weight Watchers peanut butter protein bites are the perfect solution. Everyone can snack on these chewy, chocolatey, delicious granola bites.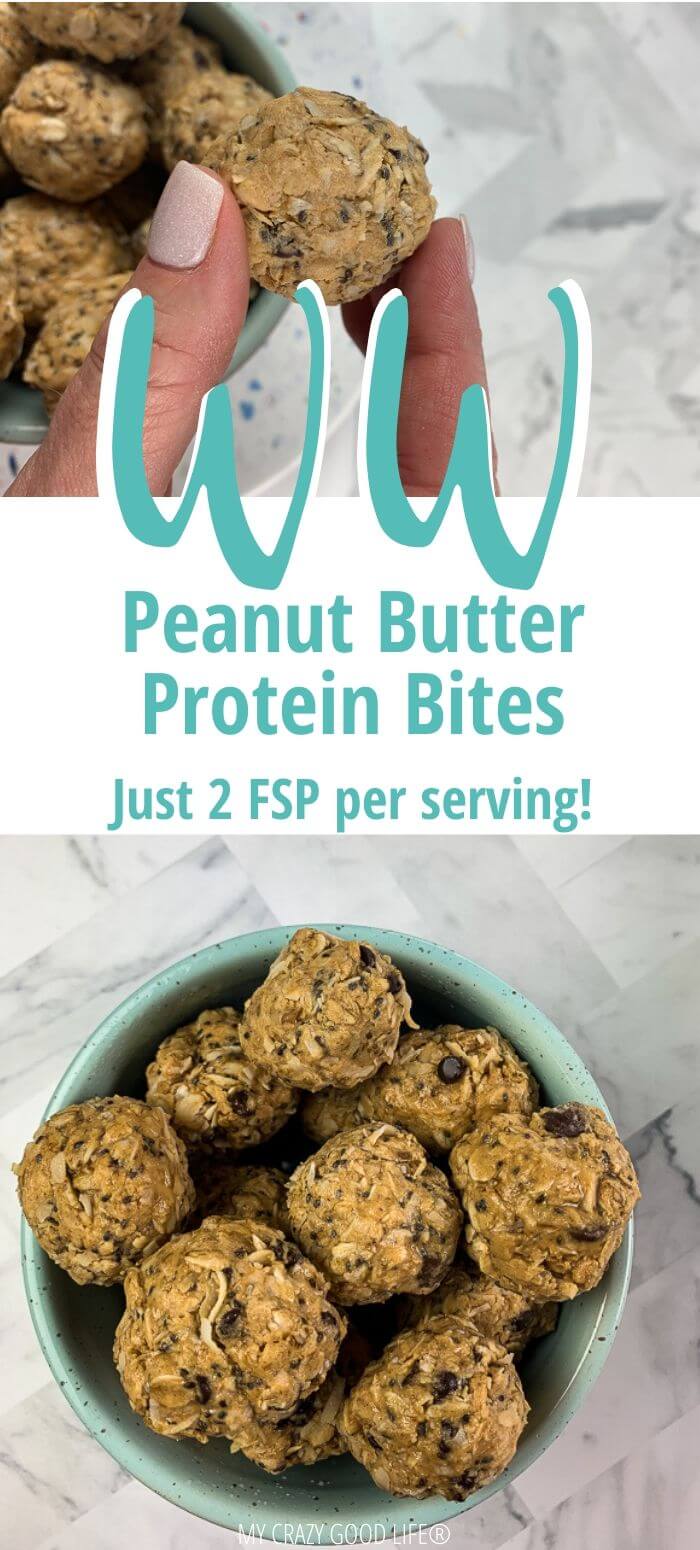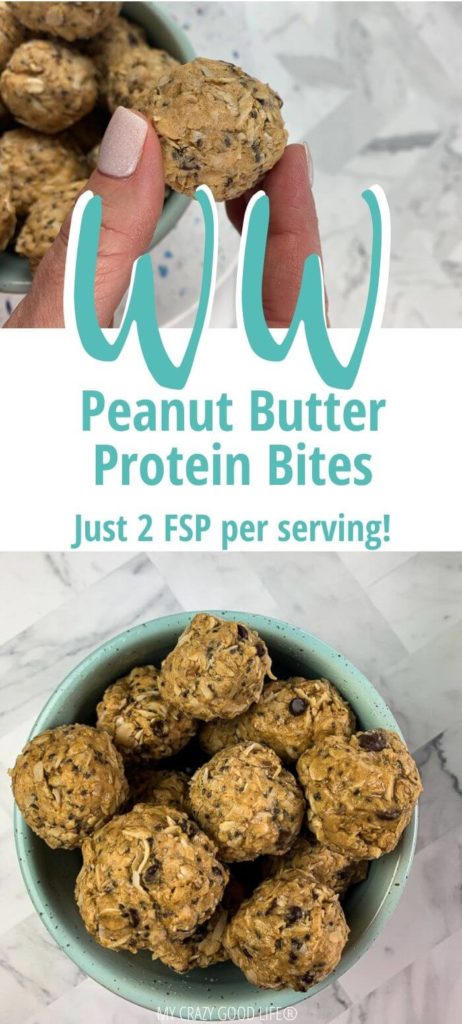 Making Weight Watchers granola bites checks a couple of boxes on my meal prep and planning list. I can whip these up as snacks for the family, a mid day energy boosting Weight Watchers snack for me, or a quick breakfast on the go.
Since these granola bites are made with oats and peanut butter, I get a filling snack that squashes my sweet tooth cravings.
This recipe is so easy to customize–You can incorporate your family's favorite add-ins like flax seed, chia seeds, raisins, cranberries–just make sure to re-calculate the freestyle smart points for your snack.
What you will need to make these no bake protein bites:
Making these no bake cookies is easier than you think! You'll need just a few wholesome ingredients that I'll list below. You can find the exact amounts of each in the printable recipe card at the bottom of the post.
Oats
Mini Chocolate Chips
Coconut Flakes
Peanut Butter
Honey
Vanilla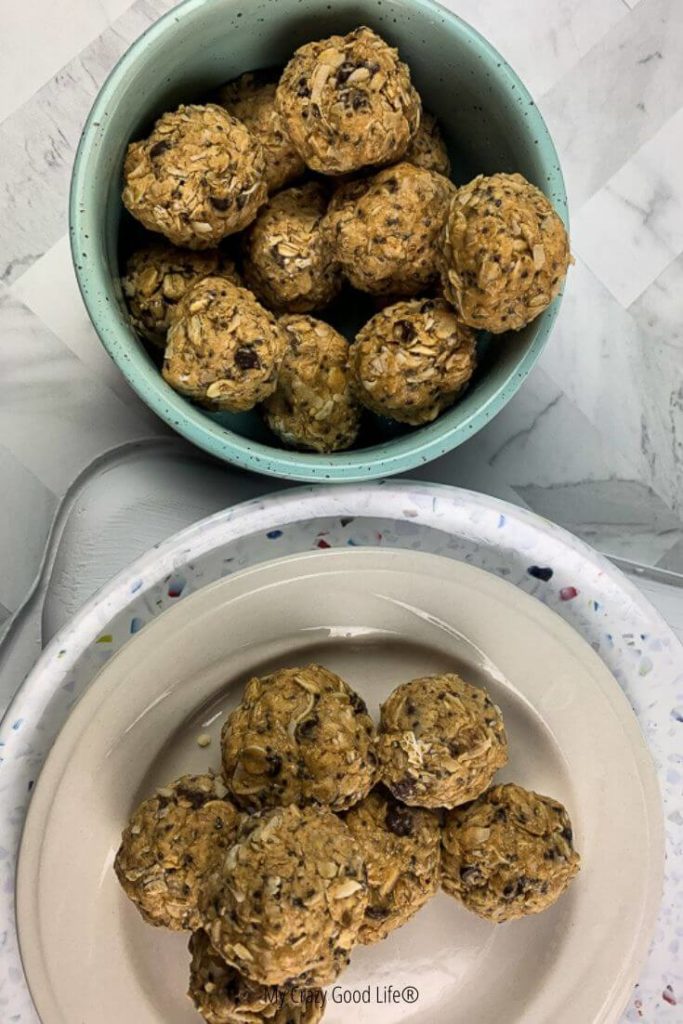 Here are some things that you can consider adding to your recipe to make these delicious Weight Watchers cookies even more flavorful, and packed with nutrition!
Protein Powder
Chocolate and Peanut Butter Chips
Almond Butter
Nut Butter (of your choice)
Extra Coconut
Chia Seeds
Flax Seeds
How to make Weight Watchers Peanut Butter Protein Bites:
In a large bowl, mix together the oats, chocolate chips, and coconut.
Add the peanut butter, honey, and vanilla. Mix well until evenly combined. I prefer using a stand mixer with this recipe because it seems to make the balls easier to roll out and stick together.
Chill mixture in the refrigerator for an hour, then roll out balls about an inch in diameter. Be sure to add your extra peanut butter and/or honey in small amounts. I usually just set aside a 1/2 cup total so I know I have more liquid ingredients if needed to make the batter more or less sticky.
Store in an airtight container in the fridge.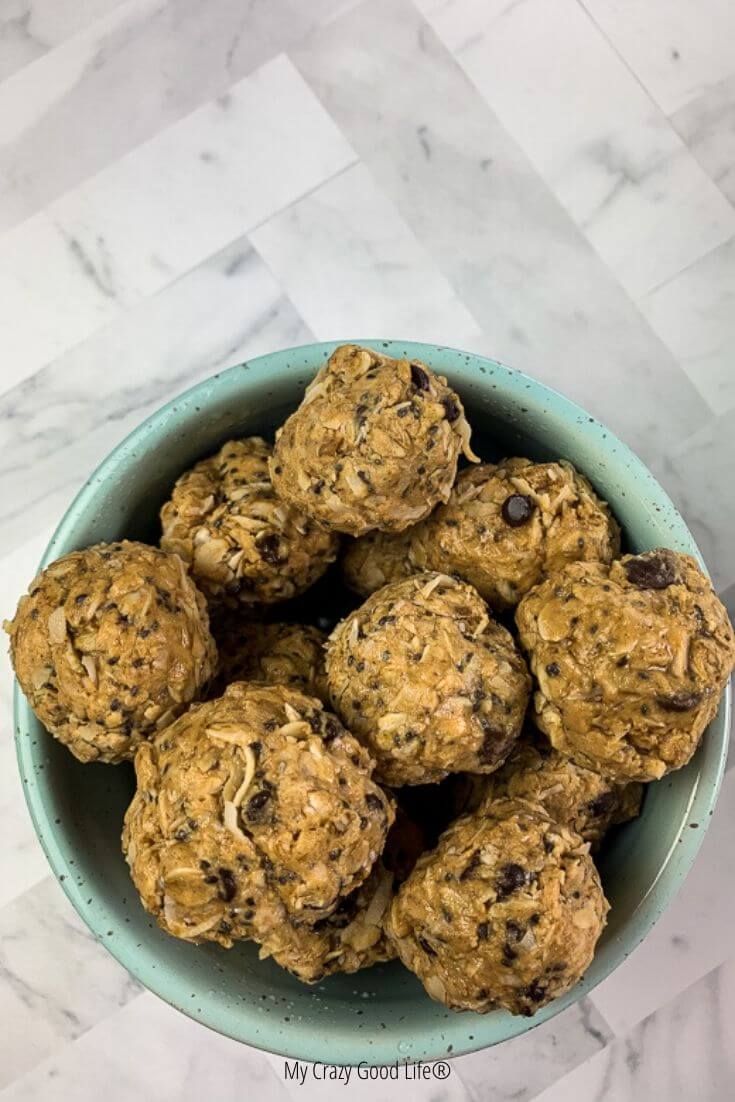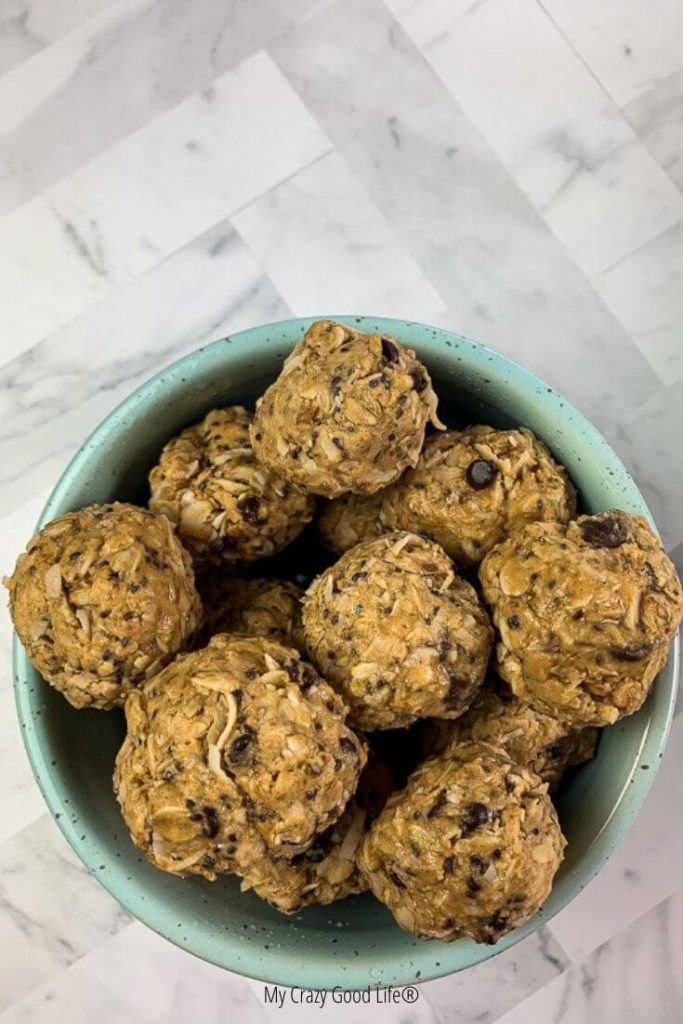 Tips for making Weight Watchers Bites:
Depending on your peanut butter, the mixture might be a little dry or a little moist. Just add a little more peanut butter, honey, or oats to the mix–depending on what you need. I've found that thinner peanut butter like the Kirkland Organic Creamy that we buy from Costco works best because it's so thin.
If you are using a nut butter of your choice you might want to make sure it is room temperature. When you go to stir in the oats if the nut butter is too stiff it will be tough!
I think that using mini chocolate chips helps these granola bites stick together better than using the regular chocolate chips–especially if you're going to make 40 balls out of one batch. If you are using the larger ones you can always give them a quick run in the food processor to make them into smaller chunks! I'd totally do this if I only had the large ones on hand.
Swap out your add-ins, but don't forget to re-calculate your Weight Watchers points for any changes you make to these energy bites. Old fashioned oats work best but you can use the quick oats if that is what you have on hand.
If you can't make balls and are over trying to make it work, take a peek at this post to see how we form and cut our granola bars–you can easily make bars instead. Honestly the protein ball recipes can be made into any shape and you will still have the same benefits without spending 30 minutes fighting with the batter. Sometimes it just doesn't come together properly so matter how much you try.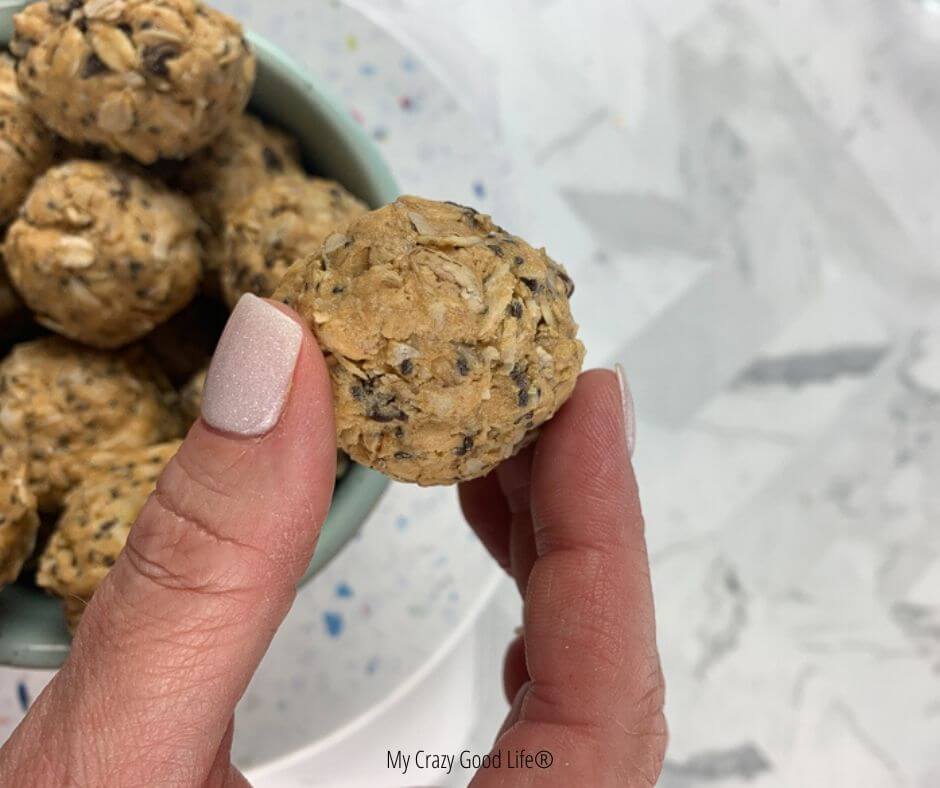 What are the Weight Watchers Freestyle Smart Points for this recipe?
With the ingredients as listed in the card below (without any extra peanut butter or honey to make the batter stiffer / stickier) this recipe makes 40 balls that are about 1 inch in diameter. Each one is 2 Freestyle Smart Points.
If you make these into larger sided bites you can count them as 4 Freestyle Smart Points. I usually make them smaller and have a serving of two bites for 4 points total! It's a nice little sweet treat that I can feel good about. There's wholesome ingredients, the points are low enough that I don't have to make a "sacrifice" to enjoy these protein bites, and fat is coming from a healthy source that I know is balance with protein.
Are these a family friendly no bake cookie?
These are absolutely family friendly no bake cookies for Weight Watchers. They're protein bites but they eat like a little cookie, they are just the perfect amount of sweet and chewy. The whole family enjoys these. I usually prep a batch on a Sunday night and then I have some for everyone to enjoy all week long.
I would much rather have my kids and family eating these Weight Watchers cookies than another more processed snack that contains all kinds of mystery ingredients and loads more calories and fat.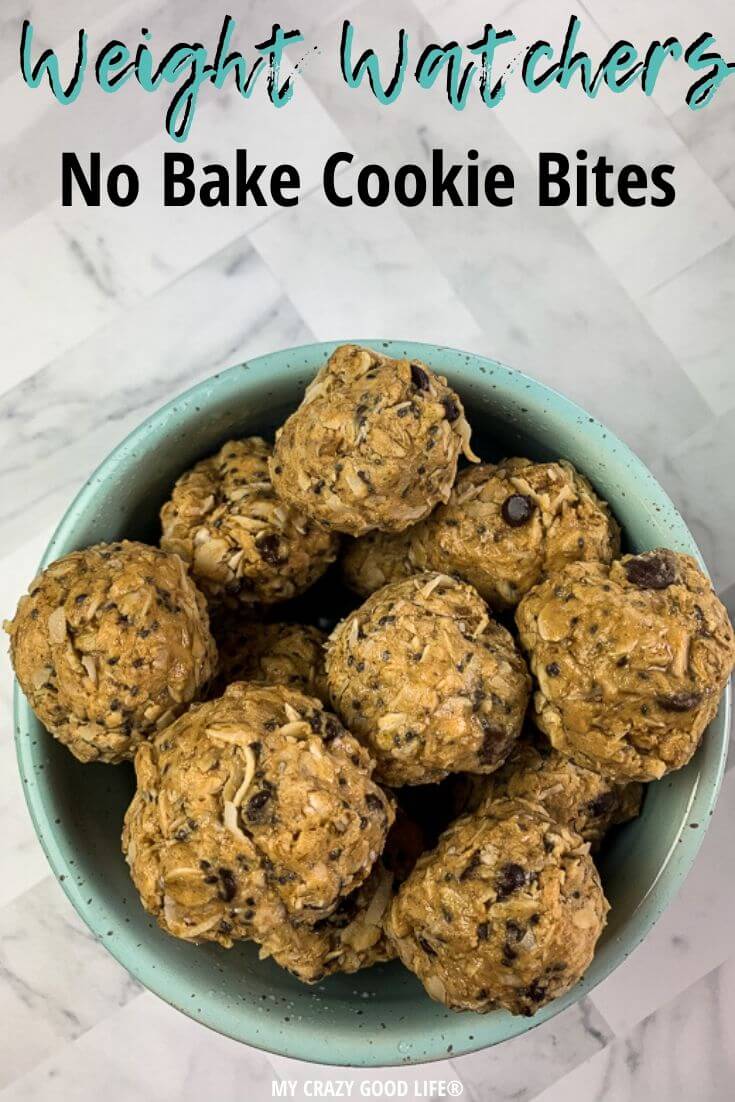 Do you have any other Weight Watchers desserts I can try?
Let's be honest, the best part of any day is dessert, right?! I love dessert and making more healthy recipes that are Weight Watchers friendly is one of my favorite things to do. Here are a variety of dessert recipes that are all calculated for Weight Watchers Freestyle, points included and many of them are lower in points than you might think!
You can enjoy dessert recipes without going crazy trying to save up points and use your weeklies. I like when I can work dessert recipes into my meal plan without having to try too hard and after you try these…you will too!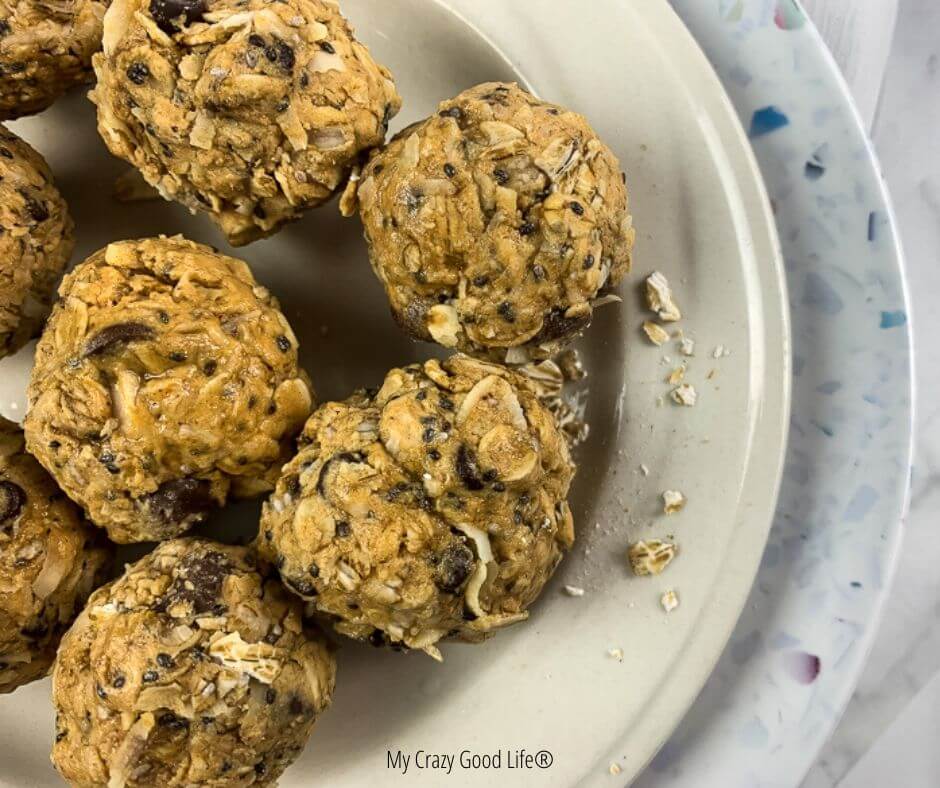 Weight Watchers Peanut Butter Protein Balls
These Weight Watchers Peanut Butter Protein Balls are a healthy Weight Watchers snack idea! Weight Watchers Granola Bites are a filling peanut butter protein ball recipe that is super easy to customize with your favorite add-ins–chocolate chips, raisins, cranberries, flax seed, and more.
Ingredients
Ingredients:
2

cups

oats

quick oats

1/2

cup

mini chocolate chips

2/3

cup

coconut flakes

unsweetened

1/2

cup

peanut butter

1/3

cup

honey

1

teaspoon

vanilla extract
Instructions
Instructions:
In a large bowl, mix together the oats, chocolate chips, and coconut.

Add the peanut butter, honey, and vanilla. Mix well until evenly combined. I prefer to use my stand mixer or a hand mixer for this–stirring by hand never seems to incorporate all of the ingredients well enough for me. 

Chill mixture in the refrigerator for an hour, then roll out balls about an inch in diameter. Keeping the mixture in the fridge before rolling helps them to roll easier.

Store in an airtight container–I prefer the refrigerator!
Notes
*Note: I use a bit more peanut butter and honey to help the balls stick together. I add about 1/4 cup peanut butter and 1/8 cup honey to what's listed above. You could also form the balls into bars instead - I explain how to do this easily in my Healthy Granola Bar post. Weight Watchers |  These are 2 Freestyle Smart Points each assuming you make 40 small balls per batch. That means for a serving of 2 you would track 4 Freestyle Smart Points.
If you'd like to make these larger, you should aim to make 20 balls per batch and they would be counted as 4 FSP for 1 ball. 
Nutrition
Calories:
64
kcal
|
Carbohydrates:
8
g
|
Protein:
2
g
|
Fat:
3
g
|
Saturated Fat:
2
g
|
Cholesterol:
1
mg
|
Sodium:
17
mg
|
Potassium:
45
mg
|
Fiber:
1
g
|
Sugar:
4
g
|
Vitamin A:
5
IU
|
Vitamin C:
1
mg
|
Calcium:
6
mg
|
Iron:
1
mg