Not all ice cream has to be a "bad" indulgence! This Weight Watchers chocolate ice cream has all the delicious flavor you are looking for without the added fat, sugar, and points.
A quick and easy dairy free ice cream that you can make at home?! Count me in, right?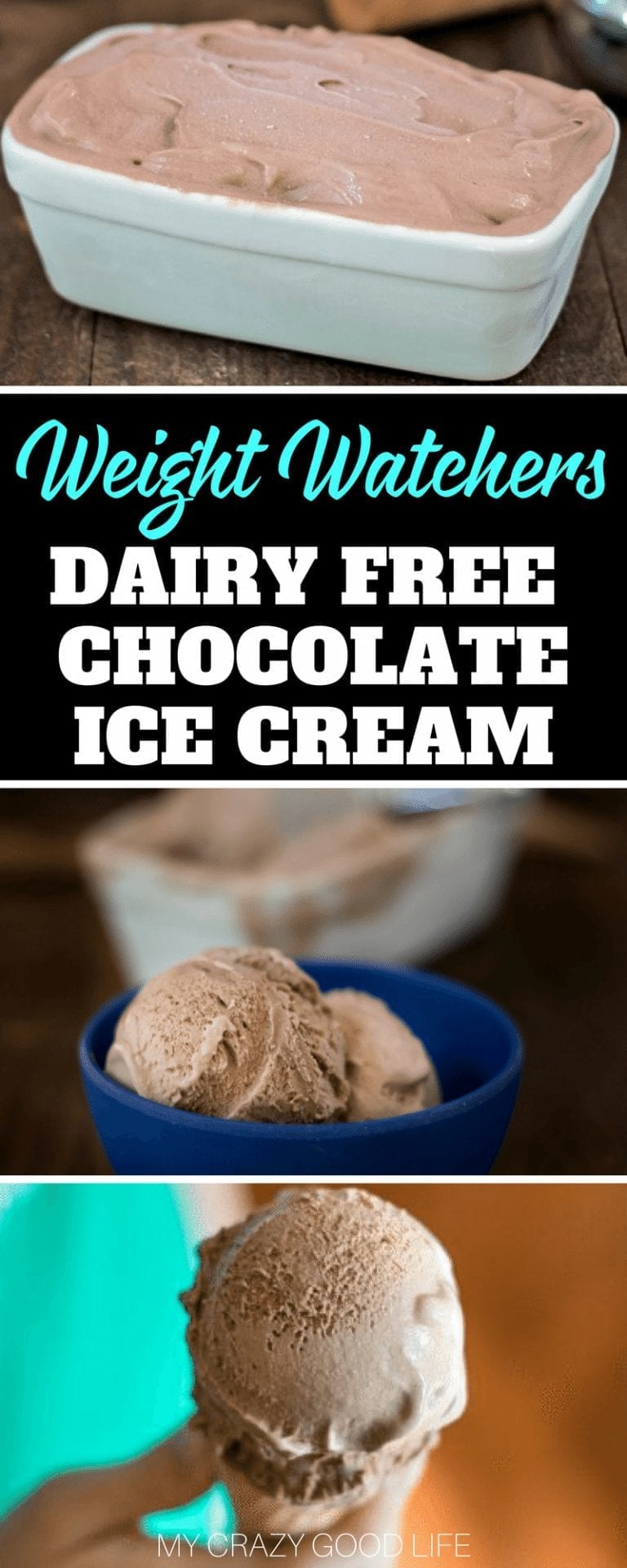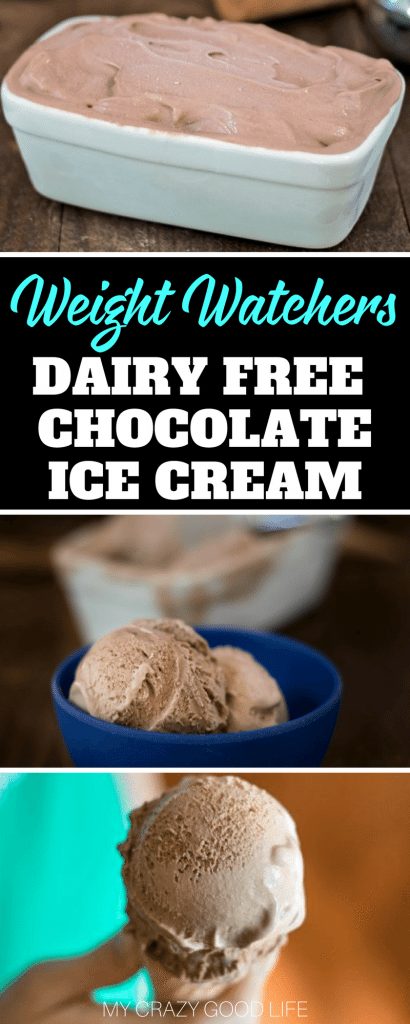 Everyone is loving this Weight Watchers dairy free coffee ice cream so I figured I'd share another version that packs an equally tasty punch without costing you those precious Freestyle Smart Points. You could make this as a tasty Weight Watchers frozen dessert to share but I won't tell if you decide to keep it for yourself.
Weight Watchers Ice Cream | Dairy Free Ice Cream
Now that we're switching things up and focusing on Weight Watchers Freestyle recipes things got a little more tricky as we looked for ways to lower points in our favorite dishes. I promise this recipe will not disappoint. Just two steps and you're done!
Blend everything in a food processor until the frozen bananas are smooth and everything is well combined.
Pour in a dish and allow it to freeze for another hour.
See? How easy is that!? Even I can handle this delicious Weight Watchers frozen dessert after a long day of doing all the things!
Weight Watchers Ice Cream
We're trained to avoid foods like ice cream when we are dieting or looking to develop a more healthy lifestyle. They're traditionally packed with fat, sugar, and all the other delicious, albeit unhealthy, ingredients that hold us back.
This Weight Watchers ice cream recipe is a little different than most! It's got just a couple of simple and healthy ingredients that won't derail your whole day or cost you those weekly points either.
More Weight Watchers Frozen Desserts
Especially during the warmer months I crave Weight Watchers frozen desserts. They can cool you off and hit the spot all while curbing those cravings for sweets. Here are some great options for you to try!
Weight Watchers Freestyle Recipes
If you are looking to complete your meal plan, here are some great Weight Watchers Freestyle recipes for you to try out!
Weight Watchers Ice Cream Points
This is a delicious Weight Watchers Freestyle recipe. That being said, I'm sure there's somewhere out there on the web that can calculate the points based on the older programs if you are still operating on one of those plans.
I use the Weight Watchers online program and app to calculate all of my ingredients and daily points.
You should always recheck for yourself if you think something isn't right or won't work for you. I recommend the same if you make any changes to the recipe. Even small changes can have a big impact on points for the Weight Watchers Freestyle program.
The whole batch of this healthy indulgence is 2 Freestyle Smart Points! I've calculated with several varieties of unsweetened nut milk with the same result so if you prefer a cashew blend over the regular almond you can use that too!
Just to clarify: you need to count all recipes in the way that you choose. There are some different rules that pop up every once in awhile that people have questions about! In this case, the blended bananas are frozen so it changes the blended fruit rule. I chatted with Weight Watchers to confirm my suspicions that per-serving we can still count these bananas as zero. If you prefer to count them you can add five points, I don't feel that is necessary.
This is a dessert, a treat, not something I'm eating four times a day or even daily for that matter! In that case the points are negligible. If you make this recipe and choose not to freeze it and end up drinking it like a smoothie, you need to count the bananas. You can read more about this rule right here on the Weight Watchers site!
If you are really worried about the blended fruit rule you could even use one less banana and then you could be very very very extra sure that you are in the clear for a low point treat on those victory days!
Weight Watchers Chocolate Ice Cream
This Weight Watchers Chocolate Ice Cream is a delicious dairy free dessert. Banana ice cream is a low fat, no added sugar treat!

Ingredients
Ingredients
3

bananas

sliced and frozen

1/4

cup

almond milk

1

teaspoon

vanilla extract

4

tablespoons

cocoa

generous spoon
Instructions
Instructions
Blend everything in a food processor until the frozen bananas are smooth and everything is well combined.

Pour in a dish and allow it to freeze for another hour.
Notes
This recipe serves two if you're sharing. But it could easily be one serving. For the Weight Watchers plan this is 2 Smart Points for the full recipe. If you're sharing that's just 1 point for a tasty dessert!
Nutrition
Calories:
190
kcal
|
Carbohydrates:
46
g
|
Protein:
4
g
|
Fat:
2
g
|
Saturated Fat:
1
g
|
Cholesterol:
0
mg
|
Sodium:
44
mg
|
Potassium:
786
mg
|
Fiber:
7
g
|
Sugar:
22
g
|
Vitamin A:
115
IU
|
Vitamin C:
15.4
mg
|
Calcium:
59
mg
|
Iron:
1.9
mg