Pineapple reminds me of a beach vacation, and I love how simple it is to escape on a mental vacation when I make this healthy, whole grain, vegetable packed Pineapple Fried Rice. Whether you make this easy recipe on the stovetop or in an Instant Pot, the tropical flavor of this dish is perfect for lunch or dinner. You can serve it by itself or as a side dish, and it's something we all need in our lives–an easy win.
This easy Instant Pot Pineapple "Fried" Rice is egg free, gluten free, dairy free, and vegan! This is a perfect plant based dinner recipe. I haven't figured out a way to omit the oil in the Instant Pot yet, but besides the nonstick cooking spray that is used, there is no oil in this recipe.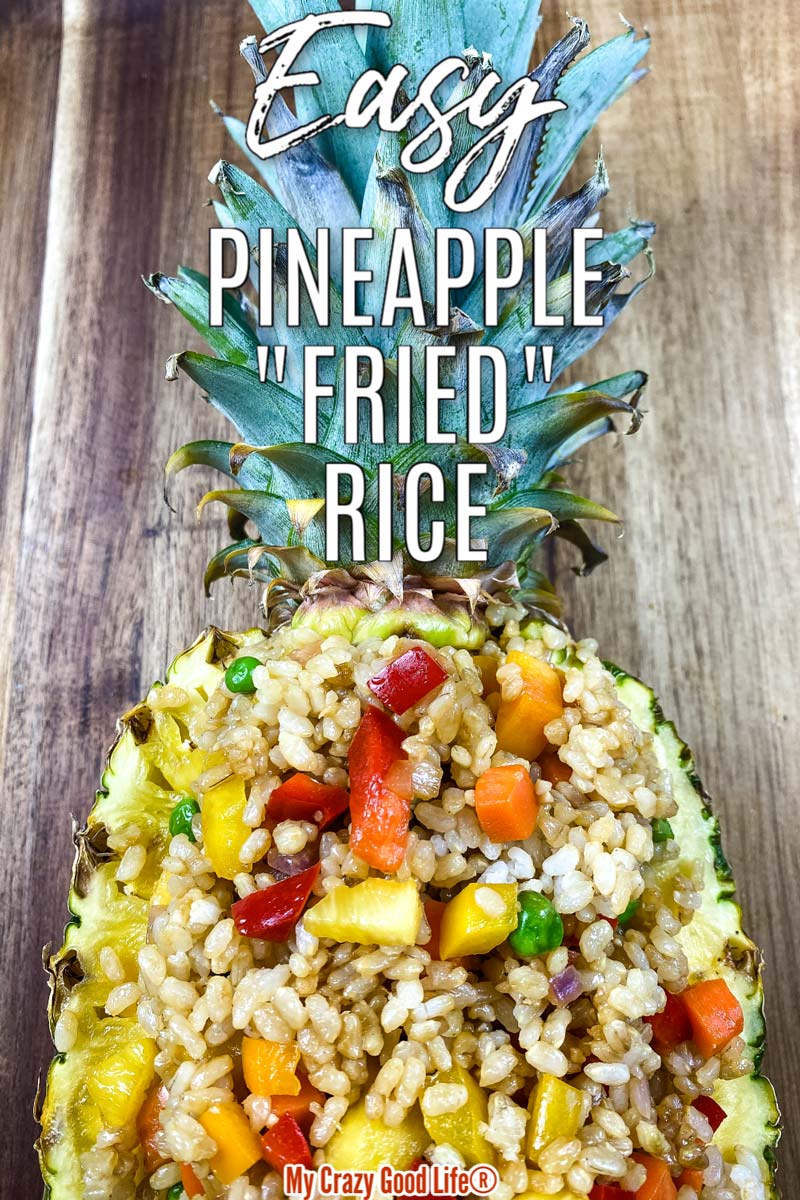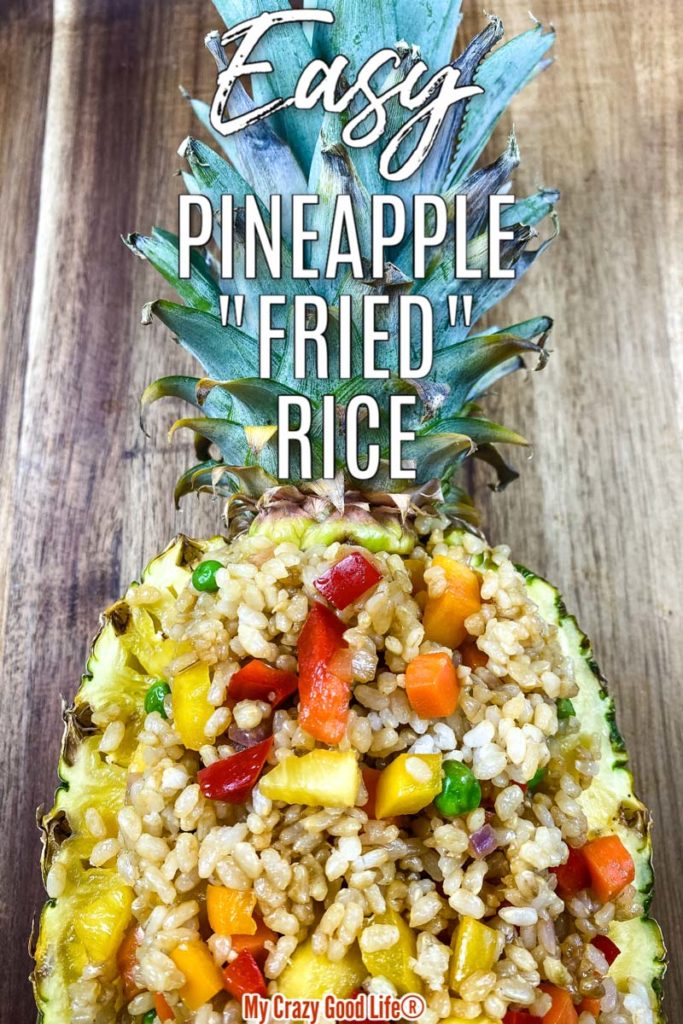 Healthy Pineapple Rice is made with brown rice and packed with colorful vegetables. Cooking this vegan pineapple brown rice in the pressure cooker allows you to walk away while dinner cooks in less than 30 minutes.
Where is the Instant Pot Pineapple Rice Recipe?
We want to make sure that everyone can easily make this recipe–whether this is the first time you've cooked in the kitchen or you've been doing it for years.
This recipe can be cooked in the Instant Pot or any other electric pressure cooker. There are detailed instructions, and nutrition information in post below.
If you just need the basic recipe, scroll to the bottom of this post where you'll find the easy to print recipe for this tasty and Vegan Pineapple Rice.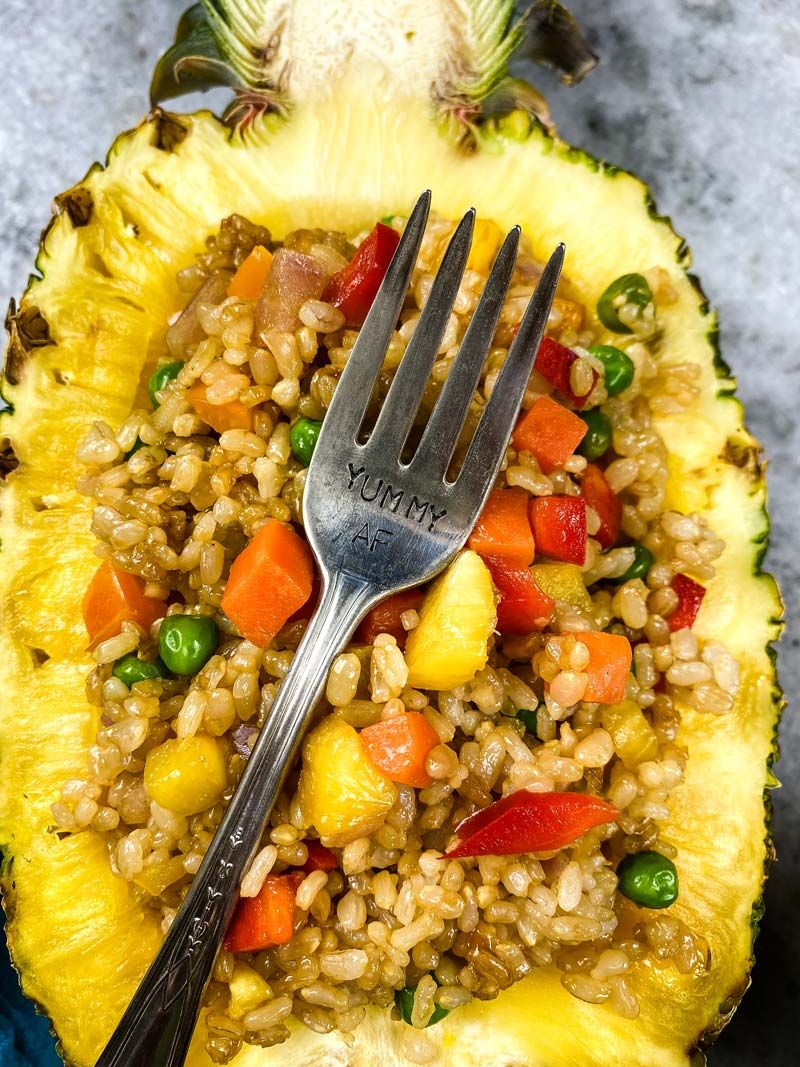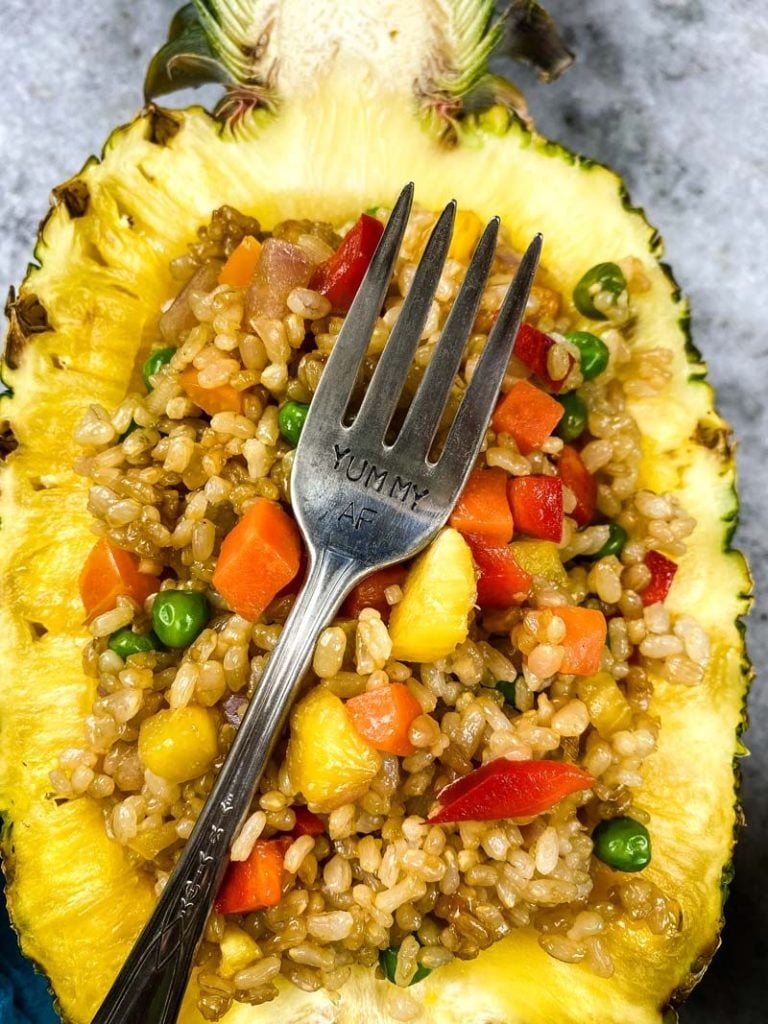 Ingredients:
Bell Peppers: I use one of each color, red, yellow, and orange. Bell peppers add pretty color to a dish, and a wonderful sweet flavor.
Onions: Contain antioxidants and compounds that fight inflammation.
Dry Mustard: Commonly found in the spice aisle dry mustard is just ground mustard seeds.
Garlic: For extra flavor and a boost of antioxidants.
Ginger: Either dried or minced fresh ginger root. I prefer fresh, but in a pinch I've always got dried on hand.
Pineapple: My favorite thing to add to fried rice, and the perfect balance of sweet and savory.
Peas & Carrots: The timeless frozen vegetable combination.
Brown Rice: A whole grain that has not been stripped of the bran, germ, and endosperm which are the most nutrient rich part of the plant.
Coconut Aminos: You can also use low-sodium sauce or low-sodium tamari.
Recipe Tips:
For extra flavor, feel free to substitute 1 cup of water for 1 cup of pineapple juice when cooking your brown rice in the Instant Pot.
Add salt to taste.
If you want to add some crunch, throw in a handful of fresh chopped green onions (white and green parts).
To make this recipe with precooked or leftover rice, simply add it after your vegetables have been sautéed.
If you need to cut down on the time this recipe takes, make Pineapple Quinoa! Instead of adding rice to the pot, add 2 cups quinoa and 2 1/2 cups water. Cook for 1 minute and allow a natural pressure release of 10 minutes. Then add your veggies in like the recipe states.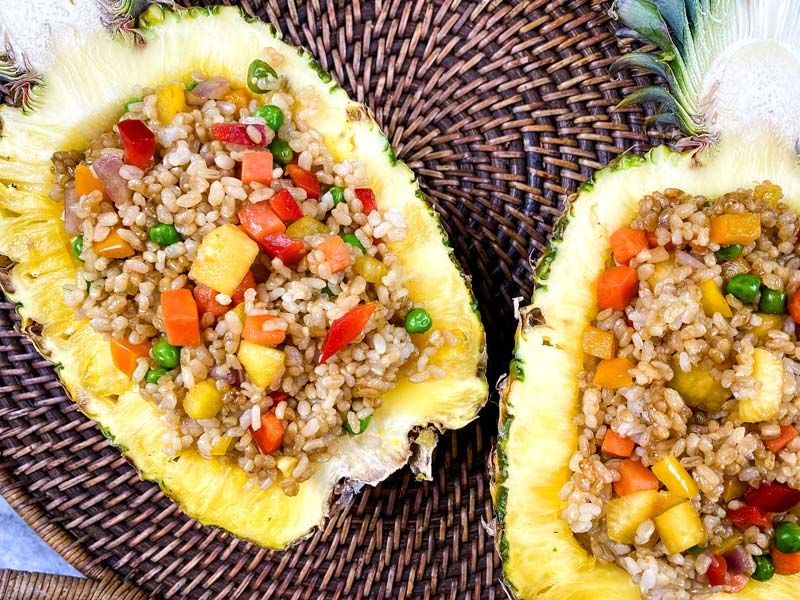 How to make Pineapple Rice: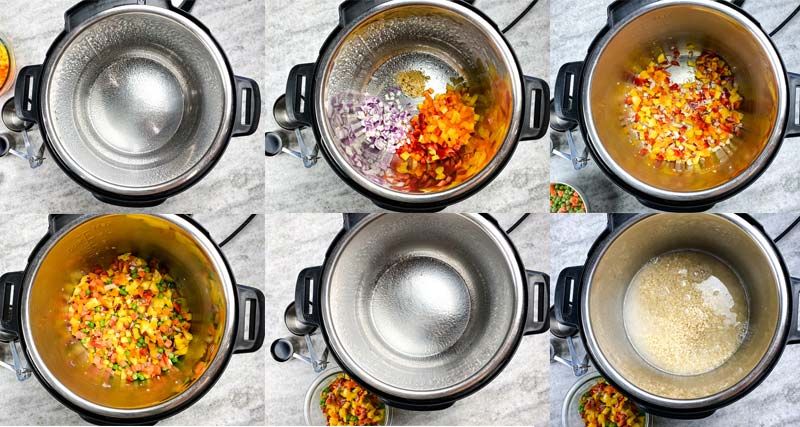 Healthy Eating Plans
Weight Watchers: Each 3/4 cup serving is 4 Blue Plan Points | 4 Green Plan Points | 1 Purple Plan Point.
Looking for more Weight Watchers recipes with Points Values?
Ultimate Portion Fix/21 Day Fix:
For the entire recipe: 9 Yellow Containers, 2 1/2 Green Containers, 1/2 Purple Container. This recipe makes 8 servings that are about 3/4 cup. I give you these counts so that if you make changes to this recipe, it's easier to calculate your 21 Day Fix containers again.
Each serving: 1 Yellow Container, 1/3 Green Containers, trace Purple Containers (I do not count it).
Looking for more easy 21 Day Fix recipes?
2B Mindset: This is a perfect 25% FFC lunch if you add in a bit more veggies (to equal 50%) and 25% protein. I like to have this with some raw vegetables and a small container of yogurt.