This site contains affiliate links. Please see Policies for more information.
Part of what makes the Instant Pot so easy to rely on in the kitchen is meal prep! Whether you prep just breakfast, snacks, or all of your meals for the week, these healthy Instant Pot recipes are delicious, hearty (the can easily last 5-7 days in the fridge), and can be frozen easily.
Whether you are trying Instant Pot meal prep for weight loss goals, to save money, or to save time–these recipes can help.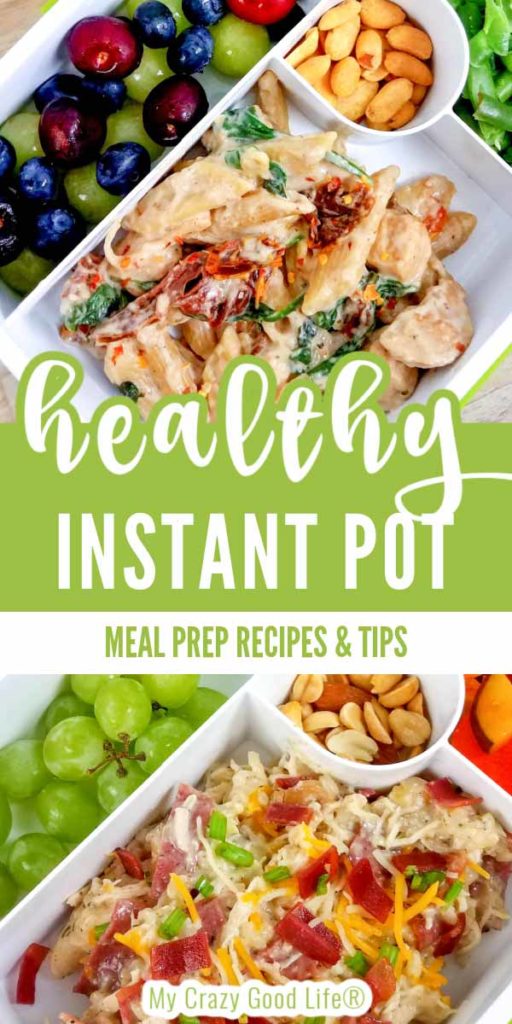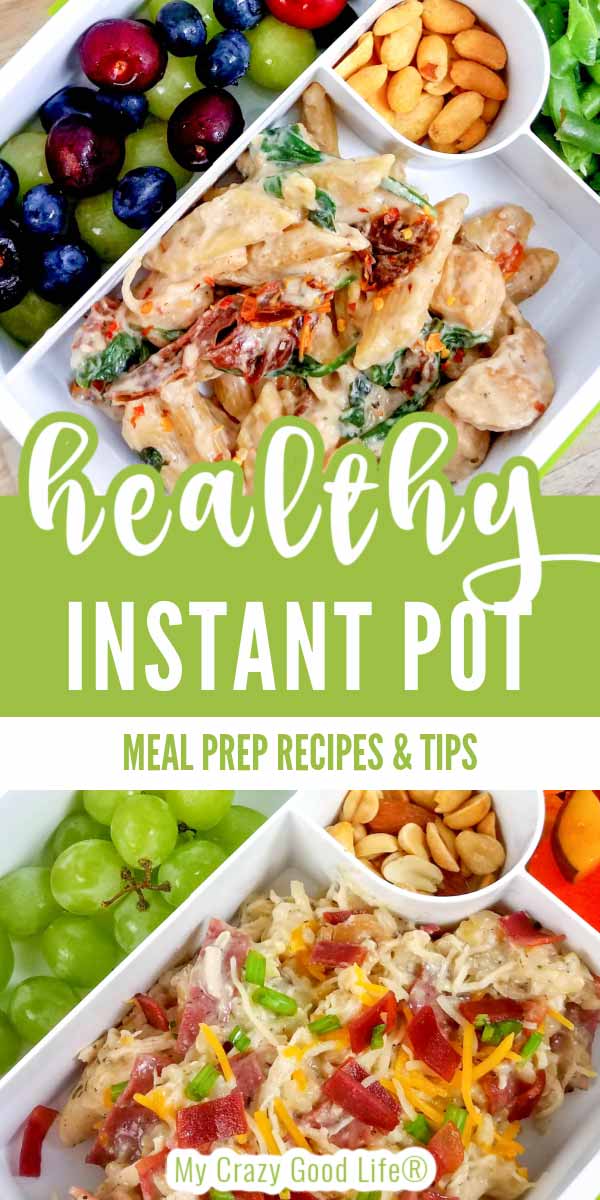 Looking for more ideas? Join our Facebook group!
To use the free grocery list feature for these recipes:
This website allows you to save your recipes, make custom meal plans, and print grocery lists–for free!
Time needed: 5 minutes
You have to be logged in to save recipes, otherwise your browser clears your recipes every time you leave the website. Creating an account is free, and your email address will never be sold or shared.
Log in

You'll have to be logged in to save your recipes.

Save it!

Where you see a grocery list, click "Save to my Collections"

Customize it!

After saving the recipes, you can customize the grocery list!

Here's how to make it yours:

-Click on your Recipe Box
-Find the collection you'd like to create a grocery list for and simply click what you'd like to do: add items, remove items, etc.
-Click "Shopping List" and then Generate Shopping List.
Let's get prepping!
1. Choose a few of these easy sides to prep for the week
Additional Easy Recipes & Tips for prep day:
2. Breakfasts – Choose one or two to prep for the entire week
If I choose two of these recipes, I always freeze some of it because two full recipes for breakfast is a bit much if I'm the only person eating it.
Bonus: These are all healthy breakfasts that include serving sizes and counts for both the 21 Day Fix and Weight Watchers.

Grocery List for these breakfast recipes:
Non-Instant Pot recipes to prep while your pot is in use:
Unless you have multiple pots, you're going to have some down time while your recipes are cooking. I recommend using this time to cut veggies for snacking and make some non-Instant Pot recipes.
These recipes can be made in about 30 minutes and are perfect for snacking or as part of your lunch.

Grocery list for these snack recipes:
If I step out of the kitchen while I'm prepping, even if I'm waiting for something to cook, I find that I lose my motivation to prep. The name of the game for me is "don't leave the kitchen" ;)
3. Meal Prep Instant Pot Lunches and Dinners:
Most of these recipes can be made in the slow cooker as well! It's a great way to get more done on your prep day.
There are a couple of ways you can plan these.
Choose one recipe to eat all week for lunches, and choose three to make and freeze for busy weeknight dinners (I do leftovers for two days).
Choose multiple recipes and plan on eating a recipe for dinner, then lunch the next day. This is an easy way to have meal prep lunches for the week without a ton of prep.
Instant Pot Lunch Recipes:

Grocery List for these recipes:
Instant Pot Dinner Recipes:

Grocery List for these recipes:
Looking for more awesome Instant Pot Recipes? I've got 100 healthy Instant Pot recipes here, and a ton of healthy Pressure Cooker Recipes here.
Recipe Tips:
You can easily use chicken breasts or chicken thighs in these recipes, they're easy to swap and require no changes to the pressure cook time.
Use raw veggies for a last minute side dish
Most of these recipes are gluten free as is, but you can definitely swap regular pasta for gluten free!
These recipes use whole grain pasta, which requires different cooking times than regular white pasta. They can't be swapped out in a recipe.
Save
SaveSave