This site contains affiliate links. Please see Policies for more information.
We received our new Peloton spin bike about four month ago, and believe that it's been one of the best purchases we have made in a while. Here's our honest, unpaid, uncompensated Peloton bike review.
While it's humbling for someone like me who never experienced a spin bike before, I've seen daily progress with my rides and that is so empowering!
*this article was updated 10/14/2020 to include Bike+ information and a current review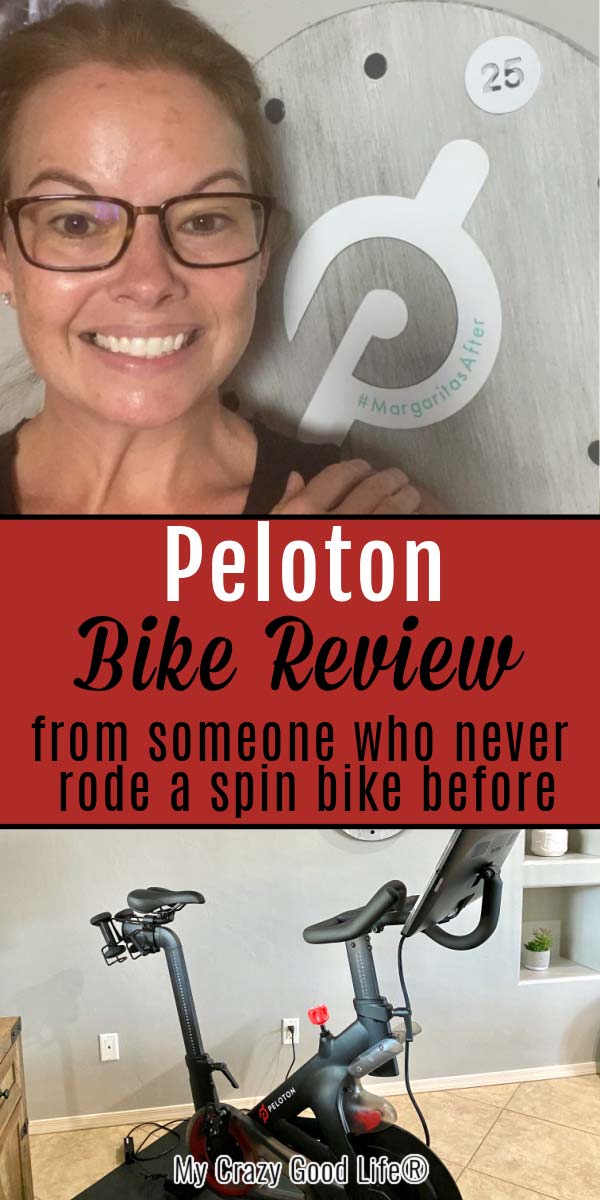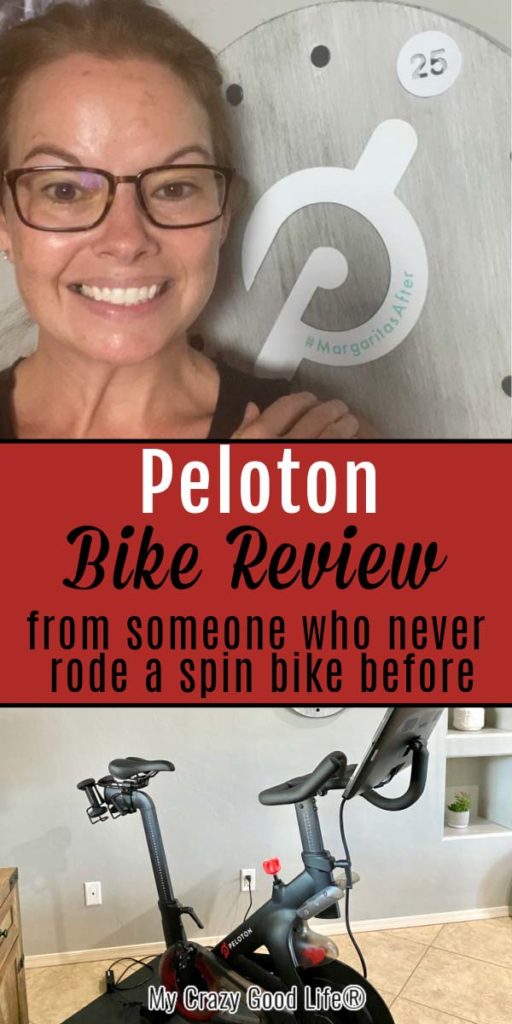 What is a Peloton?
Peloton means a group of bike riders, but it's also a brand name for one of the most popular brands of exercise equipment. Peloton makes spin bikes, the Peloton Tread (their treadmill), and is rumored to be venturing into rowers soon.
A Peloton bike isn't an exercise bike–it's a spin bike, also called an indoor cycling bike. It's made to go fast (well, while staying in one place) and isn't a passive experience like a traditional exercise bike is.
The best part about the Peloton brand, in my opinion, are the spin classes and instructors. The Peloton comes with a large screen where you'll watch your spin classes–either live or pre-recorded.
How much does a Peloton cost?
A Peloton bike isn't cheap–they start at $1895 and go up to about $2,945, depending on which bike and which accessory package you buy.
When you purchase the bike, you'll have the option to add these accessories onto your order:
Peloton shoes with delta cleats: The Peloton shoes come with Delta cleats. If you have another brand of shoes with different cleats, you can swap out your pedals for a relatively low cost. I believe they have them right on Amazon.
Small weights: You might giggle at the 1, 2, or 3 pound weights but while you're riding you'll quickly realize that those weights are no joke. Currently I'm typing with my arms resting lazily on my desk because of the Intervals & Arms ride I did two days ago.
Headphones: Peloton has their own headphones, but you can connect any Bluetooth headphones to your bike. We connect Apple Airpods to our Peloton and they work perfectly.
Heart rate monitor: Peloton has their own HRMs, but you can use any Bluetooth connected monitor you have.
Bike Mat: Another Peloton branded item that you can buy, but you can also use a regular yoga mat. Many people don't even use a mat–but it's nice to have a nonslip platform around your bike, I think.
If you're getting ready to purchase a Peloton and would like a discount code for $100 off accessories you're welcome to use mine: N3YMBA Using my discount code will award us both a $100 credit for accessories.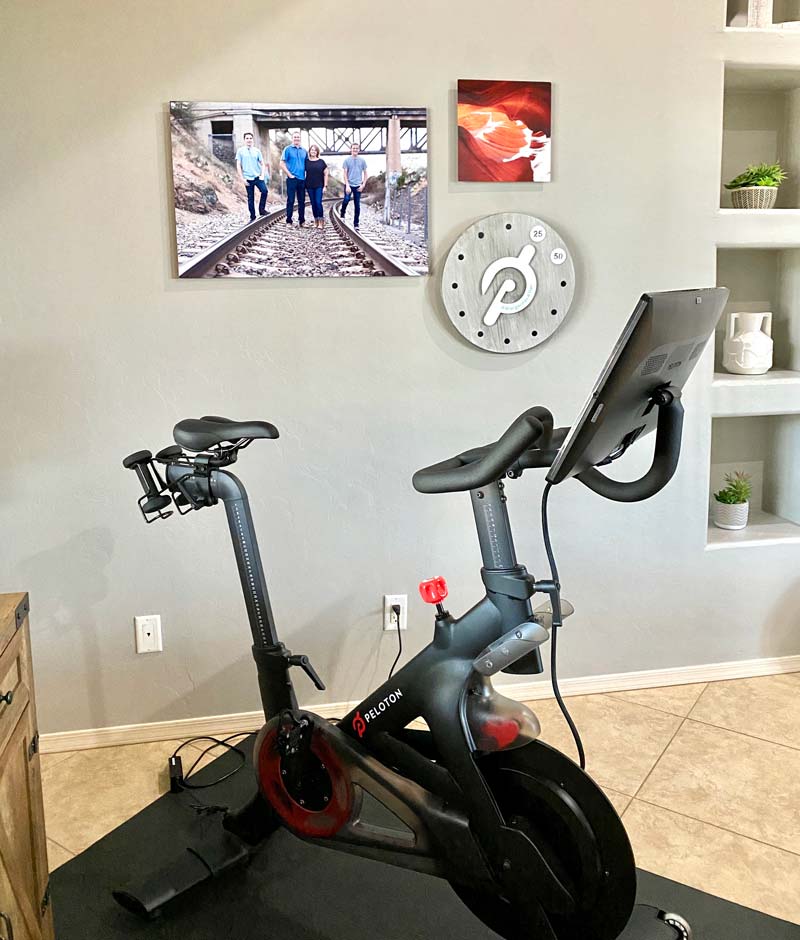 Bike vs Bike+
The original Peloton bike is $1,895 and comes with the following:
adjustable 21.5 inch touchscreen
2×10 speakers in the back of the monitor
4×2 footprint (which is still crazy to me–it's not big at all)
The new for 2020 Bike+ is $2,495 and comes with the following:
rotating 23.8 inch touchscreen (it completely swivels in a circle)
4 channel audio speakers in the front of the screen – the sound is noticeably better on the Bike+ if you're not using headphones.
Same 4×2 footprint
The resistance knob has an autofollow feature that allows you to set it so you don't have to manually change the resistance during classes.
Apple GymKit integration (I use my Apple watch just fine with my bike by starting an indoor bike workout, so don't think you need this feature to use your watch)
Both bikes require a $39/month subscription and allow for multiple profiles.
Peloton Review: Negatives
I did a ton of research before purchasing our bike, and with all of the great aspects of buying a Peloton, there are definitely a few negatives you should know about before you buy.
In addition to the cost of the bike, you'll have to pay a $39 monthly for the classes in the Peloton app. There is no other way to say it–this sucks. To spend so much for a piece of equipment and then have a monthly fee is crazy–but:

The monthly fee allows you to take real time classes from their New York and London studios as well as on-demand classes–a ton of them. There are more than 5,000 cycling classes in the app right now, and they add more every day.
The monthly fee also allows you to interact with other class members. You can ride with them, race them, high five one another, and see where you rank among them.
The monthly fee includes not only cycling workouts, but also these other fitness classes: indoor running, yoga, strength training, cardio, meditation, outdoor running, stretching, bootcamp, and walking classes.

The bike has a one year warranty. We didn't think that was very long for something that is so expensive. You can get extended warranties, though, and people like the service they receive from the warranty company.
Peloton Review: Positives
Working out has never been this fun. There is an instructor for everyone–every type of person. And if you'd like me and live for music, there is a genre for everyone.
The Peloton is a cult-like community, and they are a helpful bunch. Need help adjusting your seat? They'll help. Want to know the best instructors? They'll share why they love theirs. Wondering which Peloton class to take? There is a Peloton-specific Facebook group (and support community) for almost anything you can think of.
Peloton celebrates your milestones with you! On each ride, you'll be prompted to high-five riders who are riding their first, tenth, 25th, and 100th rides! Instructors love to shout out your usernames when you hit milestones on live rides, too.
There are literally workouts for everyone. Whether you want a 5 minute ride up to a 90 minute ride, there are rides available for you. Also, there are multiple class types available (and this is only the Cycling options!):

Beginner
Low impact
Power zone
Climb
Live DJ
Intervals
Heart Rate Zone
Themed
Groove
Metrics
Pro Cyclist

With more than 20 Cycling instructors, you'll find your favorites in no time. Me personal favorites are Alex, Tunde, Robin, and Cody.
How do you use the Peloton bike?
It's so easy–sit down, clip your shoes in, and start pedaling. The numbers on the screen show you how fast you're pedaling (cadence) and how hard you're pedaling (resistance).
Each of your rides will earn a number that represents your total output of cadence and resistance. The screen makes it easy to compare your current rides to your best output for that same length of ride.
The red resistance knob on the bike can be easily turned up or down while you're sitting or standing on the bike.
FAQs
Do you need wi fi for the Peloton?
You do! The screen is there to allow you to take live and on demand classes. You need wifi for this.
Where are the Peloton classes taped?
The instructors ride in New York City and in London.
How big is the Peloton bike?
2 foot by 4 foot are the dimensions. Mine sits right in the corner of my living room and doesn't take up much space at all.
Do I need a membership to ride the Peloton?
You do–there are two membership options, and you need the $39 one if you own a bike.
While I've always been a fan of at home workouts, the Peloton brings this to a new level.
Is a Peloton bike worth it?
For us, yes. Being able to workout in our own home whenever we want is awesome. We love the variety of the classes and how each instructor prompts us to push farther with every ride.
In the past 10 months, I've been focusing on reducing meat and eggs from my diet, meal prepping more, and eating healthy meals. I'm down 25 pounds and looking forward to seeing how my Peloton impacts more weight loss!
If you have questions about buying a Peloton, I'm always happy to answer them! I'd love to add your questions to my Peloton review.