Meal prepping snacks lunches takes about two hours total. If you need some meal planning help, I've got free printables, a ton of recipes, and a video of the entire prep session below.
Planning and prepping is something that can easily be customized for every household. Depending on your schedule, the number of people in your house, and how much you enjoy cooking during the week, there is a perfect level of prep for you.
If you're wanting to start at the very basics, you'll want to read this post about getting started by prepping only snacks for the week. Prepping snacks is a great way to curb afternoon snacking by always having a healthy substitute prepared and ready to go in the fridge or pantry.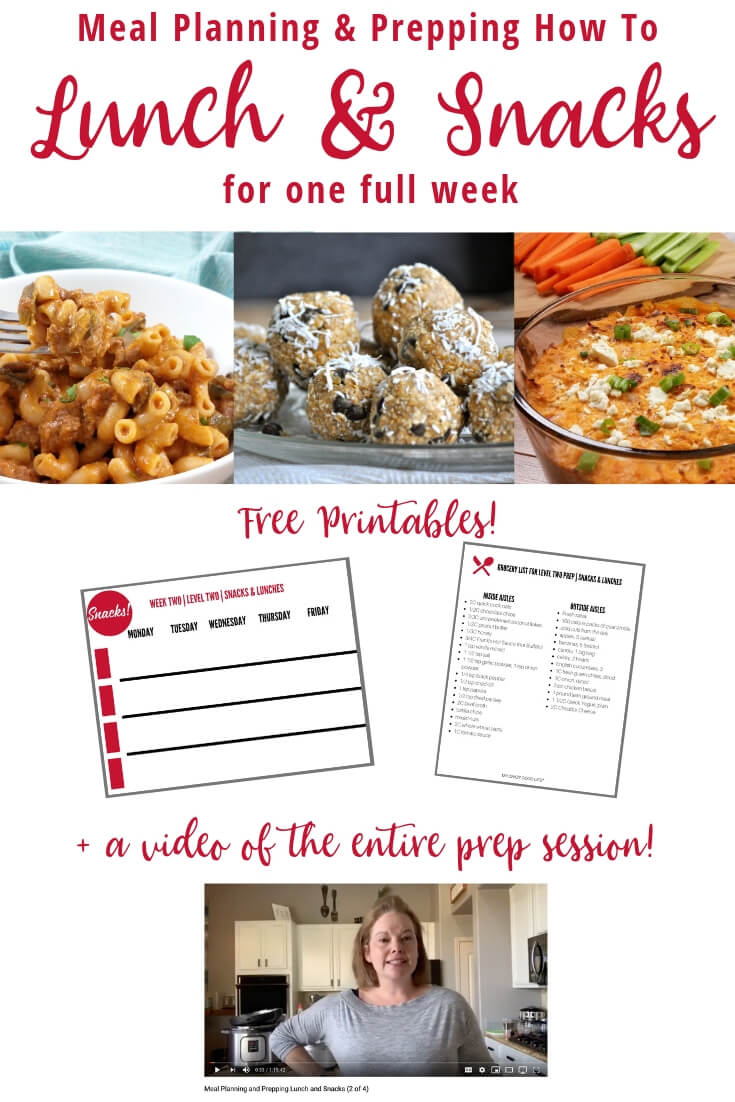 How to use this meal planning and prepping series:
If you feel that you need to work on your meal planning and prepping skills (they're totally different things!), you've come to the right place. This post is the second in a series about meal planning and prepping, and it focuses on lunch meal prep and meal prep snacks.
This is my favorite level of meal prep because I love making breakfast in the mornings and I love making dinner for my family at night. I always struggle with snacks and lunch, though. If I don't have anything ready, I'll reach for the chips.
Lunch meal prep is huge for me because I'm able to run into the kitchen, make a quick bento box style lunch, then take it back to my office and get back to work.
Assuming that you're following along with our weekly meal prep, let's take inventory of everything you made last week for snacks.
For reference, here is the Meal Planning and Prepping Series:
Week One: Getting Started with Meal Planning (Snacks Only)
Week Two: Meal Planning and Prepping Lunch and Snacks (this post)
Week Three: Breakfast, Lunch, and Snacks
Week Four: Breakfast, Lunch, Dinner, and Snacks (and dessert!)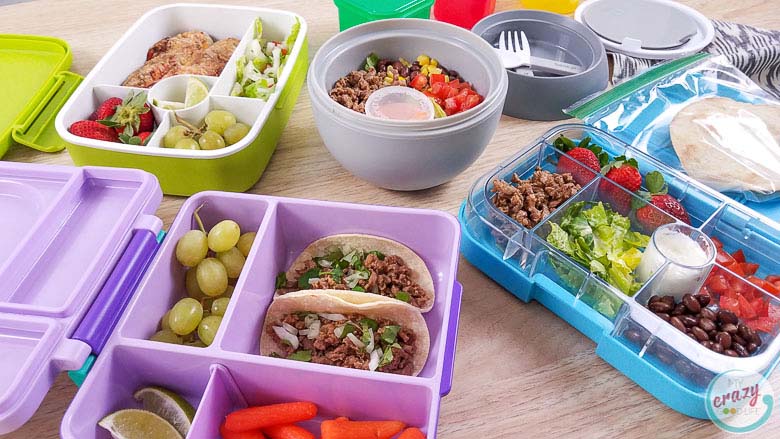 Thinking back to what you prepped last week:
One of the most important things to do this week before you start to plan is look at your fridge–do you have leftover food (did you make too much) or did you run out of food early?
The big question is… how will you avoid that this week?
Be sure to account for any variables in your schedule, keep in mind the result of last week's cook day, and make sure you're not making too much. I'd always rather make an extra batch of something on Thursday than have extras that go bad in the fridge.
Week 2 Meal Prep | Level 2 Meal Prep: Snacks & Lunches
This week we are focusing on snack and lunch meal prep. Because we are making a hearty and filling meal, I'll be making less snacks this week. If you feel you still need four snacks, feel free to make an extra one from last week or double one of these recipes I've chosen!
A quick note: Not everyone is going to want the same thing for lunch every day. Between dietary restriction, food preferences, and daytime schedules (when you can eat, if you have access to a fridge), there is never going to be one recipe that is good for all of us–and that is ok!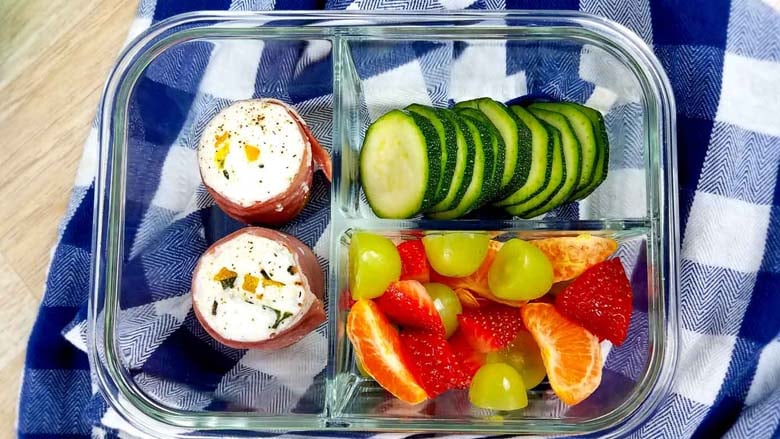 Meal Planning Lunch and Snacks:
Grab a pen and a piece of paper and write down a few thoughts about these questions. It will help you plan what you'll be eating for the week, which will be what you're going to prep.
Step One: How much do I make?
I think about a few things when determining how much food to make:
How many people will be home each day and night?

Think about sports, days off, half days, field trips, and work schedules. Don't forget about any guests you'll have in town.

When does your family usually snack?

Should you plan to prep daytime and nighttime snacks, or are daytime snacks enough?
Step Two: What do I make?
What does your family enjoy snacking on?

Make it a healthy balance of what they like and what's good for them.

What will easily last for the week?

I don't prep for the weekends because our eating habits are always a little off and I don't tend to snack on the weekends. When I prep for the week I try to choose foods that will easily last in the fridge from Monday-Friday.
You can prep any day you want–if you're prepping a few days earlier than you'd like, for example, you can make the meals ahead of time and stick them in the freezer for a few days to keep them fresh until you're ready to cook (or heat) them.
Step Three: What extras should I have on hand?
What happens if the kids are starving one day this week?

What about when friends come over and snack?

Any chance your significant other will eat extras?
Always have have a few extras on hand for emergencies. Granola bars, your favorite nuts, and fruit that lasts a bit–like an orange–are great for these extras. If you'd like to store these items in containers that are better for the environment, mason jars are perfect.
Adding everything to your list right now as you're planning will allow you to grocery shop once and save time prepping. Being prepared is a big part of this–let's be honest, it's already a bit of a pain right? We need to make this as easy as possible.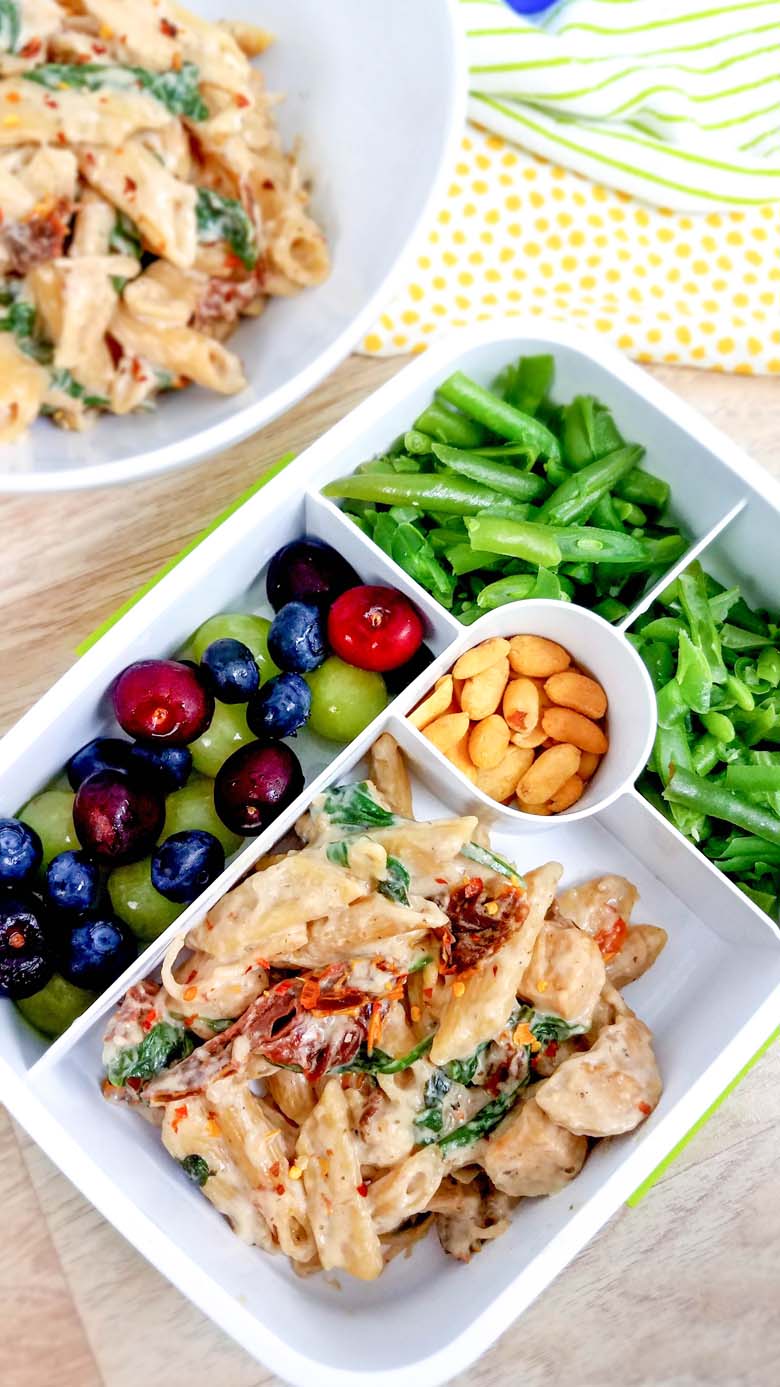 Let's get planning!
Enter your email below for the meal planning printables (meal planning calendars and shopping lists) that I have prepared for you. They're an example of how I plan my lunches and snacks for the week for my family of three (our oldest son is away at college, so I'm not prepping for him).

By entering your email address, you will be added to the My Crazy Good Life email list. You can unsubscribe at any time. The information will only be used to provide you with updates according to our privacy policy and terms of service, found on our website. We will never sell your info. If you don't receive your sign up link or printables, please check spam. If you still don't see it, please email me at [email protected]
You do not have to prep the same snacks and lunches that I do. It's the system that we're learning–don't stress about the food. If you need more meal prep ideas I'm happy to guide you to some.
Go through steps 1-3 above and write down what works for your family.
Watch this meal prep session video (it's long–just over an hour):
Amazon links to the tools I use in this video (click the title to see the item):
Instant Pot
Kitchenaid Stand Mixer
Cuisinart Food Processor
Vitamix Blender
Fruit and Veggie Containers
Rubbermaid Containers
Snack bags for nuts
Here are the specifics of my Level 2 Meal Prep Lunch and Snacks: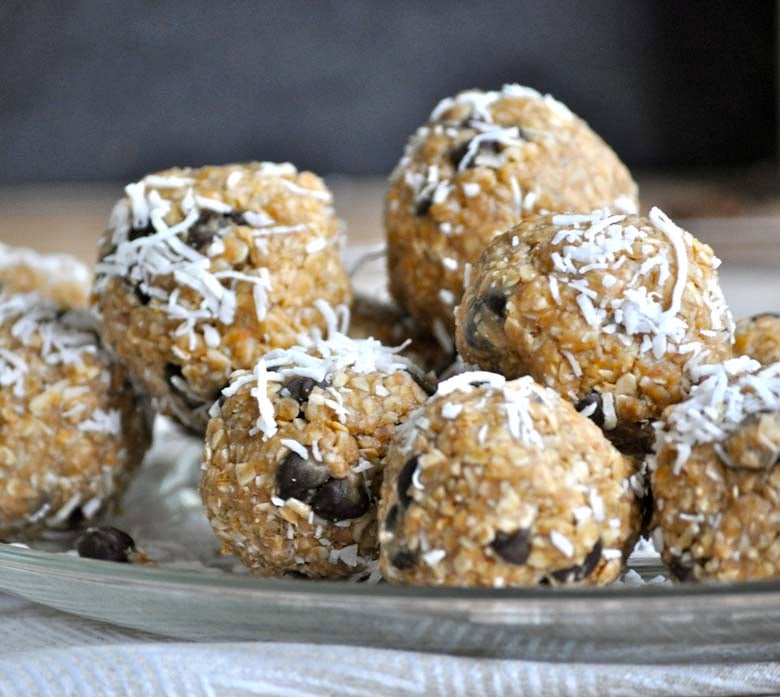 Protein Balls are these: https://mycrazygoodlife.com/oatmeal-energy-clusters-abcs-chew/
We use them as more of a dessert than a snack, at night after dinner.
ChipsSalsa are store-bought tortilla chips and fresh salsa from the grocery store
Mini guac cups are the 100 calorie packs of guacamole that you can buy at the grocery store. They're usually by the fresh salsa. If you're like me, grab some cilantro to add because there is never enough cilantro in my life.
Nuts We buy unsalted mixed nuts from the store and I prepare them in small grab and go bags. Every once in a while, I'll add some lightly salted nuts into the bags along with the unsalted.
Raw Veggies My husband takes raw carrots and celery into work every day, and I snack on raw carrots, celery, and cucumbers daily. You could easily swap this snack with your favorite raw veggies, or even a bag of frozen veggies (I always look for the bags without sauce or cheese added).
Cold Cuts I find low sodium and nitrate free cold cuts (or lunch meat, you might call it) from the deli counter. If you'd rather prepackaged, Hormel makes the best one I've found next to Applegate.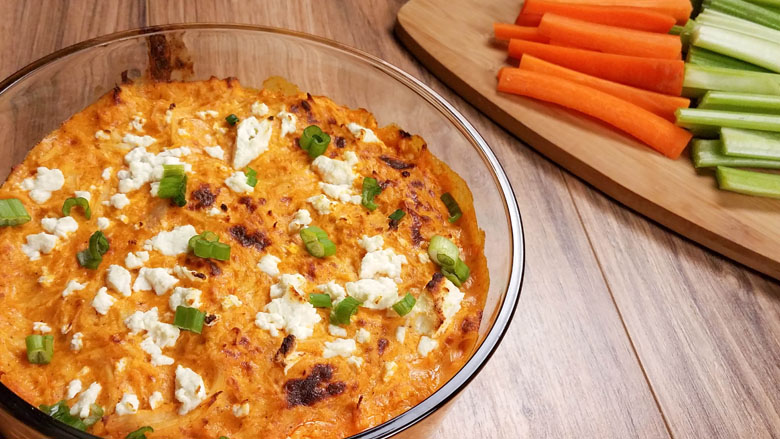 Buffalo Chicken Dip is this: https://mycrazygoodlife.com/healthy-buffalo-chicken-dip/ This recipe can be made in the slow cooker, Instant Pot, or on the stove top.
Hands down my favorite lunch and snack ever. I highly recommend doubling the recipe and freezing some in small containers. This is healthier than traditional buffalo chicken dip, as it uses protein packed cottage cheese and Greek yogurt as its base. BUT don't worry if you don't care for either cottage cheese or greek yogurt–I don't care for either but blending them (and mixing with hot sauce) makes for a delicious not too creamy taste.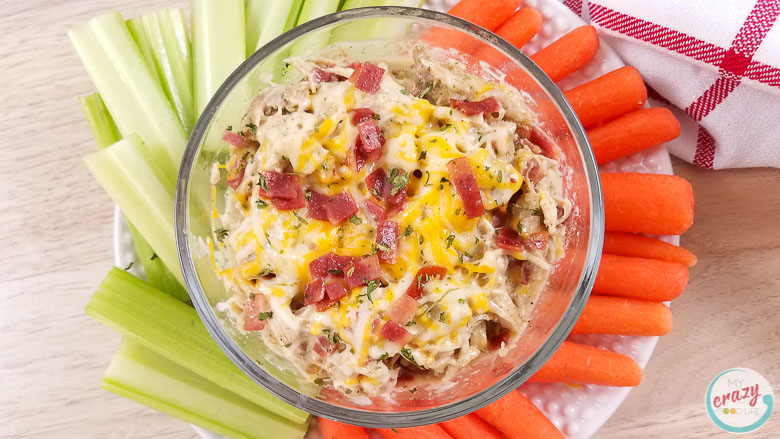 If you truly don't care for the Buffalo wing taste in this recipe, you might prefer to use this healthy Crack Chicken recipe. They're very similar recipes that are easy to eat with veggies as a snack. They're cooked meals, but can be eaten cold or warm.
I am prepping this Healthy Hamburger Helper recipe for a filling and healthy lunch. Like I mentioned, feel free to make this or find something else! If this looks "pretty good," maybe one of these adaptation will help you be excited about it:
Use a different type of ground meat

Use a different pepper to reduce the spice of the green chiles

Leave the pepper out if you prefer a more traditional hamburger helper

Leave out the cheese and yogurt to make it dairy free (this is the way I usually make it)
If you're needing a different lunch recipe, you can choose from my Easy to Meal Prep recipes or choose one of your own! These are my favorite healthy meals to prep because they are hearty and can be easily frozen in case you make too much.
Next up? Your grocery list!
How do you make a grocery list?
To create my grocery list, I read my meal plan line by line and add ingredients to my list after checking my pantry for them. I like to divide the sheet into the two main sections of the grocery store–inside aisles and outside aisles.
Remember, your grocery list and meal planning printables can be downloaded by filling out the teal box above :)
2C quick cook oats

1/2C chocolate chips

2/3C unsweetened coconut flakes

1/2C peanut butter

1/3C honey

1 tsp vanilla extract
3/4 cup cottage cheese

3/4 cup Greek yogurt plain

2/3 cup cheddar cheese (shredded, optional)

2 lbs. chicken breasts, frozen or thawed

3/4 cup Hot Sauce Frank's Hot Sauce, NOT Buffalo sauce :)

1/2 tsp garlic powder

1/2 tsp onion powder

1/4 tsp black pepper

1/2 tsp dried dill

1/2 tsp dried parsley
1 lb. lean ground beef, turkey, or chicken

1 cup fresh green chilis, diced

1 cup onion, diced

2 cups beef broth

2 cup whole wheat pasta

1 tsp paprika

1 tsp garlic powder

1/2 tsp salt

1 cup tomato sauce

3/4 cup plain Greek yogurt

1 1/3 cup cheddar cheese
Next, we'll prep breakfast, lunch, and snacks. Think of some of your favorite breakfast recipes–overnight oats, breakfast casseroles, and even omelettes. We'll be chatting about different ways to make these meals easier.