This site contains affiliate links. Please see Policies for more information.
Quarantine stealing senior year? Here are some ways to celebrate college graduation during quarantine!
Quarantine is a bummer. Even though we know it's the best way to keep us safe and healthy, it is still hard to accept that many milestones and celebrations will go without the usual pomp and circumstance–for many, traditional graduation ceremonies are cancelled, and parents, friends, and loved ones are looking for ways to honor their college graduates without a graduation party.
These are some ways that you can celebrate the Class of 2020 during quarantine. My hope is that by celebrating at home you will be able to show your graduates just how much you value all the hard work and dedication they've put into their educational journey.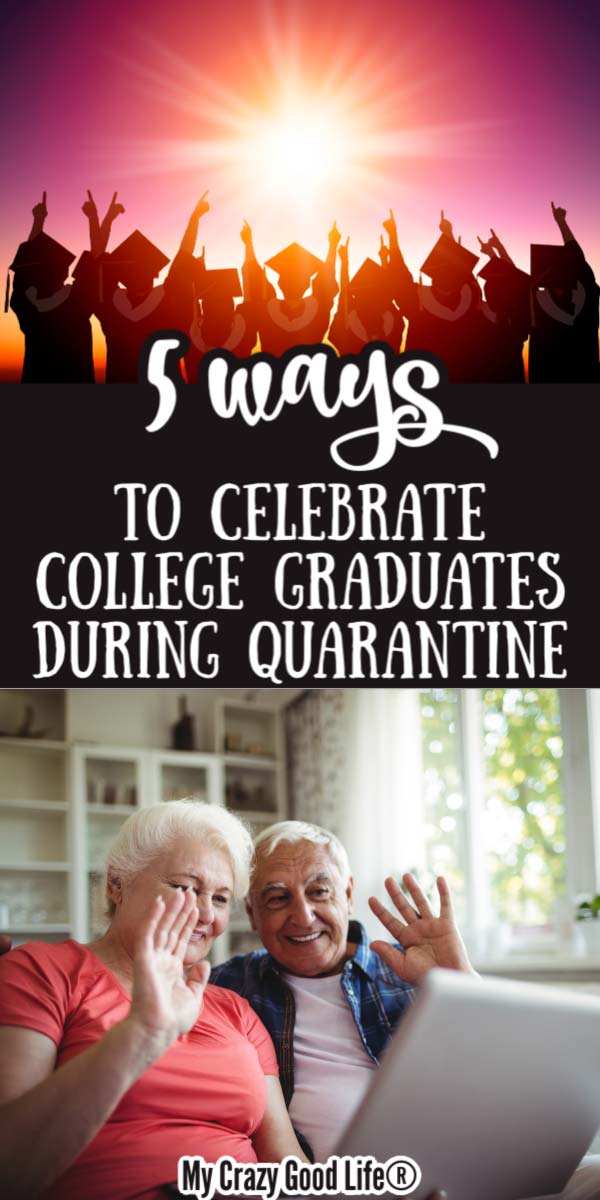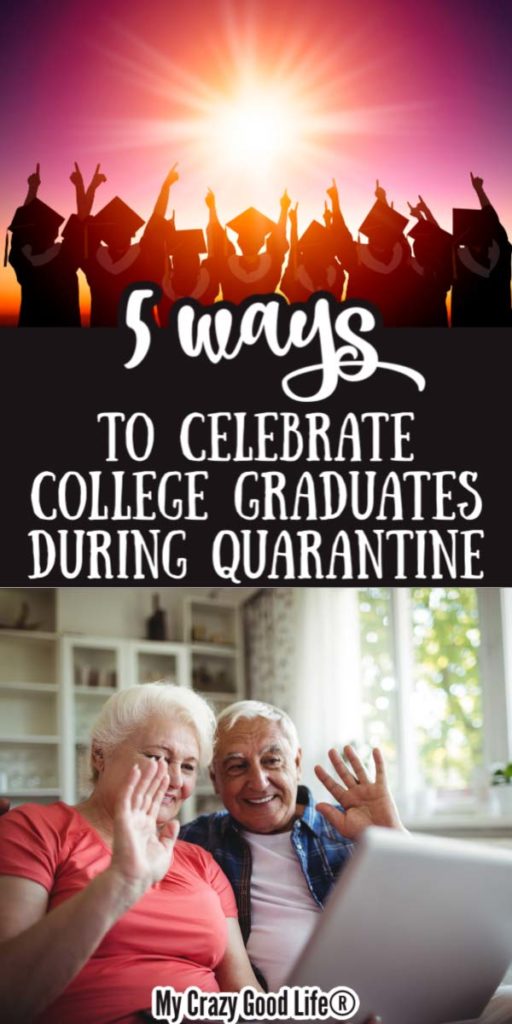 College is hard. It's long, expensive, and takes an emotional toll on those who choose to go down that path. College is also a really fun experience that is usually ended with a huge celebration–missing out on the big celebrations that mark the culmination of these years can be tough for grads to accept.
Let's work together to make sure all of the college graduates get the celebration they deserve this year.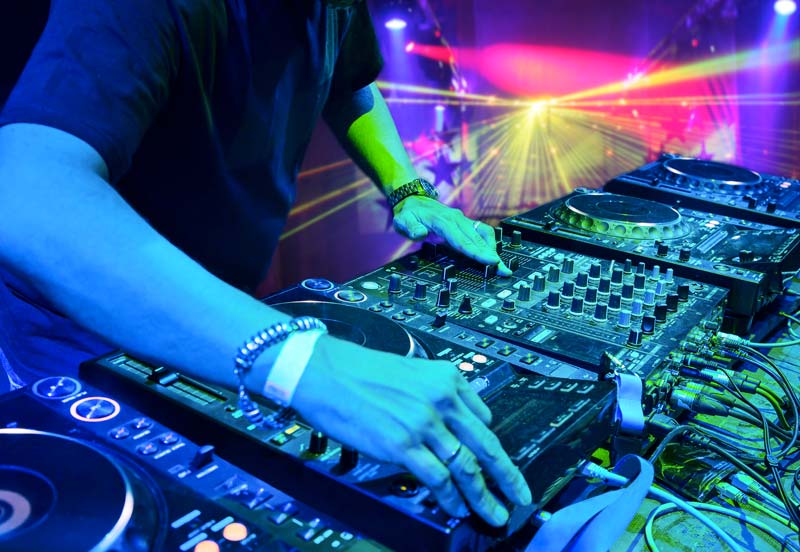 Of course, it's fun to honor your grad by making them breakfast on the day that would have been their graduation–or maybe a fancy dinner? The ideas here are ways to go above and beyond for your grad!
Host a DJ Night to Celebrate College Graduation
The last weeks and months of a college graduates life are usually full of study sessions, long nights, and some parties…we don't always like to admit it but college is sometimes equal parts partying and studying.
As many of us have seen, DJs have stepped it up a notch during quarantine by streaming live shows on Instagram and Facebook–DJ D-Nice is probably the most well known of them all, but there are many local DJs who are also out of a job in the current situation.
Find a local DJ who is working online right now to create a special night for your graduate. Set up a Zoom, Facebook Live, or FaceTime session that can be forwarded to your graduate and their friends. They can have a fun DJ dance session from wherever they are quarantining and feel together, even though they're apart.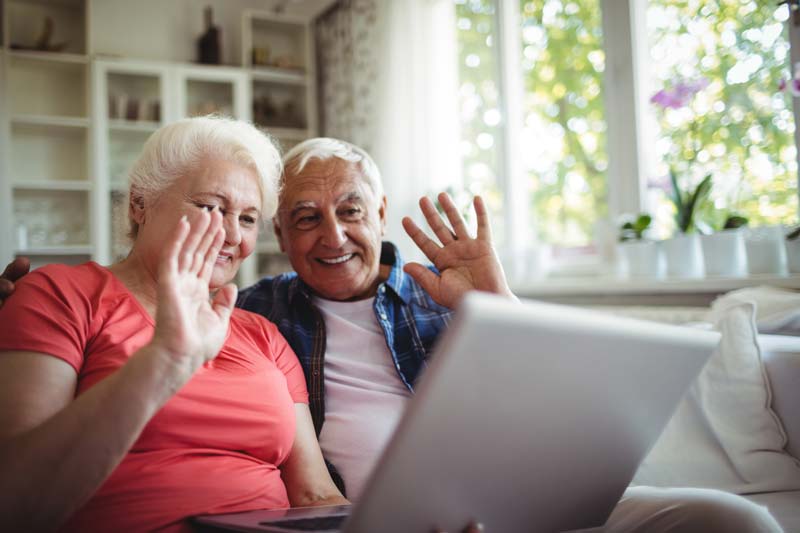 Graduation Video Messages
Did you know that you can use Tribute to stitch together videos for your college graduate during quarantine? This is a great way to get the whole family (extended family included) together to make your graduate feel celebrated.
Have your family and friends record short video message for the graduate. You can do a theme like "advice for the future" or "congratulations graduate" or just have them send over their heartfelt messages for the college graduate in your life.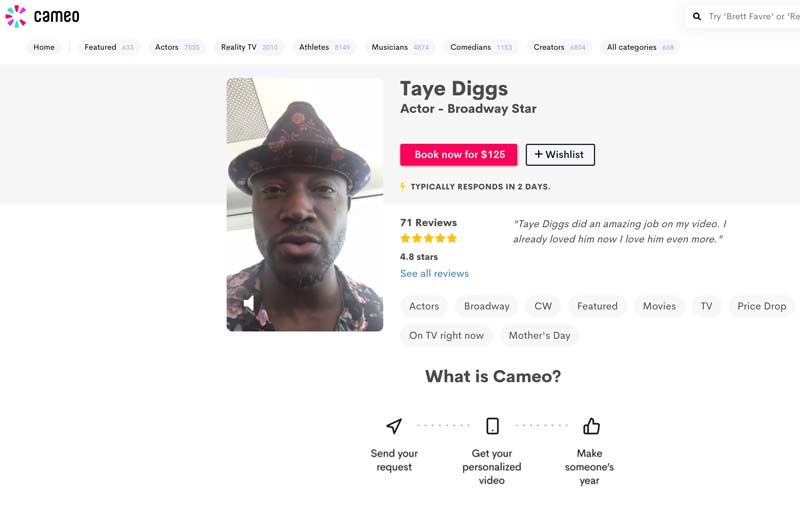 Buy Them A Cameo: Personal Video from A Celebrity
Cameo is a service that allows you buy customized videos from celebrities. That means you can go on there, find your grads favorite celeb, and then purchase a customized graduation message for them!
Not only will it make you the coolest family member in the world…it will also make them feel SO special and celebrated. Musicians, actors, sports stars–go take a look, it's a fun service!
Custom Gifts to Celebrate College Graduation
If Cameo is out of your price range or just not your style, check out Etsy. Etsy is an online marketplace that sells handmade, vintage, and custom gifts for every occasion. They have TONS of creative people listing new items each day.
Finding the perfect college graduation gift for your senior during quarantine might feel impossible with social distancing, stores closed, and more. Don't worry, Etsy is up, running, and full of amazing gift ideas.
Online Wish Lists
Technology is amazing and there are TONS of online places you can create a wish list for shopping items. Have your college graduate head to Amazon, Target, or wherever they like to shop and create a wish list or registry.
This will let them find gifts that they want or need and it will allow family and friends a great way to celebrate the college graduates during quarantine. They can order items from the wish list and they'll be shipped right to your home for an added extra surprise!
Use Social Media To Celebrate College Graduates During Quarantine
Don't forget that social media is an awesome tool at your disposal. It will allow you to connect with family and friends all at once as well as your college students' friends and their families. Use social media to organize groups so you can amplify your virtual parties, car parades, gift lists, and more.
Do you have a nostalgic grad?
If your college grad is into throwback photos and homages to their youth, throw them a themed party full of things they loved when they were young.
Their virtual graduation can be full of LEGO's, My Little Pony, or Barbies. It's a great way to get a theme going and it gives you tons of excuses to walk down memory lane with your college graduate during quarantine.
Make sure to get them a cap and gown online, even a cheap one will make the celebrating so much more fun and on "theme". It's also great for taking photos, both serious and silly, to commemorate this time in their lives!
If you need some more ideas, or know of a 2020 high school graduate, I've got more ideas here: 5 Ways to Celebrate High School Graduation.