This site contains affiliate links. Please see Policies for more information.
"Mom, can I play a game?"
It means something completely different now than it did when I was little. It used to mean Chutes & Ladders. Now, it means PS3. Or Wii. Or XBox.
How do you do it in your house? Does your son or daughter have free reign over video games? Are they allowed to play whenever they want, or do they have to ask before touching anything electronic?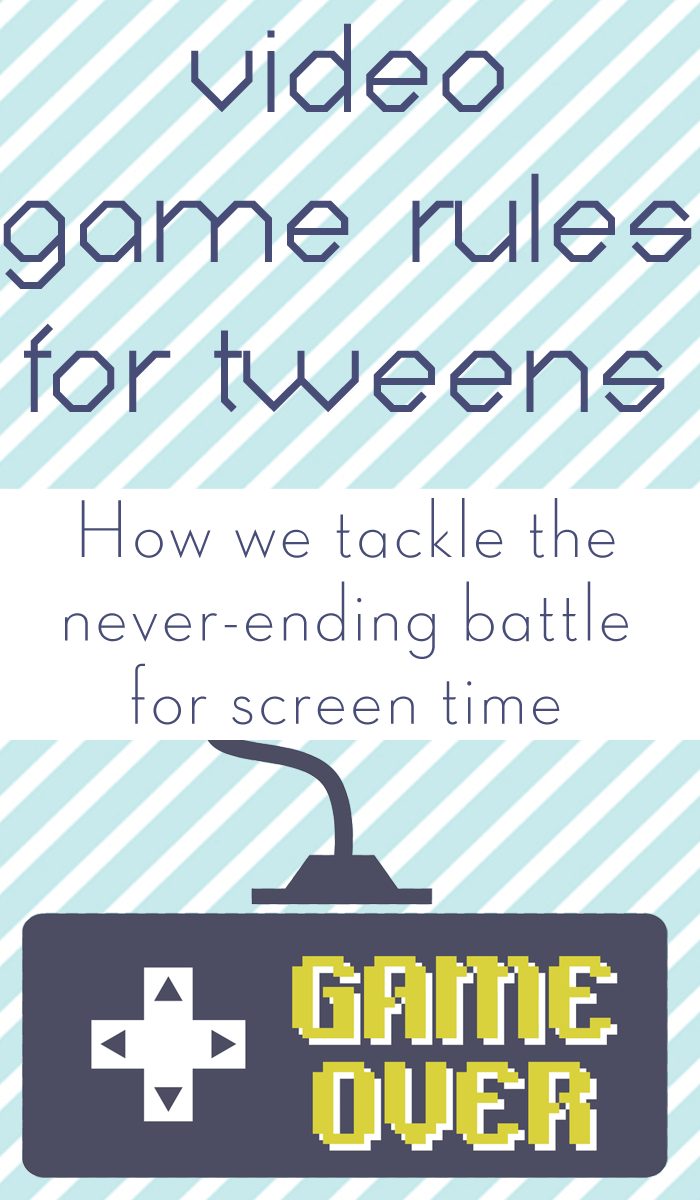 My tween used to ask us to play video games every 30 minutes or so, and it drove us crazy. It frustrated us because it was all he thought about. It frustrated him because he didn't know when he could play and he wanted to make sure he didn't miss his golden opportunity. He loves video games. And because he is a straight-A, polite, honest, hardworking kid? We're working with him.
Through many trials and errors, we have come up with a "system" to get the video games under control. It's a definitely a compromise, and the word system is… well, maybe an over-statement. But it works for us, and maybe it'll save you some headaches, too.
Our video game rules are:
1. No video games on school nights. No exceptions. I don't want him rushing through his homework so he can play games. When he is done studying, his growing body needs to be doing something other than sitting still and staring at a television screen.
2. Unless there is a "special occasion," (see #4) there are no more than 4 hours of video game playing on the weekend. Four hours is plenty of time for a kid to sit and relax by himself. He can use all four hours on Friday night or spread it out over the weekend, but when it's gone, it's gone… sort of.
3. It's possible to earn extra video game time, but he has to go outside to do it. Roughly, one hour of outdoor exercise earns him 30 minutes of video games.
4. Playing at a friend's house is considered a "special occasion." As are weekends that he brings home report cards and sleepovers. We allow more video game time when friends are over, and when he is at a friend's house playing, he plays by their rules. (Yes, *gulp*, if Scott's Mom lets him play video games all day, then our tween gets to do that, too.)
5. Every once in a while, throw in a "marathon day." Yup, you heard it right. Maybe he'll get bored after a few hours… maybe (hopefully) he'll realize that he doesn't feel his best after playing for 12 hours straight. I don't know. There's only one way to find out.
The bottom line? Tell your little addict when they can play. Tell them when they can ask to play. And let them know that good behavior, high grades, and exercise will be rewarded.
Looking for a fun family night idea? Everyone plays during a digital family game night!