This site contains affiliate links. Please see Policies for more information.
We are all stuck in an odd place right now–quarantine. With everyone being told to stay at home and not being able to hold parties, celebrations, or even graduation ceremonies has made for an interesting time for the Class of 2020 and their family and friends. Here are some ways to celebrate high school graduation during a quarantine.
My hope is that these suggestions will help you find ways to show your seniors just how much you care and that their accomplishments matter.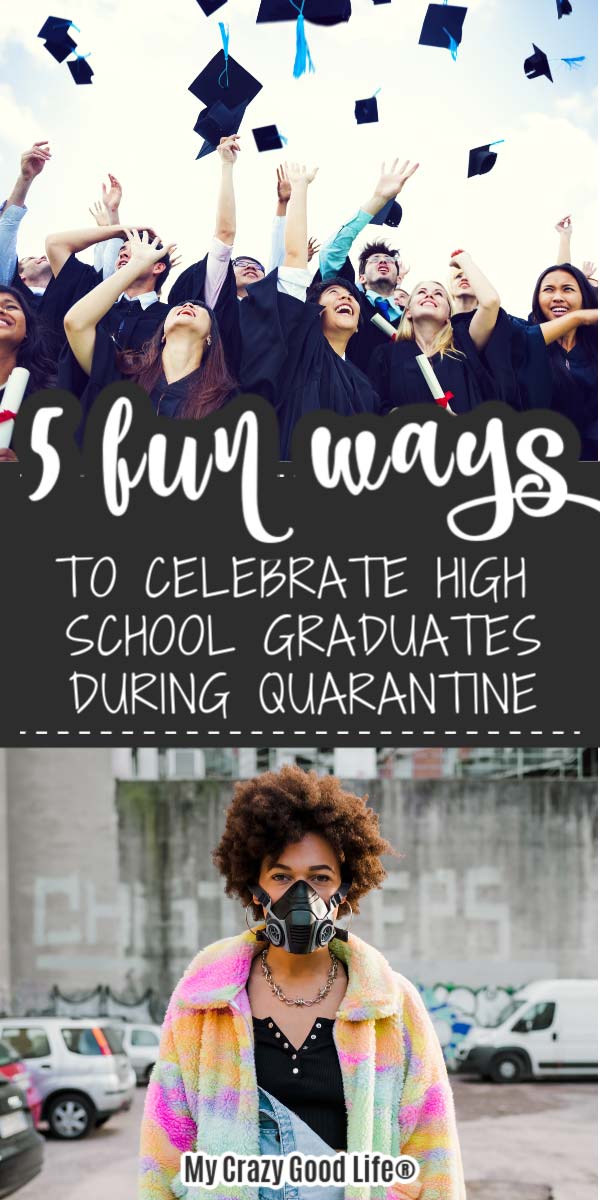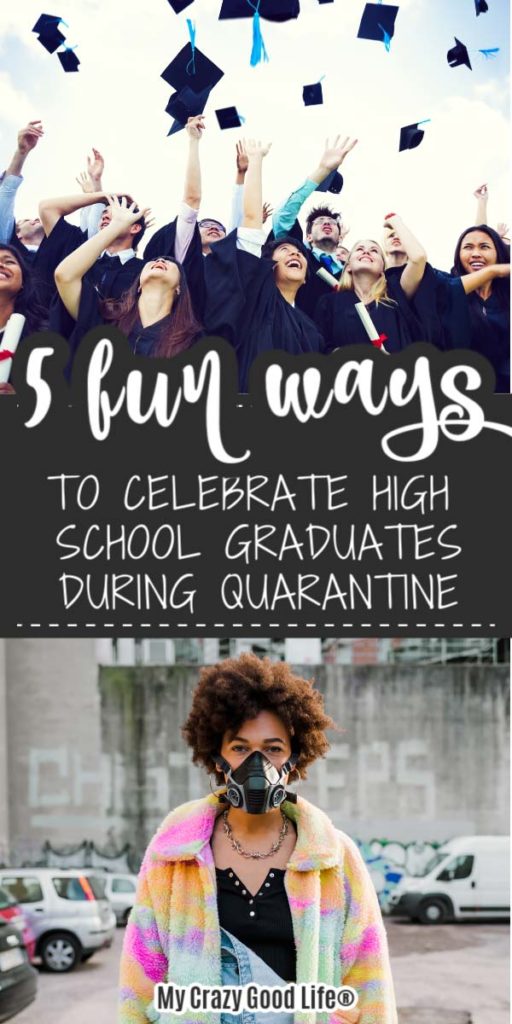 For a lot of high school graduates the ceremonies and graduation celebrations are about more than just having fun, they're a way to mark these huge achievements and feel validated.
A lot of hard work both physically, mentally, and emotionally, goes into graduating high school. As adults it can be easy to forget what that time in our lives was like. In a time when we're all anxious and unsettled about the world in general it can be tough to figure out how to celebrate the good things that are happening as well.
These easy suggestions will help you show your high school graduate just how much you care and that their achievements are not overshadowed by a quarantine graduation!
5 ways to celebrate high school graduation during a quarantine:
These are 5 easy ways that you can celebrate high school graduates during a quarantine. We're all looking for ways to make sure our kids feel special, seen, and celebrated during this weird time of social distancing and quarantine.
Car Parade
Invite all of your family and friends to hop into their car and drive by the house in a car parade. Obviously this will take a bit of coordinating but it's worth it to see the smile on your senior's face when they realize that everyone is still supporting them!
Fun Photo Shoots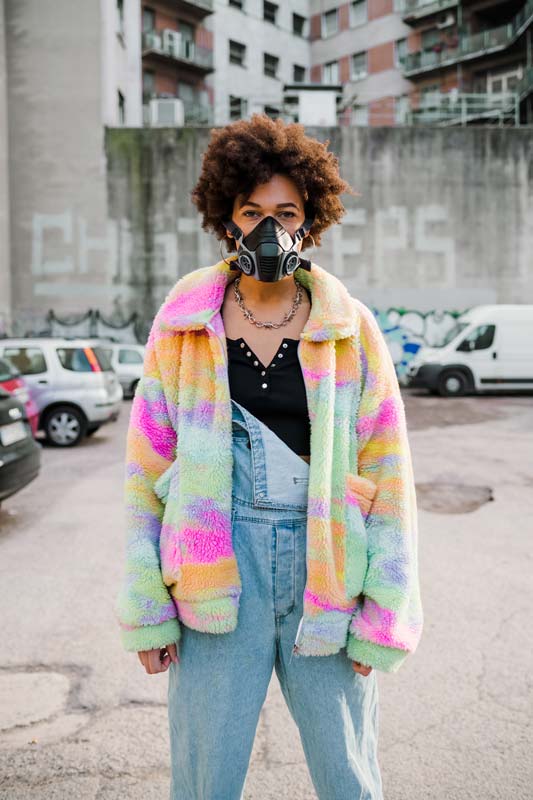 Maybe your original plans for their senior photos have been cancelled or changed, in any case a fun photo shoot is a great way to celebrate your high school seniors during quarantine.
These days every new cell phone has an amazing camera and digital cameras are cheaper and better than ever. You don't have to be a professional photographer to have some fun and take some great shots! Here's a post all about how to take good pictures with your mobile phone to help you get started.
Yard Signs
You can make yard signs to help celebrate your high school senior during quarantine. Add a 'honk' note to your signs so they know that people are thinking of them every time they drive by the sign!
If you aren't crafty or if you just want something a little longer lasting, look up your local print or sign shop! Many of these small businesses could use the support and are also making yard signs for seniors a priority during this time. They might even have some school themed designs for your area!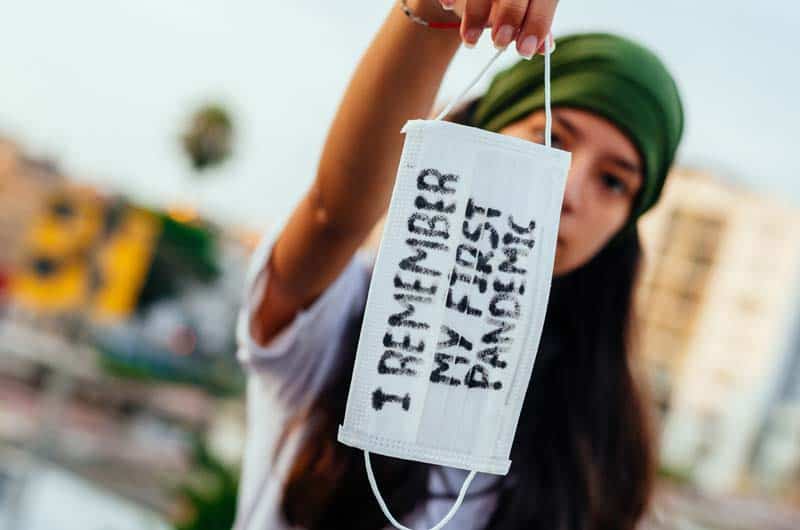 Graduation Day Celebration
This idea is more about letting the grads have some fun than it is celebrating their achievements. On graduation day, or rather the day they were supposed to graduate, have all the seniors show up to the school with their cars decorated!
Our teens are missing out on a big chunk of the school year and that means missing out on those opportunities to show off their creativity and individuality. Think of the prom decorating, parties, and of course graduation. This will give them an opportunity to show off their school spirit and their creativity.
To keep with social distancing requirements in your area just have them drive in a parade style line or set up like a trunk or treat where each car is spaced 6-8 feet apart.
Embarrass Them…Just A Little
Graduation parties, celebrations, and family gatherings are always a little bit embarrassing for our teens, right? There are plenty of ways you can help them celebrate while also embarrassing them just enough to show you care!
Use your Cricut to make some family shirts, host a virtual graduation in your home and have everyone attend via FaceTime or Zoom, or reach out to someone inspiring in your life and have them record a graduation speech to share with your high school graduate!
Some other ideas include ordering them a cap and gown to wear around the house for a day–there are plenty of options and you can likely get your school colors involved as well.
I'd also recommend asking family and friends to surprise them with graduation gifts or cards in the mail. Nothing is better than getting packages or cards and even small gifts will be extra special during this time of quarantine.
Speaking of gifts and cards… There is even a fun Facebook group set up where you can "adopt a senior" and send them gifts and cards, and ask others to do the same for your senior.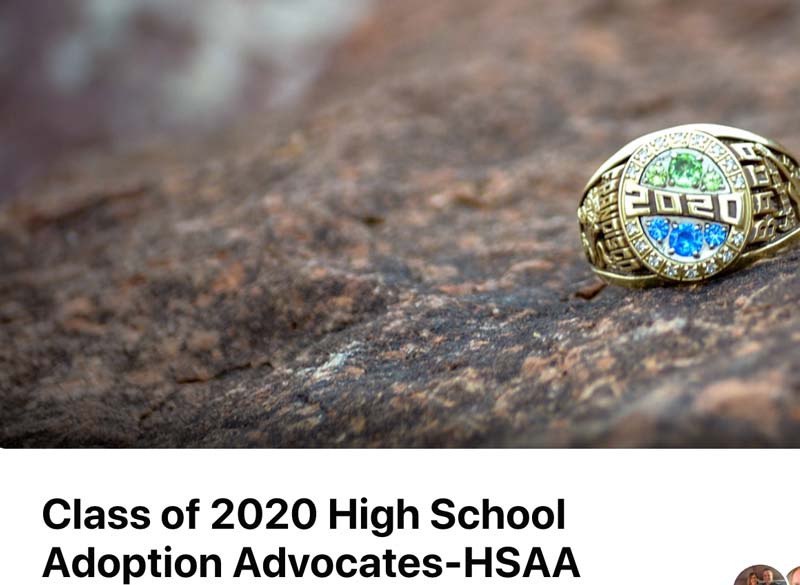 The point is to make them feel special, like they are the main event. We're all stuck at home with some extra time on our hands so now is the best time to go above and beyond.
Use Social Media Groups To Help Celebrate High School Graduates During A Quarantine:
Social media is a huge part of our lives and an even bigger part of our high school seniors lives. Set up a group on Facebook or start a video chat and get all of the parents in one place.
This will make it easier to coordinate big surprises for your seniors and it will also give you a network to count on when you want to organize car parades and virtual celebrations for your kids!
Do you have a college graduate who needs celebrating?
Though these ideas are perfect for high school or college graduation, I've put together a post all about how to celebrate college graduates during a quarantine. Hopefully these ideas will help you how them just how much you care.