This site contains affiliate links. Please see Policies for more information.
Blended Peanut Butter Mocha Recipe
Let's get this out of the way first:
You're welcome.
When I was pregnant with Jack, there was an amazing coffee shop about 3 minutes from my house. If you ordered a Mocharita, you were served a blended mocha in a huge margarita glass. Fun, right?
My sister-in-law Jen stopped at the coffee shop every time she would come visit, and she would always have a to-go version (no margarita glass) in hand.
The coffee shop also had caramel mocharitas and peanut butter mocharitas.
Yes, I did just say that.
Peanut butter, chocolate, and coffee.
Blended together into yumminess.
The day that I had Jack, Jen brought a to-go cup full of peanut butter yumminess to the hospital for me. It was amazing, and a long relationship between me and that coffee shop began.
The coffee shop has since closed, a few weeks ago I craved a peanut butter mocharita for the first time in a long time. After a few unsuccessful attempts at replicating the perfection, I got close.
And I'll share it.
I don't serve it in a margarita glass, but I may have to start.
Blended Peanut Butter Mocha Recipe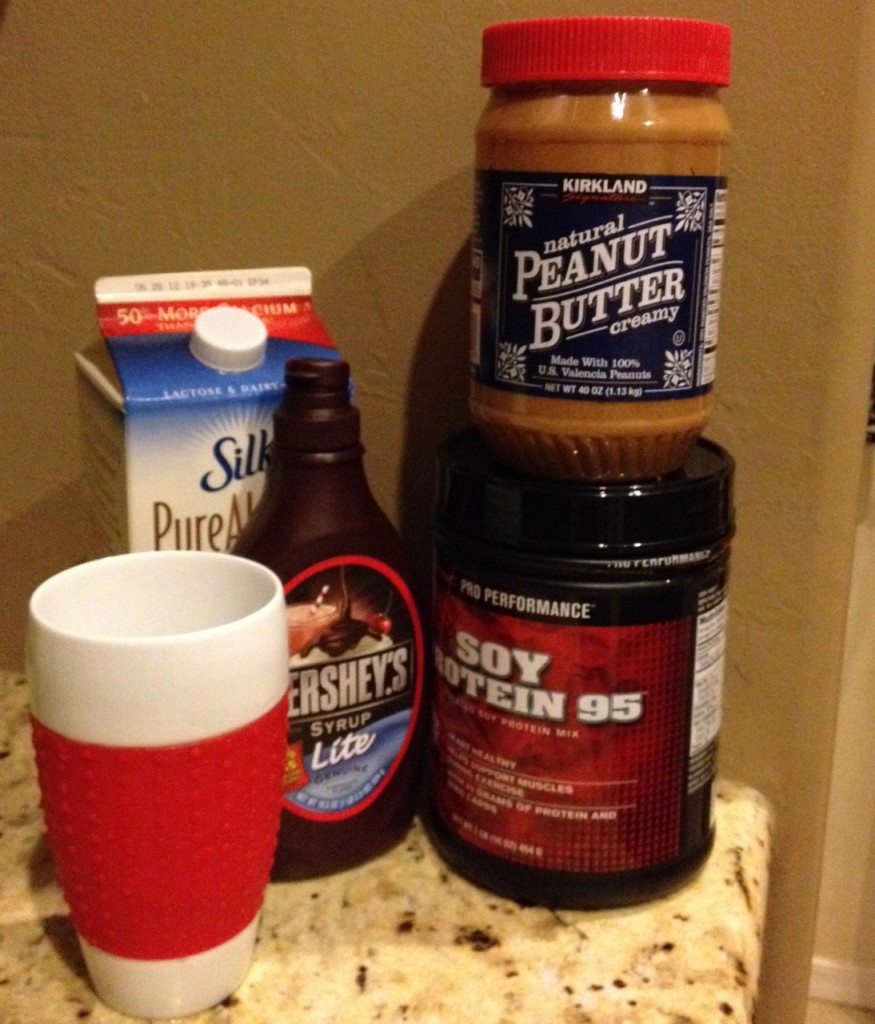 2 T Peanut butter (I use Kirkland brand, from Costco)
2-4T Hershey's syrup
8-12 oz. chilled coffee
Coffee ice cubes
*optional – protein powder
*optional – milk
1. I start with coffee ice cubes. That's right. I chill coffee, then pour it into ice cube trays. More coffee, less water. If you don't have coffee ice cubes, of course you can use regular ones!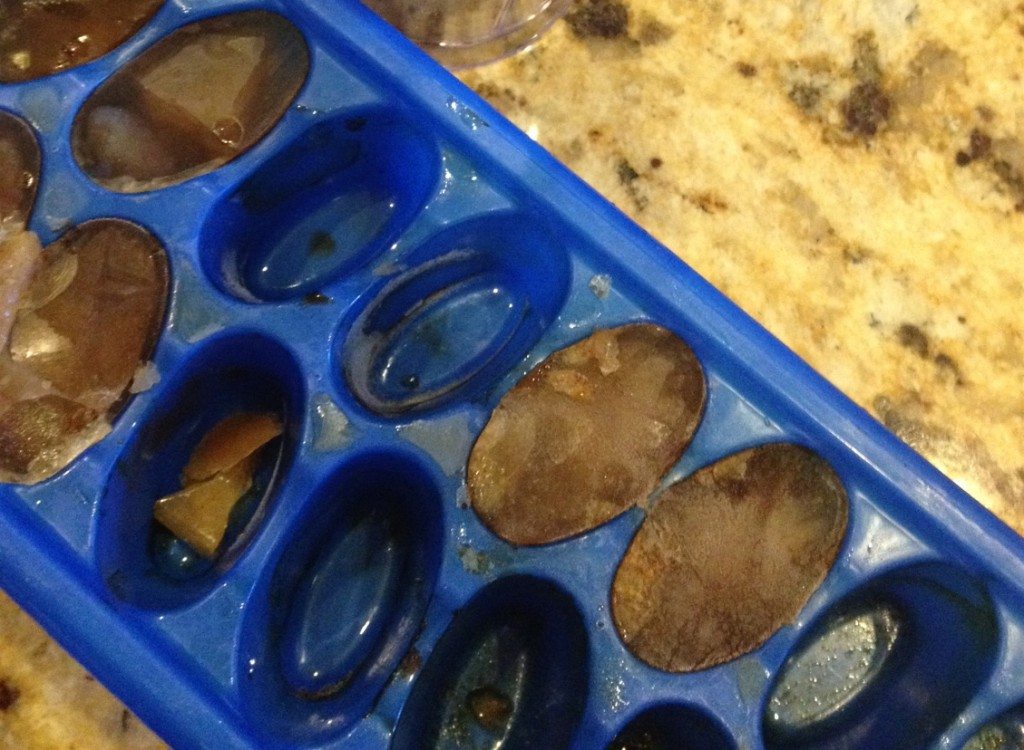 Add about 10 ice cubes to start your drink.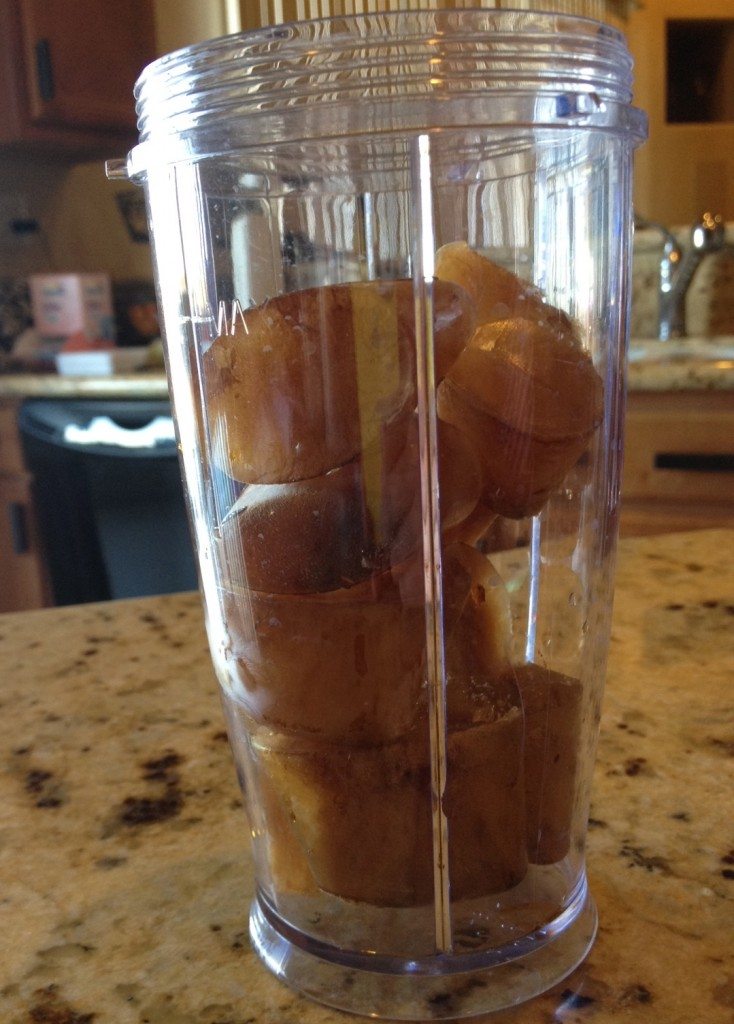 2. Add chilled coffee. I fill my cup about 1/3 full for now, so the other ingredients don't stick to the bottom of my cup.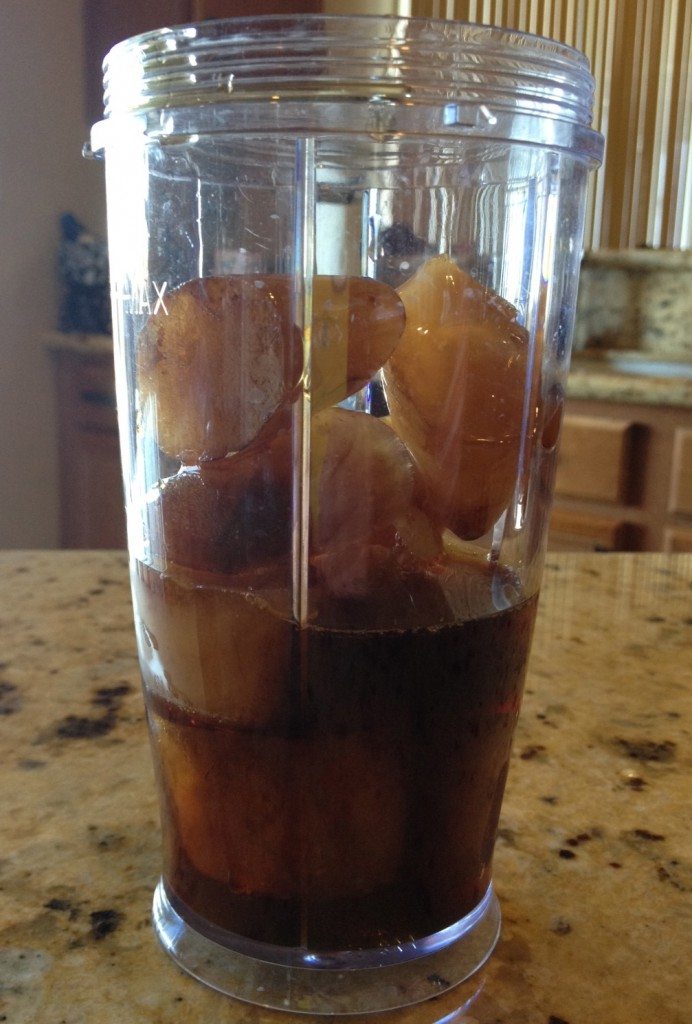 3. Add peanut butter (2T) and chocolate syrup (2T, or more if you love chocolate).
4. *Optional – Add one scoop protein powder. I don't get enough protein, and this is an easy way to sneak some in.
5. Fill blender cup with chilled coffee, and milk if you would like. If you are using a blender, my estimation is 8 oz total liquid.
6. Blend
7. If the drink is too thick, add more coffee or milk. Too thin? Add more ice cubes.
8. You get extra points for making pretty chocolate designs on your cup.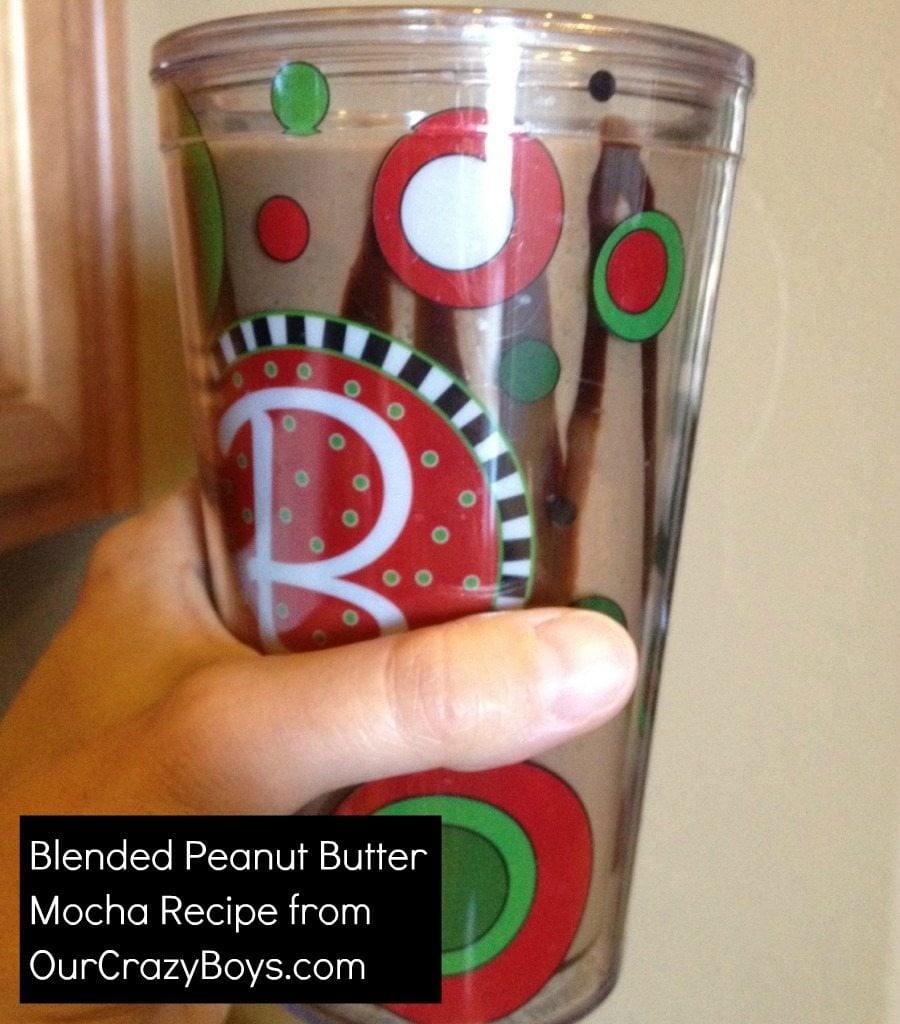 This definitely isn't a drink for every morning (well, it could be. it would catch up with me eventually, though)!
You have to tell me when you try it, and tel me if you make any changes to the recipe! I can't wait to hear your feedback about this, after so many of you tried and loved my Iced Caramel Coffee.
Enjoy!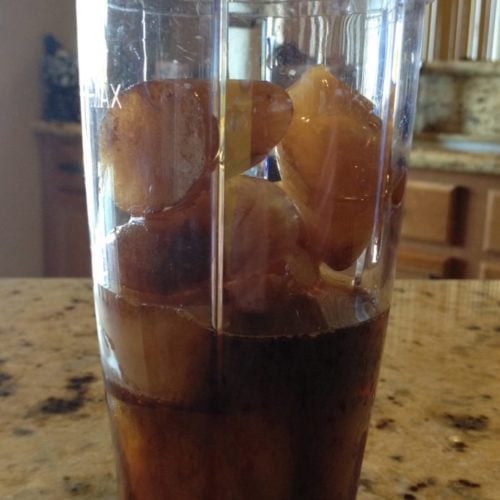 click the stars to rate!
Blended Peanut Butter Mocha
Servings 1 person
This is my favorite recipe for a blended peanut butter mocha, made with coffee ice cubes. It's peanut butter heaven–so delicious.
Ingredients
2 tbsp peanut butter I use Kirkland brand, from Costco
2-4 tbsp chocolate syrup Hershey's
12 oz. coffee chilled, 8-12 ounces to taste
10 ice cubes I use coffee ice cubes
Instructions
I start with coffee ice cubes. That's right. I chill coffee, then pour it into ice cube trays. More coffee, less water. If you don't have coffee ice cubes, of course you can use regular ones!

Add about 10 ice cubes to start your drink.

Add chilled coffee. I fill my cup about 1/3 full for now, so the other ingredients don't stick to the bottom of my cup.

Add peanut butter (2T) and chocolate syrup (2T, or more if you love chocolate).

*Optional - Add one scoop protein powder. I don't get enough protein, and this is an easy way to sneak some in.

Fill blender cup with chilled coffee, and milk if you would like. If you are using a blender, my estimation is 8 oz total liquid.

Blend
Nutrition
Calories: 409kcal | Carbohydrates: 57g | Protein: 10g | Fat: 17g | Saturated Fat: 3g | Cholesterol: 0mg | Sodium: 216mg | Potassium: 549mg | Fiber: 3g | Sugar: 41g | Calcium: 25mg | Iron: 2.3mg