This site contains affiliate links. Please see Policies for more information.
We rode and rode and rode…
Our final estimation is that we went on our family's two favorites – Rock 'n' Roller Coaster and Tower of Terror – a combined 25 times, and we found that there are downfalls of riding too many rides.
You went on too many rides at Disney World if…
1. …you have random bruises all over your body: I have three small circles in the shape of a triangle under my arm and the inside of my knees are black and blue. Michael has a strange long bruise on his waist, and Steve has a bruise on his shoulder blade that's the size of a half dollar. After our fourth day in the park, we realized that our strange bruises were from the rides.
2. …when going downstairs in an elevator (whether that elevator is occupied by others or not), the boys raise their arms and scream – kind of like when going on the Tower of Terror.
3. …you have to sleep with one of your feet on the floor on the last night of vacation. I couldn't. stop. spinning.
4. …before taking off in the airplane on the way home, the kids count down like Steven Tyler on the Rock 'n' Roller Coaster. "Fiiiiive, Fooour, Threeee, Twoooo…"
And the final way to tell if you went on too many rides at Disney World?
5. Your youngest falls asleep on the fastest roller coaster in the park: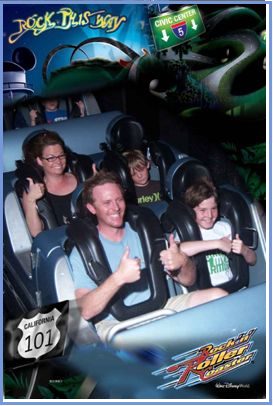 Kidding! It took lots of concentration to pretend to be asleep while going from 0-60 in 2.8 seconds. We had TONS of fun with Disney's PhotoPass and have tons of fun pictures to share with you! 
I paid a conference fee to attend the Disney Social Media Moms Celebration and in exchange was given park passes for my family, a hotel stay, and meals during the conference. We paid for our airfare and to extend our family vacation. Disney did not ask or require me to post about the conference or our visit to Disney World.