This site contains affiliate links. Please see Policies for more information.
 This post is part of a series sponsored by #ScottsdaleAZ. As always, all opinions are my own.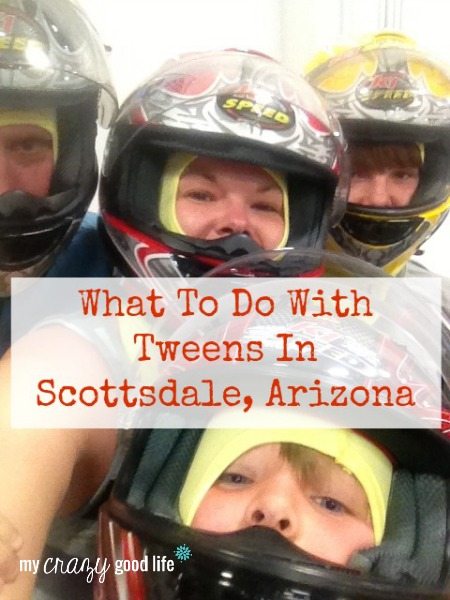 A couple weeks ago we headed up to Scottsdale, Arizona for a family weekend! Our original plans were to take the boys on a hot air balloon ride and then head to the Westin Kierland for a day by the pool and on the FlowRider, but Mother Nature changed those plans a little with thunderstorms, downpours, and even some hail!
While we were waiting to launch the balloon, the pilots had to cancel due to wind. While it was a disappointment, we were so thankful they had our safety in mind and we plan to reschedule when the boys get out of school in May.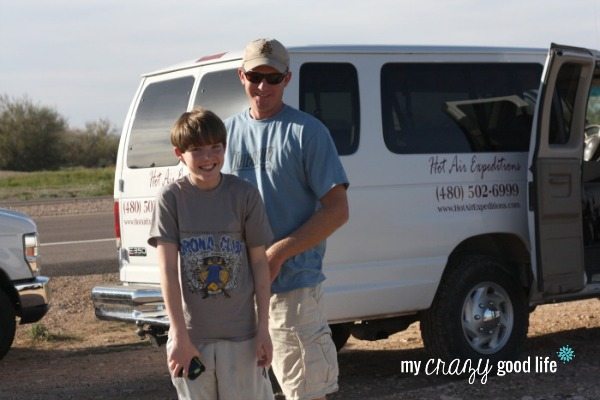 Steve and Michael playing around while waiting for the balloon ride
With the help of some amazing friends in Scottsdale, we had a list of things to present to the boys by the time the van drove us back to our car. They chose…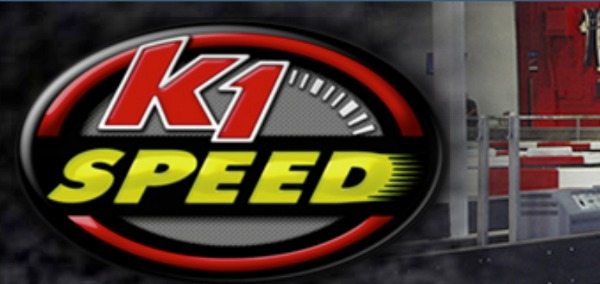 We went Go Kart racing at K1 Speed Indoor Go Kart Track!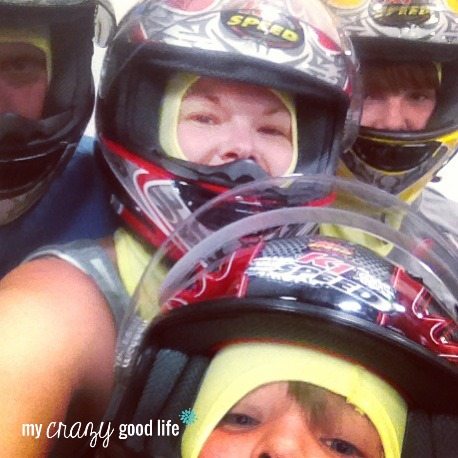 Yes. All of us.
I may have been the boring Mom through it all, and only raced once, but that was enough for me. I had pictures to take!
Jack played it safe like Mom. Slow and steady.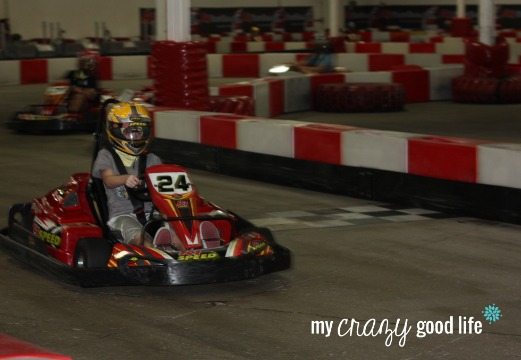 This kid doesn't know the meaning of slow or steady. He whipped around the track and kept up with the adults!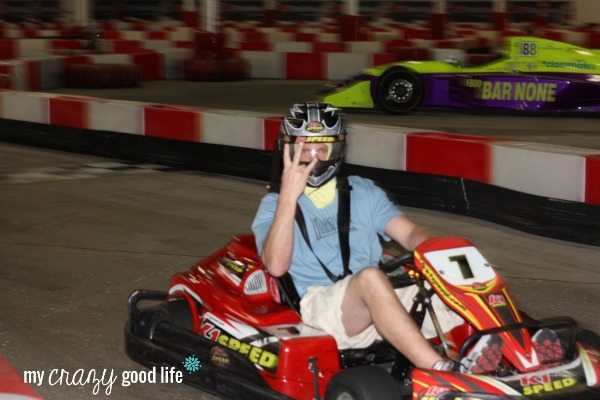 And this one… he was a little too full of Sun Devil pride that weekend. We had plans to be back in Tucson for the UA vs ASU game on our way back from Scottsdale. You don't need to ask who won – because we all know ;)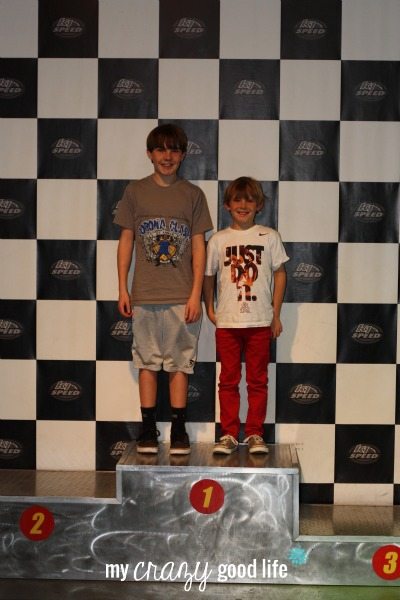 After racing, we headed to our hotel – the Crowne Plaza North. The boys loved the pool and I loved the few minutes of quiet time I had!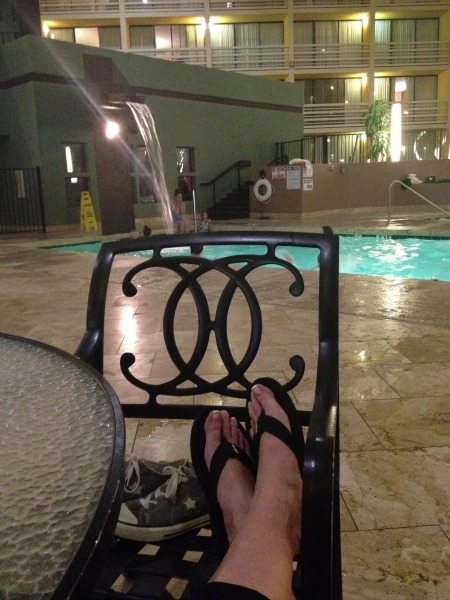 Friday morning we checked in at the amazing Westin Kierland. The FlowRider was closed due to weather, so after an amazing breakfast at Butterfield's Pancake House, we found some indoor fun at AZ Airtime.
We jumped and jumped. Then we jumped some more.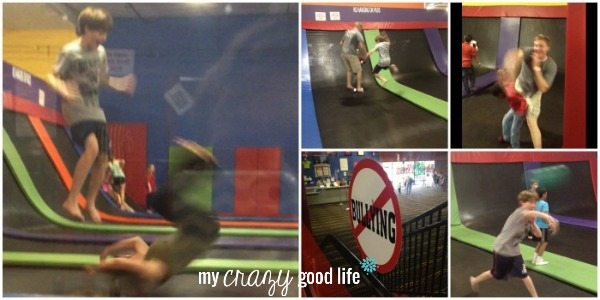 We jumped for two hours.
We *may* have been the only parents jumping. The others were taking advantage of the awesome setup – there are several rooms with trampolines and staff members in each room to watch over the kids. There is free wi-fi and tables with chairs in the common area so you can see your kids and get some work done while they jump. There are snacks and drinks, clean bathrooms, and no bullying signs everywhere creating a safe and fun environment for kids. Now, can someone please open one of these in Tucson?
There were little kids, big kids, and even bigger kids. They were separated by age for the most part, but the bigger kids were great with the little ones – especially in the dodgeball rooms. Everyone played together and everyone played nice.
After jumping, it was hard to not go crash at the hotel! We headed to Allison's favorite restaurant – AZ/88.
Someone may have almost fallen asleep before dinner because of all the jumping :)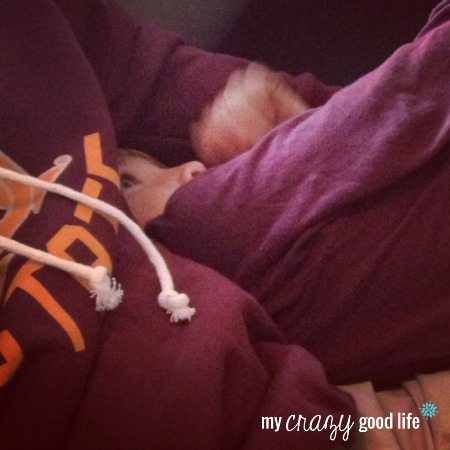 AZ/88 was fun. It was modern and eclectic, and they didn't have kid's menus – but that was ok with us.
This was their decor of the month – it kept the kids talking all through dinner.
We kept seeing people walk through doors that must have been restrooms, but we couldn't see that they were labeled. Jack finally had to go so we needed to get up to check them out. The signs were on the bottom of the doors – it was awesome. The bathrooms are fully mirrored. If you're around the area, it's worth it just to go check them out… I refrained from taking a photo!
The boys loved their hamburgers, and Steve and I loved our meals. We would definitely go back again. This is a great place to take out of town guests for dinner!
After we got back to the hotel, Steve and I headed to the Muddle Bar inside the restaurant Deseo at the Kierland. It was awesome! They mixed fresh fruit into our favorite cocktails and served them with a sugar stick.
We took the boys to the Hershey's Sweet Shoppe and they picked out dessert – a cupcake for Jack and a chocolate chip cookie for Michael that was as big as his head!
We all crashed hard in our heavenly beds at the Kierland – the resort is just amazing. As I walked out on our balcony the next morning, this sign made me chuckle. Probably because it's so second nature to us now!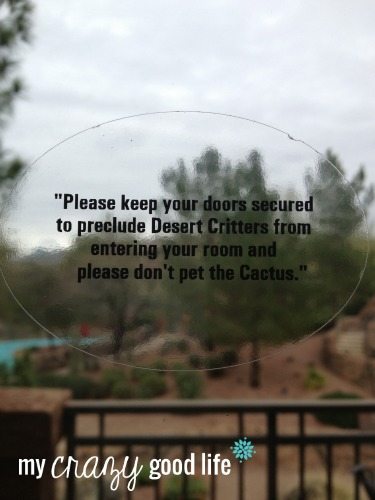 We ate a delicious breakfast at Nellie Cashman's and headed out to the FlowRider, which opened for a bit when the rain lifted for us. At 40 degrees, it was still chilly, but as you'll see in my post about it, the boys weren't deterred – they're dying to go back!
A huge highlight to this weekend was being able to spend time with two of my favorite Arizona bloggers – Sara and Karen!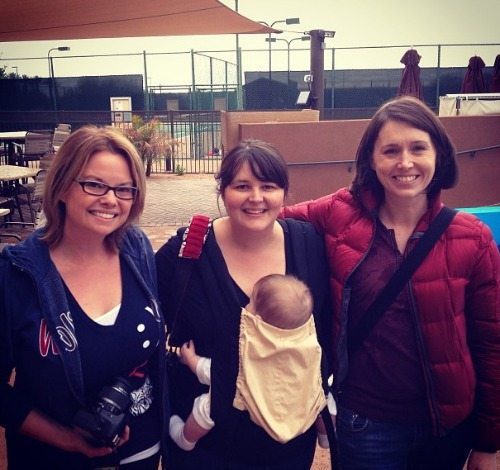 Even with uncooperative weather, our weekend in Scottsdale was amazing – we will definitely be back soon!
You can keep up with Scottsdale on social media:
Website: http://www.experiencescottsdale.com
Facebook: https://www.facebook.com/experiencescottsdale
Twitter: https://twitter.com/scottsdaleaz
 As always, I wouldn't recommend something I didn't 100% believe in!