This site contains affiliate links. Please see Policies for more information.
On my flight to San Francisco to visit Pixar for the Toy Story 4 press event, I was vaguely aware of a small spork called Forky. I knew he was a new character, and I knew he was funny–that's about it.
What I didn't know about Forky is that he's funny. He's witty. And man, does he have heart.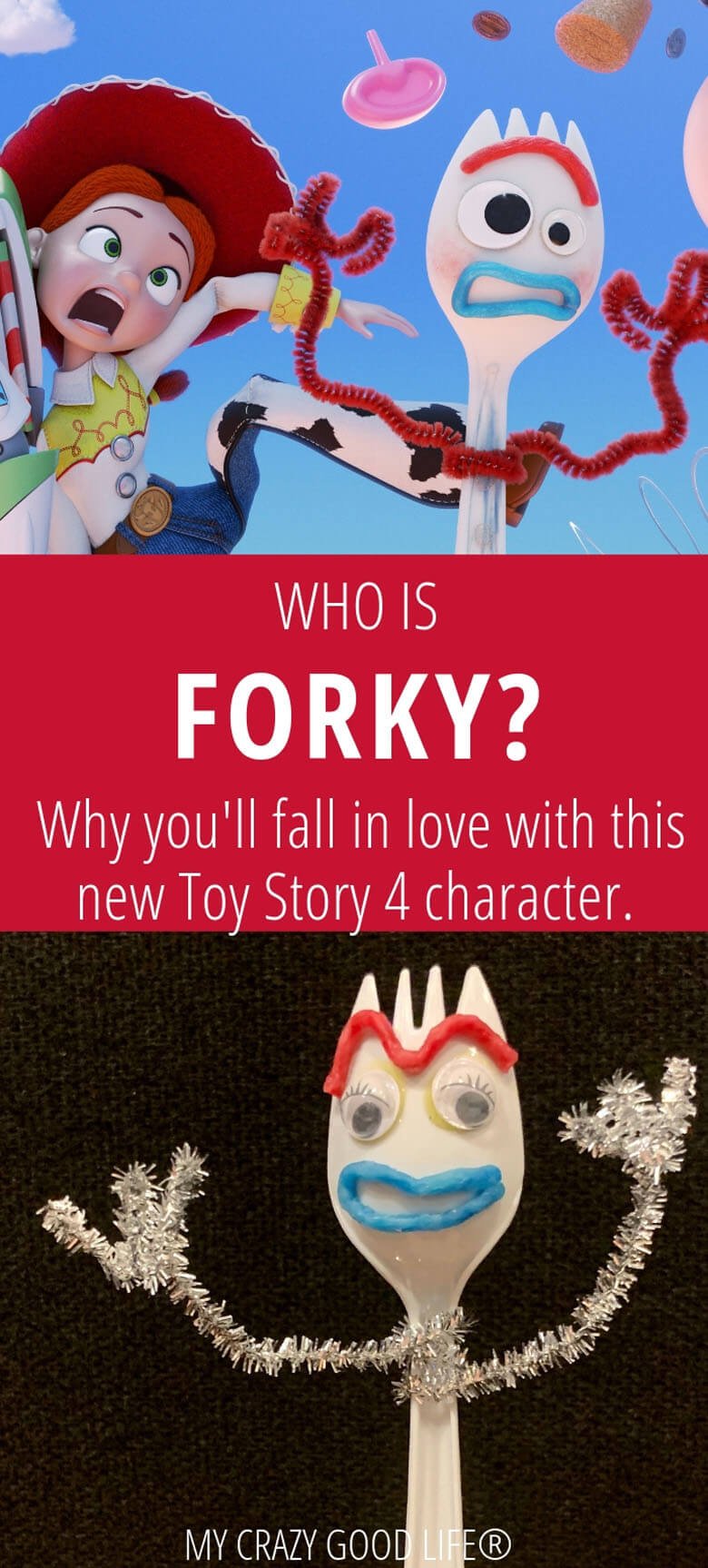 Forky starts out as a craft that Bonnie makes at school and completely identifies himself as trash–not a toy. Created out of a spork, red pipe cleaner arms, googly eyes, and some wiki stix for a mouth and eye brows.
Everyone's favorite cowboy, Woody (played by Tom Hanks), does a great job explaining why Forky should embrace the fact that he's a toy.
Producer Mark Nielsen explains, "Forky is like a newborn. He doesn't know anything about life—he doesn't even understand why he's alive or what a toy even is. He makes Woody vocalize what it means to be a toy."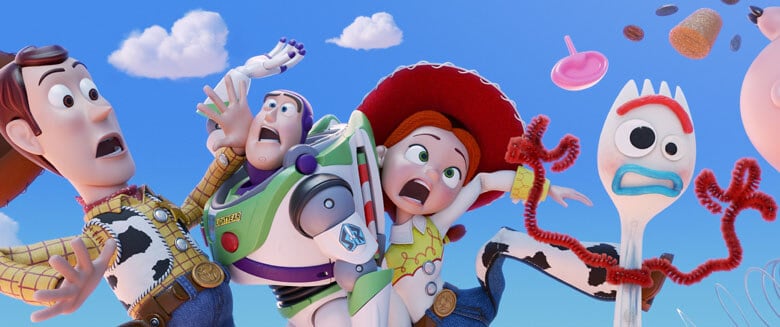 Spending a couple of days at Pixar was amazing. We learned so much from the people who work there, and got to see an extended Toy Story 4 teaser as well as comparisons from the original movie.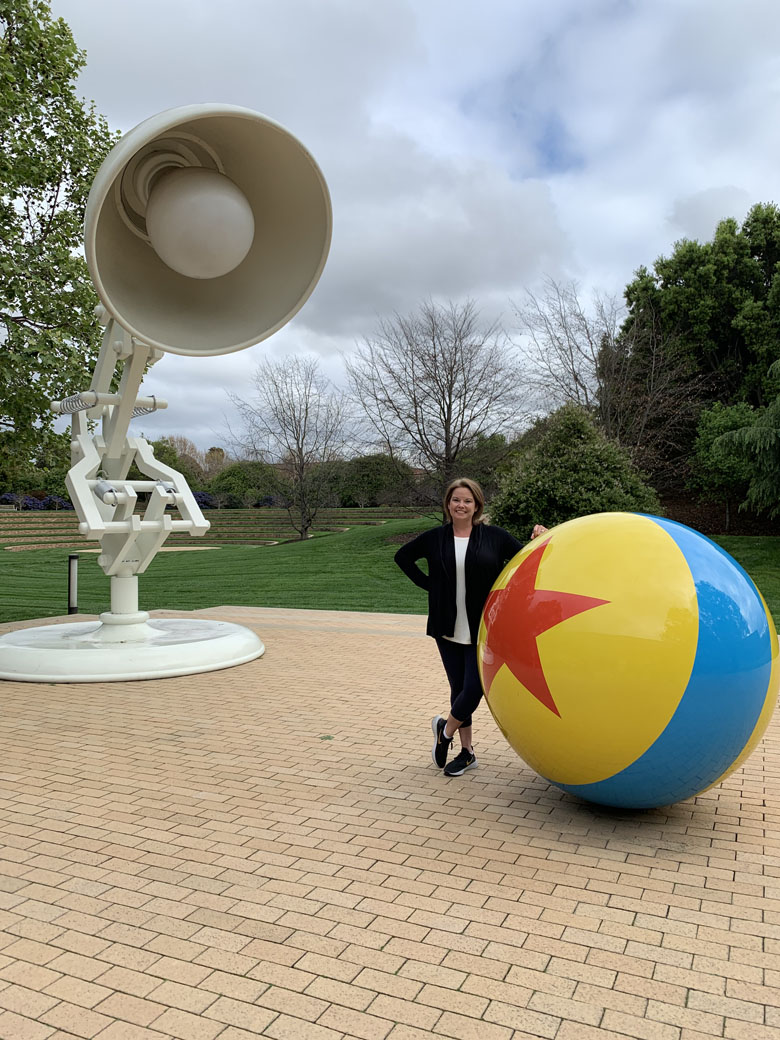 The Steve Jobs building where the press day was held was fascinating to walk around and look at. All of our favorite Toy Story characters ( as well as some new ones) had portraits hanging on the walls, and I swear the building was buzzing with creativity.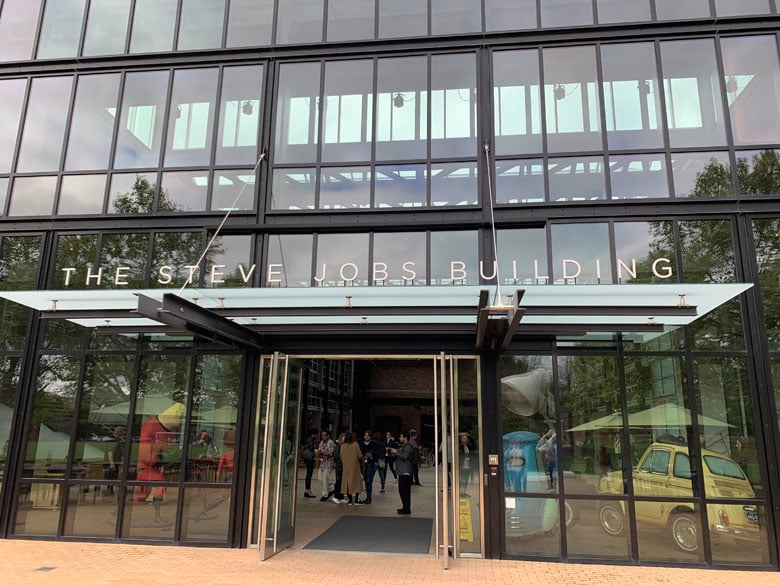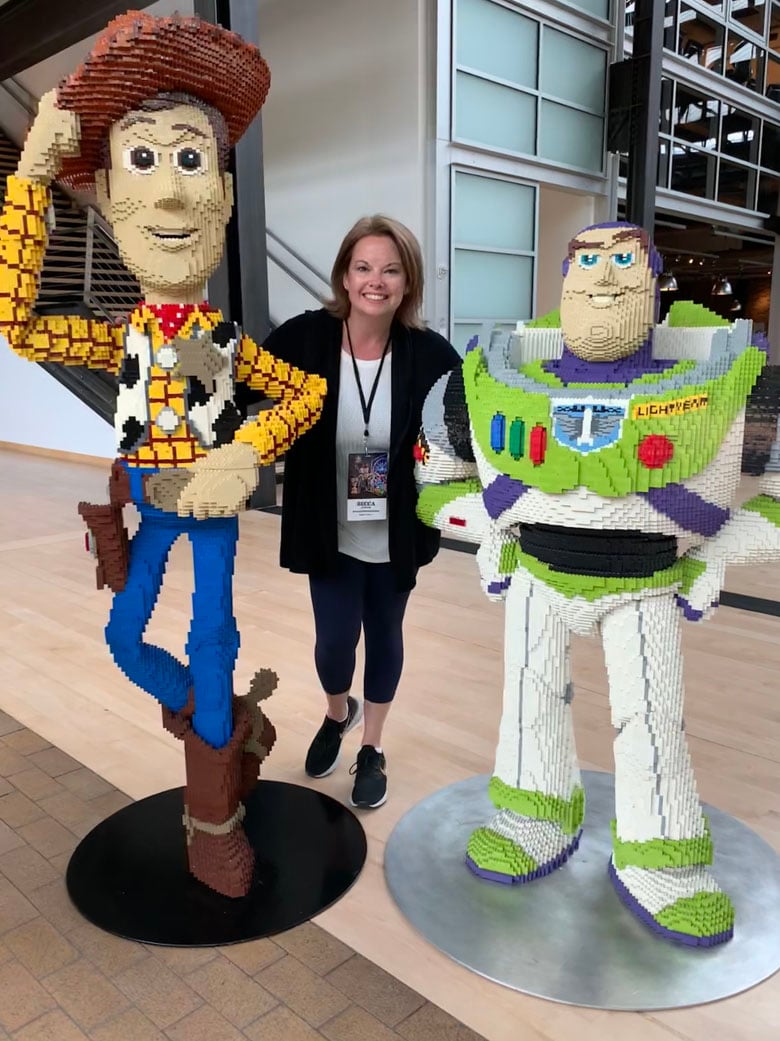 As part of our press day events we were able to make our own Forky along with some creative direction from Animator Claudio De Oliveira. He told us about how Forky came to life and shared a heartwarming slideshow of the evolution of Forky as seen through his team and even his family's eyes (he made many, many versions of Forky with his family).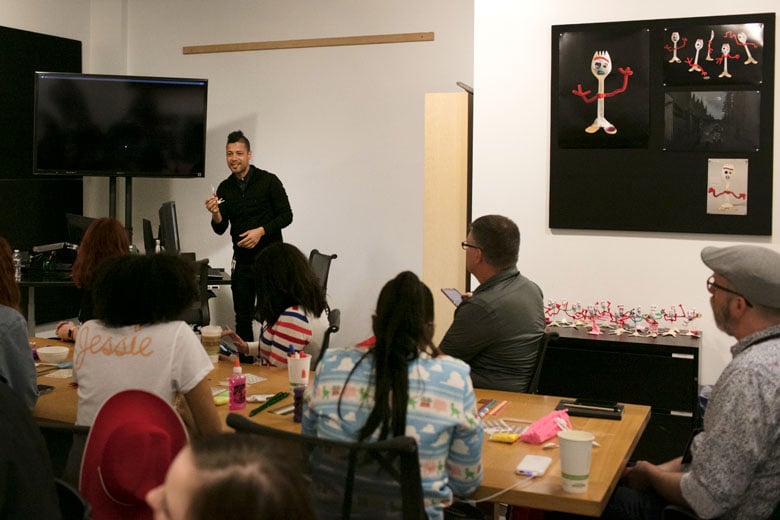 Creating Forky wasn't just about creating a spork man. Animators had to get a feeling for how he moved, what his eyebrows and mouth could do, how his googly eyes moved, and even how his base would be represented (and walk) during the movie.
Woody and Buzz and the rest of the gang fell in love with Forky's quirky personality and current existential crisis–is he trash or a friend?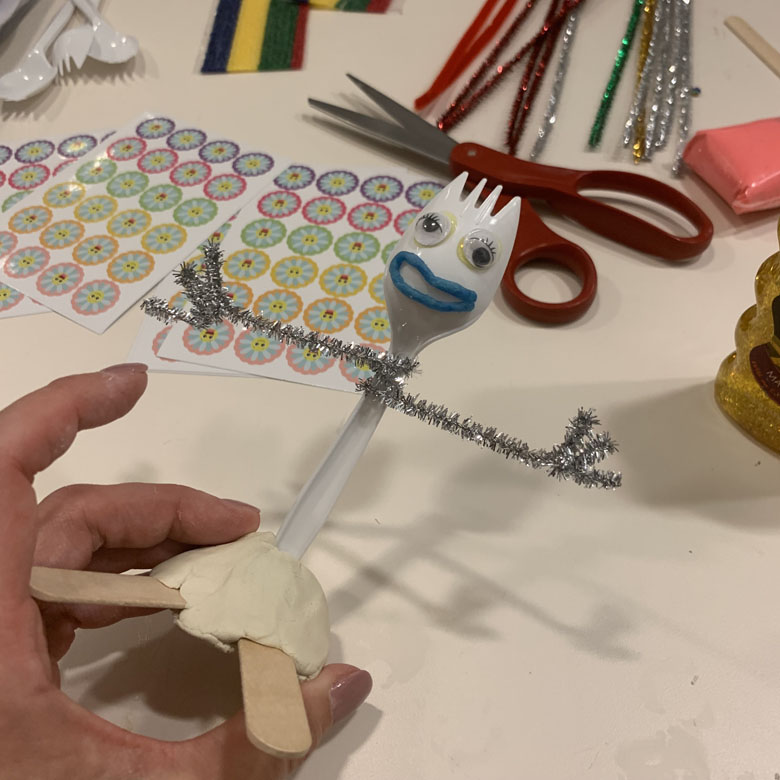 You'll still see your favorite OG characters in Toy Story 4–Buzz Lightyear, Andy, Bonnie, Mr. Potato Head, and even Bo Peep. The movie is of course focused on child's play, with a heavy nod to adult humor like Pixar does so well. I love that they make the movie as fun to watch for adults as it is for kids.
Like the previous movies in this series, priority is taking care of the kids. You hear more about the kids behind the toys in Toy Story 4, seeing that the kids are their world and priority. Saving them from sadness, helping them be happy. It's basic, right? But nobody does it better than Woody and Buzz and the gang.
The official word about Forky:
FORKY is not a toy! At least that's what he thinks. An actual spork-turned-craft-project, Forky is pretty sure that he doesn't belong in Bonnie's room. Unfortunately, every time he tries to get away, someone yanks him back into an adventure he'd rather skip.

"The world of Toy Story is built upon the idea that everything in the world has a purpose," says Cooley. "A toy's purpose is to be there for its child. But what about toys that are made out of other objects? Forky is a toy that Bonnie made out of a disposable spork, so he's facing a crisis. He wants to fulfill his purpose as a spork, but now has a new toy purpose thrust upon him."

Woody—ever the caretaker—assumes the role of Forky's keeper, which in the beginning, just means keeping him out of the trash. "We loved the idea of Forky," says producer Jonas Rivera. "He doesn't understand the rules of the world, so he doesn't play by the rules, which really makes the story feel fun and new. But it makes life hard for Woody who's just trying to help Forky understand the importance of his kid."

Filmmakers called on comedian Tony Hale to provide the voice of Forky. Says Cooley, "When we thought up this character, Tony was the first actor that came to mind and I'm thrilled he accepted. Tony's performance as Forky is a comedy salad of confidence, confusion and empathy… served by hilarious spork.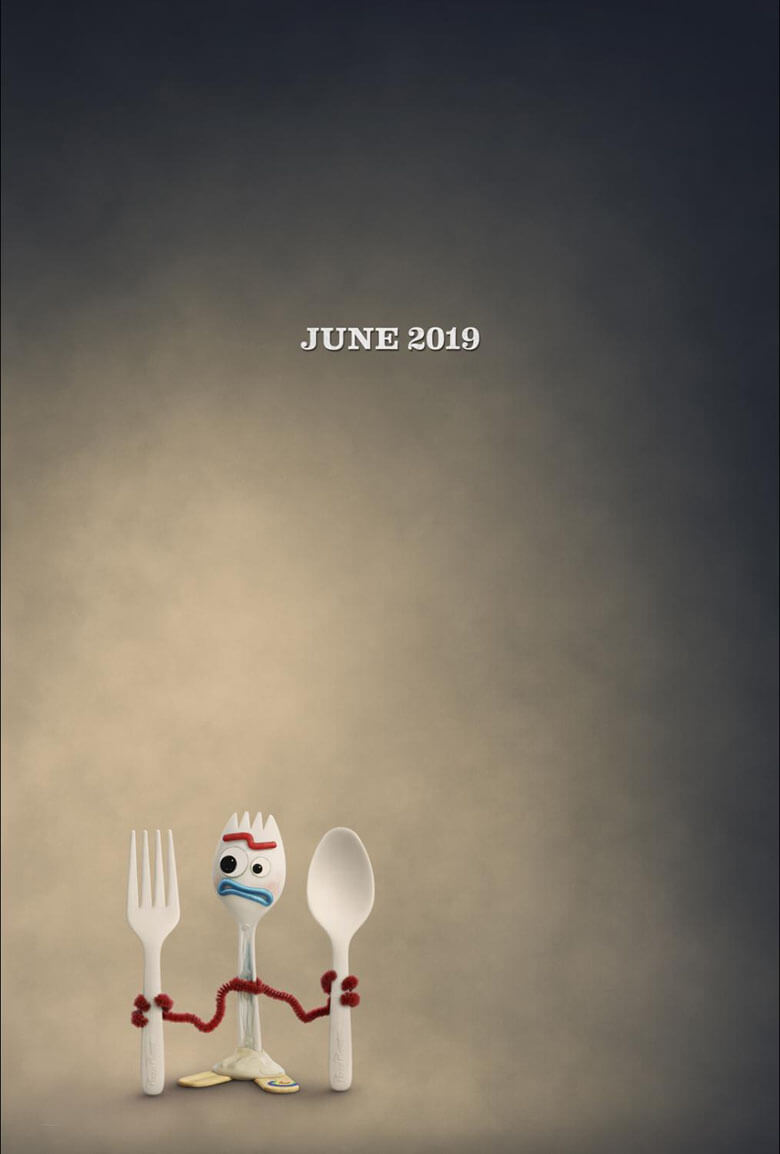 Toy Story 4 welcomes veteran voices back to the toy box, including Tom Hanks as Woody, Tim Allen as Buzz Lightyear, Annie Potts as Bo Peep, Joan Cusack as Jessie, Wallace Shawn as Rex, John Ratzenberger as Hamm, Blake Clark as Slinky, the late Don Rickles as Mr. Potato Head, and Estelle Harris as Mrs. Potato Head.

New to the "Toy Story" voice cast are Tony Hale as Forky, Christina Hendricks as Gabby Gabby, Keanu Reeves as Duke Caboom, Ally Maki as Giggle McDimples, and Keegan-Michael Key and Jordan Peele as Ducky and Bunny. 3 Directed by Josh Cooley ("Riley's First Date?"), and produced by Jonas Rivera ("Inside Out," "Up") and Mark Nielsen (associate producer "Inside Out"), Disney·Pixar's "Toy Story 4" ventures into U.S. theaters on June 21, 2019.