This site contains affiliate links. Please see Policies for more information.
As a fairly new Marvel fan, I'm still learning about the Marvel Cinematic Universe and all of its constantly moving parts. I loved seeing even more of the story in Avengers: Age of Ultron!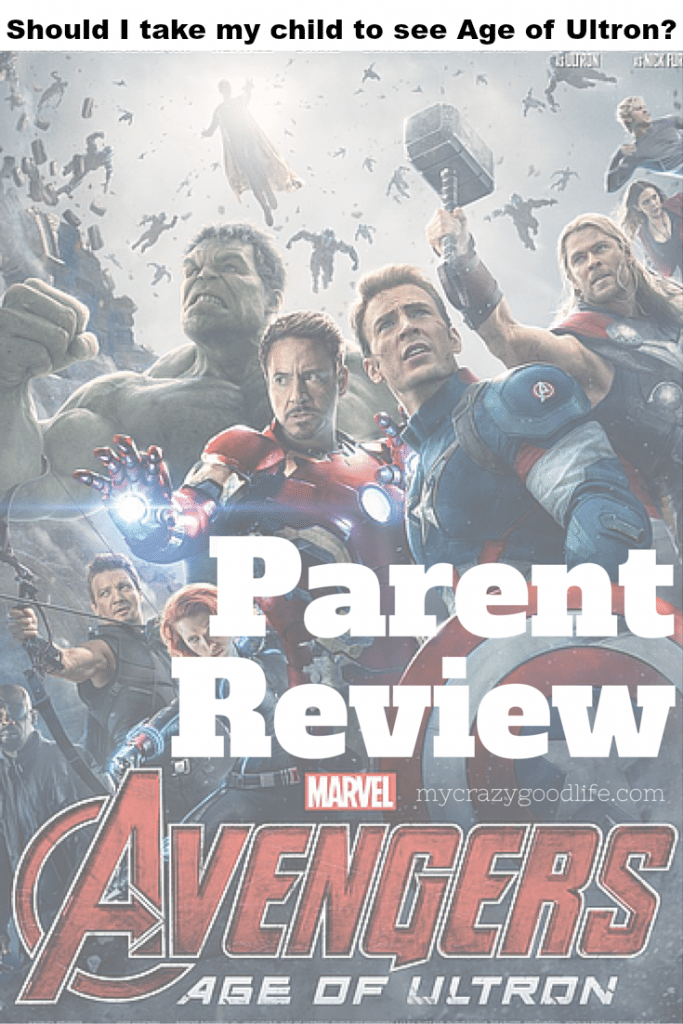 I loved–loved–Avengers: Age of Ultron. I've seen it twice and want to share some information about the movie for those of you who are thinking of taking your children.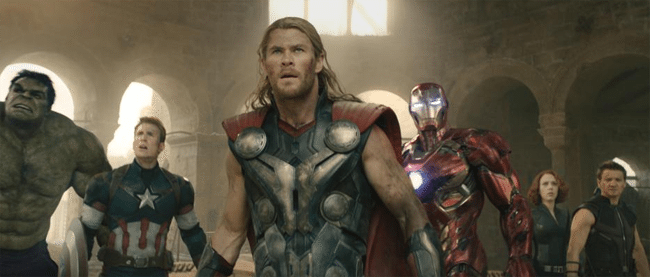 Marvel Studios presents "Avengers: Age of Ultron," the epic follow-up to the biggest Super Hero movie of all time. When Tony Stark tries to jumpstart a dormant peacekeeping program, things go awry and Earth's Mightiest Heroes, including Iron Man, Captain America, Thor, The Incredible Hulk, Black Widow and Hawkeye, are put to the ultimate test as the fate of the planet hangs in the balance. As the villainous Ultron emerges, it is up to The Avengers to stop him from enacting his terrible plans, and soon uneasy alliances and unexpected action pave the way for an epic and unique global adventure.
Avengers: Age of Ultron is an intense action movie that's rated PG-13 and is 141 minutes in length. The following is a typical action scene from the movie. Though very little blood and no gore is seen in the movie, the action sequences might be intense for younger children.
Jack, my 10 year-old, mentioned that the "creepiest" part of the movie for him was when you first see Ultron. Once Ultron awakes, it's tough to stop him. Here's a trailer that shows Ultron in his first moments:
In that clip, you can also see the human-like movements of the smaller robots climbing rocks and attacking the Avengers–that's another thing that Jack mentioned as a bit unnerving.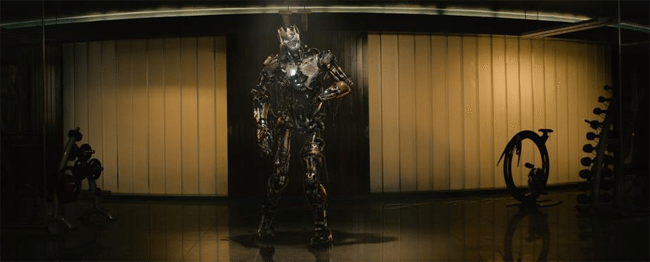 Should I take my child to see Avengers: Age of Ultron?
For parents, the Marvel movies are wonderful and frustrating at the same time. Little kids ages 4-10 are usually dying to see the movies, but they are made for those older than 13. I watched Avengers: Age of Ultron with those kids in mind.
As I mentioned before, the intense action could be a bit much for kids ages 4-10. My 10 year-old was ok watching the action scenes, and was really only bothered by the first appearance of Ultron and his soldiers.
The information below this sentence contains spoilers that will help you determine if you are comfortable with your child seeing Avengers: Age of Ultron.
If you're thinking about taking your kids, here's what you need to know:
If you'd rather your kids not see the first "raw" version of Ultron that I mentioned above, I'd recommend heading to the bathroom as soon as when you see the Avengers all attempting to pick up Thor's hammer. But be warned… that relaxed party scene was easily the best scene in the movie.
The robots look like little Terminators and have human-like qualities. They are seen throughout the movie and can't necessarily be avoided. The clip above is one you can show your kids so they could see them.
Scarlet Witch has the power to make the Avengers see their fears and/or personal histories. Captain America, Thor, and Black Window all saw visions of their pasts. Black Widow's past contains some scenes of her in a medical clinic with doctors around. Also, you see her being wheeled into a room on a stretcher while little girls with no mouths stand by watching.
Also in the Black Widow scene, you'll see her practicing shooting a gun. At first at a target, then you'll see a person with a hood over their head. You don't see the person being shot–just sitting with a hood over their head. This scene lasts less than 10 seconds, I'd guess.
The Hulk scenes are a bit intense. Though we see a very calm and kind side of the Hulk in this movie, there are also a few times where he loses it a bit.
There were a few swear words in the movie (I remember hearing shit and ass), as well as a long running joke about language. The first word of the movie was, "shit," but I think the excitement over the action in the movies far trumps the few swear words.
Will I let my kids see Avengers: Age of Ultron?
Jack (10) and I saw this movie and we both loved it. I mentioned above the scenes that he mentioned were a bit creepy, but he wasn't bothered otherwise. He liked that there wasn't a lot of blood and that the fight scenes were fun and full of action rather than gory and violent.
Michael is 14 and I'd have no problem letting him see this movie!
Fan Tip: Marvel's post-credits scenes have become commonplace. Be sure to stay in your seats for an extra scene midway through the credits. There is no additional post-credits scene in Age of Ultron.
Click here for interviews with the Avengers as well as interviews with Director Joss Whedon and President of Marvel/Producer Kevin Feige!
  I attended press events with Disney and ABC TV, which included a screening of Avengers: Age of Ultron. I was provided with an expenses paid trip to Los Angeles in exchange for my coverage about the events. No other compensation is given.