This site contains affiliate links. Please see Policies for more information.
Sometimes you need a traditional margarita.
Other times you might want a very low-cal margarita. Or maybe a margarita popsicle.
And I bet that sometimes, you just need a margarita cupcake to hit the spot.
For all of the other times, a delicious beer margarita will do the trick. I like these best when I'm sitting by the pool under an umbrella. Preferably with a dear friend.
While these margaritas aren't super sweet, they are dangerously strong! Please use caution when drinking them.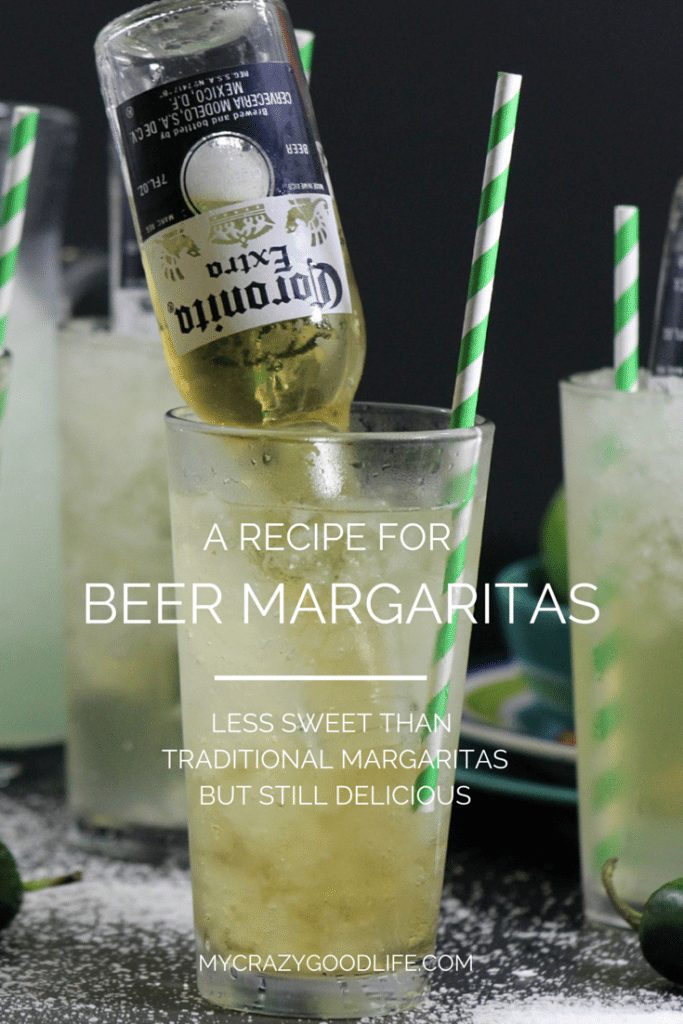 Ingredients in Beer Margaritas
tequila
fresh lime juice
sweet and sour mix
triple Sec
ice
4 mini bottles of Corona (or beer of choice)
lime wedges
salt to rim the glasses

Directions for Beer Margaritas (makes a pitcher)

1. Fill a pitcher with ice
2. Add the tequila, triple sec, and sweet and sour mix
3. Top off with lime juice
4. You can add the beer bottles to the 3/4 full pitcher or 3/4 full individual glasses, but whatever you do, make sure you do
not
overfill the pitcher or glassware! Here's a convenient way to
hold the bottle of beer to the glass
5. Garnish by dipping a lime wedge in salt, and tossing it in the glass.

Looking for more margaritas? You might be interested in these posts: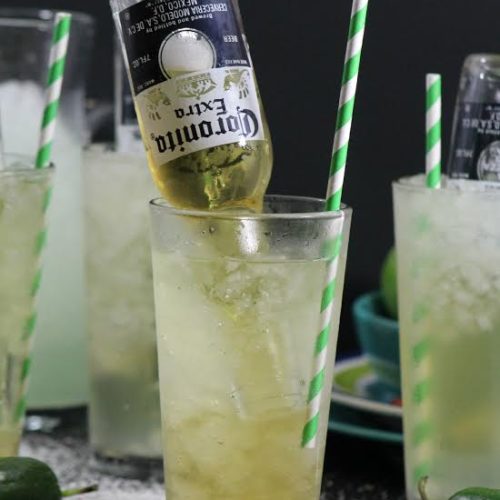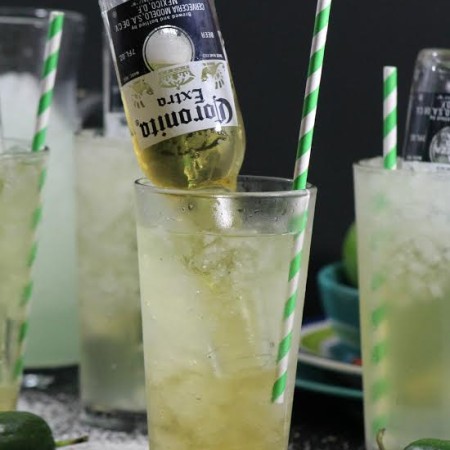 click the stars to rate!
Beer Margaritas
Servings 4 people
A recipe for beer margaritas–they're the one thing my guests always hint about when coming to sit by the pool. Not too sweet, but crazy strong, these Corona margaritas pack a punch! Also called Bulldog Margaritas.
Ingredients
3 C ice
8 oz tequila
2 oz Triple Sec
1/4 C sweet and sour mix
1/4 C lime juice fresh
4 beer Corona
1 lime wedges
optional: salt to rim the glasses
Instructions
Fill a pitcher with ice. 3 C ice

Add the tequila, triple sec, and sweet and sour mix. 8 oz tequila, 2 oz Triple Sec, 1/4 C sweet and sour mix

Top off with lime juice 1/4 C lime juice

You can add the beer bottles to the 3/4 full pitcher or 3/4 full individual glasses, but whatever you do, make sure you do not overfill the pitcher or glassware! 4 beer

Garnish by dipping a lime wedge in salt, and tossing it in the glass. 1 lime
Nutrition
Calories: 184kcal | Carbohydrates: 8g | Protein: 1g | Fat: 1g | Saturated Fat: 1g | Sodium: 3mg | Potassium: 35mg | Fiber: 1g | Sugar: 5g | Vitamin C: 9mg | Calcium: 6mg | Iron: 1mg