This site contains affiliate links. Please see Policies for more information.
Creamy Asiago Ravioli has become one of my favorite dishes to serve. It's really easy to make, it's an incredibly delicious recipe, and best of all it's a total crowd favorite.
Even the pickiest of eaters loves it and they rave about it which is the best thing I can get at dinner time.
While I made this recipe using ravioli since it really packs it with an extra layer of flavor (keep in mind that the ravioli are filled) you can cook it with any other pasta you have on hand. Actually, I have made this with spaghetti, penne, and even elbow pasta because the real magic of this dish is the sauce.
The creamy Asiago sauce…it's 'oh my gosh' good, something to die for! I also use this sauce to top baked chicken and to make casseroles. Because when you have a foolproof recipe that's as delicious as this one, you basically try to sneak it in anywhere and everywhere.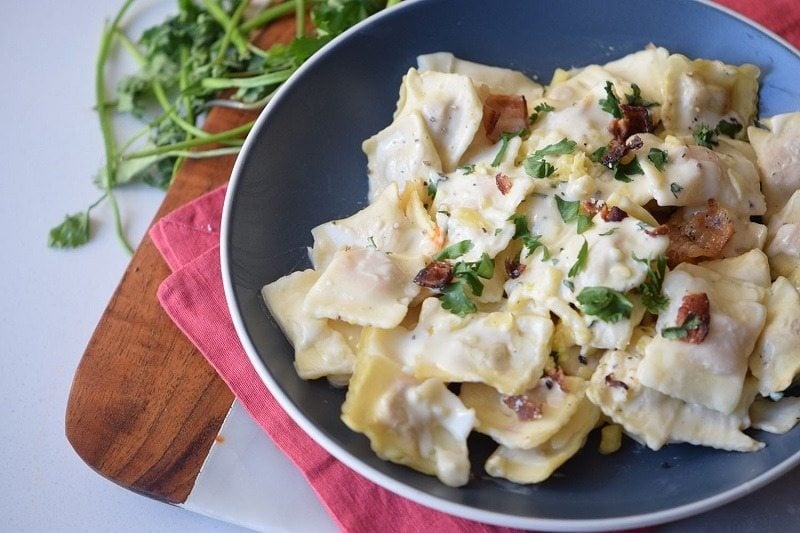 This recipe also uses ingredients that you probably already have in your kitchen like butter, bacon, and garlic. Add a bit of salt and pepper, a bit of basil, thyme, and real asiago cheese and you've got yourself the easiest, most delicious Italian sauce recipe!
My only advice would be to undercook the pasta. Let it finish the cooking process in the sauce. This is something really easy that doesn't take any extra time at all but the pasta will have time to soak up a lot of the sauce flavors.
The end result will be that much more delicious than if you wait and simply put the sauce on top at the end.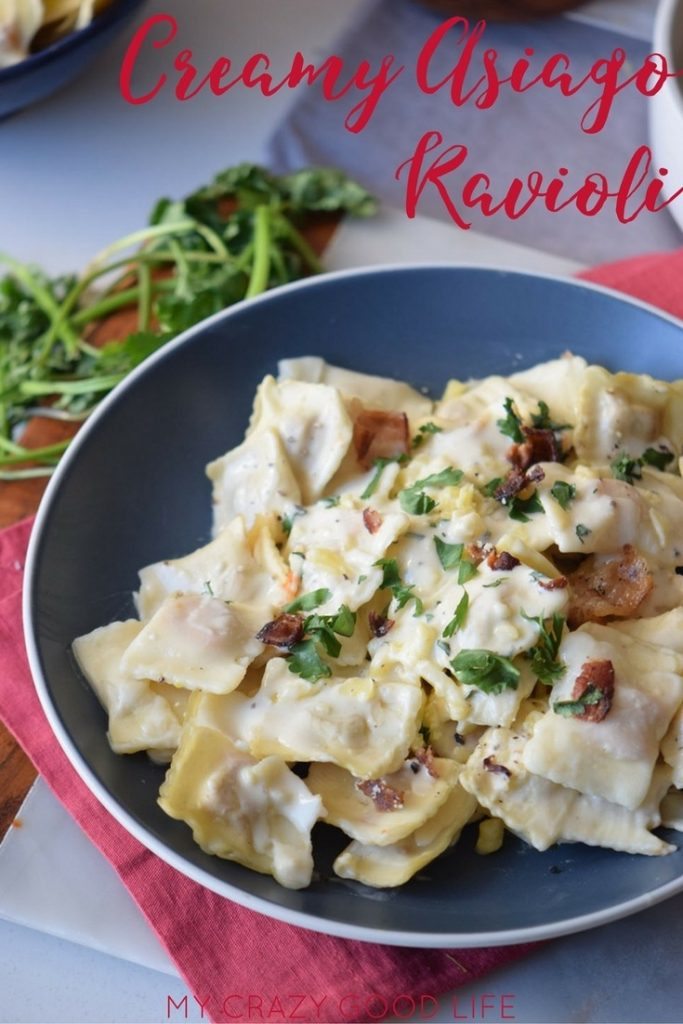 Creamy Asiago Ravioli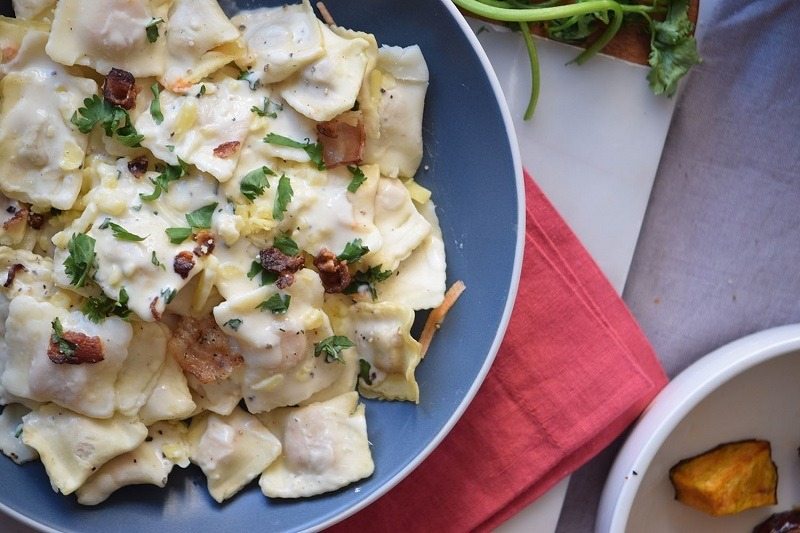 Directions for Making Creamy Asiago Ravioli:
Boil water with salt in a pot over medium-high heat
Add the pasta and cook for 2 minutes less than instructed on the packaging
While waiting, set a pan over medium heat and cook the bacon until crispy. Set aside
In a pot over medium heat, mix the butter, cornstarch, milk, salt, pepper, and thyme
Add the Asiago cheese and garlic powder
Stir until it thickens.
Drain the pasta and transfer to the pot with the sauce
Mix well and let it simmer for 2 minutes
Place the pasta in dishes and top with the bacon and basil
Serve and enjoy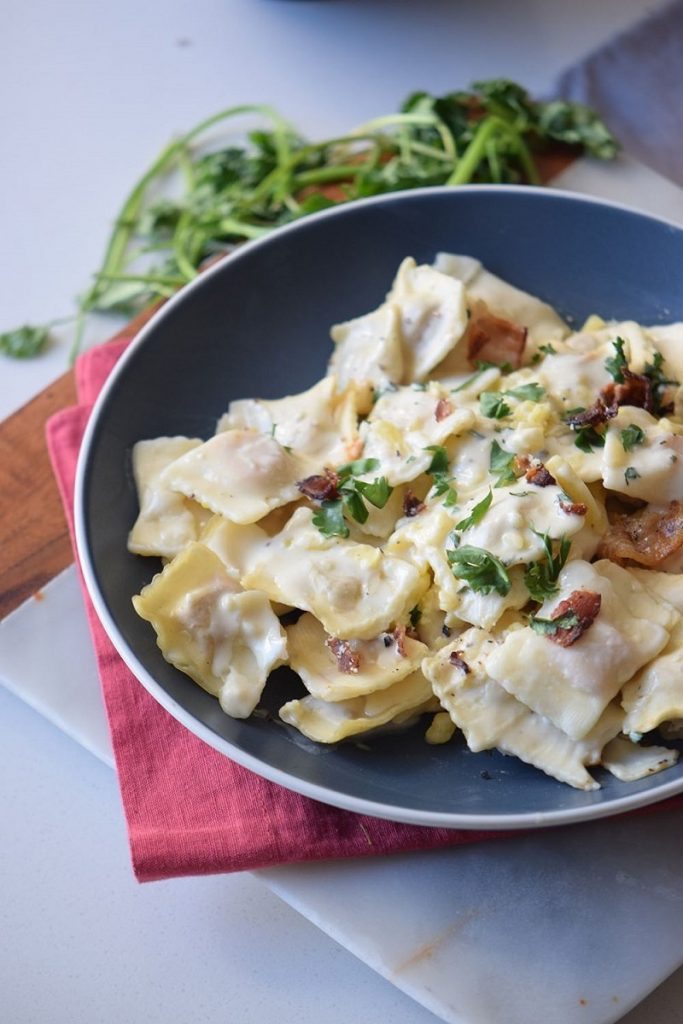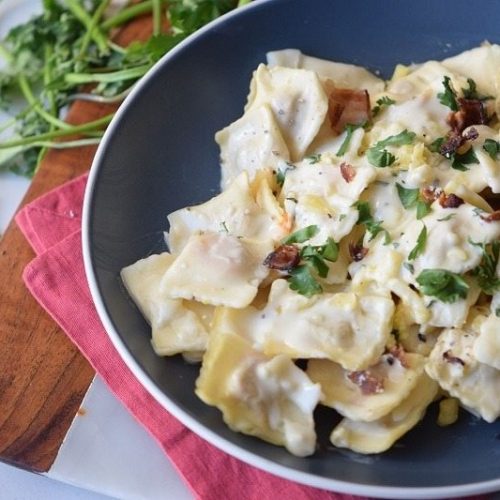 click the stars to rate!
Creamy Asiago Ravioli
Servings 4 Servings
This Creamy Asiago Ravioli has all you expect from a good Italian recipe, it's easy to do, a total crowd pleaser, and out of this world good.
Ingredients
10 ounces cheese ravioli
3 Bacon cut into strips
½ cup butter
½ cup cornstarch
1 cup milk
Salt and pepper to taste
½ teaspoon thyme
1 cup asiago cheese
1 teaspoon garlic powder
2 tablespoons basil chopped
Instructions
Boil water with salt in a pot over medium-high heat

Add the pasta and cook for 2 minutes less than instructed on the packaging 10 ounces cheese ravioli

While waiting, set a pan over medium heat and cook the bacon until crispy. Set aside 3 Bacon

In a pot over medium heat, mix the butter, cornstarch, milk, salt, pepper, and thyme ½ cup butter, ½ cup cornstarch, 1 cup milk, Salt and pepper to taste, ½ teaspoon thyme

Add the Asiago cheese and garlic powder 1 cup asiago cheese, 1 teaspoon garlic powder

Stir until it thickens.

Drain the pasta and transfer to the pot with the sauce

Mix well and let it simmer for 2 minutes

Place the pasta in dishes and top with the bacon and basil 2 tablespoons basil

Serve and enjoy
Nutrition
Calories: 707kcal | Carbohydrates: 48g | Protein: 23g | Fat: 46g | Saturated Fat: 24g | Cholesterol: 133mg | Sodium: 1177mg | Potassium: 145mg | Fiber: 2g | Sugar: 4g | Vitamin A: 1055IU | Vitamin C: 0.4mg | Calcium: 386mg | Iron: 7.7mg