This site contains affiliate links. Please see Policies for more information.
Popsicles aren't just for kids! These 20 boozy margarita popsicle recipes are sure to be a hit with the adults at your pool parties this summer!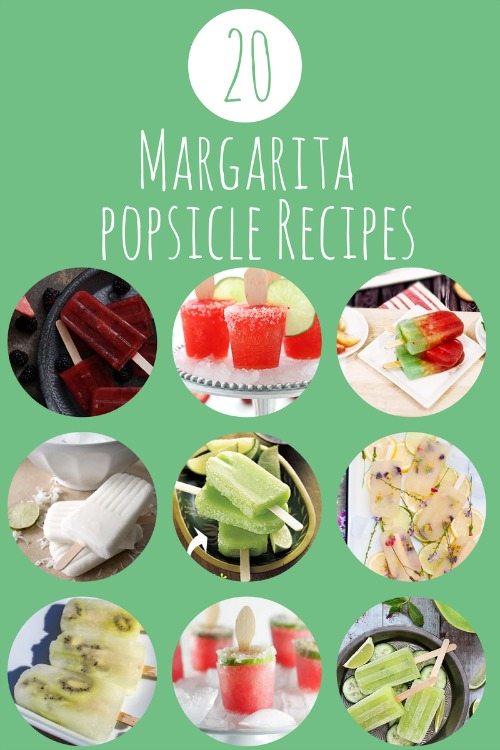 Classic Margaritas
Skinny Margarita Popsicles by Just a Taste
Strawberry Margarita Popsicles by Bakers Royale
Creamy Margarita Popsicle Recipe by Host the Toast
Classic Margarita Ice Pop by Hostess With the Mostess
Did you know that you can find these recipes by searching for Ice Pops, Poptails, Momsicles, and Popsicles? 
Margaritas with a twist
Strawberry Blackberry Margarita Popsicles by My Crazy Good Life
Cucumber Honeydew Margarita Popsicles by Endless Simmer
Kiwi Margarita Popsicle by Cooking Stoned
Strawberry, White Peach, and Lime Margarita Popsicles by Celebrations
Raspberry Mango Margarita Ice Pops by Blendtec
Patriotic Margarita Ice Pops from Jeanne Benedict
Citrus Margarita Spring Popsicle by Kiran Tarun
Cucumber Mint Margarita Popsicles by Zoku
Pineapple Margarita Ice Pops by Souvlaki for the Soul
Watermelon Margaritia Poptails by Brit+Co.
Raspberry Margarita Popsicles by Transient Expression
Watermelon Blackberry Margarita Poptails  by Endless Simmer
Coconut Margarita Ice Pops by The Kitchen Prep
Strawberry Kiwi Margarita Ice Pops by Debbie Hopkins
Tips for creating your own margarita popsicle recipe:
Use no more than 1 shot of alcohol to 1.5 cups of non-alcoholic liquid
Add cut up fruit to help with the flavor of your popsicle
Dip is salt or sugar for a fun twist!
Looking for more margaritas? You might be interested in these posts: