This site contains affiliate links. Please see Policies for more information.
I've always struggled to make a frozen margarita in any blender–I end up with liquid on the bottom and a few frozen chunks on top every time (even in my frozen margarita machine!). After creating this Frozen Margarita Slush with Tequila (of course), I love that it stays slushy for so much longer! The secret is the freezing–I was doing it all wrong.
My love for margaritas is no secret, so creating this recipe was pretty exciting for me. A Frozen Strawberry Margarita turned into a slush by freezing. This is a great recipe to make for some poolside fun, your Cinco de Mayo get together, or a summer happy hour. The margarita slush will slowly melt in the hot sun and leave you with a perfect drink!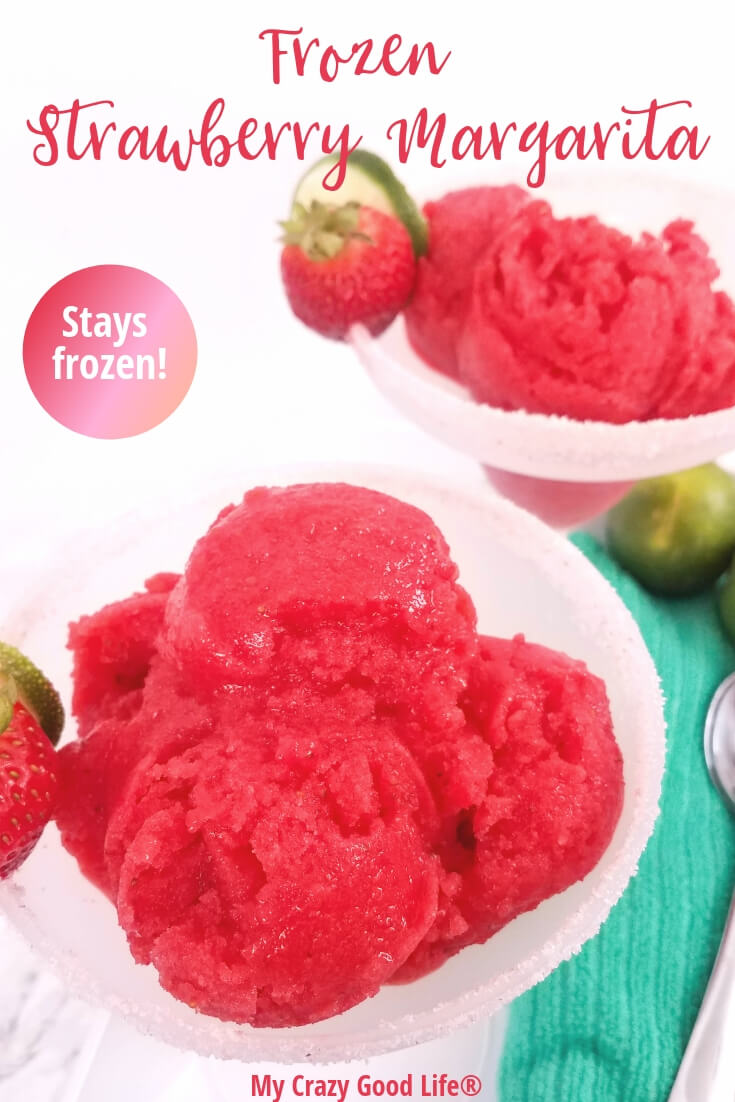 Is this a healthy margarita?
Actually, it is! Instead of the traditional margarita ingredients like orange liqueur, triple sec, simple syrup, or limeade concentrate we're using honey, fresh lime juice, and tequila for our margarita slush! The taste isn't compromised at all–in fact, I think it tastes so much better than the "unhealthy" version.
Perhaps even better than the refreshing flavor is that this is compatible with many healthy eating plans because it contains healthier ingredients than usual. One serving of this frozen strawberry margarita (about 3/4 cups, but the amount will vary depending on the size of your strawberries) is a 21 Day Fix treat swap. For Weight Watchers, this recipe is 6 Blue, Green, or Purple Points per serving.
Ingredients for this frozen margarita recipe:
Frozen Strawberries
Honey
Orange
Lime and (optional) lime wedges
Tequila
Freezer Safe Bread Pan or Deep Baking Dish
How to make frozen margarita slush in a blender:
1) Add tequila, lime juice, orange juice, strawberries, and honey together into a blender and blend until smooth. If you'd rather have chunks of strawberries in your slush, I'd chop some up and stir them in at the end, before you pour the slush into your dish for freezing.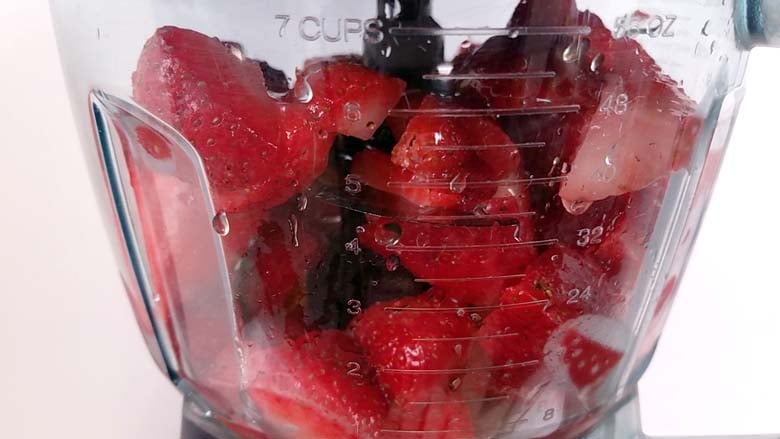 2) Pour the slush mix into a chilled pan and spread evenly. I prefer to use a glass dish for this so the ice cream scoop doesn't scratch my metal pans, but you're welcome to use whatever you have on hand!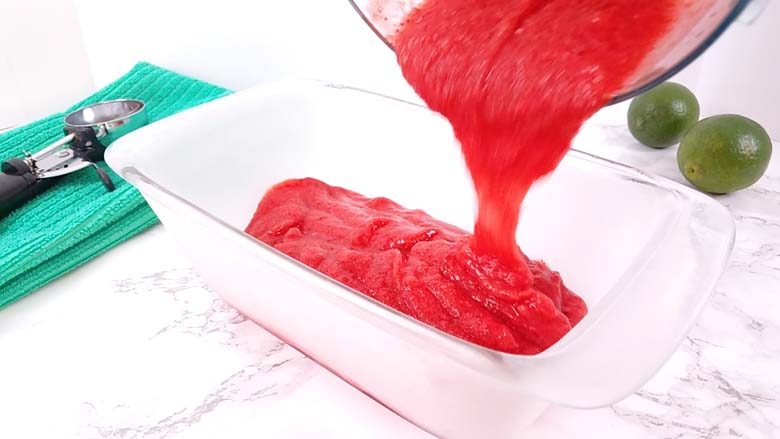 3) Freeze for 2-3 hours then use an ice cream scoop to serve. The slush will get harder the longer you let it sit. If you let it sit overnight, be sure to allow it soften a bit before serving.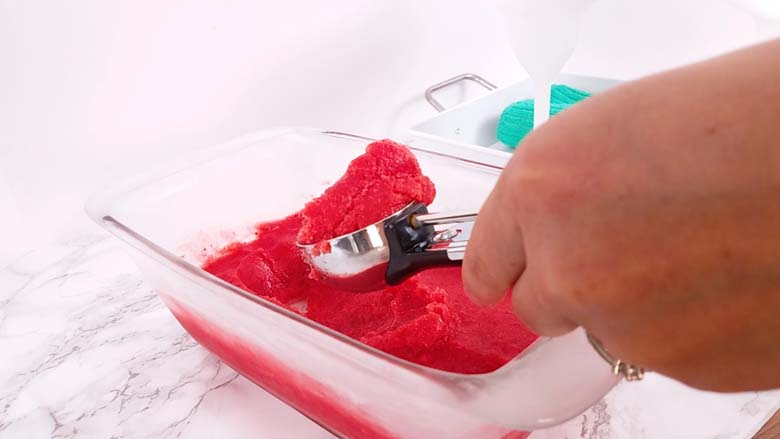 4) Serve in a salt rimmed glass with fresh squeezed lime or lime wedges if you'd like.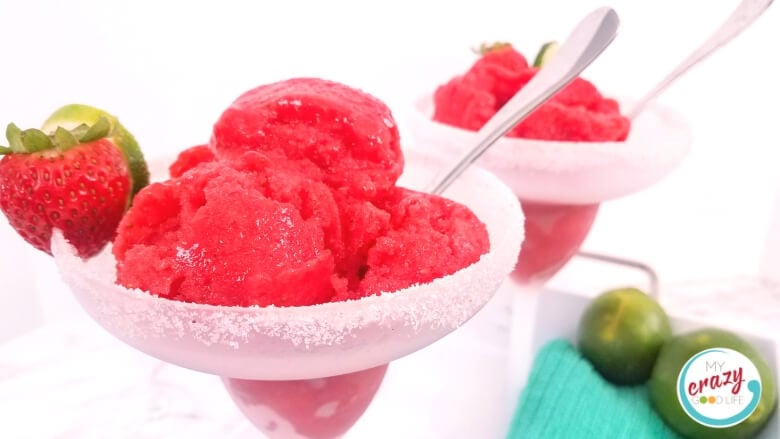 If you'd like to make this Frozen Margarita Slush with Tequila into popsicles, I highly encourage that! They're delicious as popsicles and I have a couple of recommendations for you:
I'd use zipper popsicle bags instead of traditional popsicle molds because they could drip and cause a mess.
I'd also use a funnel (click to see the one I use) to pour the slush into the bags–it's a little bit more difficult to pour the mixture into the pouches because it's thick.
If you love this recipe be sure to check out these other great boozy frozen recipes!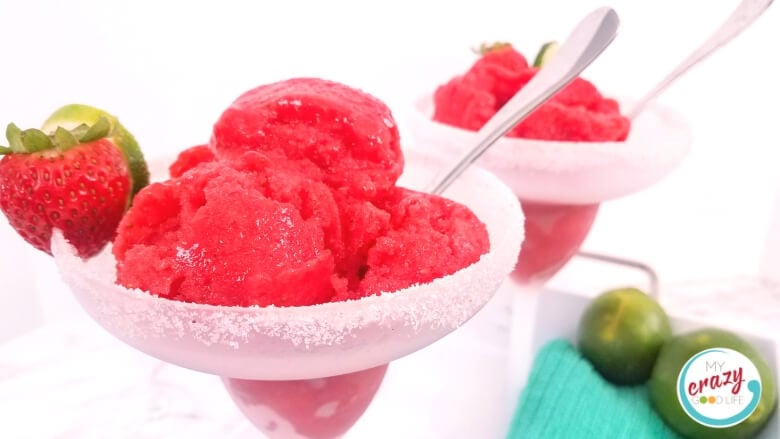 click the stars to rate!
Frozen Margarita Slush with Tequila
Servings 2
This Frozen Margarita Slush with Tequila is a delicious frozen cocktail! Frozen Strawberry Margaritas are tough to make because they separate–not these! This is a healthy margarita recipe that contains no prepackaged juices or syrups–it's sweetened with fruit and honey!
Ingredients
4 cups strawberries Frozen
1 tbsp. Honey
1 Orange Juiced, about 1/4 cup
2 Limes Juiced, about 1/4 cup
1/4 cup tequila
Instructions
Mix all the ingredients together in a blender until smooth.

Pour the slush mix into the chilled pan, spread evenly.

Freeze for 2-3 hours then scoop and serve. The slush will get harder the longer you let it sit. If you let it sit overnight, be sure to allow it soften before serving.
Notes
Weight Watchers: 6 Points on Blue, Green, and Purple Plans
Nutrition
Calories: 218kcal | Carbohydrates: 38g | Protein: 3g | Fat: 1g | Saturated Fat: 1g | Sodium: 5mg | Potassium: 569mg | Fiber: 8g | Sugar: 24g | Vitamin A: 130IU | Vitamin C: 203.9mg | Calcium: 68mg | Iron: 1.6mg