This site contains affiliate links. Please see Policies for more information.
Adults-only popsicles are totally a thing! These delicious popsicles with alcohol are refreshing and fun–just be sure to keep them away from the kids! You can use a traditional popsicle mold or a super fast one like a Zoku pop maker to make these boozy treats.
One thing to remember about boozy popsicles is that you have to watch the amount of alcohol you add to the popsicle. As you probably know, alcohol doesn't freeze well so altering the recipes below to add more alcohol might not work.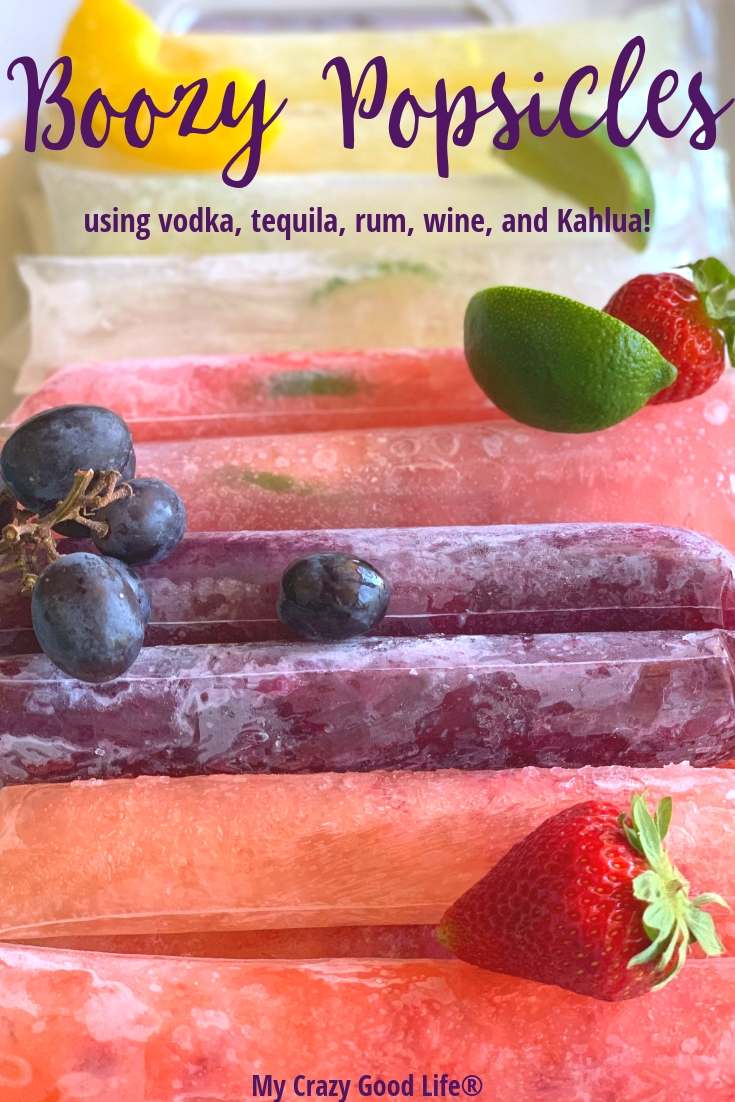 I thought alcohol doesn't freeze. How can I make alcoholic popsicles?
Well, it'll freeze, but it might take a lower temperature to do so. The ethanol in alcohol is what lowers the freezing point for alcoholic popsicles. You could add gelatin to help it solidify, but gelatin could be an issue for vegetarians and those who prefer to not consume gelatin.
The bottom line is the higher the ABV%, the lower the freezing temperature. Here's a breakdown of about how long it takes each type of alcohol to freeze:
beer: 28º F
wine: 23º F
20% ABV: 22º F
30% ABV: -10º F
40% ABV: -17º F
I've told you below how much the ABV% is for each category of popsicles.
How to make boozy popsicles:
I wanted to share a few things that I've learned while making alcoholic popsicles. It's a bit of trial and error at first so I've had a few batches that were a little wonky but overall they're not difficult to make!
The process is almost the same for all popsicles…mix, pour, freeze, eat. That being said, remember that too much alcohol or very high proof alcohol will make them difficult to freeze and they'll stay slushy. If you feel like this may happen, grab some popsicle zipper pouches and use those to make your treats.
Another tip: Allowing your popsicles to sit for a few minutes after pulling them out of the freezer makes them easier to remove from the molds. You can run them under a little warm water, but be careful because that can cause them to them melt more than you'd like.
Pulling the popsicles out of a mold before they're a little slippery on the outside can mean that they're not ready. So even though they're super tasty, give your alcoholic popsicles a few moments to rest outside the freezer before removing them from the molds.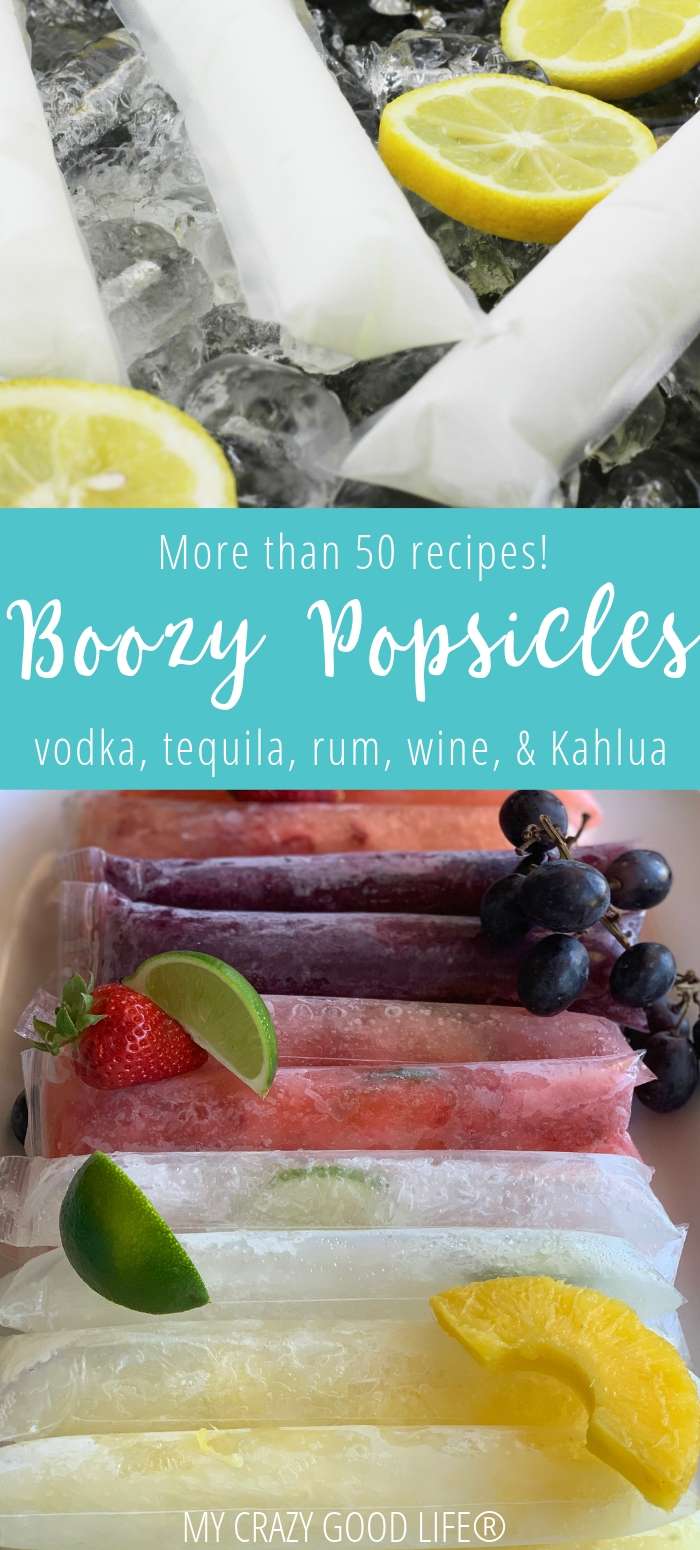 Here are my favorite products to make boozy popsicles:
What if I don't have all of these supplies?
Don't have popsicle sticks? You can use disposable plastic utensils instead of popsicle sticks in a pinch!
Don't have popsicle molds? Use Solo cups or small Dixie cups.
Where can I buy boozy popsicles?
If you're feeling like you don't want to make these alcoholic popsicles and would rather buy them, Costco has had them on and off throughout the years–I'd look there for sure. Liquor stores like Bevmo and Total Wine have also had them. Sometimes you can also find packs to freeze and eat as a slushie at the grocery stores (I've found them at Fry's, which is a Kroger store).
Some popular brands of adult popsicles for you to look at at Slim Chillers, Buzz Pop Cocktails, FrutaPOP, SnoBar Cocktails (I've had these and they're delicious!), and Spoonable Spirits.
Ok, let's get to these recipes!
If you're wanting to start out with a 100 calorie option, I highly recommend these "to go" margaritas!
Boozy Popsicles with Rum
It seems that rum popsicles are some of the most popular–there are so many recipes for them! I have a feeling it's because the ABV of rum can range from 70-80%–it's strong! Because of the high percentage of alcohol, you can't use a ton of rum in popsicle recipes–they won't freeze. This is me telling you not to mess with these rum popsicle recipes a ton ;)
With ingredients including fresh fruit and three types of alcohol these are sure to be on your summer bucket cocktail list!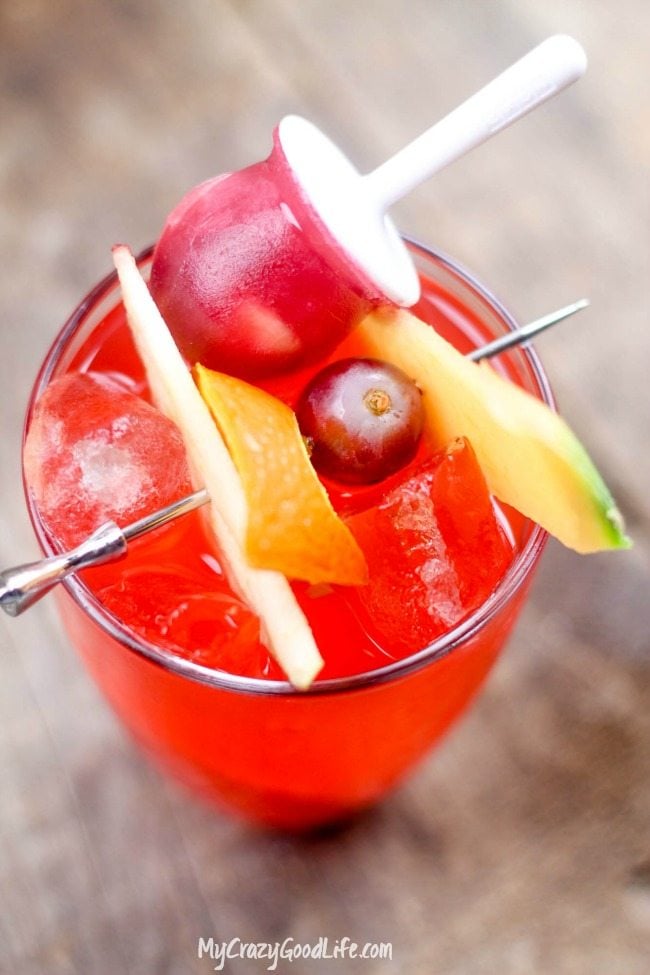 Pina Colada Creamsicle from The Black Peppercorn
Malibu and Pepsi Popsicles from The Yummy Truth
Bacardi Strawberry Daiquiri Popsicles from A Night Owl Blog
Mango Mojito Popsicles from Tasty Trials
These rum & Coke popsicles have a fun twist!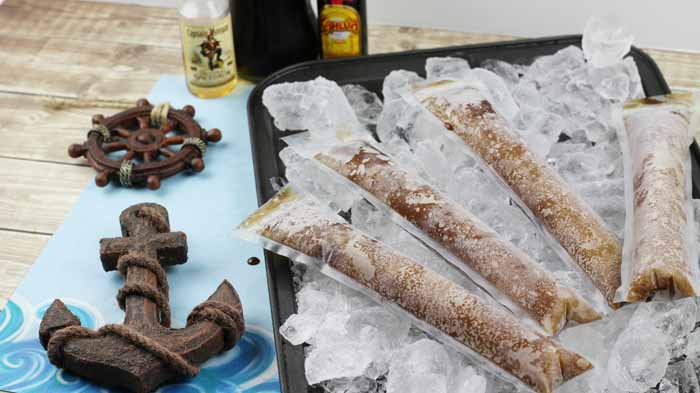 Spiked Bomb Pop from Tipsy Bartender
Rum-Infused Chocolate Dipped Coconut Popsicles from Trend Hunter
Rum Punch Popsicles from Foodal
Pineapple Coconut Rum Popsicles from Sugar and Charm
Alcoholic Popsicles with Vodka
Vodka is on average 40% ABV and often tasteless, which makes it a delicious alcohol to use in a boozy popsicle! I love playing around with flavored vodkas, as well–you can come up with some fun treat ideas that way. Keep in mind that anything over 40% alcohol will not freeze well, so keep the ratio low compared to your other ingredients (or follow the recipes below!).
Pineapple Vodka Popsicles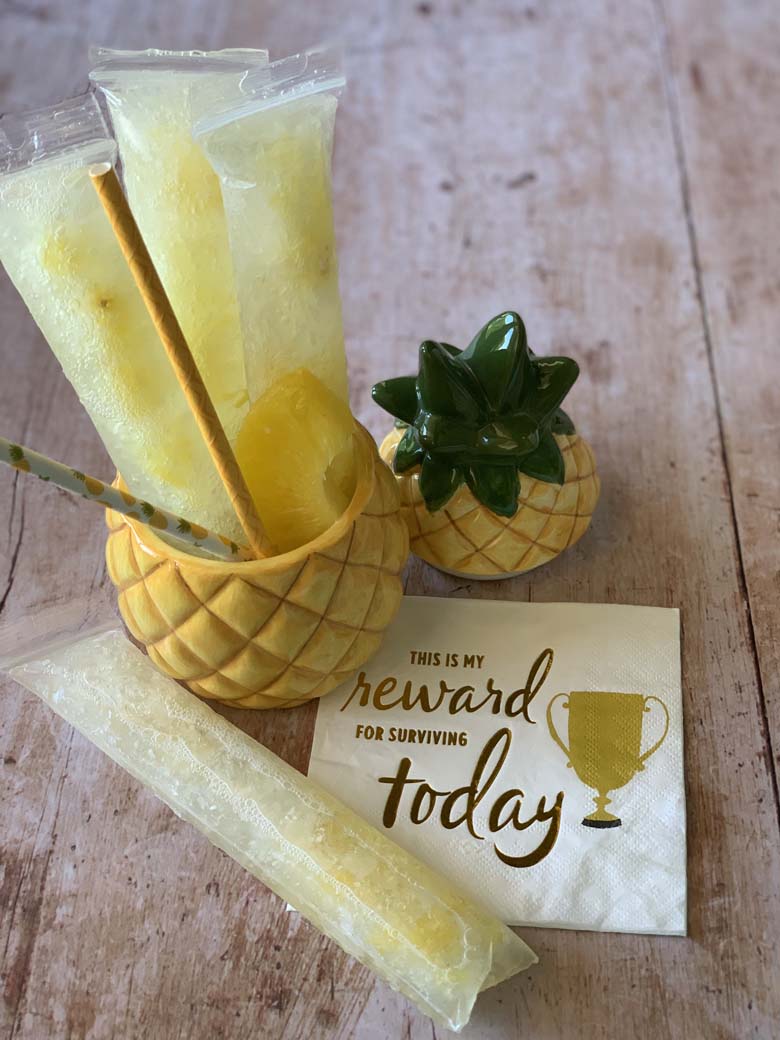 This popsicle recipe is a fun way to make a tipsy bomb pop!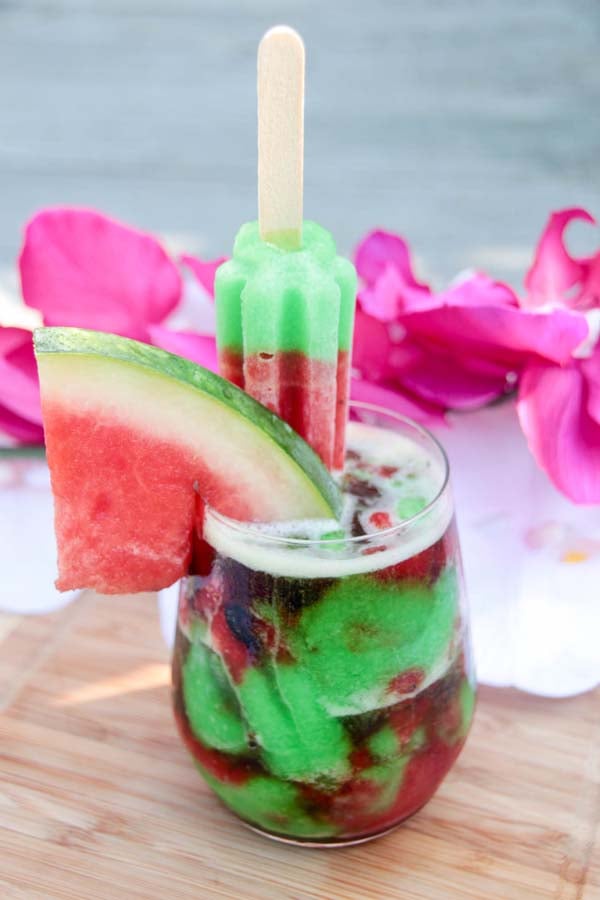 Strawberry Lemonade Vodka Popsicles
Vodka Gummy Bear Pops from A Spicy Perspective
This is a pretty guilt free adult popsicle, depending on what kind of lemonade you buy or make. It tastes like a sweet and frozen vodka martini… or a lemon drop!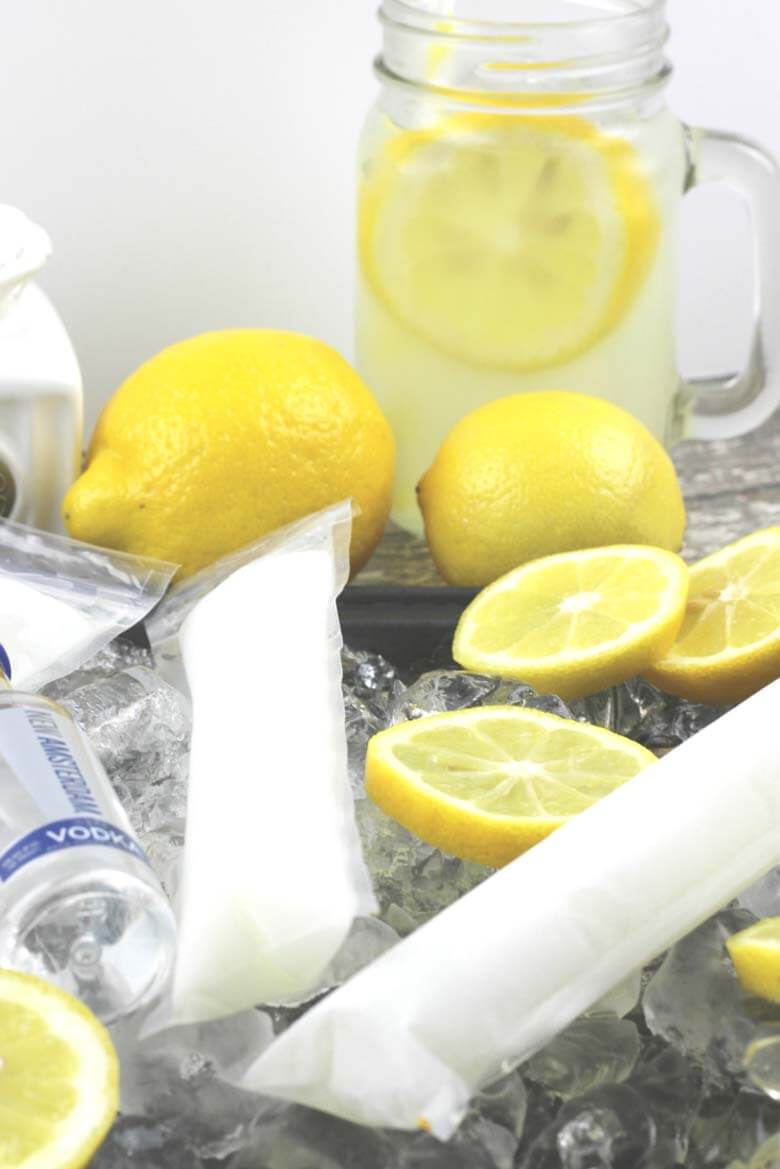 Bloody Mary Popsicles from Fork and Beans
Skittles Vodka Popsicles from Tipsy Bartender
Boozy Firecracker Popsicles from Elle Talk
Cosmopolitan Popsicle Recipe from Tammilee Tips
Screwdriver Popsicle Recipe

Ingredients needed for Screwdriver Popsicles:
2 cups orange juice
1/2 cup vodka
Mix orange juice and vodka in a pitcher. Make sure to mix well so you don't have pockets of vodka and pockets of orange juice in your pop.
If using zipper pouches, each pouch holds about 1/2 cup + one ounce. Pour your mixture into the molds and freeze overnight. Make sure to leave room at the top for expansion!
Adult Popsicles with Wine
Most wine is around 10% ABV, and the freezing temperature is about 23ºF. Be careful freezing wine–and definitely don't make popsicles out of your best bottle of wine. Freezing wine (and beer, actually) can actually water it down and ruin the flavor. If you make wine popsicles, leave some extra room in the molds for the wine to expand.
Red Wine Popsicles | White Wine Popsicles with Strawberries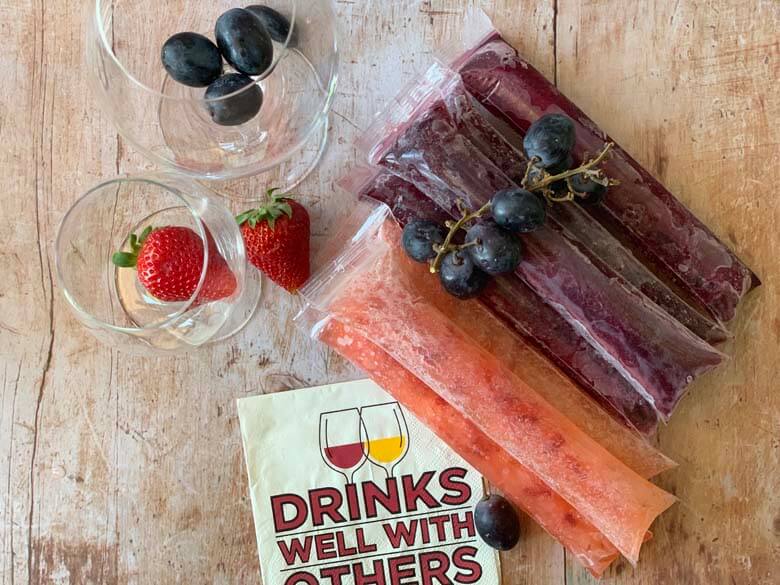 Red Wine Sangria Popsicles from A Popsicle Blog
Peach Bellini Popsicles from Bespangled
Miami Vice Popsicles from Tipsy Bartender
Raspberry and Lime Sangria Popsicles from Cooking Stoned
Roasted Strawberry Red Wine Popsicles from Pastry Affair
Strawberry Moscato Popsicles from Salt & Lavendar
Sangria on a Stick from The Soccer Mom Blog
Rose Wine Popsicles from Vintage Mixer
Prosecco Popsicles from My Recipes
Raspberry FROSÉ Popsicles from Three Olives Branch
Boozy Popsicle Recipes with Tequila
Ahhh…tequila. Hands down, my favorite alcohol as long as it's one of my favorite brands ;) The ABV of tequila changes depending on the brand and type. It's usually around 40%, but can range from 30-50%.
Margarita Pops from We're Calling Shananigans
I love making these when fresh strawberries are in season! These boozy ice pops are one of my favorites. Bonus: there is a recipe for traditional margarita popsicles too!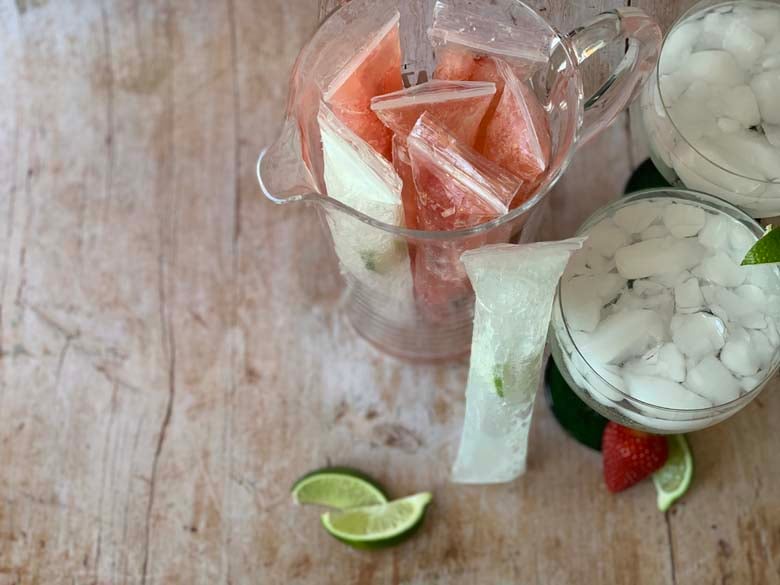 Tropical Tequila Sunrise Popsicles from Real Food by Dad
Tequila Spiked Mango Popsicles with Chile from Honestly Yum
Creamy Margarita Popsicles by Host the Toast
Grapefruit & Tequila Paloma Ice Pops by Sweet Paul
Strawberry Lime Sorbet (with tequila, of course)
I love wowing my guests with this easy summer treat! It's thick like ice cream but so refreshing.
Watermelon Margarita Popsicle from Tipsy Bartender
Tequila Watermelon Popsicles from Love and Olive Oil
Tequila Lime Boozy Pops from Something New for Dinner
Blueberry-Peach Tequila Popsicles from Food & Wine
Alcoholic Ice Pops with Kahlua
The ABV of Kahlua is 20%, so keep this in mind if you choose to deviate from these recipes and make your own concoction–you'll still want them to be able to freeze!
Kahlua is a unique coffee flavored liquer from Mexico. It contains rum, sugar, vanilla, and coffee and is often paired with (even more!) coffee in cocktails.
Kahlua and Coffee Popsicles from A Popsicle Blog | Kahlua Popsicles? Yes, please! I love these–perfect for vacation mornings!
Kahlua Coconut Cream Affogato Popsicles from Say Yes to Yolks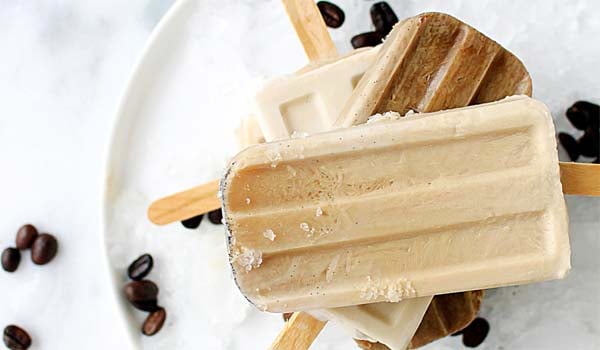 Black and White Russian Pudding Pops from Endless Simmer
Mudslide Popsicles by Real Food by Dad
White Russian Popsicles by Food52
Coconut Kahlua Ice Pops from dini|klein
Kahlua Coffee Ice Pops from Sippy Cup Mom
Kahlua Fudgesicles by The Saucy Southerner
Kahlua Pudding Pops from Brit+Co