Lemonade is a time honored summer drink. An ice cold glass is offered up to anyone who has been working in the hot hot heat all day long and it immediately refreshes them! We love adding vodka and freezing for even more refreshment–these vodka popsicles taste like a lemon drop!
Alcohol popsicles are popular in the summer, and these are one of the easiest ones to make.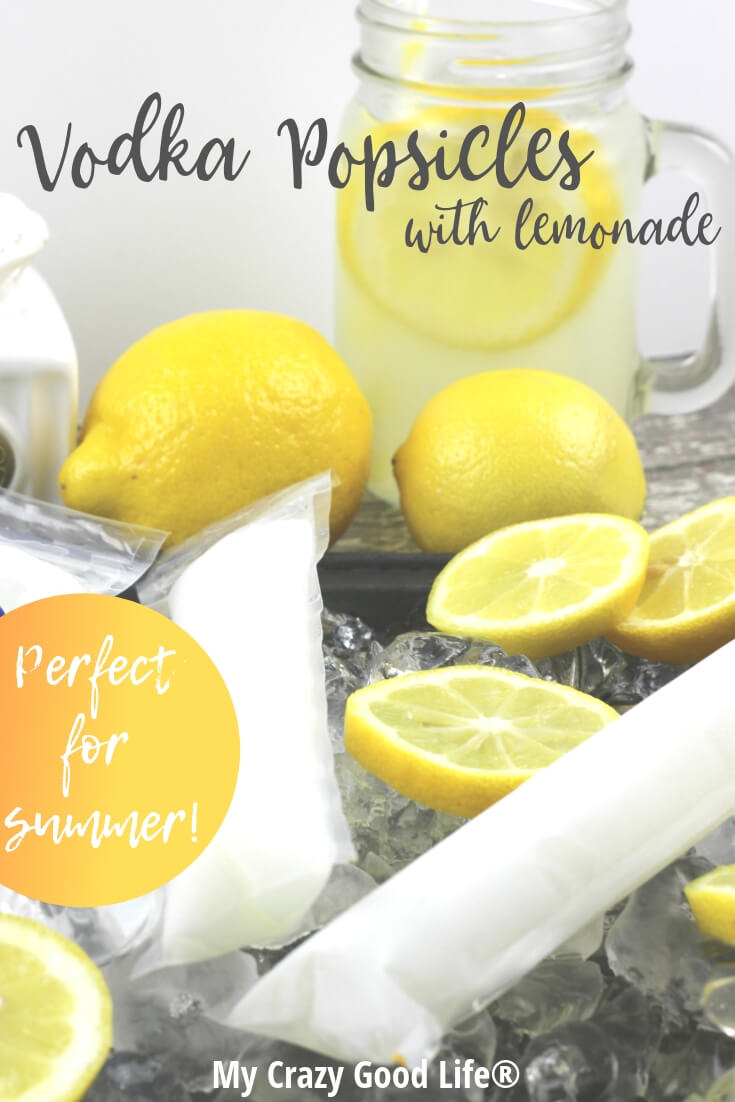 Adult popsicles are so fun! They're super refreshing, they have a delightful kick, and they magically transport us back to the days of our youth when slurping popsicles was the best part of any summer day–except they're a refreshing cocktail. I remember loving pudding pops–they were always my favorite ice pop as a kid!
Whether you call them ice pops like I did when I was growing up, skinny freezers, slim chillers, boozy popsicles, vodka ice pops or freezer pops, you're going to love these.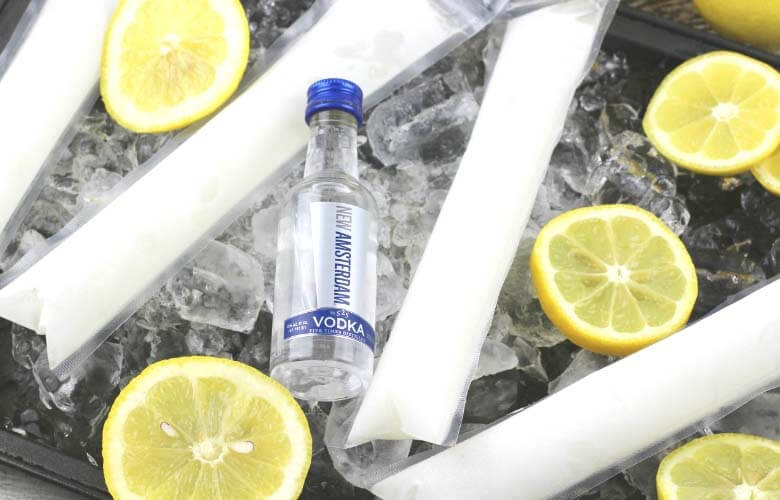 Are these adult popsicles?
This is an easy alcoholic popsicle recipe–there is alcohol in this recipe. I'd highly recommend not making similar "virgin" popsicles at the same time that you have these, in case the kids get into them.
Alcoholic popsicles won't freeze all the way like regular popsicles do, and that's ok. I recommend storing these zipper pouches zipper side up so they don't spill as they're freezing. If you can't do that, storing flat is fine too!
What are popsicle pouches?
If you're not familiar with the popsicle pouches, let me explain. They're disposable popsicle sleeves that are easy to fill, and they make recipes like this one even more fun. There's no need to clean popsicle molds, no cups or sticks, it's a really great idea for all kinds of popsicle recipes.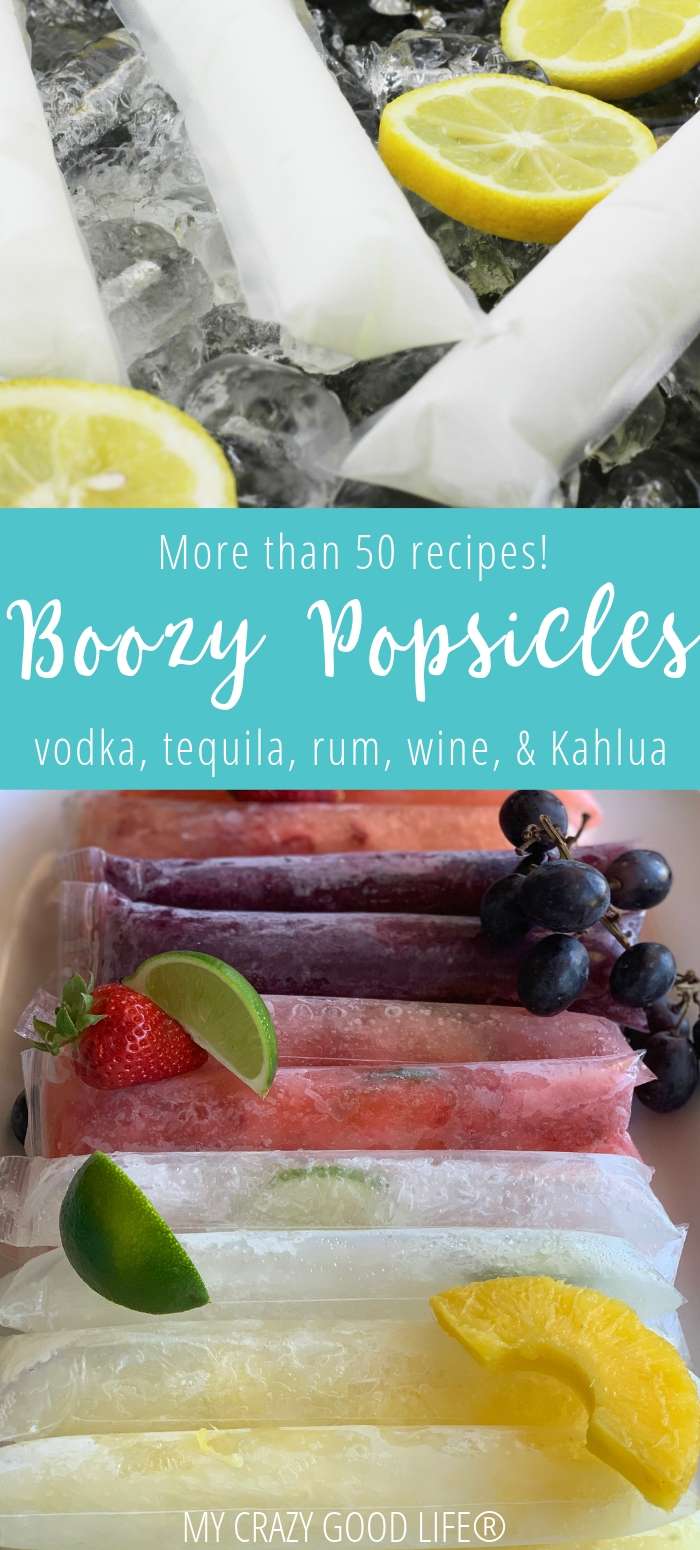 I love using them for parties; adult and children's recipes alike are so much easier with the disposable pouches. Definitely a great idea if you plan on making a bunch of popsicles at one time. Many local liquor stores carry them now, too!
Each popsicle pouch fits about 1/2 cup plus one ounce of liquid. Make sure to leave about an inch at the top for expansion–when I made my wine popsicles, I didn't leave enough room and they leaked red wine all over my freezer, so make sure you have enough room!
These frozen treats are a breeze to whip up! They contain just two ingredients that you can literally throw together in a pitcher in just a few minutes, pop them into the zip-a-pop pouches and you're ready to freeze.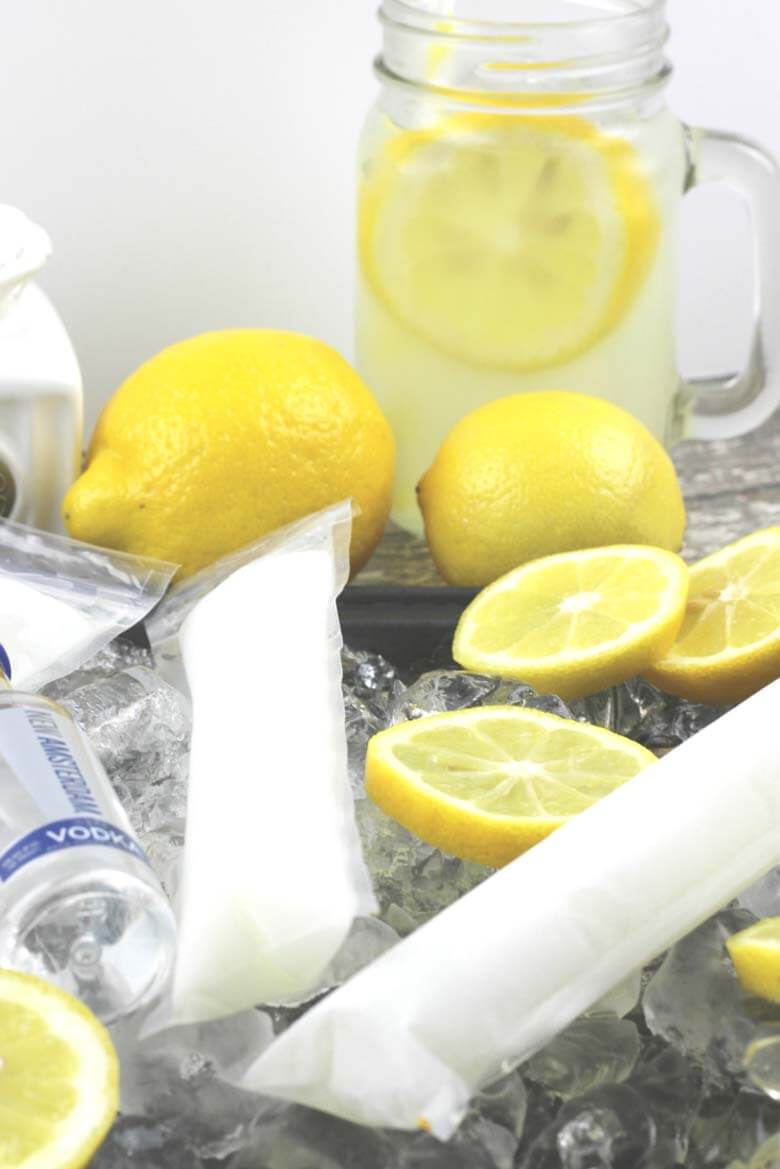 Ingredients needed for frozen vodka lemonade pops:
Lemonade
Vodka
Popsicle mold or pouch
How to make alcoholic popsicles:
1. Add both the lemonade and vodka to a pitcher and stir until mixed well.
2. Pour the mixture into each zip-a-pop pouch or ice pop mold and seal. If you have a funnel, it will make this part of the process so much easier!
3. Freeze overnight
4. ENJOY!!

This recipe makes about 8 Frozen Vodka Lemonade Pops.
What is a vodka lemonade?
Vodka and lemonade is a refreshing summer drink. To make them, I use about two ounces of lemonade, a shot of vodka, and then I fill the rest of a tall glass with sparkling water. It's as refreshing as regular lemonade, but it's an alcoholic lemonade recipe! This drink is a little different than a Lemonade Vodka Martini that calls for vermouth.
Does vodka freeze?
Not really. It turns more slushy than frozen. That's why these Vodka Popsicles are so delicious–they're a little slushy and so refreshing.
Alcohol doesn't freeze solid, which is why we love to store ours in the freezer–it's always cold and ready to be mixed in a drink!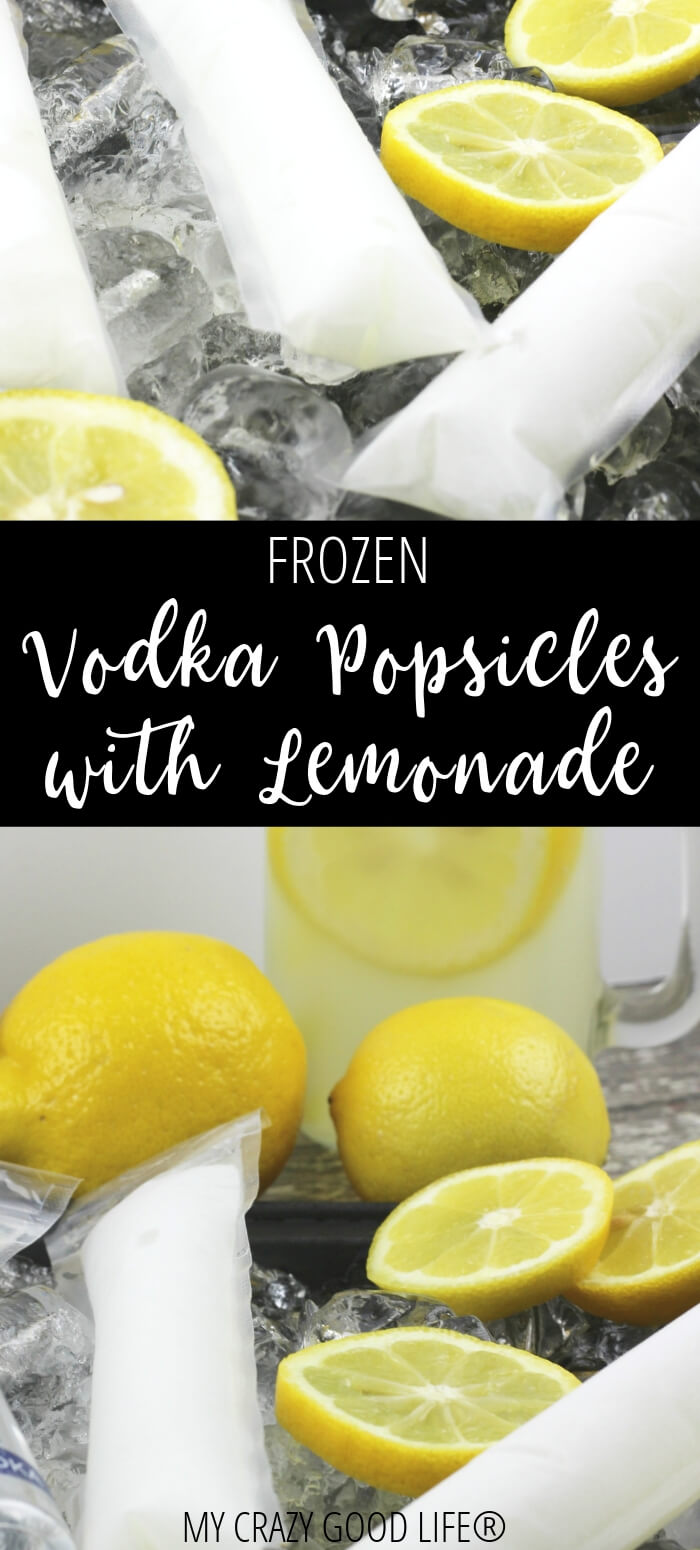 How many calories in these Vodka Lemonade Popsicles?
Assuming you get 4 popsicles out of this recipe, each ice pop will be about 125 calories. The ice cream molds will probably give you closer to a 150 calorie pop. It's hard to tell exactly because different molds are different sizes, and because there are so many different types of lemonade.
To calculate calories for your version of this recipe, look at the serving size on the lemonade bottle and figure out how many calories two cups would be. The vodka will be about 260 calories for a half cup, or 4 ounces. After adding the total number of calories for both ingredients, divide by the number of popsicles you're able to make in your molds or zipper pouches. This will tell you how many calories are in each of your alcoholic popsicles.
Looking for other boozy popsicle recipes?
Weight Watchers Smart Points?
Each serving has 2 WW Smart Points, when using Crystal Light Lemonade
Frozen Vodka Lemonade Pops | Vodka Popsicles
Popsicles are not just for kids anymore! There are TONS of amazing alcoholic adult popsicle recipes out there. These Frozen Vodka Lemonade Pops are awesome!
Ingredients
2

cups

lemonade

4

ounces

Vodka
Instructions
Directions
Add both the lemonade and vodka to a pitcher and stir until mixed well.

Pour the mixture into each popsicle pouch and seal. Each popsicle pouch holds about 1/2 cup + 1 ounce.

If you have a funnel, it will make this part of the process so much easier!

Freeze overnight

ENJOY!!
Nutrition
Calories:
125
kcal
|
Carbohydrates:
15
g
|
Sodium:
8
mg
|
Sugar:
14
g
Save
Save