This site contains affiliate links. Please see Policies for more information.
This Skinny Cranberry Margarita recipe is the perfect balance between healthy and indulgent. No added sugar or artificial sweeteners, no syrups, but full of flavor and natural sweetness with about 100 calories.
This recipe is light and bubbly and just as good without the tequila. It's a perfect low calorie holiday cocktail, but I make these any time of year–not just during the holiday season.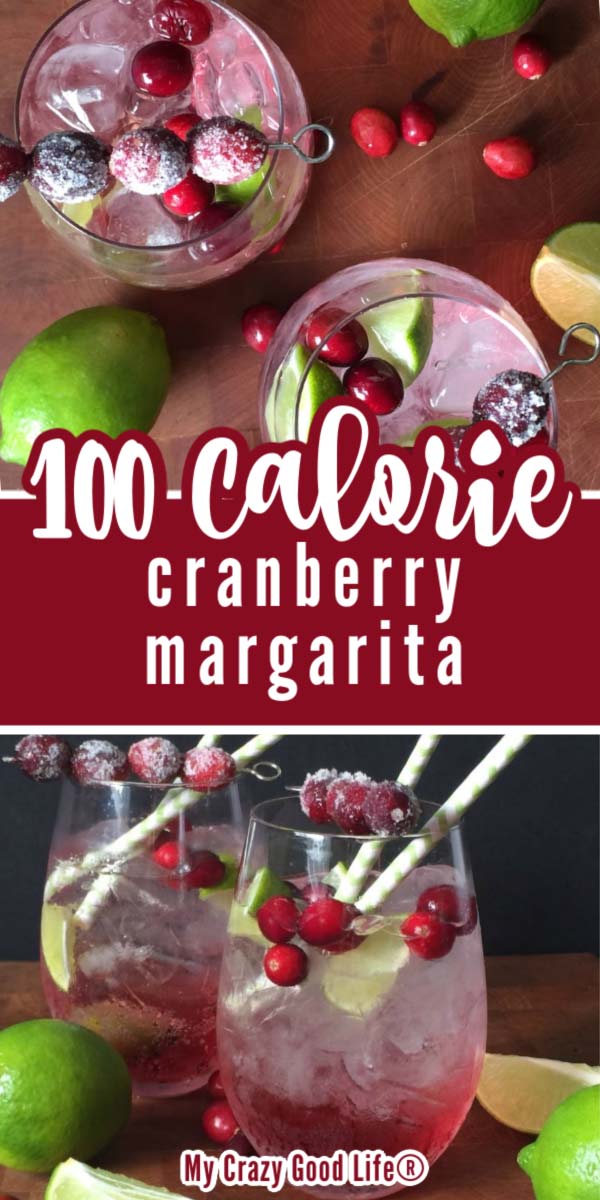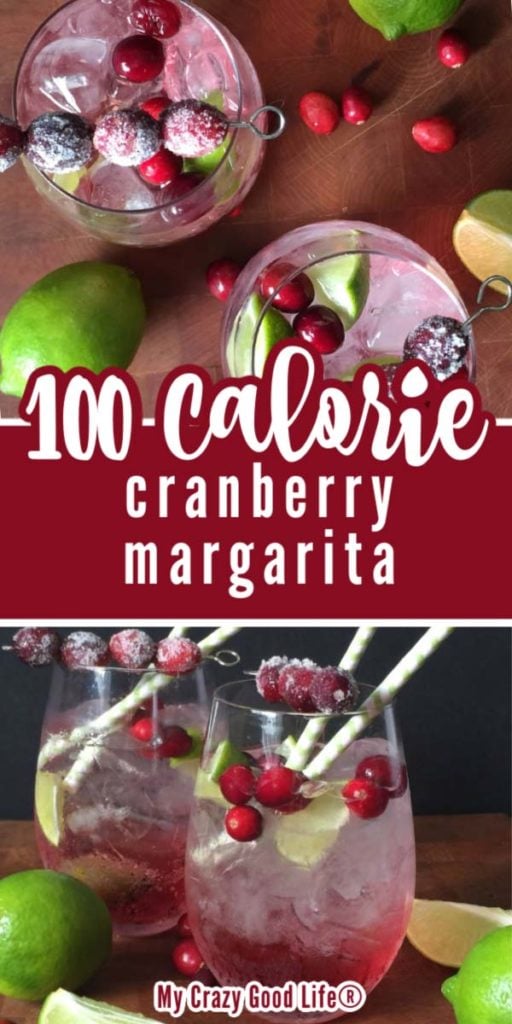 I'm always looking for low calorie tequila drinks, since I don't care to drink anything super sweet or heavy. Even with a couple of candied cranberries, these margaritas aren't too sweet–they make the best low calorie Christmas cocktail.
This recipe is considered healthy because it has just a few simple ingredients–sparkling water (you could also use club soda, but I haven't seen flavored club sodas so I stick with the water), fresh limes, tequila (or vodka!), and cranberry juice.
I didn't add orange juice, sugar, or other liqueur options because to be honest this recipe doesn't need them. This is a delicious sugar free, artificial sweetener free cranberry cocktail. Whether you're looking for a skinny poolside cocktail or a low calorie holiday drink, this recipe is simple and refreshing!
Ingredients
Sparkling water: Plain sparkling water like Perrier is great, but I really enjoy the extra flavor of flavored sparkling water. Just be sure whatever you choose doesn't have any sugars or artificial sweeteners.
Tequila: Be sure and use a good quality tequila. Lower quality tequilas often have extra ingredients that you probably don't want to be drinking (man, I could write an entire post on that!). Cazadores, Don Julio, and Herradura are great options that you can find in your local grocery store. For this recipe, I prefer silver tequila.
Cranberry juice: Look for 100% juice. A lot of bottled cranberry juice contains sugar so be sure and read your label.
Fresh Lime juice From freshly squeezed limes, of course ;)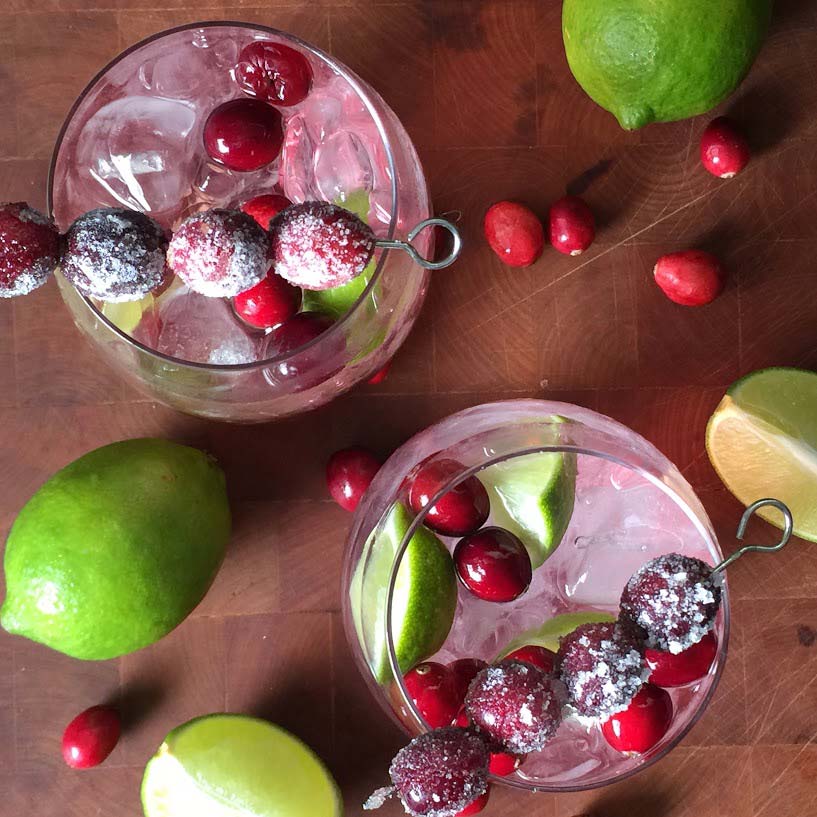 Quick Instructions
If you'd like to drink this cocktail over ice, add ice, tequila, lime juice, and cranberry juice to your glass. Fill to the top with sparkling water and enjoy!
If you'd rather shake this cocktail, add ice to a glass and the following ingredients to a cocktail shaker: tequila, lime juice, and cranberry juice. Shake for 15 seconds, then pour over ice. Top with chilled sparkling water.
Recipe Tips
For a little added sweetness, rim the glass with lime juice and coat with raw sugar. I don't often do this, but every once in a while it's fun to. If you are serving these to someone who prefers sweet, go ahead and add a splash of simple syrup.
For a festive presentation, add 3 whole cranberries to a toothpick for a garnish. If you want to make sugared cranberries like I did for these pictures you can, but know that this will bump it out of the 100 calorie range.
This recipe is great over ice or shaken and poured.
Not feeling the alcohol? Skip the tequila and enjoy the delicious mocktail version.
Not loving the Sparkling Cranberry Margarita? You can use still water instead of sparkling!
This is a perfect cocktail to serve alongside your Thanksgiving dinner.
Healthy Eating Plans
If you're on a healthy eating plan, this should fit right into it. As a 21 Day Fix margarita it fits perfectly as a treat swap (any alcohol is a treat swap). As a Weight Watchers margarita, it's a low point cocktail–just 4 points on all plans.
If this cocktail doesn't fit into your healthy eating plan, the mocktail version of this recipe might work better for you–simply leave the alcohol out of the recipe and enjoy!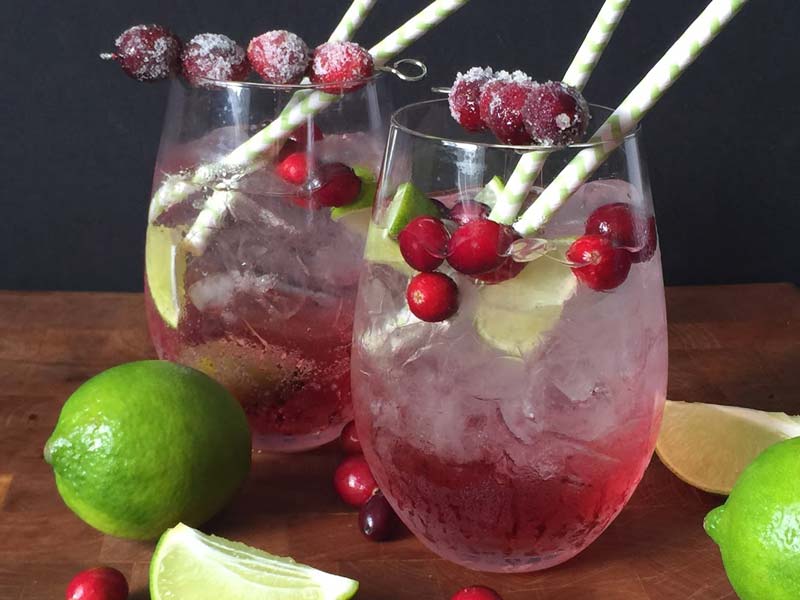 One of my favorite things to do is take naturally flavored sparkling water and make different cocktails with it. I have several made for you to spark your creativity on how you can use the same sparking water to make lower calorie versions of your favorite cocktails–these are all right around 100 calories.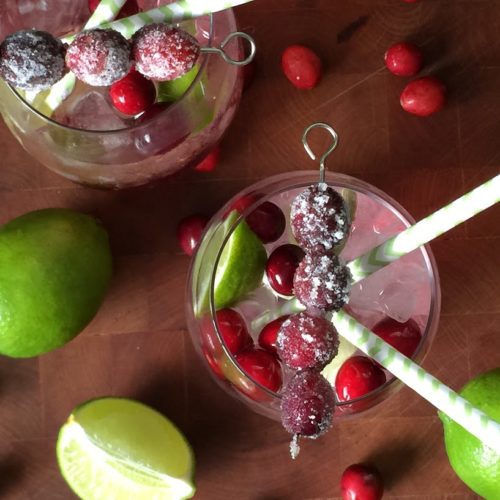 click the stars to rate!
Delicious Skinny Cranberry Margarita Recipe
Approximate Serving Size: 1 cocktail
Servings 1 Margarita
This easy low cal Cranberry Margarita recipe is only 100 calories! Sugar free and no artificial sweeteners, it's a healthier skinny cranberry margarita!
Ingredients
1 oz tequila
2 tbsp lime juice
¼ cup cranberry juice
ice cubes
10 oz sparkling water I prefer lime flavored
Instructions
Add tequila, lime juice, cranberry juice, and ice to your glass, then fill to the top with sparkling water. 1 oz tequila, 2 tbsp lime juice, ¼ cup cranberry juice, ice cubes, 10 oz sparkling water

Stir and serve, or add everything except sparkling water to a cocktail shake with ice, shake and serve. Top with sparkling water.
Notes
Healthy Eating Plans:
Weight Watchers: Each margarita counts as: 4 Blue Plan Points | 4 Green Plan Points | 4 Purple Plan Points | 2022/2023 Points: 3
21 Day Fix/Ultimate Portion Fix: Each of these margaritas is a Yellow Treat swap for The Fix. That means you can trade one of your daily yellows for this, and believe me it's worth it. 
Nutrition
Calories: 102kcal | Carbohydrates: 10g | Protein: 1g | Fat: 1g | Saturated Fat: 1g | Sodium: 62mg | Potassium: 49mg | Sugar: 8g | Vitamin C: 15mg | Calcium: 14mg