This site contains affiliate links. Please see Policies for more information.
You know about funfetti, sprinkles in cake mix, what an idea! But did you know that there's a whole world of funfetti cocktails out there too? It's basically a wonderland of cake themed drinks for adults. Make a note, these are perfect for everyday life AND birthday parties. I'd take one of these funfetti cocktails over an actual cake and I'd do it happily. Taking one for the team there, I know.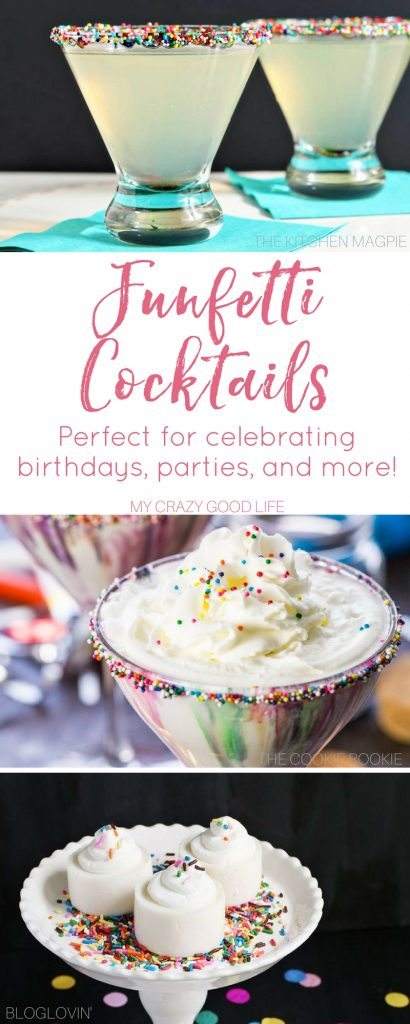 While I probably won't get crazy rich from this funfetti cocktails discovery, I mean sprinkles in cake mix…it's not that hard, where was I on that one?! They are still really fun to make, they look amazing, and taste even better. Funfetti cocktails are an excellent party drink. They will impress all of your guests and who could say 'no' to a tasty cake flavored beverage? No one! A crowd-pleaser for sure.
Funfetti Cocktails:
Pick your favorites! You can try them all and make a truly informed decision…I recommend an informed decision! These DIY Cocktail Napkins can supplement your amazing funfetti cocktails as well.
Funfetti Martini | My Crazy Good Life
Funfetti Milkshake Cocktail | Delightful E Made
Cake Batter Martini | The Cookie Rookie
Funfetti Cake Batter Cocktail | Tipsy Bartender
Funfetti Birthday Cake Martini | The Speckled Palate
Cake Batter Martini | The Novice Chef
Funfetti Cake Punch | The Ball & Daisy Chain
Birthday Cake Jell-O Shots | Bloglovin'
Happy Birthday Colada | Hampton Roads Happy Hour
Rainbow Chip Frosting Shots | Tbsp.
Cooking Shot Glasses with RunChata | Tbsp.
Eggnog Funfetti Martini | The Kitchen Magpie
Birthday Cake Mimosas | Cosmopolitan
Gluten Free / Diary Free Funfetti Martini | Flippin' Delicious
Funfetti Brownie Cocktails | Tipsy Bartender
Dunkaroo Rum Shake | Supercall
Sugar Cookie Martini | Tbsp.
Funfetti Cake Shot | The Spiffy Cookie
White Chocolate Martini | Low Country Spoiled