This site contains affiliate links. Please see Policies for more information.
Thanksgiving is right around the corner and if you are anything like me, you are scrambling to plan out all of the details for the big day! Thanksgiving is one of my favorite holidays – delicious food, friends and family, and did I mention delicious food? My healthy Thanksgiving menu is full of delicious, wholesome food that you are going to love.
I love hosting my family and friends – it's one of the greatest things I look forward to during the holiday season. I also love being in control of my healthy Thanksgiving menu. My guests are so gracious and ask what they can bring – selfishly, I send them one of my favorite My Crazy Good Life recipes.
In the past, Thanksgiving has been a stressful holiday for me – so many heavy and unhealthy options – which really hindered my healthy eating goals. Over the past few holidays, I've made it my goal to create delicious recipes that aren't lacking in satisfaction or flavor.
This year, I'm helping to simplify your big day and sharing all of the details on what I'll be enjoying this Thanksgiving Day.
Thanksgiving Appetizers
No one wants a hangry guest – or a hangry host. I always manage to make a few appetizers ahead of time to help entertain people while I'm making the last minute touches on the rest of my meal. This year I'm serving three appetizers packed with flavor to provide a little bit of a variety in taste for all of my guests. 
This healthy blooming onion recipe is gluten free and baked or air fried. You get all the crunch and flavor without sacrificing your healthy lifestyle. I've even whipped up a spicy dipping sauce that you're going to love!
Sometimes called Fiesta Corn Dip, this warm dip is made with fiesta corn, spicy peppers, shredded cheese, and trust me on this one–cottage cheese and Greek yogurt, blended together to make a protein packed creamy dip.
I'd say that this hot Corn Dip is good, or easy, or popular–but seriously, it's all three. And it's gotten a healthy makeover!
This healthy Spinach Artichoke Dip recipe with Greek yogurt is an easy appetizer! Make this Skinny Artichoke Dip in the Instant Pot, Crockpot, or on the stove and serve it hot or cold–your choice. Full of veggies and protein from greek yogurt, it's one of our most requested party appetizers.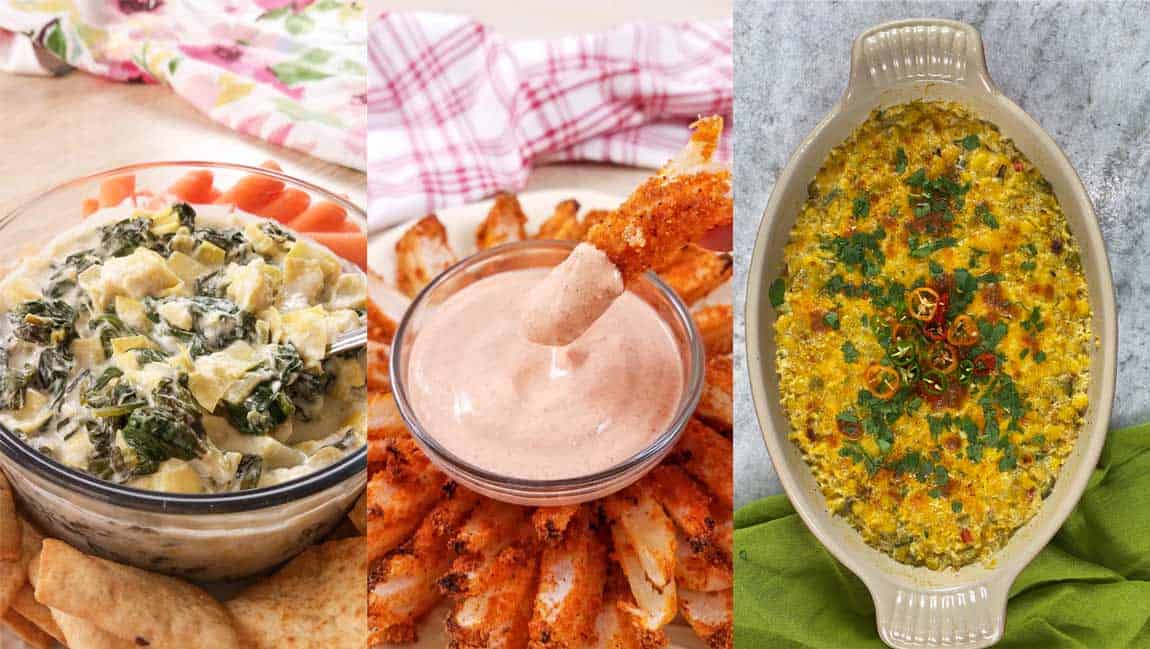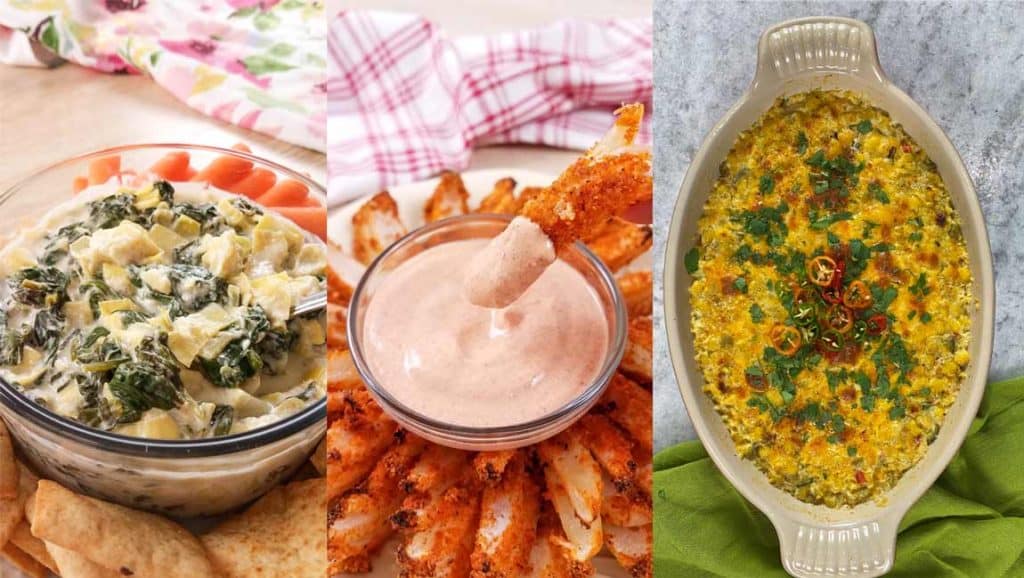 The Main Meat Dish
This year, I'll be making my Perfect Instant Pot Turkey Breast. Thanksgiving doesn't quite seem the same without the classic Turkey – however, I'm not committed enough to stand by the stove all day long basting. 
This recipe is the perfect way for me to serve the traditional fresh flavor of a turkey without the time commitment. If you are looking for the more traditional route of turkey cooking, I have a great guide for you that shares 10 Ways to Cook a Turkey.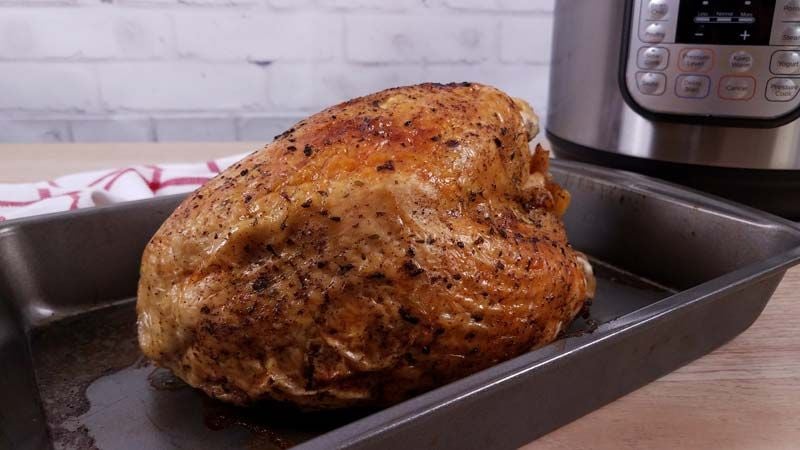 Thanksgiving Side Dishes
Thanksgiving is all about enjoying all of the flavors. Unpopular opinion? I think the side dishes hold more value in the meal than the main meat dish! I've planned out five delicious side dishes for my guests. (Don't worry, a few of them are being cooked by my guests!)
Our sweet potato casserole is gluten-free and made with wholesome ingredients like roasted sweet potatoes, coconut milk, almond flour, and coconut sugar – no refined brown sugar or white sugar in this recipe!
This is the best sweet potato casserole recipe I've ever enjoyed, and it's a healthier version than the classic potato casserole. This will hands down be your new perfect Thanksgiving side dish.
Our Crispy Oven Roasted Teriyaki Brussels Sprouts recipe will give you an instant flavor bomb of goodness while enjoying a healthy side dish. We're confident that after trying this recipe with real and simple ingredients, you too will be a huge fan of roasted Brussels sprouts!
I love the flavors of traditional Thanksgiving stuffing, however I wanted a low-carb stuffing with simple ingredients. After much recipe testing in the kitchen, I am thrilled to report back the end result – a low-carb cauliflower stuffing packed with fresh vegetables and flavor.
My hands-down favorite food of the day is traditional stuffing–so on my plate, you'll find traditional stuffing right alongside this cauliflower stuffing. It's a great way to get all the flavors you crave in a healthier way.
These Rosemary Smashed Potatoes with garlic are so easy to make! Steam, season, smash, and bake! That's really all there is to this recipe. It's so simple  but filled with the traditional complex flavors of Thanksgiving potatoes. 
I'm always looking for a way to not overcrowd the oven on Thanksgiving. This year, I'll be air-frying my vegetables. I plan on using frozen broccoli and frozen cauliflower to simplify my grocery shopping – no need to worry about not being able to find these fresh vegetables when grocery store shelves might be running low.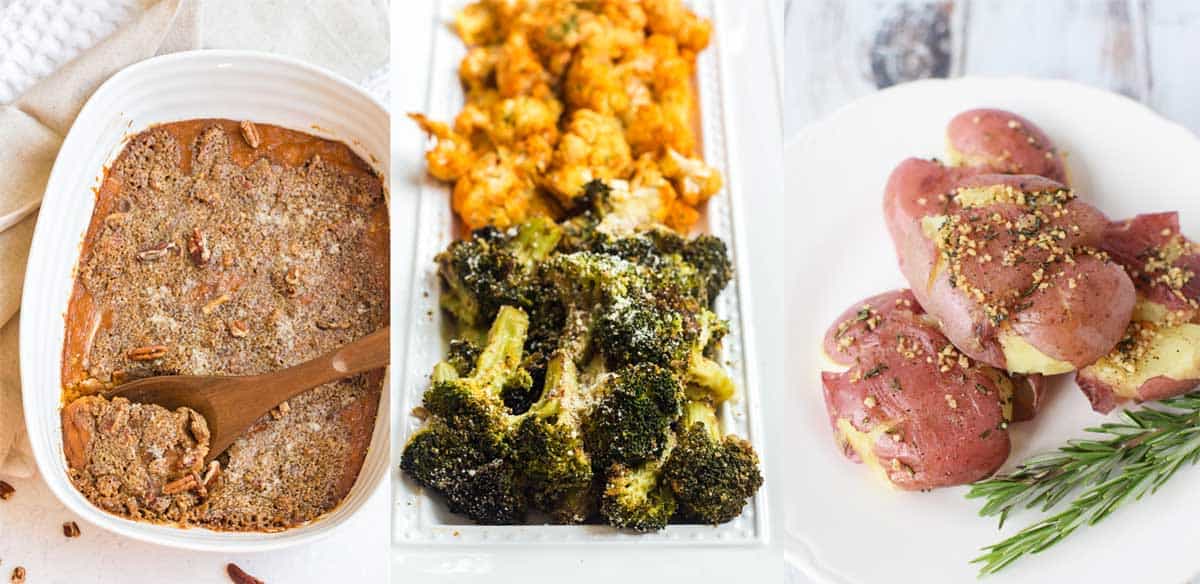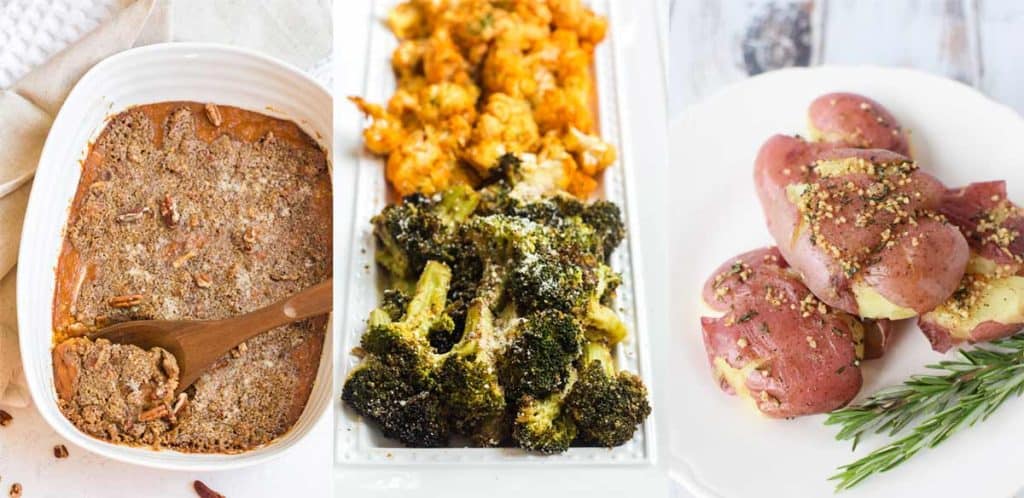 Thanksgiving Cocktails
I love having cocktails ready ahead of time for my guests – it takes the awkward guesswork out of what people will want to drink, and still provides them with a few options on hand.  
I'm 100% convinced that you can create a margarita for every occasion throughout the entire year. Thanksgiving is well known for the cranberry flavors, twist that in with a delicious margarita, and you have – the skinny Cranberry Margarita.
It's the perfect balance between healthy and indulgent. No added sugar or artificial sweeteners, no syrups, but full of flavor and natural sweetness with about 100 calories.
Now that fall is upon us the leaves are changing, the nights are getting cool, and you might think that margarita season is fading away…I won't let that happen!
Apple Cider Margarita Shooters have just enough of that fall zing that I crave on occasion and all the kick of my favorite margarita recipes. The best of both worlds all rolled up into one. This is a cocktail that I often serve while hosting during the cooler months.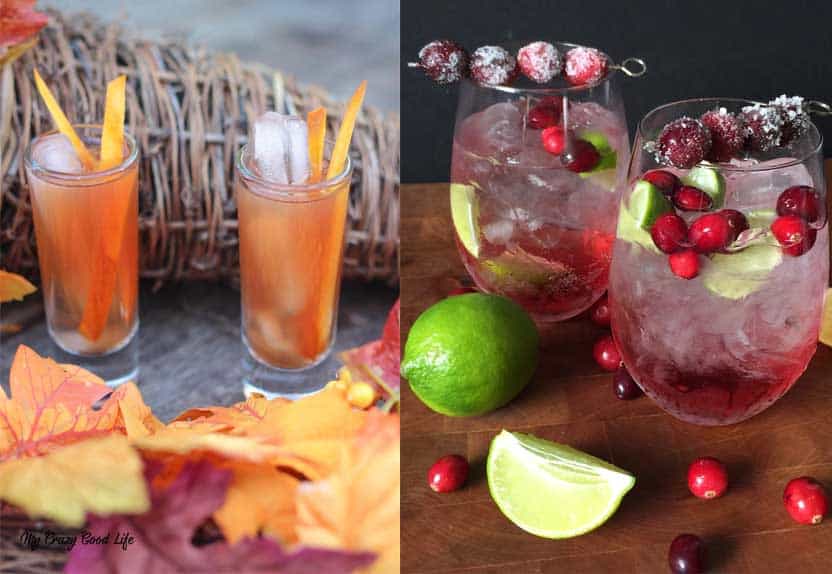 Thanksgiving Desserts
You can't have a Thanksgiving meal without a few sweet treats at the end of the night. This used to be the most stressful part of the meal for me, so many sweets to choose from. I would always go a bit overboard and would unintentionally sabotage my healthy eating goals.
There is no need to miss out on dessert – and I truly believe that food can still taste good and be healthy for you. I'm serving three of my incredibly flavorful desserts this year, and have no stress about eating them while staying in line with my health goals.
My healthy recipe for Buckeyes doesn't contain any shortening, powdered sugar, or oils. Just four ingredients in this delicious homemade peanut butter cup recipe.
These gluten free healthy Peanut Butter Buckeyes are a protein-packed way to satisfy a chocolate and peanut butter craving! These peanut butter balls, or buckeyes, combine dark chocolate chips (I use dairy free), creamy peanut butter, sweet honey, and coconut flour together for a delicious and not too sweet treat.
I love offsetting the traditional flavors of a Thanksgiving meal with a light and tart dessert option. Our Lime Coconut Bites are a delicious and simple dessert recipe for those of you looking for a little sweetness.
There's no added sugar in this recipe, and just four simple ingredients–lime, coconut, coconut oil, and honey. This is a vegan, gluten free, no bake dessert that your family will love.
This had me at no bake. A dessert that doesn't require baking on one of the busiest days for a kitchen is a huge win. I love how simple these bars are to throw together at the last minute.
Everything comes straight from my pantry, but they're still healthy–it's a win win. No brown sugar, no refined sugar or store bought chocolate–we're talking honey, coffee (if you want it), vanilla, coconut oil, and coconut powder.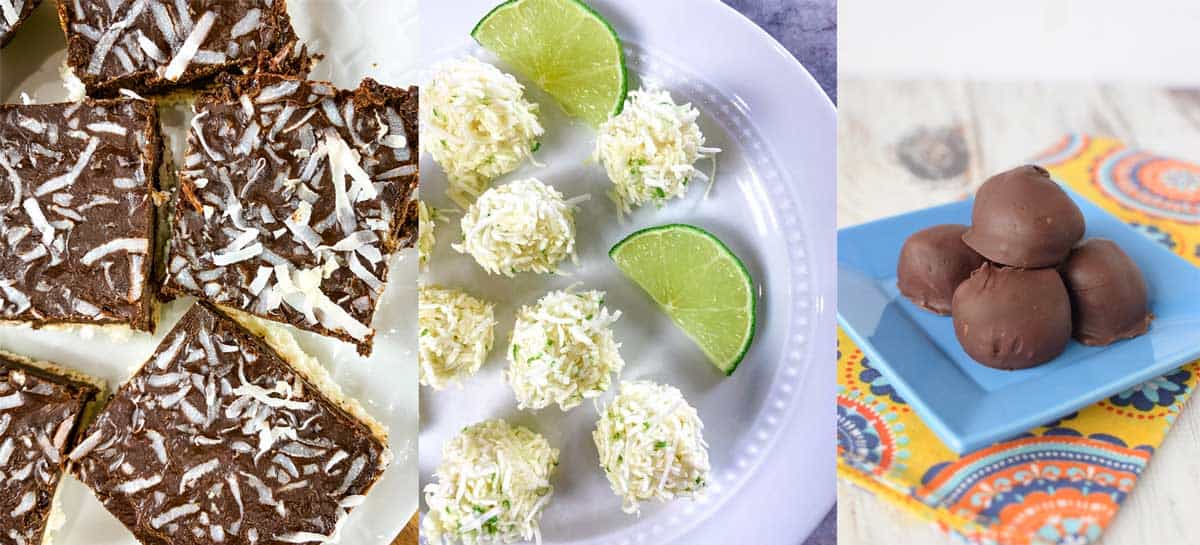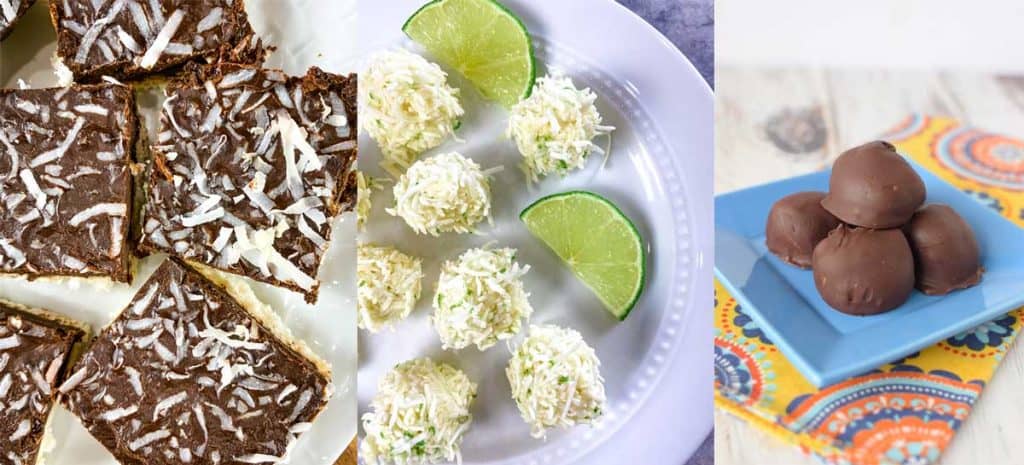 Thanksgiving Leftover Recipes
Imagine the day after Thanksgiving, where you just might have some leftovers in your kitchen ready to be repurposed into another incredible meal.
It doesn't happen too often in my house, but when it does I am here for it. I love a good leftover – it still holds the fresh flavors of yesterday, without the hassle of long cooking times.
Here's what I'm planning to do with some of my leftovers:
Made with sliced leftover turkey, a quick homemade cranberry sauce, and creamy Greek yogurt. These wraps make an easy lunch or quick dinner the day after Thanksgiving.
If you do decide to go the traditional route of cooking a whole turkey, this recipe is a must for all of your leftovers. This easy leftover turkey soup is perfect after a holiday! Warming turkey bone broth, vegetables, and some noodles is all it takes.
In the past, we've frozen this soup and reheat it on really *cold* winter nights. It's a hearty soup packed with nutrients.
Your Thanksgiving Meal Plan
Creating and cooking healthy recipes is a huge part of my daily job. I thrive on cooking healthy meals for my family. This might not be the case for you, and don't worry, I can help.
Here at My Crazy Good Life, we want you to be confident and successful in the kitchen. We want to give you all the tools to help as much as we can.
This entire Thanksgiving meal can be planned on our website with a printable grocery list!  Head on over to our easy meal prep planner which teaches you exactly how to create your meal plan and grocery list on our website.